Luxury Lingerie Review: Agent Provocateur Milena Bra in 34F
Disclosure: The Lingerie Addict purchased this lingerie set for me to review. All opinions are my own.
Agent Provocateur might be the most famous British lingerie brand. Founded in the 90s by Vivienne Westwood's son and his wife at the time, this iconic brand was once a lingerie addict's first foray into luxury - even if only through their boutique windows.
Agent Provocateur was one of the first brands to combine pure sex appeal, elevated design, and a high end price point. Their evolution over the years has been interesting, to say the least.
Styles used to be boundary-pushing, with bold designs and unique color combinations. Seasonal photoshoots used to be gorgeous and downright subversive, with models acting as entire lingerie-clad covens or badass superheroes.
But as the lingerie industry grew over the last decade, Agent Provocateur stayed mostly the same… and dulled down their style. They stuck to basic styles and recolors of classic designs while their photoshoots became relatively tame, all in the name of (I assume) broadening their customer base. It didn't seem to work.
Fashionable lingerie became more widely-available, often at lower price points, in more sizes, and photographed on more diverse models. Meanwhile, Agent Provocateur's sizing still stopped at 36 bands, E cups, and size XL knickers that ran small.
Agent Provocateur declared bankruptcy in both the UK and the US in 2017. Their popular diffusion line L'Agent was shuttered. The business was sold.
Today, some boutiques remain open and the web boutique seems to be running "business as usual." Until a few weeks ago, I thought the future of AP was a big question mark.
It still is, but for different reasons. In early 2021, Agent Provocateur released their "All Hours" collection, a line of multi-nude everyday basics, marketed as a "size expansion."
Agent Provocateur Sizing
Agent Provocateur is infamous for running small. Although I typically wear a size 32F UK or 32G European, I've historically worn their biggest size: 36E. Even with two band sizes bigger and one cup size bigger, it barely works on me. One mid-2000s bikini top I own in size 36E fits me like a 32DD. When I tried on their famous Lorna bra in-store and my tissue forced the cups' scalloped edges to fold over, the sales associate told me, "It's supposed to look like that!" (It's not.)
This year, Agent Provocateur finally added more sizes… barely. Some bras are now available in F cups and 38 bands, adding one larger band size and one larger cup size to the line. Knickers come in size 6, which is AP's version of XXL. While I wasn't super hyped about this tiny "size expansion," I was intrigued on a personal level.
Since 36E is a bit small on me, I was excited to try a new bra in the 36F. Compared to the lingerie I've tried from Agent Provocateur, the extra snug 36 band with a cup size larger sounded like a perfect fit on me. So I called the SoHo store in Manhattan and had them put one on hold for me: The Milena bra and brief, an actual valentine of a lingerie set.
The Agent Provocateur Boutique Experience
If you've never been to an Agent Provocateur boutique, they're really something to behold. The in-store branding has been the same for as long as I can remember, but unlike some other aspects of the AP brand, it holds up. Dim lighting, glossy black and matte pink fixtures, gloved mannequin hands holding shiny leather goods. The sales associates still wear that iconic pink minidress designed by Vivienne Westwood, paired with branded stockings and black shoes. If any other brand kept their store the same for a decade, it would be outdated by now. But AP's branding was never particularly trendy, so it almost feels timeless.
Soon after I arrived, my sales associate set me up in a fitting room. The set looks much different in person! The pink is so blue-toned, it's almost lavender. And I was surprised to see the holographic foil printed over the heart embroidery. It's difficult to photograph, and barely noticeable in the website photos. In person, it flashes in bold rainbow colors.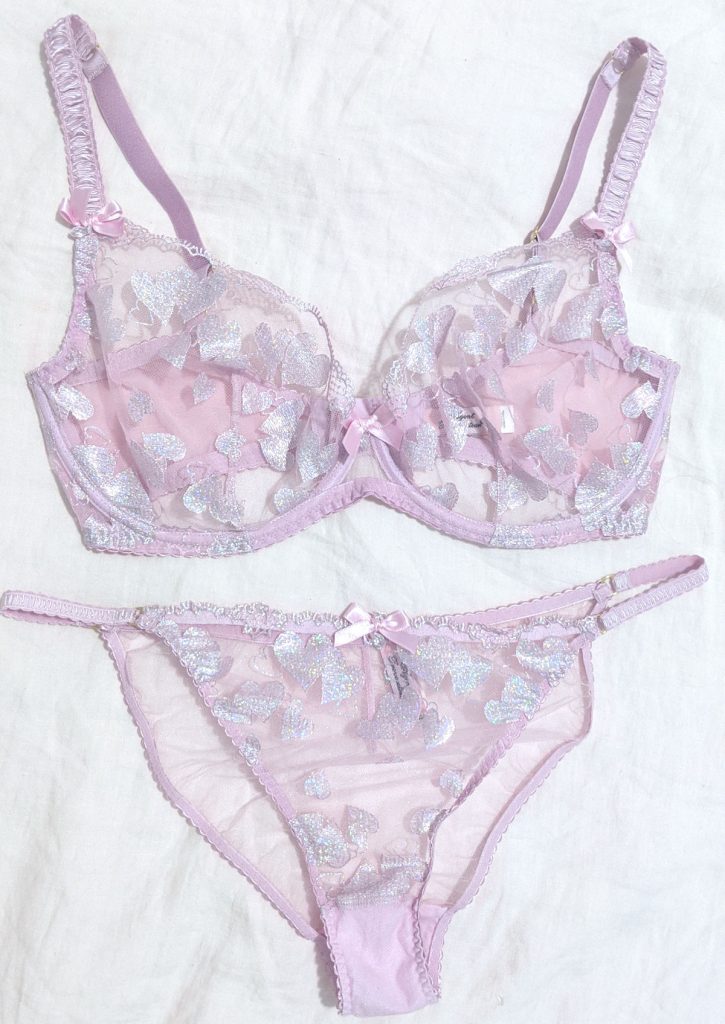 So I tried on the 36F Milena bra, and it was too big. I've never had this experience with an Agent Provocateur bra. The band felt like a true 36, and the cups gaped at the top. I'm not sure if this applies to all of their new bras, but it was definitely a delightful first for me.
What happened next at the boutique was such a bummer.
After trying the 36F, I thought a 34F bra would be perfect. One band size down would still be a little big, but perfect for a "cute" bra. And one cup size down would remove the gaps at the top of the cups. My sales associate came over when I popped my head out. "This band is too big, and the cups are too big, so—"
She interrupted me, "Are you sure? It's on the loosest hook!"
"Oh, yeah, so it'll still fit when it stretches out," I replied. You typically want to buy a bra that fits on the loosest hook, so it will still fit you after it starts stretching out. That's one reason why bras have so many rows of hooks. "Do you have a 34F?"
"But the cups are too big, right? So I'll bring you a 34E."
"Oh, but… A 34E is two cup sizes smaller?"
"No, a 34E is one cup size smaller. You're wearing a 36F. So you need a 34E for one cup size and one band size smaller."
This is false. In case you didn't know, the volume of a 34F cup is one size smaller than the volume of a 36F cup. If I wanted to go down a band size and keep the cup volume the same, I'd go up in the letter of the cup. That's the basics of sister sizing. A 34E is two cup sizes smaller than a 34F.
We went back and forth arguing passively for a minute, leaving me feeling super confused before I finally gave up. "Okay, sure, 34E, that's fine." She came back with a 34E in another color, because the pink was sold out in that size. She also brought a 34F in the pink. Of course, the 34F was a great fit.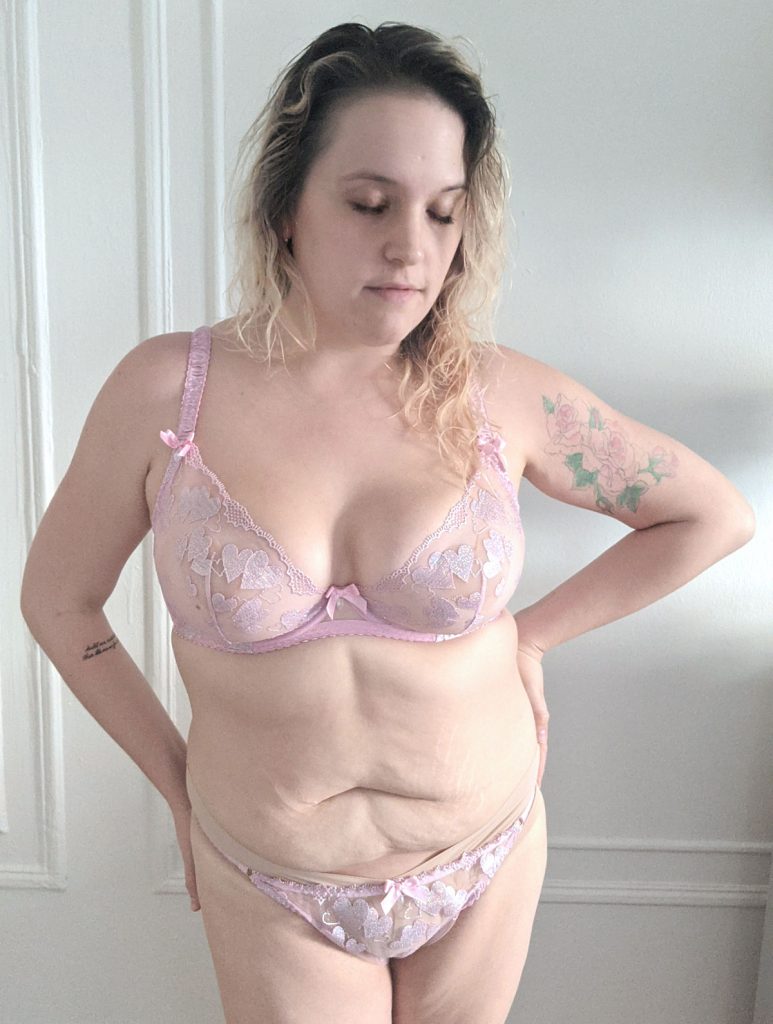 I'm not a bra fit evangelist and I don't think AP needs to be "bra fit central." But I do think their associates should at least know how bra sizes work. And I'm not sharing this to throw my associate under the bus. It just sucks that Agent Provocateur gives them such poor training. What if I had never shopped for lingerie before, and that was my first experience? How many bras would I have had to try on to get the right fit?
I got my set and took the train home. In my opinion, even if you have a beautiful AP boutique right down the street, shopping online is still a better option.
The Quality
Priced at $145 for the bra and $70 for the brief, this set is made entirely of embroidered tulle with a solid stretch back band. Tiny crystals hang from the bows, mimicking the sparkle on the foil printed fabric. The elastic straps are surprisingly sturdy—much more heavy-duty than the rest of the bra—and the texture is really nice.
To me, the most interesting thing about this bra is that it's designed exactly like their smaller cup sizes. There's no inner layer of power mesh or lining, no extra seams, no extra hook-and-eyes at the back. There's really nothing added to make this an effective full cup bra.
So, naturally, it's not very supportive. The underwire does its job, but the cup basically just sits on my chest, rather than shaping me at all. This cup is drafted straight up from a smaller size, with no extra adjustments.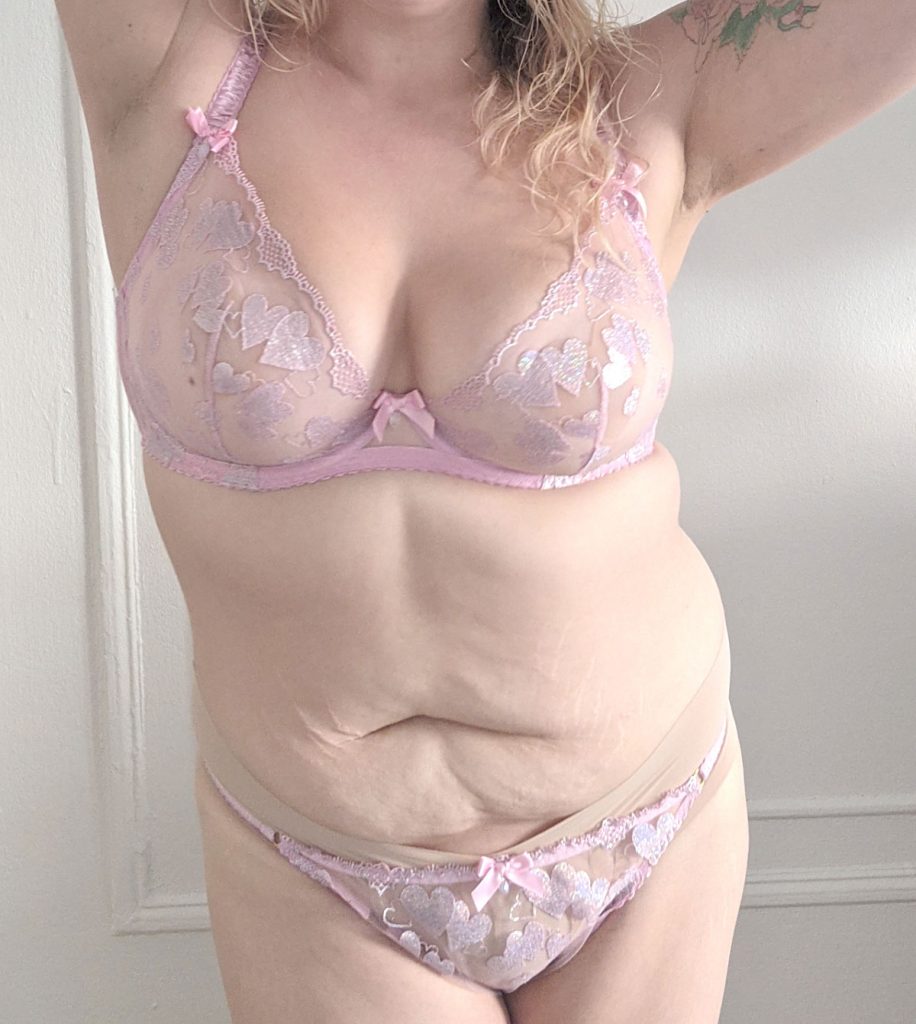 I'd normally hate this! But in this case, I'm kinda into it.
This bra, like the rest of AP's core collection, isn't an everyday t-shirt bra. It isn't meant to be super supportive. It's basically a valentine for your boobs! I kind of love that I can wear the exact same bra as someone who wears a 32B. It's almost a novelty.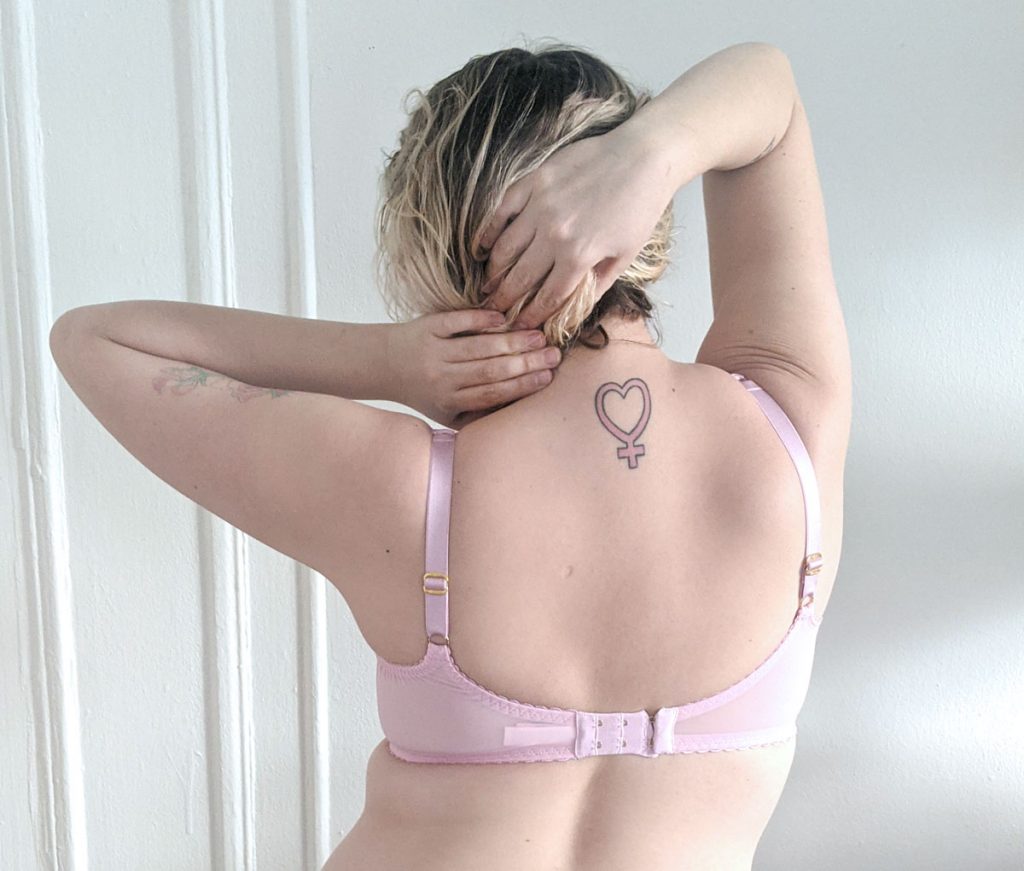 But at the end of the day, Agent Provocateur's bras are simply not designed for full-busted people, even if they come in F cups. I'm generally very easy to fit, but if you have any particular fit concerns, like being fuller on top or having super soft tissue, you might have to play around with sizing and style to find one you like. Even if you're also a fuller-busted person who is easy to fit, you might hate these bras. But if you like the style and don't mind a bra that's flimsy by design, go for it! (Do note that I have no idea if this applies to their "All Hours" line. But it seems to, based on their model photos.)
As far as the knickers go, they still run small. I'm wearing a size 5 or XL, and my hips currently measure 40", which typically puts me in a size L.
The size grading is a bit weird on this particular pair is strange. The actual fabric pieces are a bit too big, while the elastic is a bit too small. If I sized down, the elastic dug in. Sizing up would cause the fabric to be bloomer-esque. But as a set, they're cute.
Final Thoughts
I love Agent Provocateur's brand, so I'm disappointed in them. Their new size expansion is so small, and my latest in-store experience was less than pleasant.
If you haven't tried the line in a while or are newly sized in to Agent Provocateur, this would be a nice time to revisit it and see how the fit is for you. Just keep your expectations low. And maybe avoid the boutique, if you can help it.