A True Couturier: In Conversation With Merle Noir Lingerie
Few lingerie brands have captivated me in quite the same way as Merle Noir. Founded in 2016 by Merel Zwart, this Netherlands based label is responsible for some of the most exquisite couture lingerie that I've seen in my entire life. And I've seen a lot of lingerie.
Specializing in bespoke creations for individual clients, Merle Noir's fine lingerie is created from the finest silks and French laces. The designer behind the label has an impressive pedigree of couture and tailoring education under her belt, with her studies beginning at just age 12, and finishing with degrees from some of the most impressive couture academies in Europe.
I'm not only lucky enough to own several garments from the label, I've also had the immense privilege of seeing the designer work in person. It is no exaggeration to say Merel does some of the most exquisite lingerie sewing that I've seen in my life. Think lace appliqué stitches that are so tiny they look like they were created by fairies, and exquisite hand finishing that's basically invisible.
As far as I'm concerned, Merle Noir is one of the pinnacles of contemporary lingerie construction, and one of the few brands in lingerie that can accurately use the descriptor 'couture'.
I first discovered Merel's designs on social media, and was immediately enamoured with her use of lace and stunning craftsmanship. Even from a selection of photos on the internet, it was clear that these designs were exquisitely executed. I was incredibly touched when she reached out to me to express admiration for my own work, and we quickly developed a friendship.
On a personal level, it was very meaningful to me to connect with someone who had such a similar professional background to me. We're both the same age and started our lingerie brands alone, with very few resources.
I purchased my first piece from the brand in 2020, a sample bra that immediately took my breath away. The cups were constructed with hand draped darts, appliquéd in place to follow the design of the lace and appear invisible. The interior revealed silk linings and immaculate hand finishing. These are incredibly time consuming techniques that require immense skill and practice. It's very rare that these techniques are used in lingerie, let alone at such an elevated level.
Suffice to say, I am left in awe by Merle Noir, and I hope to convey some of the reasons why in this article. Merel was kind enough to sit down we me for a conversation about her brand and her experiences. This interview has been edited for length and clarity.
Karolina: Why did you decide on the name 'Merle Noir' for the brand?
Merel: My name (Merel Zwart) in Dutch doesn't sound as appealing. The other problem is nobody can pronounce it once you leave the country. I wanted something that would be personal to me, rather than just finding a word for the brand that had nothing to do with me. I tested in different countries to see how people would pronounce and respond to the French translation 'Merle Noir', and they reacted very positively.
K: Can you share a little about your favourite sewing techniques?
M: I love couture, and the techniques required to create extremely fine finishes. I love the extreme technical skill required to create something that looks seamless or effortless. The techniques behind this are very complicated, to make it fit to the body without any interruptions or seams. This is mostly in lace but, depending on the fabric, you would also be able to use it on an embroidery. Even in a silk fabric, if lace appliqué is placed correctly, you can tailor the seams into the pattern of the lace.
K: The concept of something being flattering is a very subjective thing and comes down to what an individual wants. However, from a design perspective, there is still the idea of balance. It can be difficult to create a design that holds it across a wide size range. Is that the reason you chose to specialize in bespoke?
M: No, that wasn't the main reason. What I dislike about the fashion industry, is that we create huge amounts of clothing and lingerie that is, in a sense, disposable. It's made cheaper; people try to save on the techniques behind the clothing.
When I worked in the couture industry, you work with so many different clients. No matter how beautiful you designed a garment, you could never create a single design that would work for everyone. I really wanted to use the techniques and the craft that I'd learned for individual clients. So when people want a specific colour or comfortable fit, you can accommodate that. For instance, if a client is asymmetrical in their shoulder position or between cup sizes, you can optically make the design look perfectly proportionate in a way that makes the client feel better in what they're wearing.
K: That's something that a lot of designers within the industry don't necessarily have the access to do. When you're working on a ready to wear or production basis, you're quite disconnected from the actual customers.
M: Exactly. It's just not possible. Even if you have a huge collection, with every single bra shape in 10 different colour ranges and sizes, it's still not going to work for everyone. You can have their favourite sizes, colours and shapes, and that bra may still not work for the client. With most clients it can be very difficult to determine why their favourite bra is their favourite. In my experience it's rarely the design, but the fitting.
K: You've mentioned that many of your clients are based in Asia, but I know you're also stocked by Jane's Vanity in the USA. Could you talk a bit about the technical differences in patterning for different geographical regions?  This is something that isn't really talked about in lingerie - the way that there can be so much variance in the averages of body shapes and how this affects the cutting approach.
M: When I work with boutiques, I will normally send initial samples to demonstrate fitting. Until the pandemic, I would normally meet with the boutique owners in person to discuss the fabrics and designs. After we determine which shapes work for them, I'd send initial prototypes.
In the USA, the clients are taller and with a bigger bust and hips than most Asian clients. By creating fitting prototypes, we can determine what the clients will be most comfortable in. There's also a difference in design preferences. For example, American and Japanese customers tend to prefer higher necklines with more lace coverage, whereas my European clients tend to opt for more plunging silhouettes.
K: I've noticed you've had a few creations recently that are straddling the boundaries of evening wear and lingerie. They still maintain the transparency and fabrics that we associate with lingerie, but they're not really underwear. Is that lingerie influence something that you'd like to carry through to your evening wear designs?
M: Yes. For instance, the dresses I made recently are quite sheer, but with the right underwear you'd be able to wear them out for the night. A lot of people are very drawn to very delicate and sheer pieces. If I switched out the silk chiffon for another fabric, it would completely change how the fabric falls and moves, how the lace transitions to the silk. It depends on the individual client. It's up to them whether they want underwear underneath it to make it opaque enough to wear, or if they want me to change the fabric to something opaque.
K: What would you say is one of your biggest sources of inspiration?
M: The main source is the fabric. Sometimes I might start with a particular technique, but usually I will just start draping with a fabric to see how it falls, or how the specific lace pattern will work on the body. When it comes to the colours, it depends on my mood or what I'm obsessing over at that point. When I go to museums, I get the colour combinations in my head and work from there (for personal projects). However, with clients, no matter what I find beautiful, the priority is what they feel comfortable in. The personal pieces still work as references for the clients, though, and demonstrate the shapes and lace placement.
K: As a designer, I'm someone who has to have the fabrics first before I get ideas of what to make. Would you say you create the design first and then look for fabrics, or do you also need the fabric first too?
M: Fabric first. I've never been able to design on paper. I did it for three years, and I think it leads to nothing!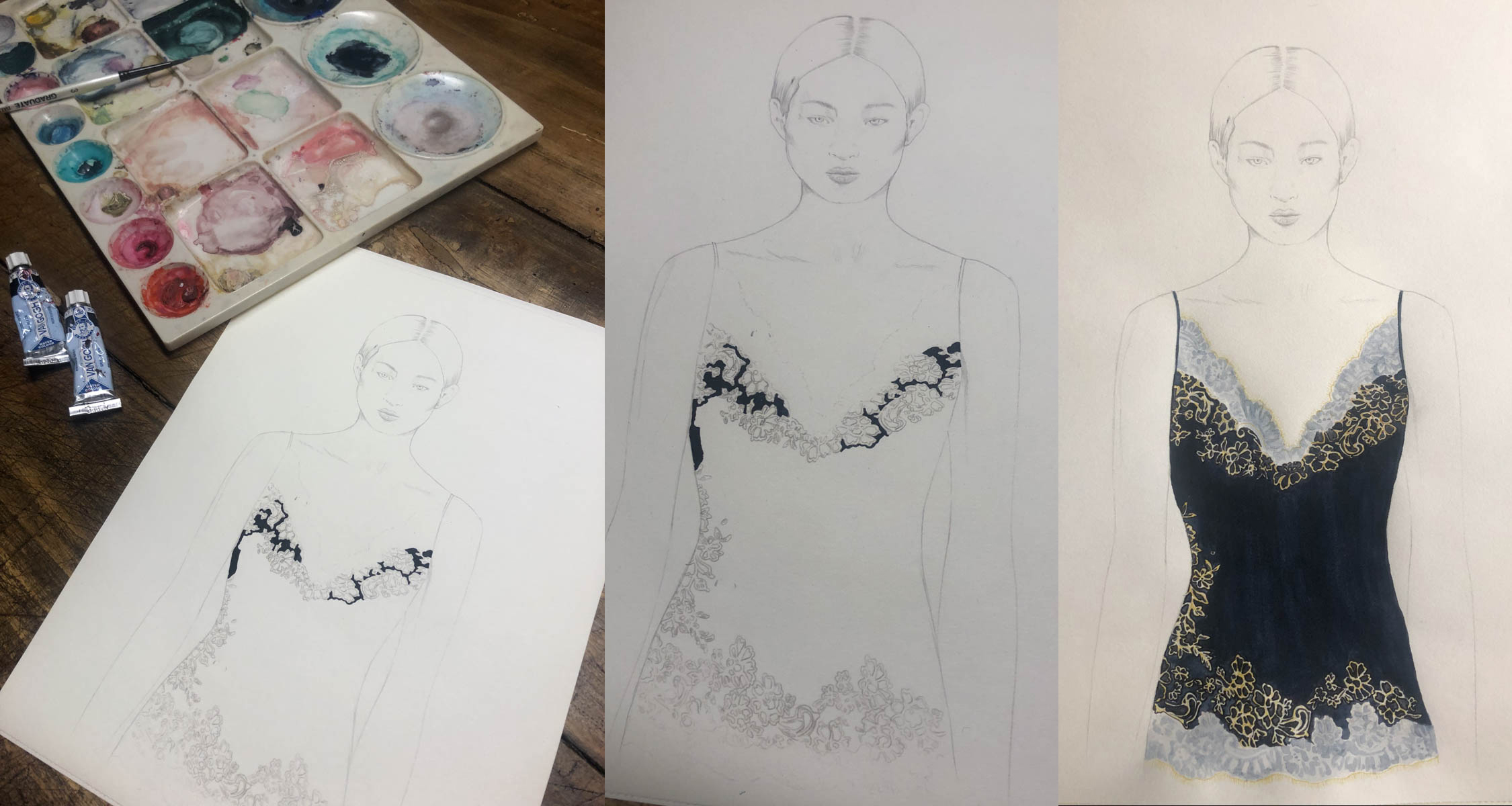 The illustration process by Merle Noir. Photos courtesy of Merle Noir
K: I'm the same, and I find it so strange that it's the technique taught in schools: design first and source later, even though it's so counterintuitive to have the industry works. If you work in mass manufacturing, you need to know which textiles you're using to hit the costings.
M: Yes! And you can have certain shapes in mind, but those will just be details of the designs: perhaps the way something flows or how a skirt is constructed. You can have that in the back of your mind, but when you're truly creating something, you're not going to get the best result from sketching something and then finding what you're making doesn't balance on the body.
Think about the difference between creating on a mannequin and creating on a body. It needs a lot of adjustments to turn it into a really beautiful silhouette, and that's just not something I can create from paper. My design sketches are created once the actual design is finished!
K: Can you summarise the order process for a custom creation?
M: If the client is based in Holland, we can have a fitting in-person. Otherwise, we would arrange a video call to discuss the preferences and fabrics. Then I can provide examples of past collections and demonstrate on the mannequin what we can create. I will select the closest mannequin in my collection to the client's body type.
Once we confirm the design and the fabric, I will begin making a fitting sample and provide fabric swatches for the client. We will then schedule video fittings to see if any alterations are needed. After that, I will begin making the final piece, and deliver it to their homes with a personalized illustration of their individual design.
K: A final question: for a reader who discovers your brand through this article, how could they place an order with you?
M: Go to the contact form on my website and send send me an email. After that we can either schedule a video call, or, if you're still figuring out what you'd like to order or would like more information on pricing, we can discuss that via email.
You can discover more about the Merle Noir lingerie brand at its website, and also find a selection of pieces at its stockists Jane's Vanity (USA) and Gabrielle Peco (Japan, in store only).