Lingerie as Outerwear: Artifice Clothing PVC Corset Skirt
Disclosure: These items were purchased by The Lingerie Addict for the purposes of review.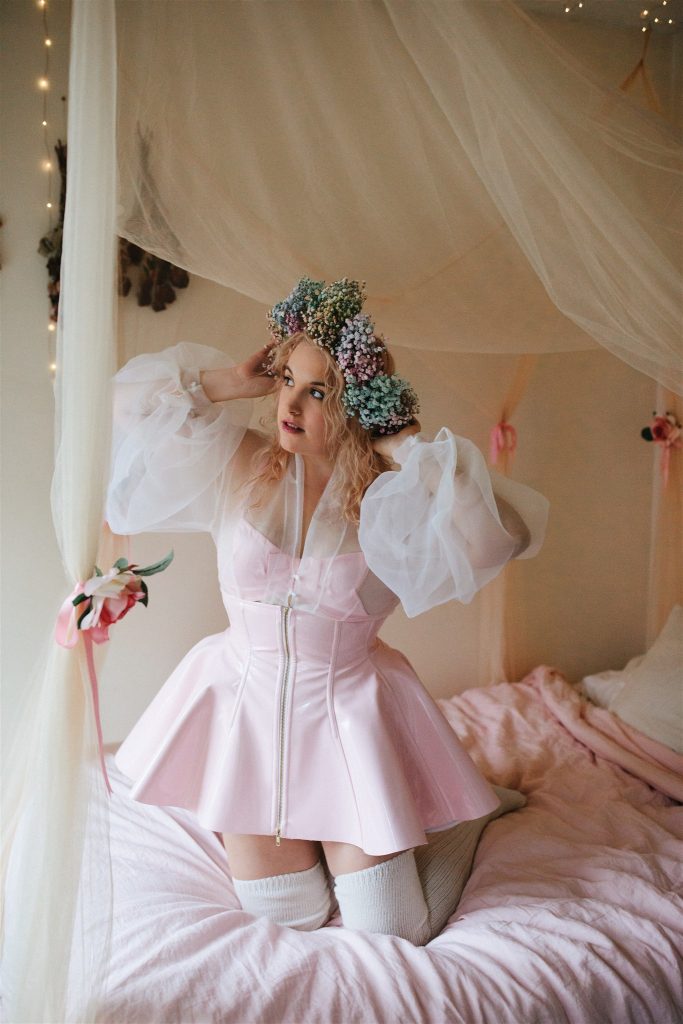 Artifice Clothing is one of those goth-y cult fave labels that seem to have been around forever. They've been crafting custom fetish-inspired PVC corsets, lingerie, and apparel out of their Toronto studio since 2004. All purchases on their website made to order, while their Etsy store sells samples and pre-made pieces.
I remember seeing their work probably a decade ago, but Instagram reintroduced us when a photo of their Clear PVC Bow Garter Corset was making the rounds on my friends' Stories this summer.
Now that I'm a lingerie industry professional and not a weirdo fashion student, their brand intrigued me for a few reasons. First, their deep catalog of super-shiny PVC pieces seemed like it could offer nice alternatives to glossy latex garments, for those of us with allergies and sensitive skin (hi, it's me!).
Second, their prices are oddly affordable for custom made garments. Artifice Clothing corsets run around $150. Stockings are about $50. Bras are around $75. You can even get a pair of simple PVC knickers for $15. That's, like, mainstream mall store prices, y'all.
And third, they have so. Many. Items. Shiny PVC capes! Open-bust dresses! Elizabethan-inspired ruffs! The ability to add extra bows to literally anything?! It's all made-to-order in dozens of colors for confusingly low prices on a fairly outdated website. How do they do it? Is this brand legit? I had to find out.
And then I saw their Corset Skirt, a steel-boned corset that flares out into a paneled circle skirt with a shiny metal zipper in front and eyelets all the way up the back, and I fell in love. I loved the holographic fabric, but I knew a light pink would suit my wardrobe better. According to the web page at the time, the skirt made of non-holographic PVC would only cost me $120. I couldn't wait to order one.
The Ordering Process
I poured over the color options for a while before deciding on Pearl Pink, but I didn't see that option when I went to add the item to my cart, so I reached out via email to confirm. Artifice let me know that Pearl Pink was out of stock, and sent me a selection of other pinks to choose from. Cool! I chose the Pale Pink option they offered.
Artifice Clothing replied, letting me know their Pale Pink is a 4-way stretch color and would have to be sewn onto a thicker backing to be turned into a corset, which may or may not cause some rippling and raise the cost to $150. Otherwise, they told me they could order some Patent Pale Pink PVC if I had a couple extra weeks to wait. "Either way, place your order and then e-mail us after checkout to confirm your final choices," they said.
I wasn't in a rush and didn't want to pay the extra $30. So I placed my order for the $120 skirt, sent them the order number, and said I'd prefer the Patent Pale Pink PVC.
"Thank you very much!" They replied. "I will update your total right now to $150 and send you the PayPal bill." I received a bill for $150.
But wait! I already paid for my order as they instructed, and the email didn't say the Patent Pale Pink PVC would be $30 extra.
"It will be a little more but we don't mind," They said. "We've got to order it in and it costs more than regular clear PVC does of course, and we'll also be paying for the shipping to have it sent to us."
"On the holographic Corset Skirt page, it said the cost of that item in non-holographic PVC would be $120," I replied. "Which in-stock colors would cost $120?"
They let me know that, for $120, the only colors I could get this item in were Black or White Patent PVC. (The website now states that Corset Skirts in non-holographic PVC will run you $140.)
I decided to pay the extra $30 for the Patent Pale Pink fabric. It's really not a big deal, and of course a custom-ordered fabric should cost more.
But why wasn't this communicated in the first place? Why did I get a bill for the skirt after I paid for it? Why does your website have incorrect pricing and out-of-stock colors and, oh my gosh, it's been months since this transaction and I'm exhausted just thinking about it.
If this all sounds tedious, frustrating, and annoying, that's because it was. This entire email chain could have been avoided with clearer emails, an updated website, and some forethought before each email.
I imagine it's difficult to host smooth transactions when your website sells over 800 different garments, all made-to-order, and you probably get a lot of inquiries for custom pieces that don't end up converting to sales. I understand all of this from their point of view. I really do. I don't know much about their company, but they seem like a small team of nice people who just want to make cool stuff out of PVC.
But as a customer, I wish it had been communicated better.
The Corset Skirt
Artifice Clothing's regular sewing time takes about 2-3 weeks, and the custom-ordered fabric added a couple weeks onto the production time for my garment. I placed my order on September 30. It shipped on November 4. And my package arrived a few days later, taking a very reasonable 5 weeks or so.
This custom-ordered-fabric situation ended up working out perfectly for me, because none of their color options were exactly my favorite shade of light pink. But this vinyl totally is! I squealed when I opened my package, the skirt rolled up carefully like a big, shiny piece of strawberry milk candy.
I laced the piece up from bottom to top, as shown on their website, cinched myself into it, and marveled at the shape in the mirror. The circle skirt gives a fantastically dramatic hip flare without a ton of cinch. My waist measures 35" right now, but I'm pretty squishy so I ordered the XL (made for a 31"-33" waist), and I'm thrilled with how it fits.
The heavy PVC is lined with a soft, stable fabric, so it feels nice against your skin. It's sweaty, but I mean, it's PVC. Not even a separate fabric lining will make these garments breathe. The steel boning lines the front zipper to keep it from rippling, but stops at the hip around the rest of the garment so the skirt can move and bounce as you walk. I love that I could pick out the color of the eyelets and zipper, the latter of which was custom-ordered for my skirt.
Quality
I'm not a serious corset-wearer by any means, but this isn't meant to be a "serious" corset. The construction is sturdy and nicer than I'd expect for the price. Overall, I'm more than happy with the quality here.
Is this garment made with couture-level stitching? Absolutely not. Are the pattern pieces marked with numbers in pencil on the underside, so the sewer could construct them in the right order? Haha… Yeah.
Does any of this matter to me? For a custom-made corset under $200, nope! I'm delighted with the fabric quality, and the sewing looks gorgeous from the outside.
Much like my Catherine D'Lish robe, the typical wearer won't notice the very slightly wiggly stitching along the zipper. Nor would they be impressed by the careful stitching along the edge of the top binding. This corset skirt will last years, even with regular wear. Like my favorite sports bra or a Creepyyeha harness, it feels like a piece of equipment more than a garment.
Do I Recommend Artifice Clothing?
Despite all the hiccups along the way, if you have a serious eye on something from Artifice, I absolutely recommend ordering from them. This skirt is one of the coolest garments I own, is nicely made, and looks exactly how I expected it to look. It's as shiny as latex without, you know, causing a reaction from my sad immune system. The construction is lovely for the price, and I adore how a dozen different people could order the same item and have it look completely different each time, from the eyelets to the zipper teeth to the fabric color.
This corset skirt, like many of the pieces on Artifice Clothing's website, are as much lingerie as they are apparel. I even wore it with a sweater to an employee holiday party, and everyone fawned over it. (To be fair, it was at an art museum, but still!)
A side note, if you're a serious corset-wearer or tightlacer: I honestly don't know enough about corsets to recommend Artifice to you. The construction was great for the price to my seamstress eye, and I love the shape it gave me, especially at this price. I was able to wear it for a full night and feel perfectly comfortable with a 3" reduction around my waist.
I think Artifice Clothing's low prices, ultra-wide catalog, and small team make custom ordering a frustrating process. If you're looking to purchase anything even remotely different from the website's base options, I recommend emailing them as far in advance as possible and getting all the details figured out before starting your order. But if you love the styles they offer, or are just looking for a custom-made corset under $150 in some oddball shade of PVC, this is definitely your brand.