Hanes Cotton Women's Bikini Panties: A Surprisingly Ethical Choice
Disclosure: I purchased these items myself. All opinions are my own.
During isolation for COVID-19, I realized I was running out of basic cotton panties. Like, literally running out. I had just tossed a bunch of pairs that were beyond repair and all that was left was a drawer full of very fancy panties. Which is all fine and good, but sometimes you just need simple, breathable underwear to run errands or to work out in.
Sometimes, you need underwear you don't have to think about at all.
The last time I had purchased basics was over 2 years ago, with a "6 for $25" deal at Aerie, so I started there. But I scrolled through their site in dismay, feeling ambivalent about the seasonal colors and overly-trendy lace designs, as well as the lack of transparency into their manufacturing practices online.
Instead, I turned to a couple of companies I know are ethically made, one of which was Only Hearts. I think their cotton panties are well-priced for what they are. My Only Hearts Organic Cotton Bikinis are some of my absolute favorites! But when you need a whole bunch and you're just gonna wear them on sweaty jogs, it's difficult to justify the expense.
"Why is this so hard?" I thought. "Why can't I just find basic cotton underwear that's ethically-made and not so expensive?"
Then a lightbulb went off. What about Hanes?
HanesBrands Inc. is the parent company of Hanes, makers of those bulk packs of cotton underwear you might remember from your childhood. They also manufacture a bunch of other budget brands you're likely familiar with. Maidenform, Bali, Playtex, Wonderbra, Berlei, and L'eggs are all subsidiary brands of HanesBrands Inc.
Unlike most clothing and lingerie brands, 80% of Hanesbrands' apparel is produced in factories they own. This plays a large part in both the affordability, as well as the ethical standards, of their products.
That's right. Believe it or not, Hanes has one of the best - if not the best - ethical statement in the lingerie industry today.
An Ethical Budget Brand?
Most ethical lingerie brands we discuss on The Lingerie Addict are, well, not cheap. Typically, brands that specifically sell ethically-made clothing are more expensive than brands that do not disclose their ethics.
In the lingerie industry, "ethical brands" are often sewn by the designer themselves, manufactured in a country with a higher minimum wage, or contracted out to smaller boutique factories that pay their workers higher wages. So it might come as a surprise to you that Hanes, a company that sells 10-packs of underwear for under $20 each, is consistently deemed an ethical brand by many corporate responsibility groups and assessment non-profits.
Why? Well, to start, check out Hanes for Good, an entire company-managed website dedicated to their environmental and social responsibility policies. The site transparently discusses the standards Hanes sets for their suppliers, employees, and corporate partners.
You can read their Global Code of Conduct, their Global Standards for Suppliers, and their Global Human Rights Policy, as well as environmental initiatives like their 3-decade-long chemical management program, their history of energy management, the water conservation goals they've met, and more.
To follow up on these goals, Hanes' Global Ethics and Compliance Office is available via email for employee and customer complaints and queries, as well as phone lines operating 24/7 in 20 countries. In 2010, they even earned accreditation from the Fair Labor Association.
Honestly, Hanes might be more transparent than any other major apparel brand out there.
Of course, when a company is investigating itself, and outside organizations are using those results to verify the company's ethics, it's not exactly unbiased. Even with the best (and most public) of intentions, ethics violations can still happen! But when you compare a statement like this to a complete lack of statement from dozens of other brands, big and small, that says something.
This is why large companies should be held to higher ethical standards: Because they are able meet those standards. When you own your factories, or even just place massive orders with the factories you work with, you can make sure the workers at those factories are being treated fairly. When you're publicly traded and make millions of dollars in profit per year, you can make sure your business practices are ethical.
A small indie designer might not be able to do multiple yearly audits of the factories they work with like Hanes does, but a brand the size of Victoria's Secret (for example) could. The excuse of, "The money isn't there!" is simply not true for so many large corporations. It's about priorities. And from the looks of it, Hanes has their priorities in the right place.
So how's their product?
The Underwear
To satisfy my need for basic cotton panties, I ordered the Hanes Ultimate Comfort Cotton Women's Bikini Panties 5-Pack in size 7 (the equivalent of my usual size L) straight from their website for $18 each, or $3.60 per panty. I wasn't into any of the color blends. I also wear too many pastels to order a pack of black underwear, so white it is. (If I get bored, I figured I can always embroider or dye them).
The pack arrived in a nondescript, non-padded plastic mailer. Opening this package was a straight throwback to middle school, when I thought that cute underwear was only for those who had someone to show it to. (Oh, how things change.)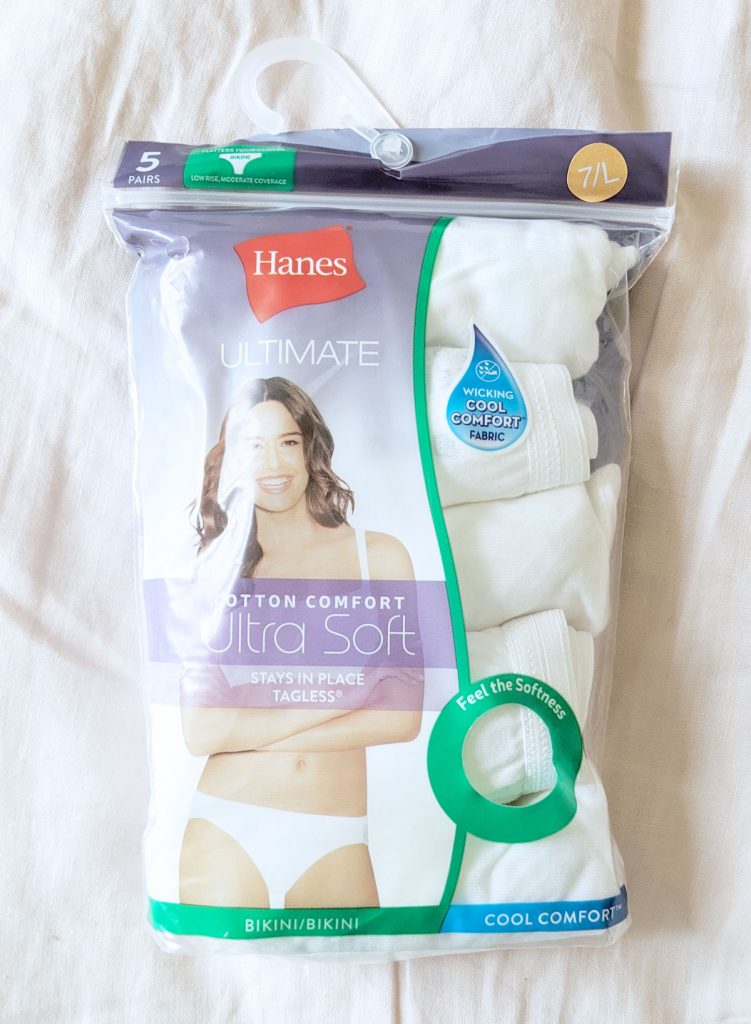 At first, I was annoyed at the extra plastic packaging and the tiny pieces of tape holding the rolled panties together inside their disposable pouch. But there was probably less waste on these 5 pairs of underwear than buying 5 pairs at, for instance, Victoria's Secret, with their fancy hang tags, tissue, and bags.
The construction of these panties is simple: a flat elastic waistband and leghole binding strips, both cover-stitched to the main fabric. The inner and outer gusset are sewn as one piece, meaning a serged seam sits at the front inside of the crotch. And the label is printed on the inner back, so there are no extra ribbons or tags around to show up and stick out.
The Fit
These bikinis fit true to size, although they did shrink a bit when washed according to the care instructions. I'd size up if you're between sizes. However, if you've got a bigger booty, I don't think these are the panties for you. I can't imagine these bikinis fitting someone with a bigger butt than me. Which says a lot, since I have a small butt! I almost wish I had purchased the XL, just for a bit more coverage. But then the front would've been too big.
This bikini also hits me right under my belly, which gives this illusion of cutting in to my gut that I hate. Most low-rise bikinis hit me just over that line, or a bit under.
Also, they're a little see-through. I had to wear a seamless panty under this one for photos, because the fabric is pretty thin. You can even see the label printing through the fabric.
I wouldn't call these panties "cute" or "modern" in any way. In fact, would wager a bet that this pattern hasn't been changed or re-fit for a couple decades.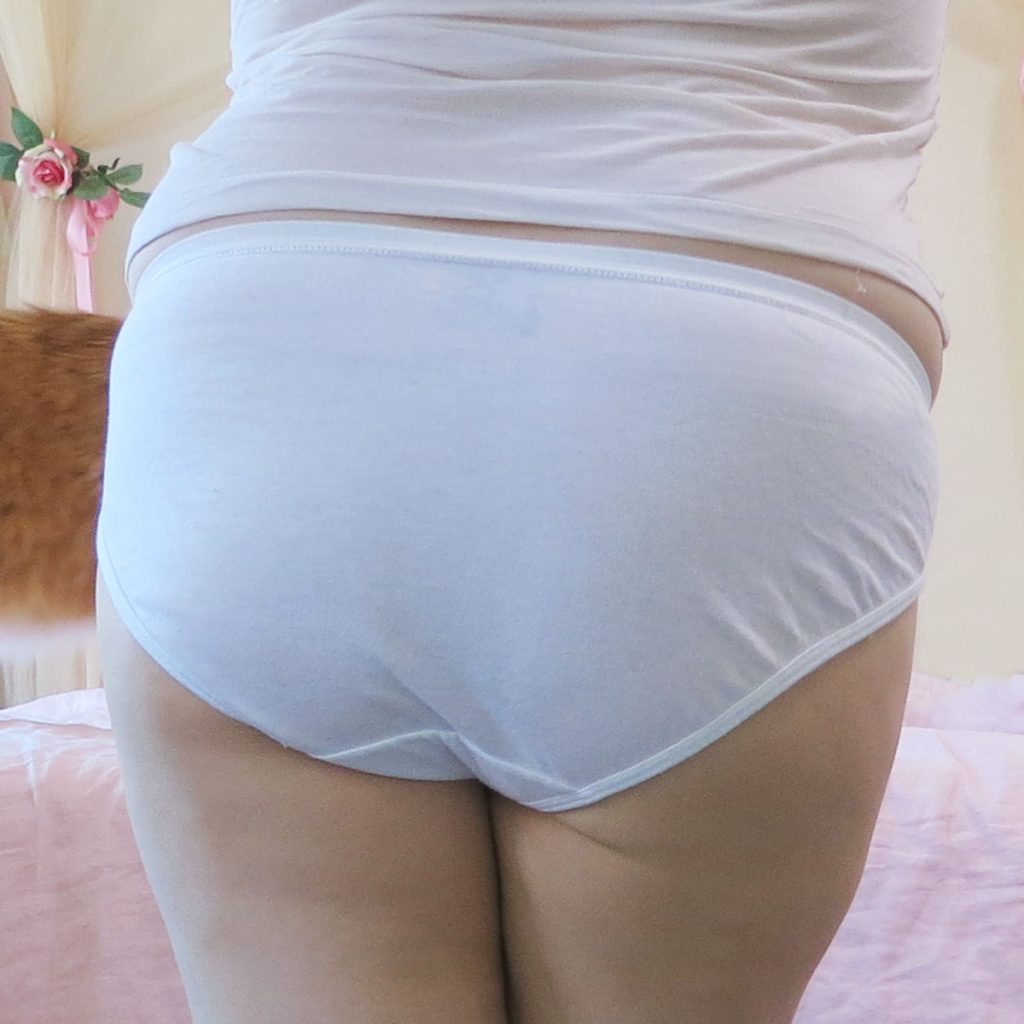 It's worth noting that 100 percent cotton panties will never sit smoothly against the body like the cotton-spandex blends at your favorite mall shop. They'll always have a little extra fabric pulled into the waistband and leg holes, because they'd otherwise fall down. However, 100 percent cotton panties can be cute. For instance, I definitely prefer the look of the aforementioned Only Hearts' cotton panties, which have a nicer shape in the back, and a bit less fabric in front, along with a slightly higher cut leg.
Overall, this pair feels like, well, exactly how you'd imagine a cheap pack of panties would feel. It's underwear! It's cotton! And it does its job.
Final Thoughts
With budget-friendly prices and easy availability across the US, the transparency of Hanes' business practices means that nearly every consumer has the ability to purchase ethical underwear. Hanes panties are cheap and ethically-made. While this particular style isn't super cute (in my opinion), it's definitely underwear you don't have to think about.
Next time I need a batch of cheap cotton panties to wear during workouts and want to prioritize ethics over aesthetics, I will buy Hanes again. However, I'd probably try another style, like their boy brief or hipster cuts.
So if you're looking for cheap ethically-made underwear and want to shop transparently, maybe it's time to revisit Hanes! And next time someone tells you they can't afford to shop ethically, you know where to direct them.