How to Dye Your Lingerie
About the Author: Estelle Puleston is the founder of handmade lingerie superstore Esty Lingerie. She loves to customize her lingerie purchases with beads, new straps, and sometimes even a change of color!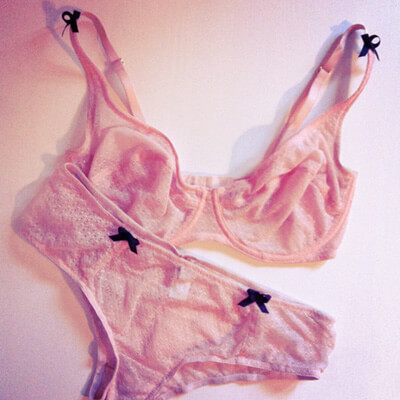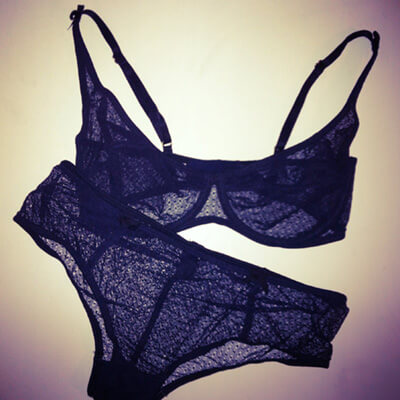 There are lots of reasons you might want to dye your lingerie; maybe it's looking a bit old and faded but is in otherwise great condition, maybe you couldn't find what you were looking for in the color you wanted or maybe, like me, you made the mistake of washing your expensive, pale pink Myla set with a navy blue bra that left it mottled with stains.
Dying lingerie really isn't hard, it's not expensive and you can do it on one evening. Here's a step-by-step guide on what to do:
1. Check the Fabric Label
First and foremost, before you run out and buy that dye, check the fabric label of the lingerie to ensure you buy the right type. Although all fabrics can be dyed, some will accept the color more readily than others and some will require special kinds of dye.
As a rule, natural fibers like cotton, linen, silk, and wool can be dyed with 'standard' fabric dye, and man-made fibers like polyester and acrylic will require something called a disperse dye. Viscose is an exception, which can be dyed just fine with regular fabric dye. If the fabric is a mixture, such as cotton and polyester, you'll be able to dye it with a regular dye, but the color will be lighter.
2. Wash Your Lingerie
You don't want to dye dirty lingerie. Sweat or dirt on the fabric can affect how well the dye 'takes' and the result might end up looking patchy. So start by giving your lingerie a thorough cleaning and then leave it damp – you'll be getting it wet again anyway.
As a handy hint, if you're dying your lingerie a particularly dark color, take note of the care instructions before you start. My white Myla labels are now solid black with no hope of reading what's on them!
3. Dye Your Lingerie
I'm not going to tell you exactly how to dye your lingerie because the steps will vary between brands and fabric types. Follow the instructions on the dye packet, but here are some helpful tips:
If you're using regular dye you may need salt or vinegar too, so don't forget to buy it.
If you're using disperse dye, you'll need to 'boil' the lingerie for the whole time it's being dyed to keep the temperature up (yes, my fiancé thought I was a bit odd when he saw me cooking a bra set at dinnertime!) but you definitely don't want to reuse the pot or stirring utensil for food again. I found a cheap saucepan and wooden spoon at my local supermarket for under a fiver.
If the instructions say to stir every 15 minutes, stir every five. Or better yet, get a good book in one hand, make yourself comfortable and don't stop stirring – without frequent movement the dye can end up patchy.
Don't forget that color mixing rules still apply. If you're dying a blue bra red it's going to end up purple, and you'll need to bleach black or very dark lingerie before you can dye it any other color (but that's not great for the fabric, so I wouldn't recommend it).
The longer you leave the lingerie in the dye, and the stronger you make the solution (i.e. more dye or less water) the darker or more vibrant the result will be. If you want a really bold red for example, use the full packet of dye and leave for the maximum time stated in the instructions.
 4. Wash Your Lingerie Again. Alone.
Once the dye has been left on for the required time (typically 30 minutes to an hour) you'll need to rinse it very thoroughly until the water runs clear.
It's next to impossible to get all the dye out at this stage, however, so make sure you wash the lingerie alone for the next few washes so it doesn't leak dye and stain your other clothes. You'll be able to see from the color of the water if hand-washing once it's stopped bleeding dye and can be washed with your other sets again.
It would also be a sensible precaution to avoid wearing the lingerie under light-colored clothing that may get stained until this point too.
You can also check out this article to find specific tips for dying hosiery.
Do you have any other lingerie dying tips? Or favorite dye brands to share? Leave a comment!
Save