Plus Size Lingerie Review: Chubby Cartwheels Bodysuit
Disclaimer: The lingerie in this post was purchased by The Lingerie Addict for review. All opinions are my own.
I'm not sure when I first started following Chubby Cartwheels, but I remember being drawn to images of luscious fat bodies in shiny vinyl, jet-black velvet, tight mesh, and tee shirts proclaiming the wearer to be a Diet Industry Dropout. Available exclusively in plus sizes, Chubby Cartwheels are made for the curves and abundance of fat bodies, by fat owner, designer, and maker Shawna.
I'll be honest, the Chubby Cartwheels aesthetic is a bit of a stretch for me, starting with the fact that there's a lot more black than I tend to wear! But I found myself drawn to them again and again, so I was excited to give them a chance for this review.
Ordering
I purchased a black vinyl bodysuit with a mesh high-cut leg. This style is not currently available, but a similar cut in black cotton or all-over mesh are. The vinyl bodysuit cost $69 while cotton or mesh are $55. All Chubby Cartwheels designs are available in sizes 1X-5X (hip sizes 45-61") and custom sizes. I purchased a size 3X, which is equivalent to a 22-24 US clothing size.
Each item listing notes that the designs are made to order and therefore do not ship right away. At the time I ordered, there was a three week wait. Exactly three weeks after I ordered, I received a shipping notification. However, it took a few more weeks and an email for the package to get in the mail. This was a bit disappointing, but I assume it was simply an oversight and doesn't happen often.
Construction and Fit
The bodysuit is made of lightweight vinyl with a slight stretch with stretch mesh insets over the hips. The seams are serged together and the hems serged then zig-zagged. The stitching is very neat all over and feels quite sturdy.
The vinyl does not stretch as much as a knit fabric might, so it takes a bit of a wiggle to get into. Once it's on, though, the fit is great! I have a long torso so bodysuits are frequently too short for me, and the length on this one is perfect. The leg openings are roomy and non-constricting, and the mesh cut-outs allow for more stretch in the hip.
Final Thoughts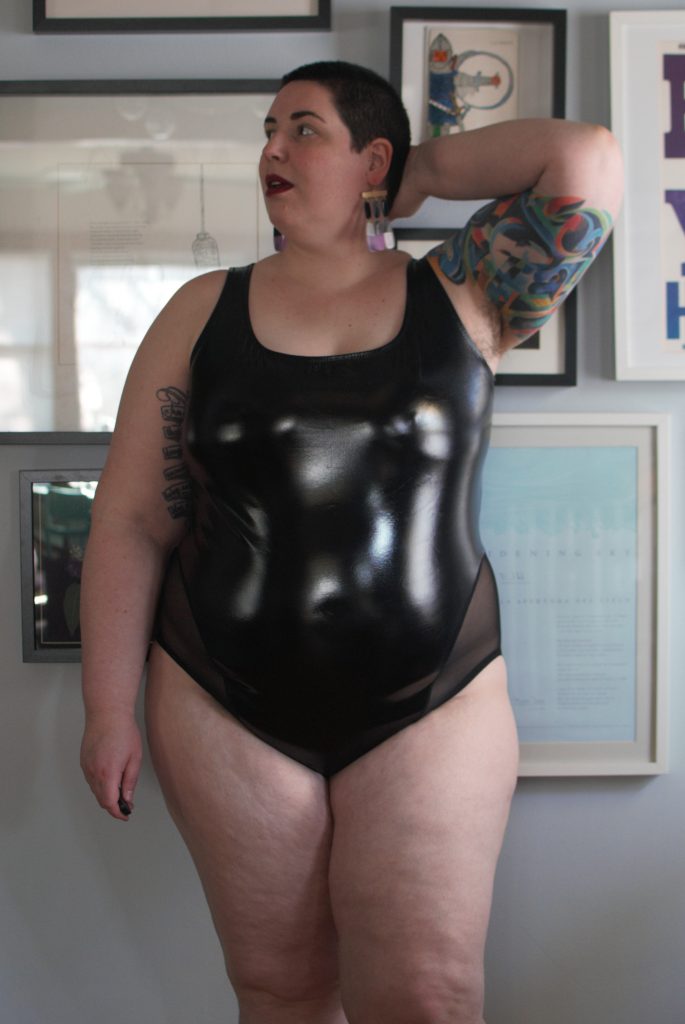 It's still a little out of my comfort zone, but damn I feel hot in this. It's clear even in a relatively simple garment that Chubby Cartwheels is specifically designed for fat bodies. The length fits so well, even with my long torso and full belly. I love the detail of the high-cut hip with mesh insets, which gives the perfect combination of coverage and exposure.
I'm keeping my eye on Chubby Cartwheels in the future, especially for fabric options beyond black. In the meantime, I'll continue to enjoy all the hot fat babes modeling their looks!