A Day in the Life: Lingerie Brand Founder Helena Stuart of Only Hearts
"A Day in the Life" gives you a look into the incredibly varied days of individuals working in the lingerie industry. You can view the previous installment here. Today, we're exploring the job of a founder for a made-in-NYC lingerie brand.
Helena Stuart, founder, owner, and designer of Only Hearts, does as much work as you'd expect from a woman who has led a company for almost 40 years. Every hour is filled with effortless flitting between fabric choices, retail delivery dates, cost and margin management, color development and more. There is no visible anxiety or stressed-out vibes here. Helena does it all, and makes it look easy.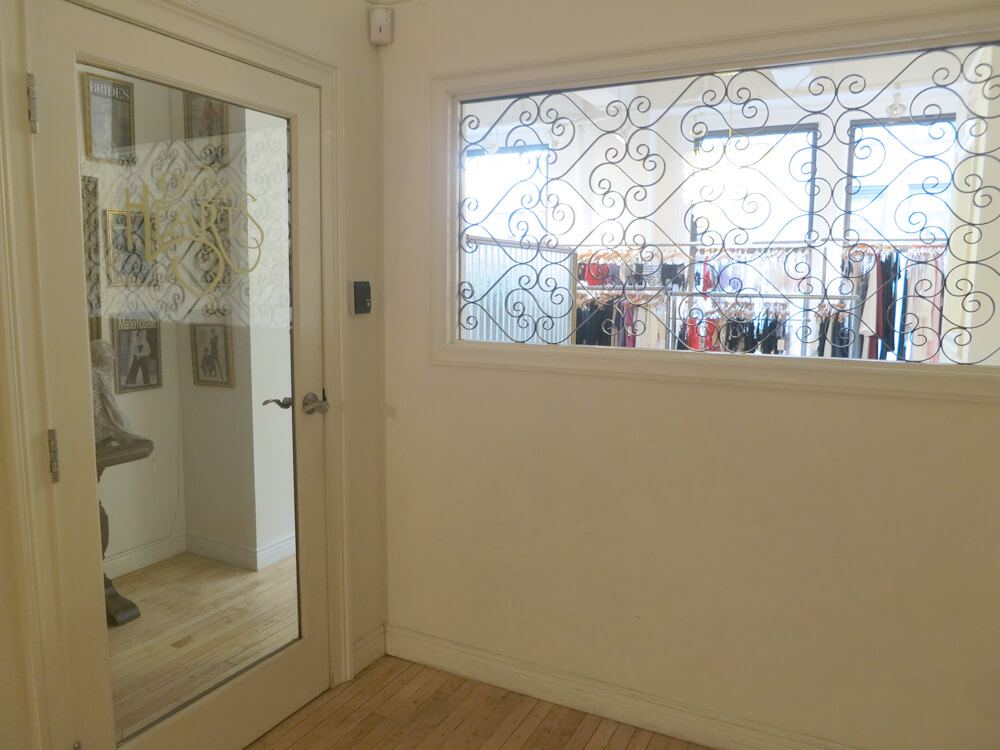 The Only Hearts studio is fronted by their showroom, bedecked with chandeliers and washed in natural light from huge windows that overlook the garment district. The studio itself, where all of the design, patterns, samples, and some production garments are made, has a cute and cluttered vibe that's familiar and comfortable to anyone who's worked for a made-in-NYC apparel line.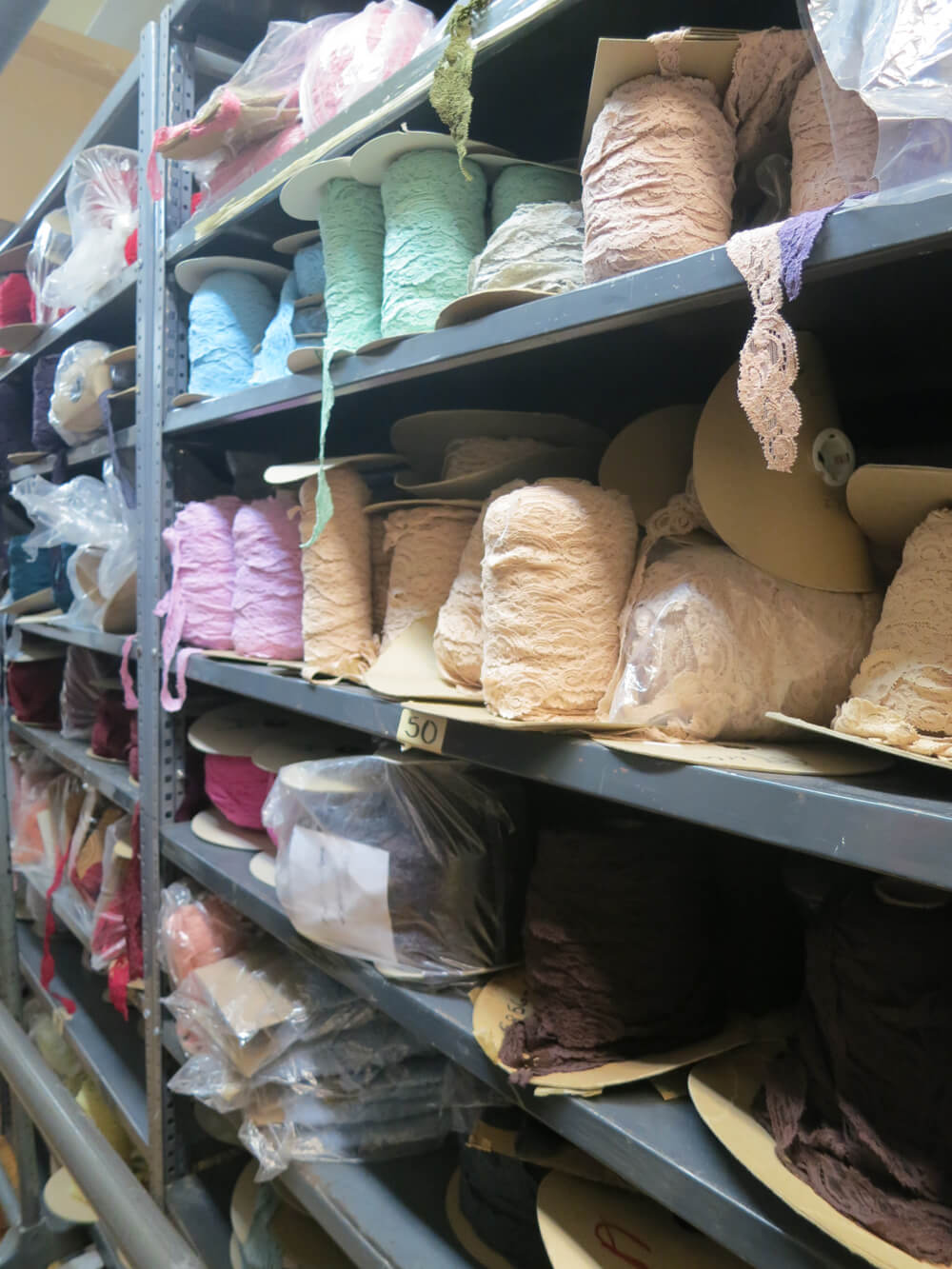 Helena's corner is next to the pattern maker's space, which sits beside the design assistants' desks, who are separated from the seamstresses and long fabric-cutting tables by shelves full of supplies. Lace swatches catch light in the windows, racks of inspirational vintage clothing and old samples, tables of sketches and fabric swatches, and years of patterns hang from the ceiling.
The utility closet is a mini dye lab, used to tint samples to the perfect hue. There is so much light in the space that Helena grows shiso and basil and tiny peppers on her windowsill, taking some home for dinner on occasion. To an outsider, it might look chaotic, but to anyone working there, it all makes sense.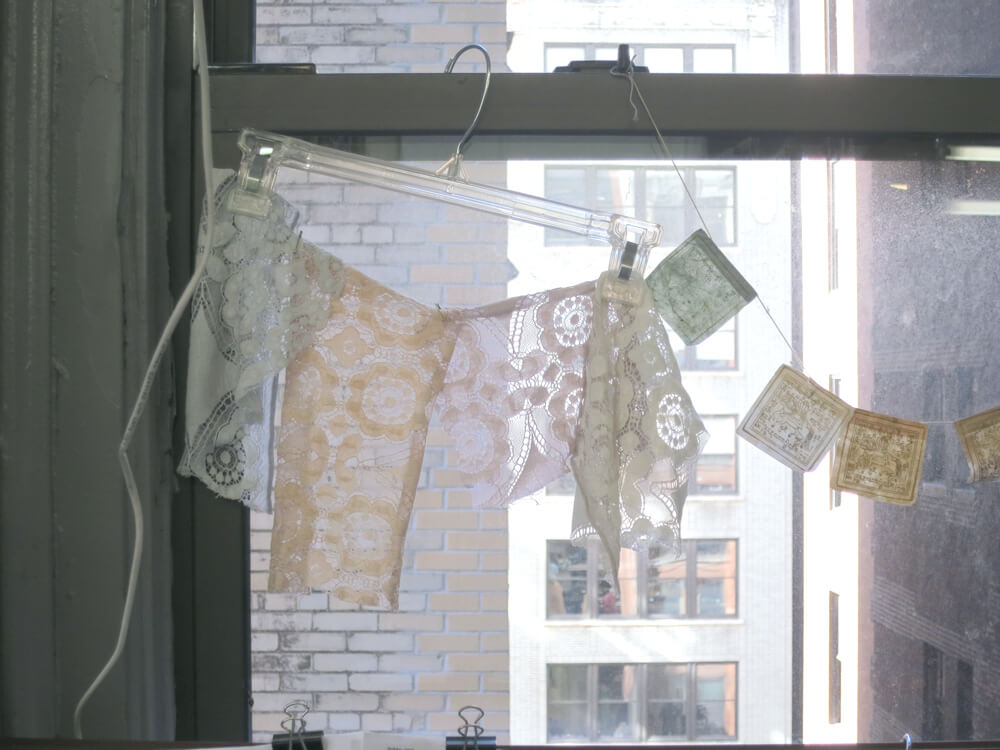 Helena works out on Wednesday mornings and arrives at the studio a little bit after 10 AM. Her mornings are spent answering emails, but peppered with phone calls (and sometimes literal calls across the studio) to design assistants and pattern makers to verify details about the next collection.
Right now, they're working on samples for Only Hearts' Pre-Fall 2017 collection, which will show at trade shows in January and February, and Helena is both designing Spring 2018 and starting to select colors for their Summer 2018 collection. But that's just a small part of Helena's day-- from accounting to customer service, she oversees every other aspect of the company, too. Her day isn't set up into orderly, scheduled segments; instead, she pretty much handles everything at once.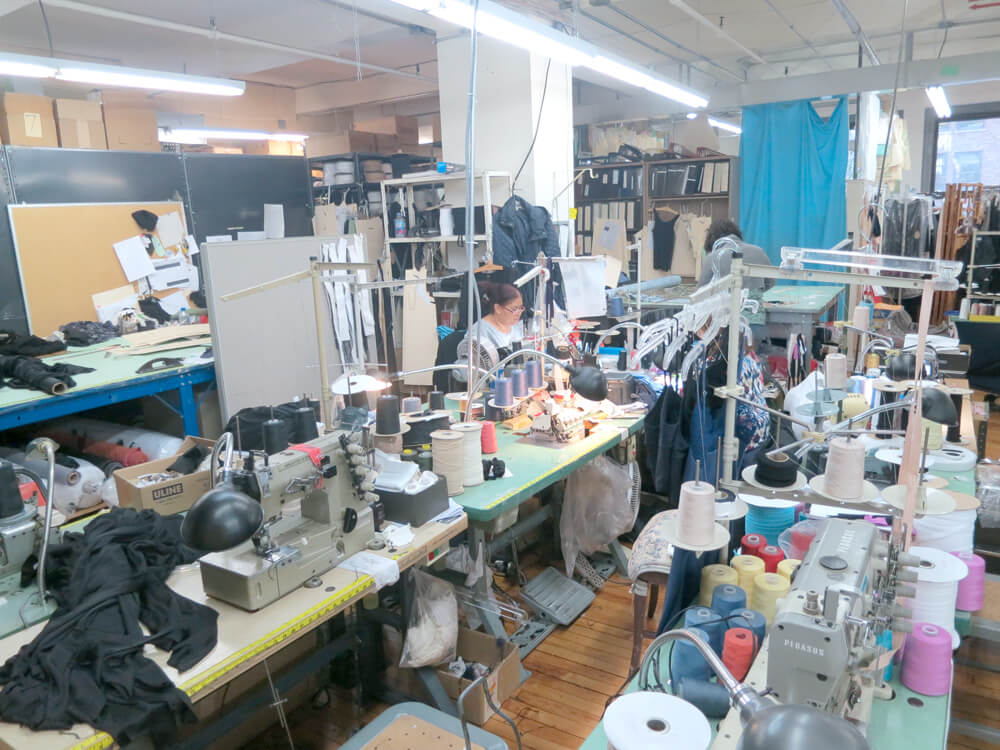 10:45 AM: One of the design assistants asks Helena what she thinks of a stretch lace sample they received. They're worried that the holes in the lace will make the wearer's body parts poke through a little too much. "I don't think that matters anymore," Helena says.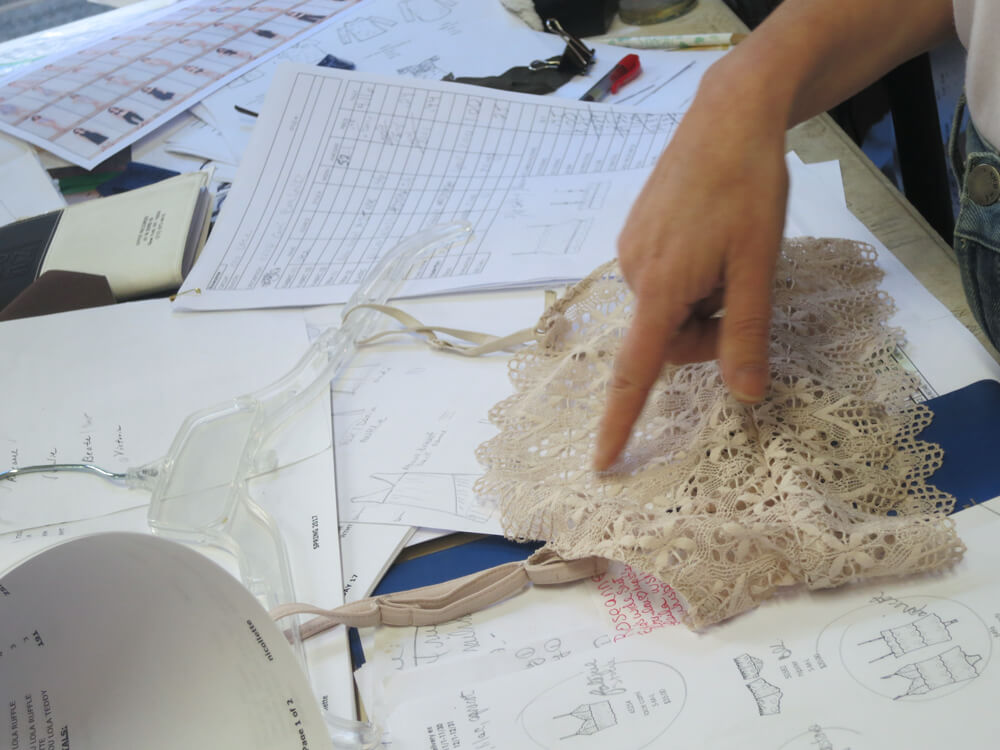 11 AM: Back at her desk, Helena looks at a beautiful, vintage-look bralette sample made entirely of "eco lace," which is created from re-purposed fibers that would otherwise end up in a landfill. The lace is so beautiful that Helena doesn't want to mix fabrics, but would their customer spend the money on it? And would ordering the minimum lace yardage make sense, or would they be left with a ton of dead stock?
The company would have to order 1500 meters per color. "So Fine lace is 1000 meters per color, and we do 7 styles in it," says a design assistant. So 1500 meters for one bralette style in one color? Too much--and it's too expensive to dye it here. Helena has to begrudgingly decide about what to do with the design.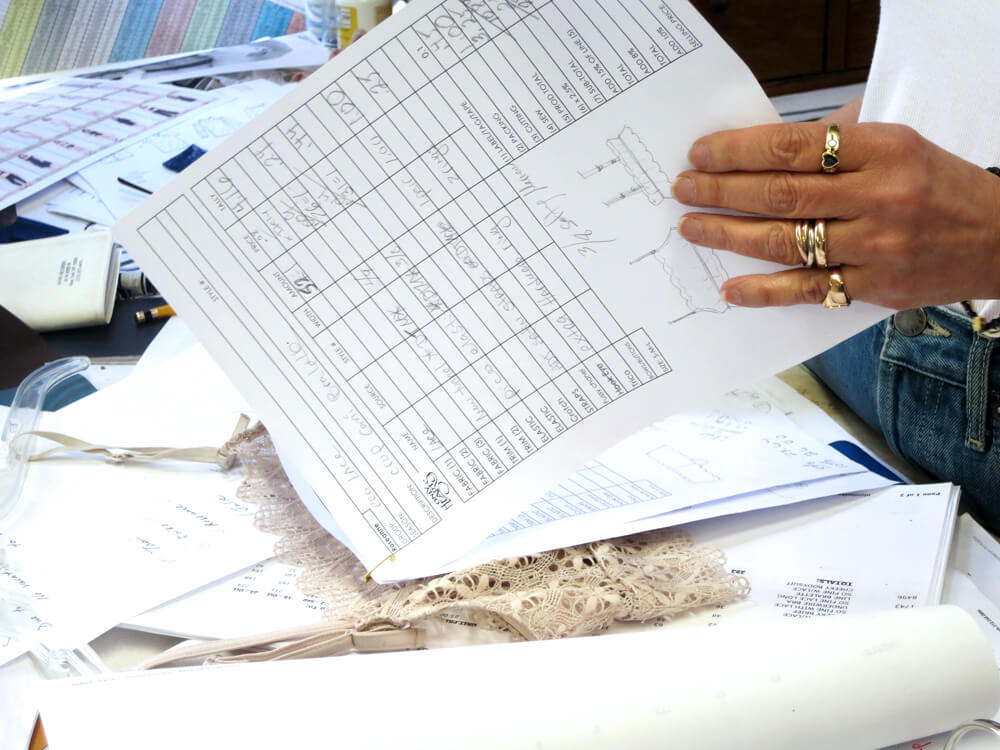 Pricing is a huge part of her job. Fashion is typically priced based on basic retail math calculations, but in the end, some items are undervalued so they sell. She tells me that their popular So Fine with Lace should retail for at least a few dollars more per piece, but due to a miscalculation, it's been undervalued since its launch. "It was an accident, but it did so well," says Helena. "I want people to be able to afford it, so we make our margins in other places."
Helena hears from a factory that the eye masks they sell in Only Hearts boutiques are being delivered late. I've never seen a designer react so calmly; she says it should be fine, as long as they are in store by December 17th. Any later and it would be too close to Christmas.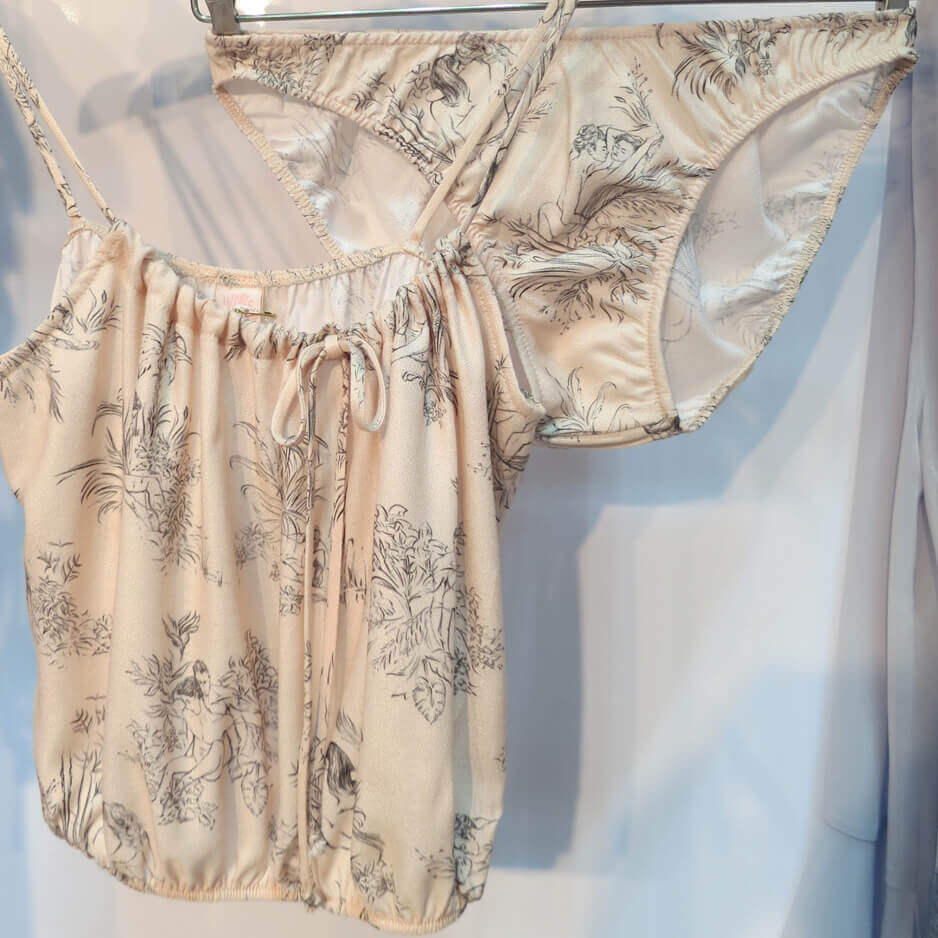 She is considering a recolor of the erotic toile print, called "Lazy Mayzie," which I saw at Spring/Summer 2017 market - maybe purple with rose pink outlines? - but it didn't sell as well as they expected. It was grouped with a tropical pineapple print, and "Of course we sold tons of the pineapple and just a couple hundred of the toile," Helena says.
Retailers are scared of taking the risk on such a risque print. However, she doesn't want to just do one season of the unique pattern, which was designed especially for Only Hearts by her son-in-law, a textile designer. "We have this great print and to only print 200 yards and just send it out into the world, it seems like such a waste," Helena says.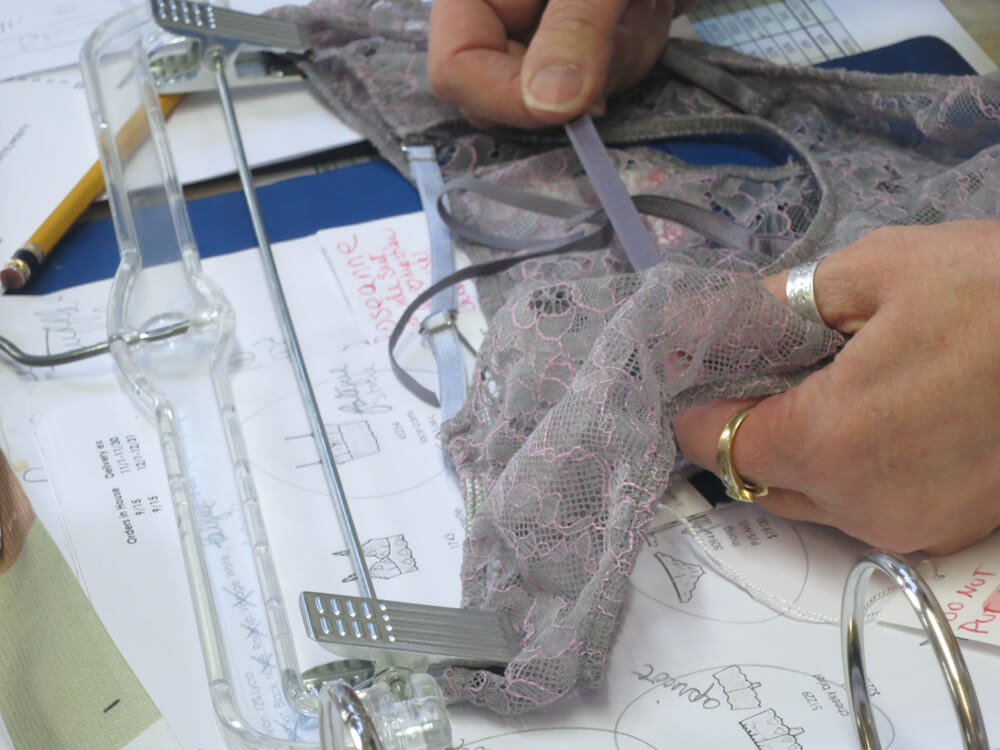 She also approves the color of trims that have been dyed in-house to match fabrics, confirms next quarter's budgets for all three Only Hearts boutiques, and discusses a better insurance option for her employees, all before noon.
12 PM: Helena eats her lunch throughout the afternoon, carrying a bag of sliced jicama while she checks out the Only Hearts website. Some of the banner images don't link through to the garments in the photos, so she makes a call to ensure the website is adjusted accordingly.
She looks over a spreadsheet of current, past, and possible future stockists, removing manufacturers and other stores that would knock them off or simply not carry them.
The manager at one of the Only Hearts boutiques calls and asks about restocking some items that Helena has strong feelings about. "We carry some things in the store that I hate, like flip-flops with big hearts on the toe," she cringes. "But they sell, and the margin is good." Later, she decides it's not worth it and they won't be restocking them.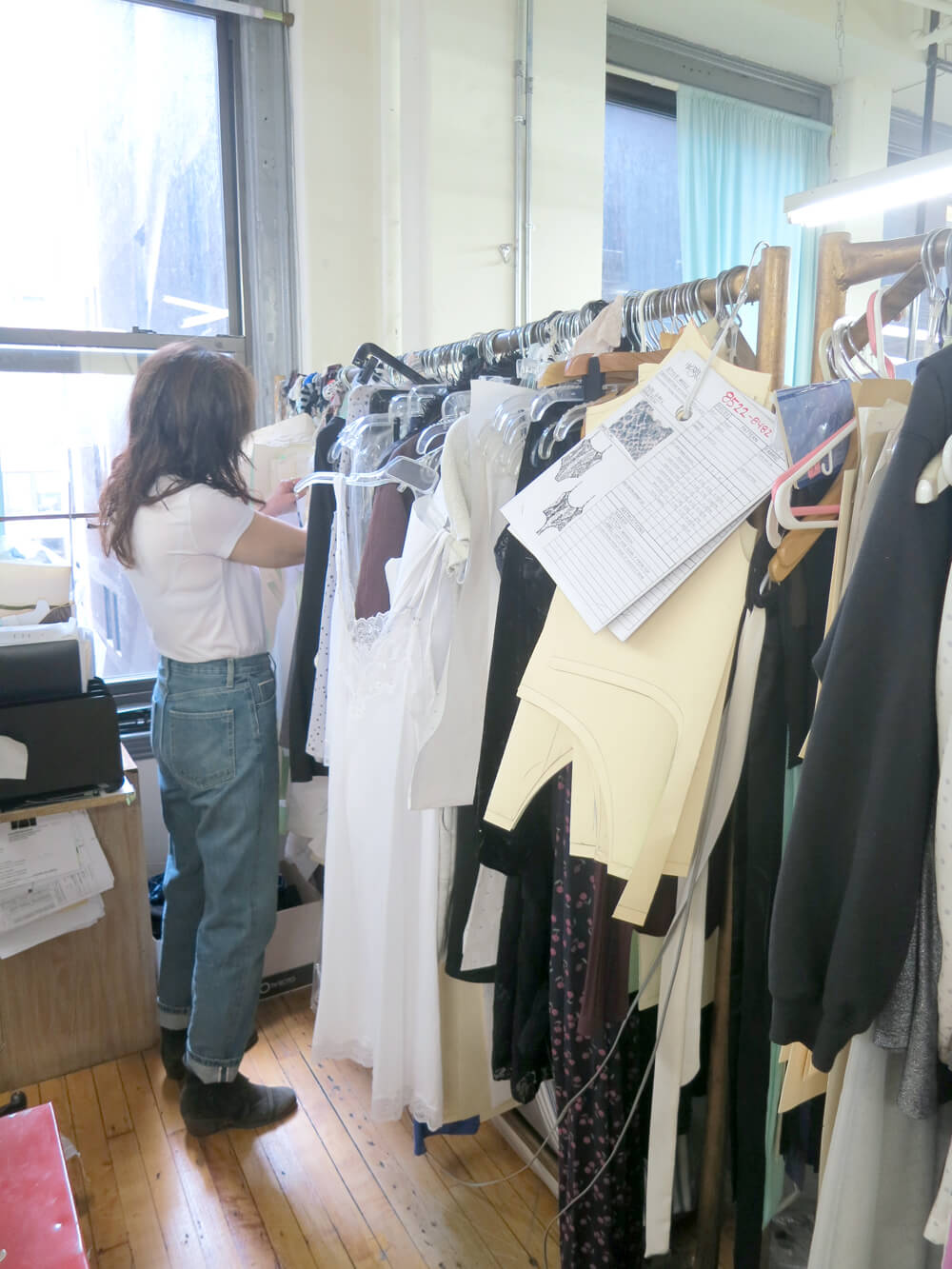 Sipping on homemade bone broth - "My husband cooks, thank God" - Helena searches through racks of heavy paper patterns, searching for a missing romper pattern from the So Fine group. It sold so well for Winter 17 that they want to do a similar style for Spring 18. If they find the pattern, they can simply make adjustments instead of starting over. All patterns, samples, and fabric cutting are done at the studio, and they save everything, so it's there somewhere. She gives up for the time being.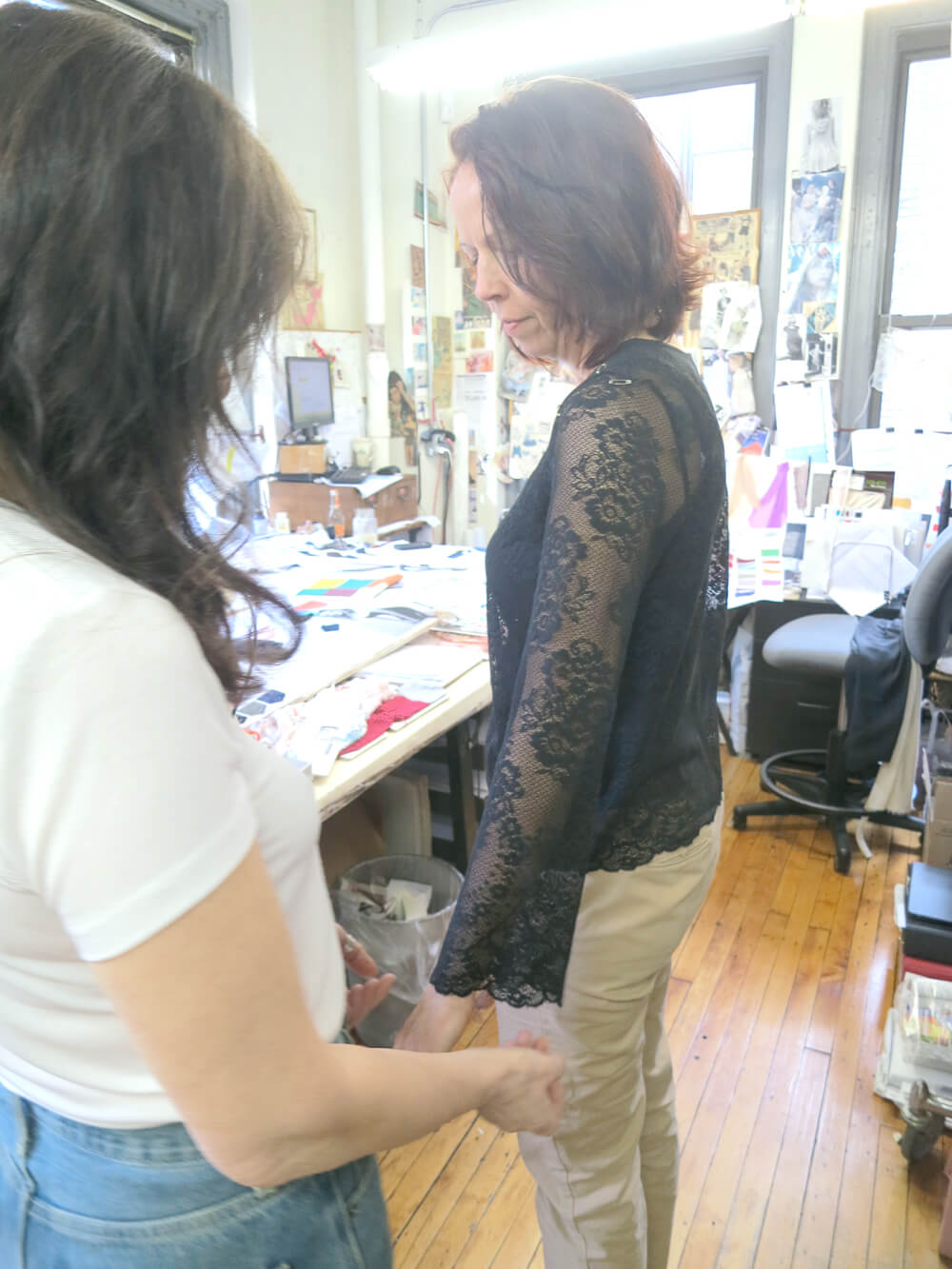 Betty is Helena's patternmaker and, like many employees at Only Hearts, has been at the company for many years - in this case, over 20. Helena says they have a type of "shorthand" and communicate seamlessly. Betty comes over to do a quick fitting, adjusting the length of the sleeve and underlining, as well as the position of the shoulder seam.
Helena does most fittings on herself. She was a fit model in the 70s and more or less kept her measurements. "I left the garment center after a year, saying they were all disgusting liars - which is true - but I found my way back," she says. "I'm still friends with my first boss - my only boss, in fact."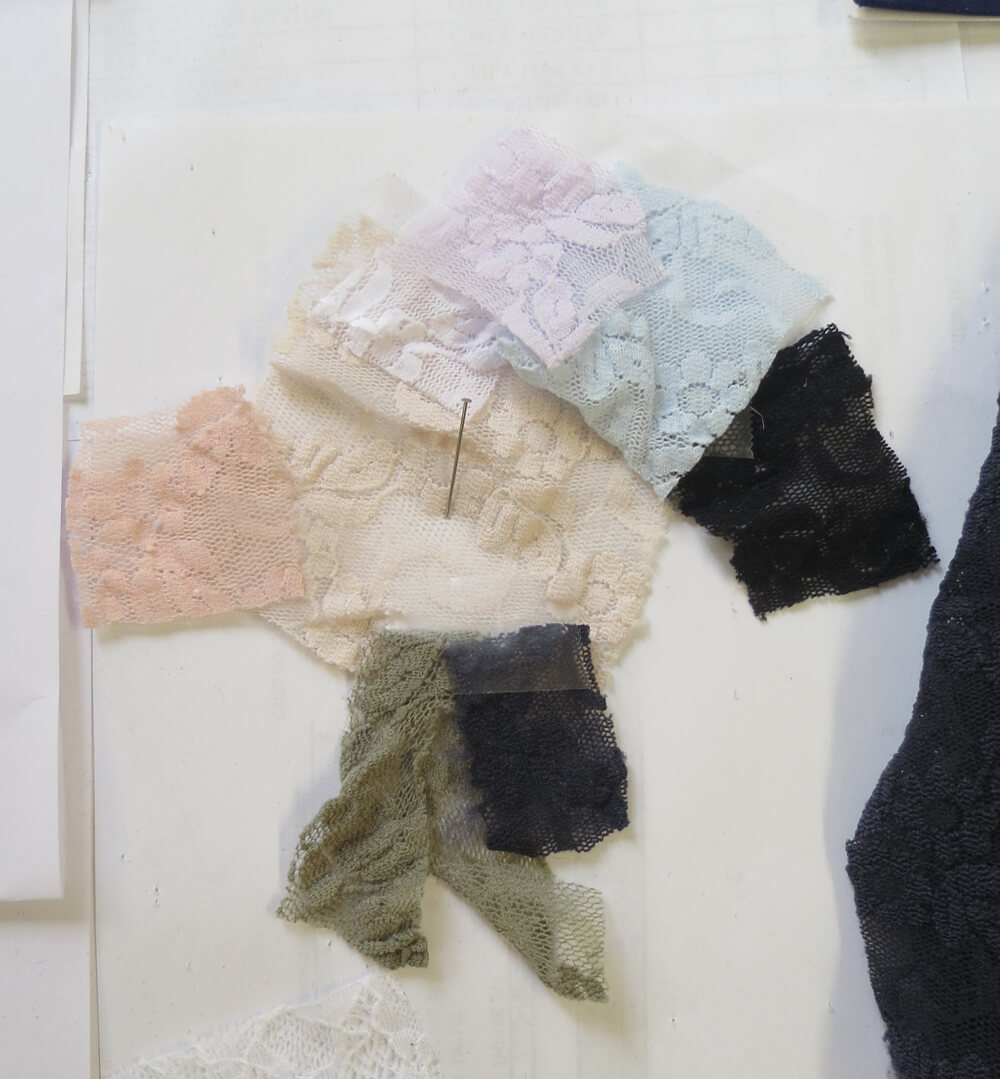 1 PM: Only Hearts' seasonal colors are decided in part based on color charts from the French lingerie trade shows, and Helena is narrowing down her selection, seeing which hues resonate with her. She's very into doing a yellow "banana creme" shade, but a design assistant reminds her that yellow sold poorly two years ago. Helena says it always does. "I think people will be wearing yellow next summer," she says, motioning at the yellow dress I happened to wear that day to prove her point. The garment industry relies so much on creative gut instinct over exact sciences.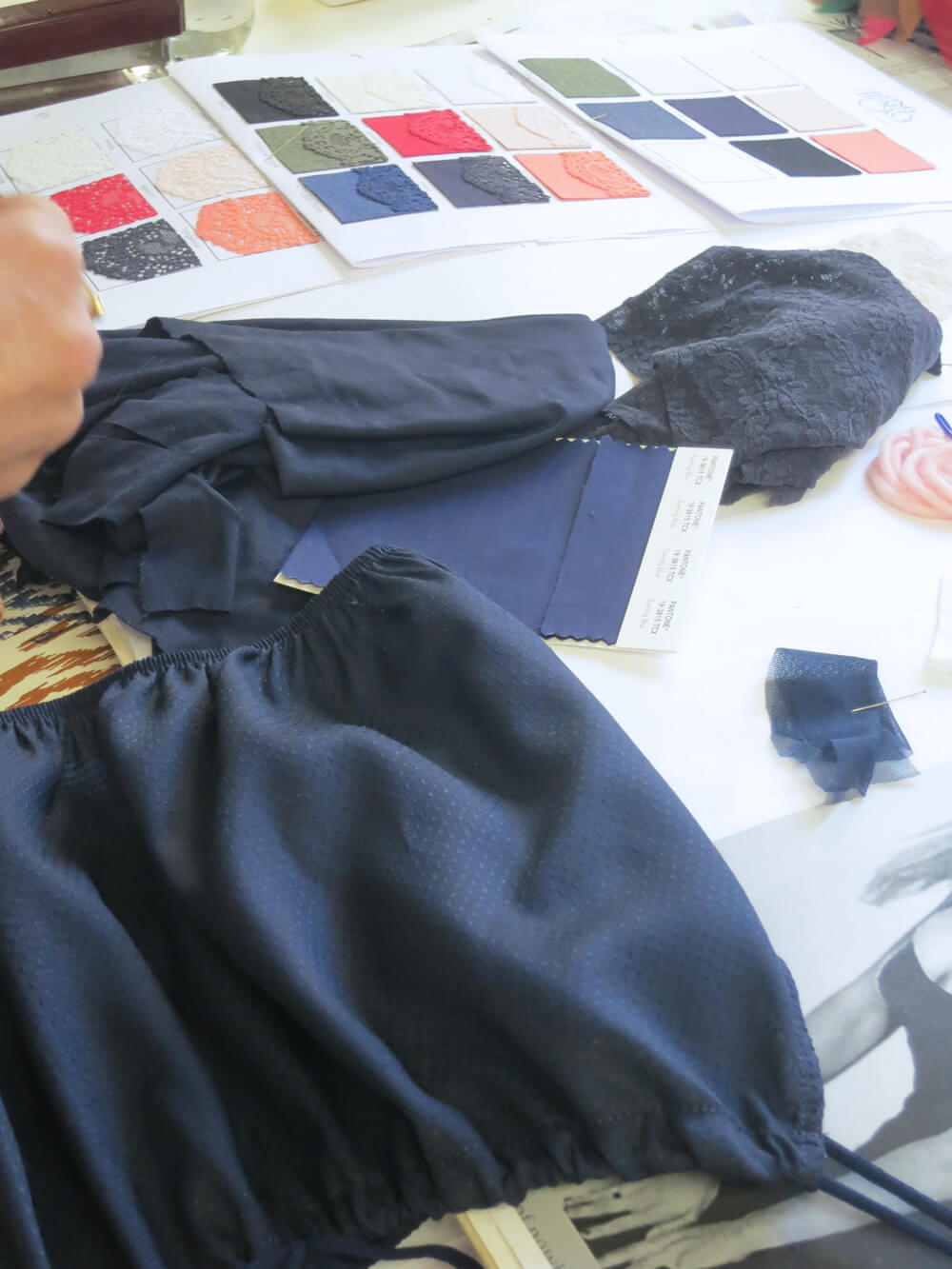 But when it comes down to specifics, things can get pretty particular. Helena has to make sure all selected colors hang nicely together, and that the shades match between fabrics. And then there are the specific colors themselves.
"People are so fussy about navy. 'Oh, I love it, I hate it, it's not the right navy,'" Helena says, lovingly imitating her buyers. She wants to brighten the Only Hearts' navy hue for Spring, but her employees say big retailers like Zappos and Amazon might have a problem with the colors not perfectly matching their previous stock. Helena says that it should be fine because screens display color so drastically differently, but no one agrees with her. She says it will be discussed further.
1:30 PM: A design assistant brings some finished Pre-Fall samples to hang on the final rack to take to the trade shows in January and February, and Helena notices that the cups are too wrinkled along the top. Apparently, the sewing notes said to "sew elastic as close to edge of lace as possible." Without an exact measurement, each piece is different. The production garments are in the same boat, so that style must be pulled and adjusted.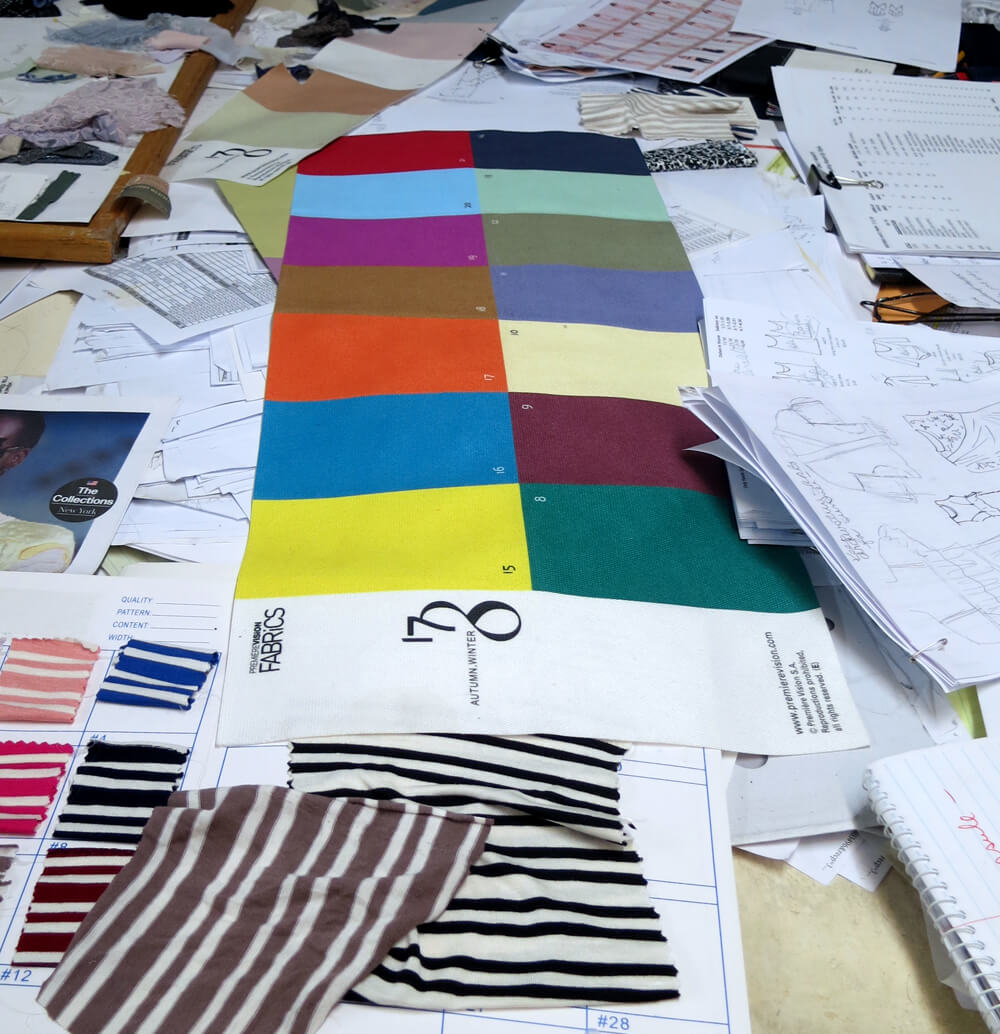 2:30 PM: After a meeting with accounting, Helena's back to doing fittings, holding still so the sample garment can be adjusted while she further examines fabric colors. She doesn't want to do another red for Autumn/Winter 17, because they did it for the two seasons before. The shade in question is a rich blue-toned red called Rosehip. Roseanne, one of the design assistants, says, "if you cut Rosehip, you don't have a sex color."
"Is that not a sex color?" Helena asks, pointing at a vibrant shade of blue-toned orchid.
Roseanne gives the fabric swatch a big side-eye. "It is for someone," she jokes.
3 PM: Helena gets an important email and makes a quick phone call. It's the type of phone call most designers would be screaming through: a boat carrying fabric is so late that Anthropologie is cancelling their order because it would arrive too close to Christmas. Not only are they no longer selling those 600 robes to a big stockist, but it's rolls and rolls of fabric that Only Hearts now owns, with no buyer.
Helena handles it with more grace than I've ever seen. "That's a big order lost," she says, disappointed and frustrated but moving on. I suppose that's how you stay in business for 38 years without losing your mind.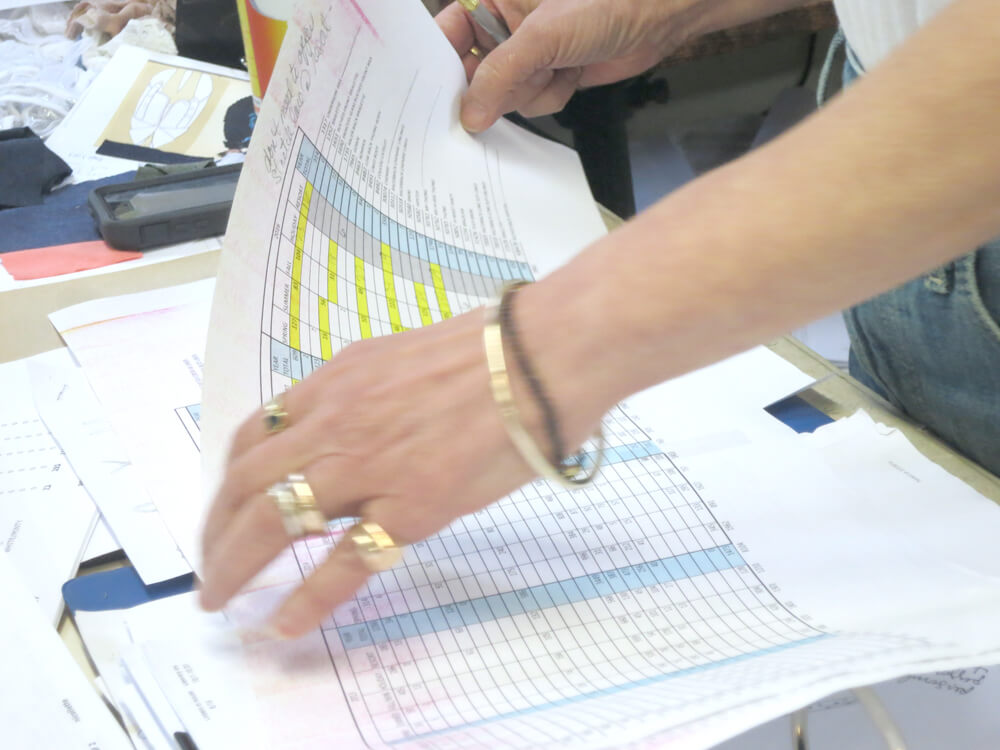 Only Hearts uses selling reports to decide how to move forward in future seasons. The numbers show how many of each style was sold at market, but it's not super reliable in the end. Many buyers order well after the trade shows. "Everyone knows we produce domestically and we don't have to put in orders months in advance, so we've 'trained' them to order later," she says. "We cut so close [to ship dates] that the numbers could rise or drop or stay the same; you can never tell."
The only items that aren't produced domestically are their silk slips (because they are cost-prohibitive to produce here) and their cotton panties (because they could get everything dyed, manufactured, and ethically-certified over there).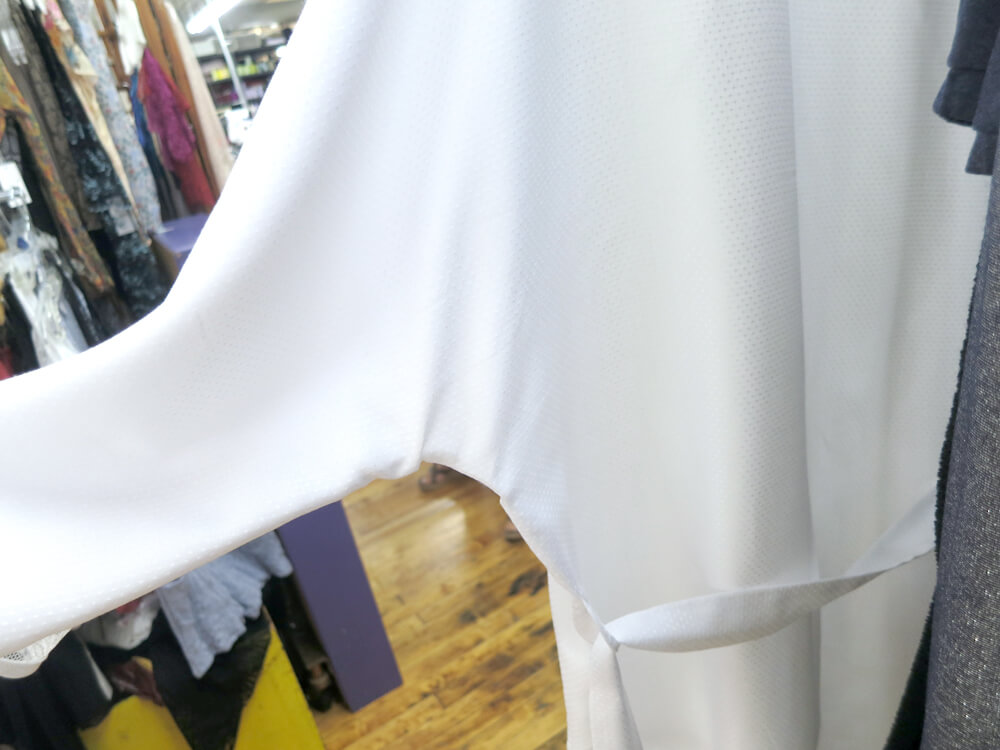 4 PM: Helena does a fitting with Betty behind her curtained office doors. Afterwards, they look over a robe sample made of a new white dotted rayon. The curved seam under the arm was OK in previous fabrications, but in the rayon, it looks thick and bulky. When they cut the fabric for production, they'll have to make the curve less dramatic.
Looking over the assortment for Summer, Helena thinks they should add a bodysuit. Except the bodysuit would need binding around the neck and arms, which increases cost. Adding styles is always nerve-wracking because, well, it's expensive. Helena says they used to have many more styles per season to satisfy all their customers "just in case," but they're trying to cut back.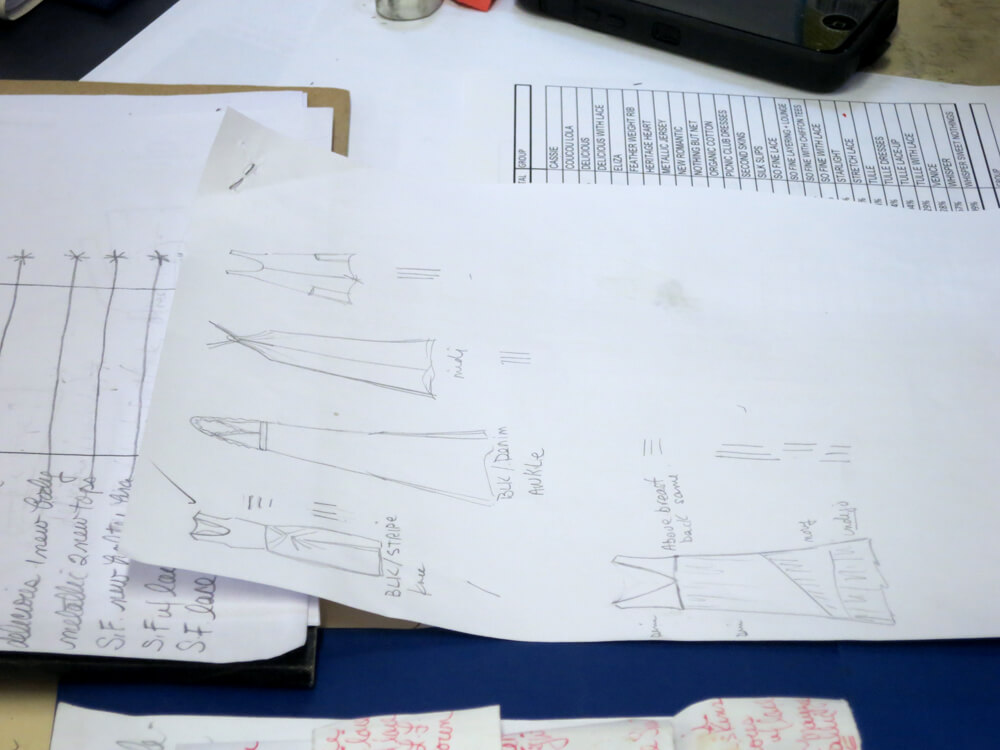 Much of the designing itself is done with Helena's daughter, Kaya, who usually lives upstate but stays above the boutique on Mott street when she needs to be in the studio.
Helena goes over sketches she did when Kaya was in the studio the week before, comparing them to her selling reports to see what sold well at market. If a style sells at least 25 pieces, it goes into production; any less, and it doesn't get made. 25 pieces is a super small number for mass production, but cutting those poorly-selling styles is often done at the expense of smaller boutiques, whose assortment might be totally thrown off by a single style cancellation. "We sell enough styles so that [a store] can have a full story of Only Hearts," Helena says. If they disrupt that for a small company, it feels disrespectful.
Helena realizes that they've only sold one single Lazy Mayzie romper so far and makes a note to tell her sales rep in California to wear it in meetings for a while. She was an ex-model and "makes everything look great."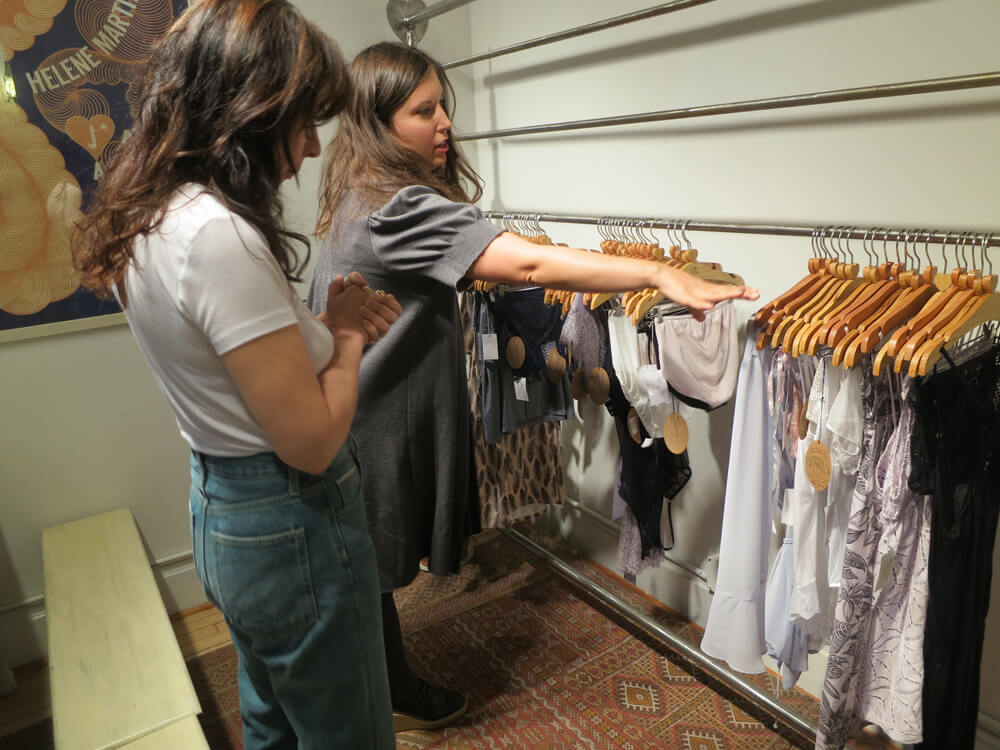 5 PM: Tomorrow, Helena is doing a sales presentation at Bloomingdale's so their retail associates can learn more about the line. She looks like she's dreading it, so I ask her, "Do you hate it?" "YES," she exclaims, putting a hand on her forehead. Even a glowing, hyper-intelligent, easy-to-talk-to person like Helena hates speaking in front of groups.
She goes into the showroom, where one of her reps has set up a rack of all the styles Bloomingdale's will be receiving over the next few months. Helena flips through everything, taking time to re-tie pretty panty ribbons and making mental notes on which styles will deliver when and to which stores.
Helena goes into the showroom offices, checking on everyone in marketing. Today they shipped items for a Rolling Stone cover shoot with Evan Rachel Wood. The stylist said that Only Hearts is exactly the vibe she's going for, so they hope something great gets printed.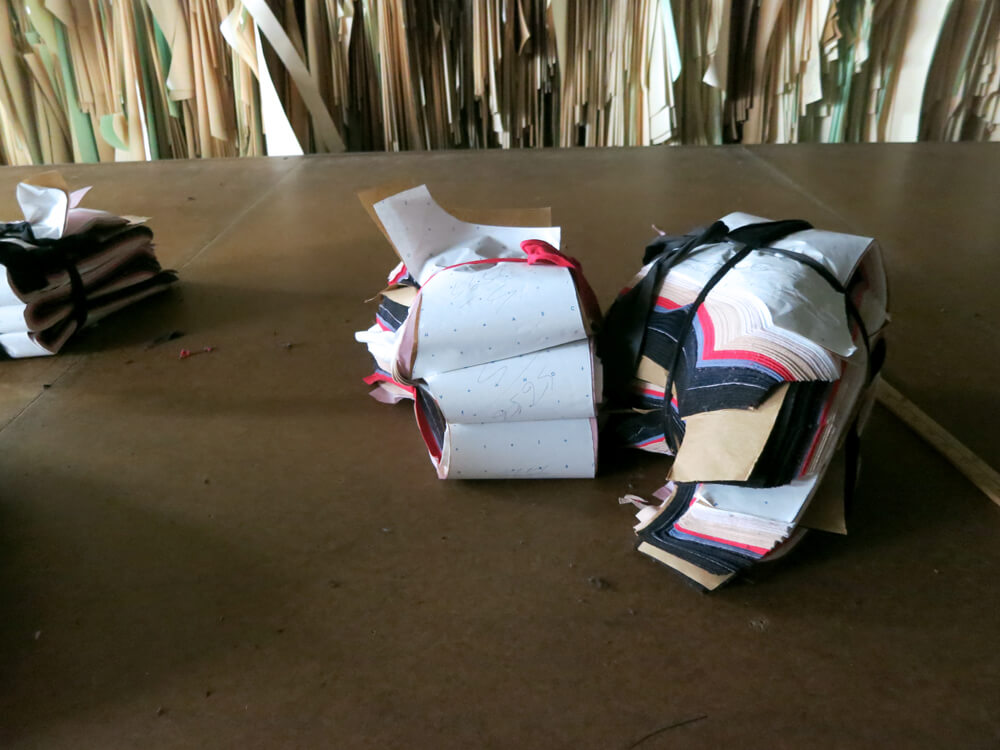 6 PM: The seamstresses and cutters leave at 5:30, so the design floor is quiet. Helena can catch up on more emails and look forward to future seasons, instead of coordinating particulars with colors and current styles.
She calls each Only Hearts boutique to ask how the day was, both monetarily and emotionally. They talk about the new budget, errors on the webstore, and scheduling dinners together. It's clear that she deeply cares about all of her employees, and is earnestly invested in their lives.
On my way out, I tell Helena that I'm in awe of her. She's been running this business for almost 40 years, when most apparel lines don't last a fraction of a decade. "I really give a shit about what we do," she says. "I stick to my point-of-view, what I think is sexy. There must be other women out there who agree."
Save
Save