A Day in the Life of a Chief Creative Officer: Julie Sygiel at Dear Kate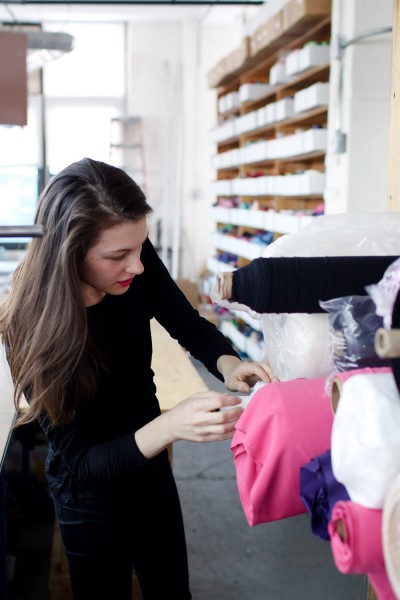 "A Day in the Life" gives you a look into the incredibly varied days of individuals working in the lingerie industry. Today, we're exploring the job of Chief Creative Officer at a small lingerie company.
When Julie Sygiel, a chemical engineer graduate, developed panties using a patent-pending fabric that wicks moisture from the body, easily releases stains, and resists leakage, Dear Kate was born. Now Julie acts as CCO, managing the creative direction of the lingerie label and designing new products.
All of Dear Kate's products are manufactured in Queens and shipped from a fulfillment center in North Carolina. The team of six has desk space at WeWork in downtown NYC. That's where I met up with Julie one Thursday morning as she was eating a bacon, egg, and cheese bagel at her desk.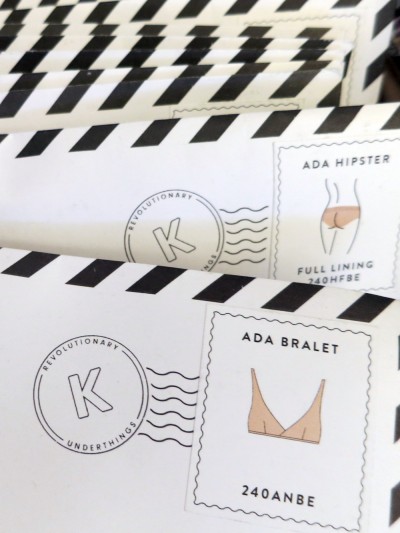 10:00 AM: Emails, sourcing and technical questions
"I switched to tea instead of coffee today," Julie tells me as she settles down to check the emails she's received since yesterday. "I'm not happy about it."
Answering emails is a huge part of Julie's day, from responding to press outreach and marketing partnership inquiries, to coordinating photo shoots, to scheduling fittings and pickups for new style samples, to ordering sample fabrics. Currently, they're working on three new pairs of yoga pants: a warm fleece-lined pair, a thinner pair with color blocking, and a pair made of a heathered space-dye knit. The lining of the panties is Dear Kate's proprietary Underlux fabric, but the other fabrics are sourced from outside mills. They haven't found a jersey fabric that they love for the new pants.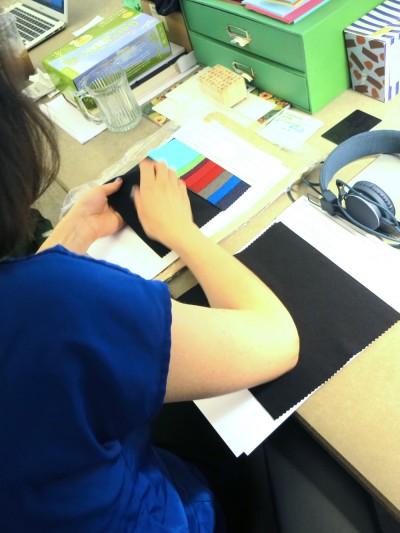 "None of these are stretchy enough, or have good recovery," she says, pulling on knit fabric swatches that don't snap back to their original size. She emails the supplier to send more options.
So much of Julie's time is spent refining the tiny details that make a collection perfect. One new yoga pant is made from a completely new pattern that uses two layers of fabric. Julie asks Heidi, their operations director, if they should make a sample with a single layer of fabric, just in case no one likes the two-layer style. "It would be a totally new pattern," Heidi says. "We'd have to start over." Developing, sampling and fitting a new pattern takes time, and they want to have it out before the holidays. They decide to start developing a single-layer style anyway, just in case, and Julie places an order for more sample fabric.
"Okay, I need coffee."
11:30 AM: Designing a new collection
Dear Kate is also going to release a new group of fancy panties for Holiday, made with a stretchy geometric mesh. Most labels design at least a year in advance, but Dear Kate designs relatively close to shipping dates because they don't sell to retailers in advance like many lingerie labels.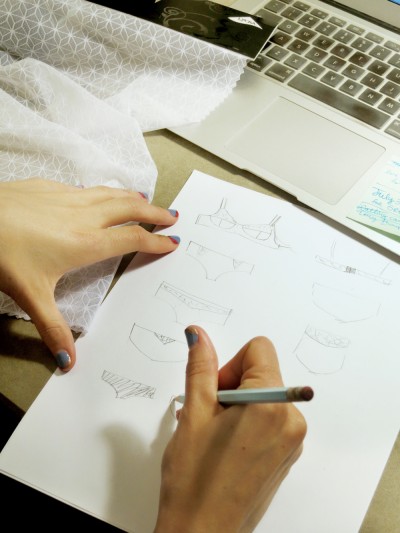 Julie is thinking about introducing their first underwire bra design in this collection, and goes back and forth between the ideas of a band or no band under the cups, and where to use a solid fabric versus the mesh. There are questions about the shape and cut of the cups and the width of the straps. She saves photos of bra and panty styles she loves to a Pinterest board for inspiration.
Designing for Dear Kate is a fairly analytical process because the brand is focused on function, and simple sells well for them. Julie wants to do more styles in muted, neutral colors, but bright neon hues always sell the best.
Unlike a lot of lingerie label founders, designing isn't Julie's background, but she still enjoys it. "It's a little stressful," she says. "I feel like there's high stakes. I always feel rushed."
12:15 PM: Picking photoshoot selects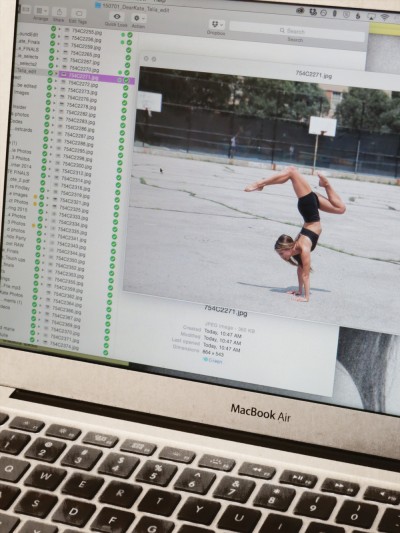 The day before I visited, Dear Kate shot a lookbook for their new mid-length yoga shorts in Brooklyn, and Julie goes through and picks her favorite shots. All of their lookbooks are shot on non-models, but the yogi who modeled for this shoot has a very athletic, slim body type compared to most girls who model for them, and Julie wonders if they'll get emails from people who think she's too thin.
In one photo, she's doing a bent-knee handstand and brushing her hair behind her ear... with her foot. "She didn't even stretch beforehand," Julie says, selecting photos that are pretty and interesting, but also show off the clothing beautifully.
12:30 PM: Interview with a financial management candidate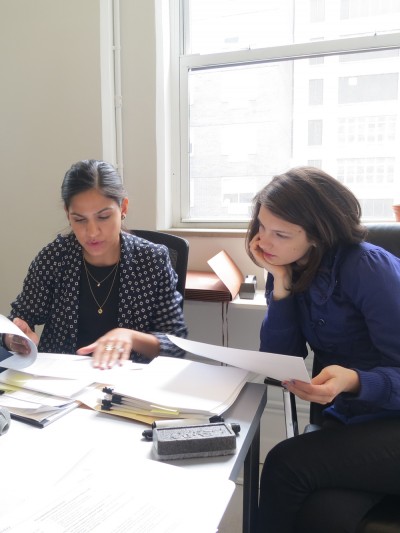 Along with fabric development, design, photos, and production management, Julie assists HongJoo, Dear Kate's CEO, with interviewing a new finance management candidate. Currently, the company's finances are managed by HongJoo and a bookkeeper, but they want to develop a system that keeps everything in one place: one spot to view inventory movement, sales, projections, and more. They go over previous projects that she has worked on to see if they would be a good fit together.
3:00 PM: Skype interview for reality TV show
After squeezing in a slice of pizza for lunch, Julie heads down to another conference room for a Skype interview. She's interviewing to be part of a pilot for a reality dating show on national television.
It doesn't seem work-related, but when you start a line, you take any opportunity you can to promote your venture. "All press is good press," Julie says as she sets up for the interview. "So any chance of being on national television is a chance to get the company in front of more people."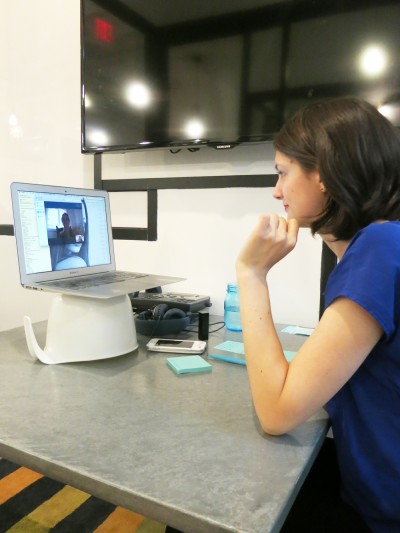 During the interview, the casting director asks Julie how men respond when she talks about her work. Julie replies, "When I tell guys that I make panties for 'that time of the month,' they either pepper me with questions, or completely change the subject."
The casting director cracks up. "The network loves you," she exclaims.
4:00 PM: Check-in call with Chief Governance Officer at Girl Scouts of the USA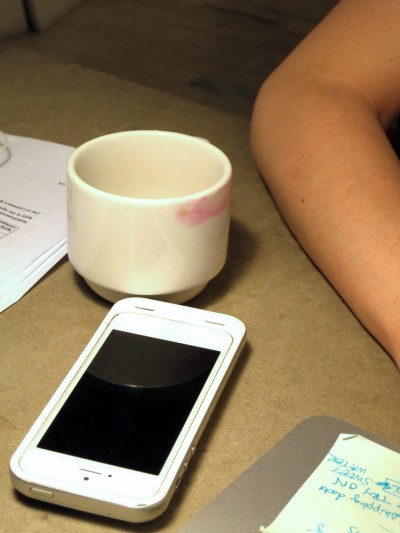 Julie got her entrepreneurial start by selling 10,000 boxes of Girl Scout cookies as a child. Now, she's a board member of the organization, and spoke the week before at an award ceremony for a group of girls who earned the Gold Award, the highest honor you can receive in Girl Scouts. At the ceremony, she congratulated them, gave words of encouragement, and shared her story as a Girl-Scout-turned-entrepreneur. She has a debriefing with Nhadine Leung, the CGO, about the event, sharing her experience and the positive reactions from the girls in the audience. "Julie is one of our main champions," says Nhadine.
4:30 PM: Technical difficulties
Julie gets back to her desk to some bad news from Heidi. Their factory had five boxes of merchandise shipped to their fulfillment center, and only four boxes arrived. The fifth box is missing from DHL's system. They have to open a claim that could take up to a week to settle. The missing box contained 15 SKUs; three styles in five sizes that need to be shipped to customers ASAP.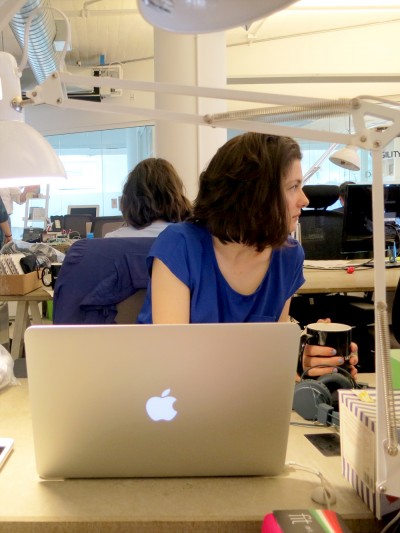 Julie says this hasn't happened before. "Nothing phases me anymore," she deadpans.
5:00 PM: Picking up a sample
Someone had tested out a yoga pant sample and was leaving the country, so they had to be picked up in Midtown at 5:45 PM that day. The trip wasn't convenient for anyone else, so Julie leaves early to take on the task.
The next day is the start of a long weekend, so despite the number of different duties on this particular day, it's relatively short. Julie usually gets into the office anywhere from 8:00 to 10:00 in the morning, and leaves between 7:00 and 8:00 in the evening. On Monday she'll be back in the office designing the new collection, testing out new jersey fabrics, putting together the new lookbook, and tracking down that fifth missing package. For now, she's going to get ice cream from Popbar on her way uptown.
Have you heard of Dear Kate before? What did you think of a day in the life of a lingerie industry professional?