Lingerie Review: Mimi Holliday Sugared Almond Bra & High Waist Corset Knicker
Disclosure: I received this set as a gift from Mimi Holliday for review purposes. All opinions are my own.
Mimi Holliday's Autumn/Winter 2016 Collections are full of styles named after sweet treats that are neither sickly nor saccharine. Cinnamon Sugar, Wild Strawberry, Marmalade - these simple, delicate flavors bring to mind sunlit autumn mornings in bed, with warm milky tea and cozy cotton sheets and fresh fall air. These sets fit right into that vision. They're pretty enough to satisfy your sweet tooth, but delightfully simple and oh-so-wearable.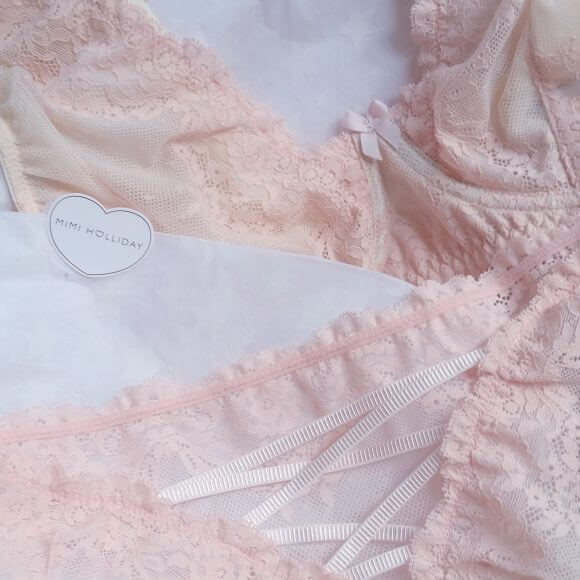 Using the softest blush stretch lace, the Sugared Almond group fits in perfectly. I didn't request a specific set when Mimi Holliday reached out, but aesthetically-speaking, I couldn't have made a better choice myself. The pink lace is ultra-soft, edged with tiny blossoming garlands, covered in swiss dots, and layered over creamy, vanilla-tinted mesh. It's so pretty but also incredibly soft and comfortable. I received the Non Padded Shoulder Bra, available in UK sizes 32-38 B-F, and the High Waisted Corset Knicker, available in sizes XS through XL.
The bra is excellent and almost acts like a "faux bralette." In a 32F, my usual size, I can barely feel it around my torso when I wear it. The band does run a tiny bit big. Combined with the single-hook back and the soft, stretchy lace, you get a bra that doesn't do a lot of heavy lifting, but rather gives just enough support. For individuals who love the idea of a soft, comfortable bralette but have trouble fitting them (hi! me!) or simply want a bit more lift, this could be a nice alternative. Plus, the high cups are lovely to show off under a lower top, just like a fashion bralette. It's really the perfect comfortable bra. It could even be a nice underwire sleep bra, if that's your style.
The stretch lace gives a retro teardrop shape, and the position of the dart means you'll always have a little point at the apex of your breast. If you're looking for a perfectly round, ultra-lifted shape, this isn't the bra for you. I wear the largest cup size available for this style, but from my experience fitting similar Mimi Holliday soft-cup bras, the shape will stay basically the same on smaller-breasted figures. The overall silhouette is very "1970s wildflower meadow maiden" and I am so down with it.
Comparing the photo of the model with my photos, it looks like the plunge might be cut slightly different in larger sizes due to the lace's width. In the 32F, the lace meets the center gore almost horizontally, giving the "V" shape a wide, flat "point." That angle looks less dramatic on the model, but it's hard to say without comparing the two in person. Having said that, if your breasts are particularly close together, the extra-wide "V" shape of the plunge may cut in. However, I can see this style working well on both shallow and full breasts.
I have a very short torso, so predictably, the knickers come up a lot higher on me than on the model. High-waisted panties in general give me mixed feelings; I love the vintage vibes, but I don't like how they look on my narrow hips. Luckily, this pair in particular is very high on the leg, which is a nice contrast and makes them look more like a style choice than a modesty decision. I typically wear between a Medium and Large in panties, and this Large feels true to size. I could size down, but the softness lends itself well to a slightly fuller fit, and I'm not sure I'd want that gusset to be any smaller! It's preeeetty narrow.
Both the bra and the knicker are mostly seamless and sit smooth against your skin, aside from the pretty grosgrain elastic corset lacing on the back of the knicker, which I'm obsessed with. If you don't mind the lack of nipple coverage, it makes a great t-shirt bra, with no edges showing from beneath your top. A bra that is full of pretty lace but soft enough to feel like a bralette? Like the name implies, this Sugared Almond set is delicately sweet but casual enough to wear on a daily basis. I love it.
What do you think of this Mimi Holliday set? Do you wear bras with this teardrop shape?
Save
Save