A Cheeky Look at the Best Underwear Moments in Women's Tennis, and How to Create Your Own
Disclosure: This post contains affiliate links.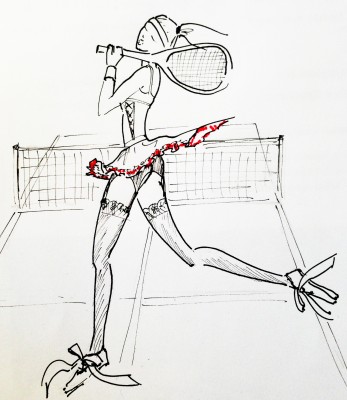 One of my favorite things about September is the US Open. Tennis, with its complicated scoring system and genteel sportsmanship even during multi-hour sweltering slog-fests, guarantees drama and intrigue --- and even more so now that tennis fashion has taken a place front and center in the Grandstand.
As a lingerie designer I'm glad to see women tennis players having more fun with their outfits --- especially their undies. Skin show in women's tennis has been a point of shock for more than a hundred years, as outfits have shrunk from multi-layered corseted affairs that hid everything and restricted movement to what they are today: tubes of synthetic fabric that may or may not cover full derriere.
As women have freed themselves and their bodies, their emancipation and strength have been reflected in changing tennis garb. What a hundred years ago was considered shocking --- a visible wrist --- is now demure, but that same cultural discomfort with female athletes showing their bodies has never really disappeared, even in our pop-culture age of relentlessly and tiresomely exposed body parts.
Spectating the female body has always been a pastime of various intent and return. Spectating the female athlete's body can be an even more complicated sport and has created plenty of confusion for reporters, tennis fans, and officiating bodies who create clothing guidelines. It seems to have offended or threatened all these onlookers to see women athletes displaying both their strength and their sexiness; brouhahas have erupted at various points of especially brazen fashion choices in women's tennis.
And let's not forget the epidemically popular 1976 image by Martin Elliot of a young woman casually lifting her tennis skirt to reveal no underwear at all. It seemed to focus all the fuzzy opinions and gazes on women's sport into one big semi-ironic ogle, and frame the question: c'mon, isn't THIS the real reason people watch women's tennis?
At the advent of women's tennis in the mid-19th century, players hit the courts in a corset, bustle, petticoat, full length skirt, and full sleeves. White was the color of choice because it hid indelicate sweat more than colored fabrics. After the turn of the century, as women's apparel in general became less constricting, players went along with the evolution despite some public objection. In 1905 May Sutton won Wimbledon with exposed wrists and a skirt that showed her ankles and calves. (see: A Brief History of Tennis Apparel at Wimbledon)
Midcentury brought myriad changes in women's roles, as well as the role of the tennis skirt. In 1949, Gertrud Moran boldly wore a pair of lace-trimmed panties under her white tennis dress at Wimbledon, causing quite a stir. It was around the same time that players got rid of restrictive stockings and bulky skirt weight, allowing them greater range of movement and a sport-wide increase in physicality and athleticism. (see: A History of Women's Tennis Wear)
In 1985, during a decade of fashion boundary pushing, Anne White wore the required all white outfit at Wimbledon, but shocked the establishment by reinventing the stodgy pleated skirt and collared shirt as a sleek, body conscious one piece bodysuit. (see: The Most Controversial Outfits in Wimbledon History)
Another big tennis underwear coup was in 2007, when Tatiana Golovin flaunted red undies beneath her white outfit.
Any conversation about changes in women's tennis clothing would be incomplete without a hearty salute to Venus and Serena Williams, who for fifteen years have been astounding the tennis world with their fashion piquancy along with their athletic dominance. Without exactly defying rules of attire, each sister has pushed the edge of what's acceptable in tennis, and together they have shaken up a sport that is historically conservative and in love with its own conservatism. (see: Venus and Serena Williams in Pictures: Their Most Outrageous Tennis Outfits Through the Years)
Venus's choice of a black lace negligee-inspired dress with nude-colored underwear was especially cheeky and groundbreaking. Never had athletic-wear taken such a literal and playful cue from lingerie.
All this got me inspired to put together my own lingerie-focused sporting outfits. I soon realized that limiting my search to tennis would make for a short and rather dull activity, since most sellers of tennis outfits seem to stick to the conventional silhouettes and offer only plain undies, so I broadened my project to athletic wear in general.
My first stop was at each of Serena and Venus Williams's clothing lines. Both sisters studied fashion design at the Art Institute of Fort Lauderdale and both have capitalized on their celebrity through various fashion deals and forays over the years. Venus's line, Eleven, is tennis-wear focused, and offers some fashion-forward prints and bright colors, but in my opinion doesn't come close to capturing her own boundary-pushing fashion sense. The boldest of the group, and the one with the most obvious nod to "sexy" was the pink python print skirt.
Serena, who was quoted as saying in 2004, "I'm an unbelievable designer. I don't know how I know and just do these things," recently announced that she's looking to revive her hibernating clothing line Aneres. A visit to the website reveals that it is scheduled to launch with new product in October of this year. (see: Five Things About Serena's Clothing Line)
Fila, a trusted name in tennis apparel, offers a huge array of mostly predictable clothing, with the exception of this statement-making red undershort, a la Tatiana Golovin.
Stella McCartney for Adidas remains a favorite of mine. Her line is a reliably exciting punctuation in the athletic apparel world, and is chic, energetic, sleek and fun.
I generally think of American Apparel more for occasions of hipster picnicking than for true athletic pursuits, but maybe I shouldn't; there's a huge, great selection of leggings, shorts, and sports bras in their famous array of metallics and prints. This biking short has a touch of lingerie-inspired lace to contrast its sporty stripe.
A new and very exciting discovery for me was Michi, an incredible line of lingerie-inspired athletic wear. I am dying to try out one of their gorgeous sports bras to see if they're as supportive as they are sexy.
Readers: If I've missed any great tennis or sports lingerie moments, please share them! Or if you have a favorite line of lingerie-focused athletic wear, we would love to hear.