Africa Fashion Week London: Gym, Swim and Lounge
I'm officially bored of bras. So this year, the only trade show Jess and I have been to is Africa Fashion Week. Like the supposedly international London Fashion Week, the organisation was a bit erratic, all the staff wore black, and someone shilling hair products chased me around. Jess was chased by someone who specialises in large size ladies footwear, so full marks to everyone's marketing, at least. Unlike LFW,  the currently-much-smaller AFW only features designers who have African heritage. As well as British and French designers, we met people who travelled from Nigeria, Senegal, South Africa, and Gambia.
I wasn't sure there'd be much to cover for an undies blog, but as Jess pointed out, when she's living in Nigeria, the border between daywear, eveningwear, and beachwear becomes a bit vague. Fabrics tend towards the lighter end of the spectrum. She was right; not only did we find swimwear and beachwear brands, but also plenty of garments too lightweight to wear most of the year in the UK.
​Rooi Rok Bokkie is a South African brand, and they're releasing this range of beautifully printed,  floaty garments next season. It's called the 'Protea' range, as the print is of the South African flowering plant. Bokkie is a term of endearment in Afrikaans, and the fabrics are printed in South Africa with any surplus being given to local women. Being loose cut, lightweight garments, the styles lend themselves well to lounge and beachwear, but I have to admit that, for me, the print caught my eye most of all.
Prints were where it was at for this year's show. The first stall I went into was Primavera Fitness, a UK-based brand of Brazilian heritage creating spectacular sportswear for yoga and dance enthusiasts, especially Samba.  Both Jess and I gravitated towards the mannequin, which may sound ridiculous, but it was a specially proportioned mannequin! When you've been to dozens of trade shows full of 'standard' mannequins, believe me, you'd get excited about life-sized bits of plastic too. Plus, it had this excellent top.
All of Primavera's garments are made from high-tech sportswear --- lightweight, fast drying, and slightly shaping. Much of it is also suitable for swimwear. The tops often have padding and underbust support, meaning smaller-busted people can wear it without a bra (even if you have a fear of showing nipples), and larger-busted people can wear it along with a bra if they choose.
At the next booth we visited, we discovered Beach Cult's printed swimwear line. Beach Cult makes all their garments in Cape Town, using local artists make prints of nearby flora and fauna motifs like crayfish, protea and palms. In addition to being impressed by the quality of swimwear fabric and the choice of high waist or standard bikini briefs, I was also amused by the matching swim shorts aimed at men. They've also got a good line in crochet bikinis, but I have no idea what counts as good quality there!
Continent Clothing makes some stand-out unisex shorts using Gambian African Wax Print cotton. This pair also had metallic gold details (I'm a rubbish photographer and couldn't show it). As they put it, the brand is "colourful, comfy and aimed at bringing a bit of African sunshine into your life." If you follow their social media, you can see all the people involved in sewing, as well as the community.
The use of African prints and shapes is an ongoing theme. Obi Ichiebuka, the designer at Roooi, uses noticeably kaftan/boubou inspired silhouettes rather than robes, and I spotted a West African wrapper-style dress too. His most popular garments use animal prints, but this one reminded me of the... feminine intricacies, shall we say, of orchids. They're available on Asos at highstreet prices and the fabrics feel silky soft. These are definitely sleepwear/loungewear/very hot weather appropriate! And they're also made in the UK.
G321 is a Nigerian brand using traditional Nigerian prints onto modern chiffon designs. These two pieces are semi-sheer in person.
For those of you only here for sheer black things and/or lace,  you'll be pleased to know that in the "art installation" section compulsory at all fashion trade shows, there was a sheer dress by Cyndy Holt.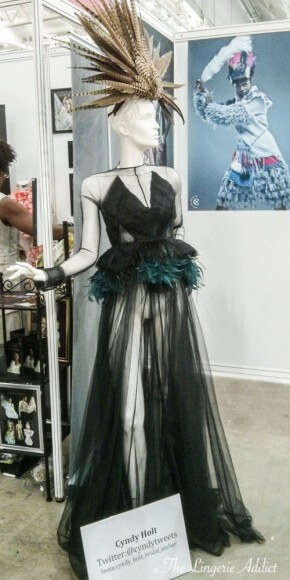 As for lace --- I saw plenty of it, all heavyweight, and all used on formal dresses. The best example was at Needlepoint, which is another Nigerian brand using Nigeria fabrics and manufactured in Nigera. They let me take some detail shots, just for you!
Do you have a favorite designer from the ones above? And would you wear any of the looks shown here?