Australian Lingerie Spotlight: A Chat with Marie Savvas of Palindrome Lingerie
[caption id="attachment_38944" align="aligncenter" width="550"]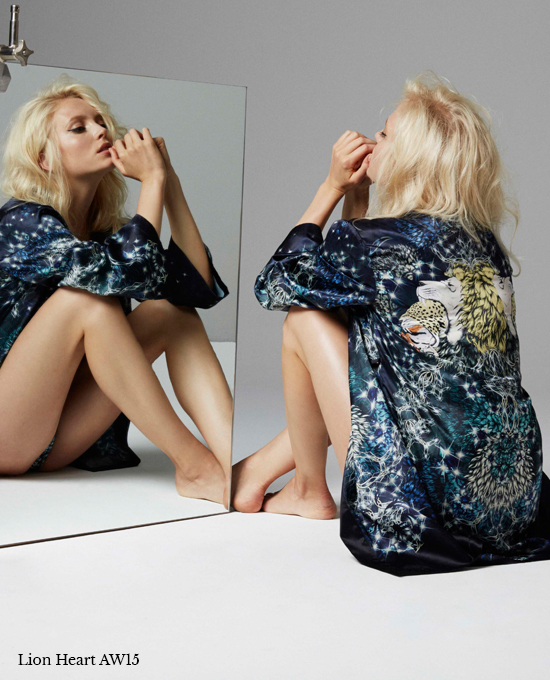 Palindrome - Lion Heart Robe
[/caption]
A few months ago, I wrote An Introduction to Australian lingerie. The brands I chose to feature were either relatively unknown in the international market, or unique to Australia in some way. In the last few years, I have observed changes within the Australian lingerie and swimwear industry, which I'm sure are not unique to Australia. Our close proximity to Asia and the need to quickly create and ship products means a lot of companies are moving whole areas of departments overseas. The reasons for this can be varied. Global growth for the brand, cost saving and reduced time for development are common reasons, however.
From my experience, I do not disagree with manufacturing overseas. As someone who travels to Asia, I can advise you overseas manufacturers are highly skilled technical experts and leaders in their area. However, moving design, technical, and production teams offshore for the bottom line is a huge loss to our industry. It is one thing to move manufacturing overseas, but quite another to hand over the reins of design and technical areas as well.
It takes someone with vision and strength to be bold and take that leap into the unknown. When big companies are calling all the shots and you feel like a little fish in a big pond, it's empowering to see someone taking that leap. Some of the brands we have featured or mentioned on TLA from Australia are Hopeless Lingerie, Silent Assembly and KissKill. I'd like to now introduce you to a new Australian lingerie brand, Palindrome.
Recently, I caught up with Palindrome founder and creative director Marie Savvas and we discussed how she became a lingerie designer, why she decided to leave her full time job to start Palindrome and how she is still a self-confessed 'boy band groupie'.
[caption id="attachment_38945" align="aligncenter" width="499"]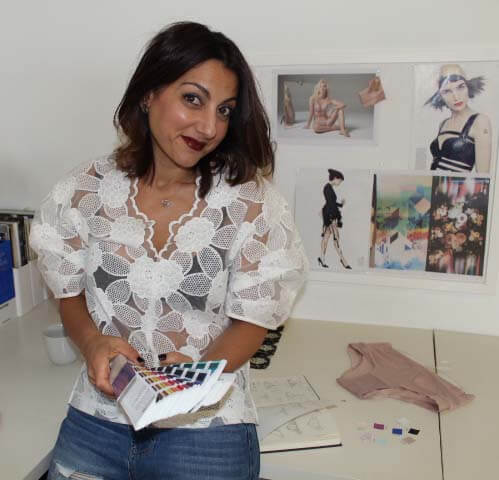 Palindrome Founder and Creative Director - Marie Savvas[/caption] [caption id="attachment_38951" align="aligncenter" width="720"]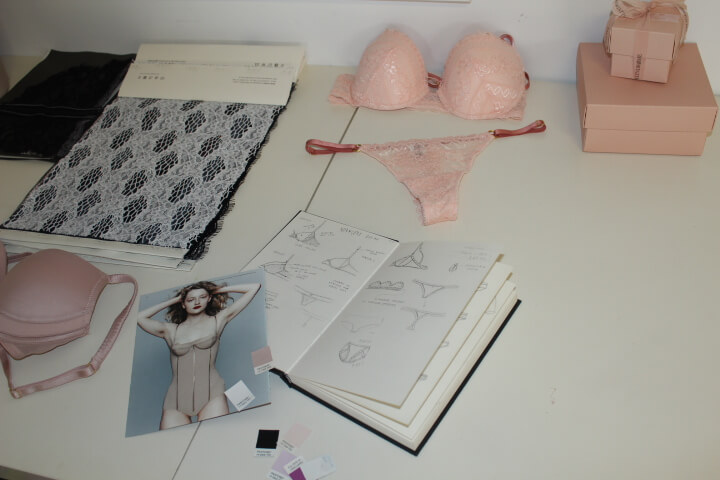 Palindrome - Studio designer's sketchbook[/caption]
How did you become a lingerie designer?
From the age of 11 years I made up my mind that I was going to be a 'famous' fashion designer and spent hours drawing clothes. The back pages of every school book were filled with creations many of which I designed for celebrities such as a wow-factor wedding dress for Madonna when she married Sean Penn. It was white with red polka dots; I still have vivid memories of that design.
It wasn't a conscious decision to have a career in intimates. As a student of fashion design, lingerie barely registered in the curriculum and so it was never on my radar. The dean of fashion design referred me as a suitable candidate for a lingerie design assistant position that came up through the school, I got the job and the rest is history.
I didn't seek out lingerie; it found me. However, in retrospect I see why the universe actualizes things because I remember making undergarments for my brother and dolls as a child with my own child-sized sewing machine!
[caption id="attachment_39062" align="aligncenter" width="550"]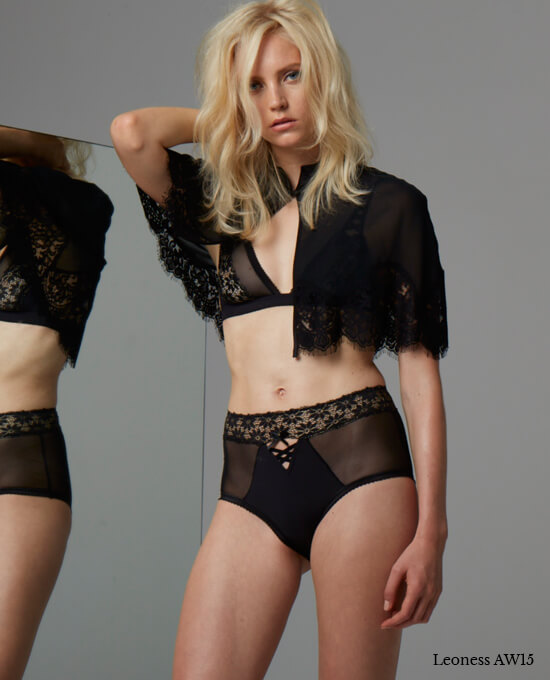 Palindrome - Leoness
[/caption]
Congratulations on your launch in February! What led you to create Palindrome? Have you experienced any challenges so far?
The launch has been exciting but I have to remind myself to stop and appreciate what is happening, especially because the brand got picked up in our first season by Australian department store Myer. After 18 years in this industry I now have the opportunity to explore my own design aesthetic. For years I've designed for other brands and executed somebody else's vision. I affectionately call it free-range designing!
I've spent most of my career working for wholesale businesses then transitioned into a hybrid designer director/buying role for a retailer which required a thorough knowledge of the local and international marketplace. Over time, as I got to know the competition and retail landscape it became inherently clear there was a gap in the market for a brand of beautiful, luxe lingerie with affordable price points. A brand that was cool with an attention to fit.
Challenges have been many! Early on I made a decision not to over think or dwell on the aspects of business that I had little to no experience in, such as logistics, stock keeping, forecasting… the list goes on. The decision not to psych myself out was vital to building up the courage to resign from my well-paid full-time job to execute a startup business. When I encountered tasks beyond my knowledge or capability, I would ask for help and advice or search the internet. I just received my Masters Degree in Google!
[caption id="attachment_38946" align="aligncenter" width="550"]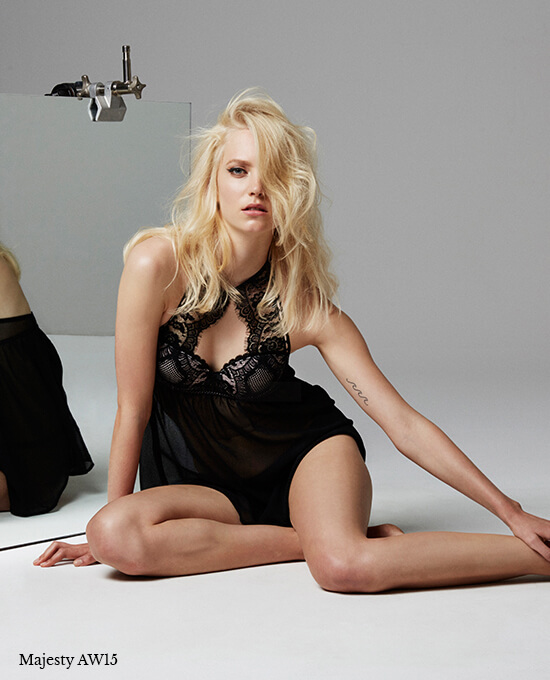 Palindrome - Majesty Halter Neck Babydoll
[/caption]
Palindrome is an interesting name. What does this mean?
Palindrome is a word, line, verse, number, sentence, etc., that reads the same backward as forward. My surname is a palindrome (Savvas). To me the word is symbolic of symmetry. We're in the business of creating foundation garments where we are always looking to create balance in symmetry to the female form.
[caption id="attachment_39063" align="aligncenter" width="550"]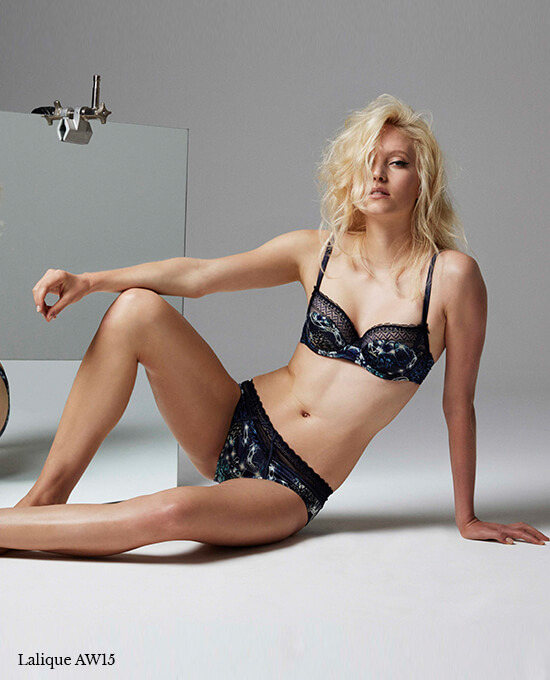 Palindrome - Lalique Contour Bra and Midi Brief
[/caption]
Talk us through your design process. How do you gather trends and what's involved in the creative process?
The design process is a liberating form of expression. By nature designing lingerie is also an intellectual process because you have to challenge the balance of aesthetics with functionality. The technical side of this business is something I've grown to enjoy and has ultimately made me a better designer.
I'm into what's trending all the time. I just love it! I'm always looking out for what's hot and new, who the next 'It' girl is and what's happening in celebrity-land. Overseas travel is by far my preferred method of gaining inspiration and pulling together concepts. People watching is also very important, knowing what real people wear and not only relying on glossy magazines because they are about fantasies. We want to sell aspirations, but to real women.
Our seasonal print will dictate the colour palette for the season, then the collection is meticulously planned so that we offer a perfect mix of shapes, fabrications, prices and styles which harmonize and result in a balanced, well-merchandised collection. This can be reworked several times before nailing it.
At the moment we work 12 months in advance, so I have to be sure that the themes are timed well and on trend for the following year. Design rarely occurs in the office, I usually create my best work late at night when I am exhausted and not over thinking the design process.
[caption id="attachment_38947" align="aligncenter" width="550"]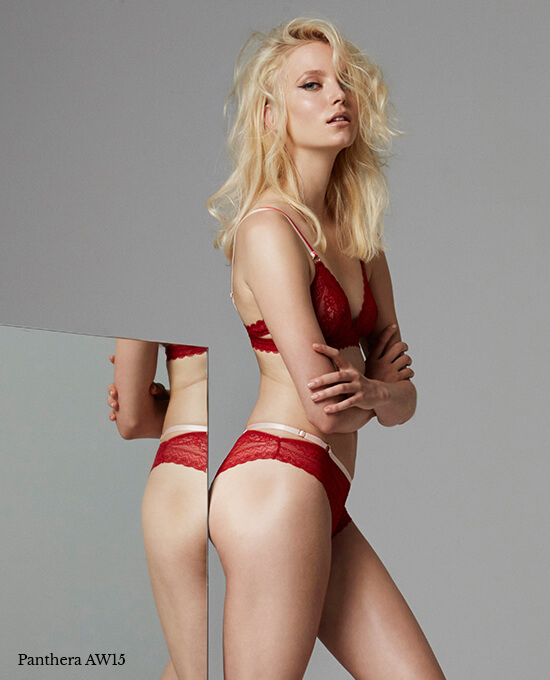 Palindrome - Panthera Contour Bra and Cheeki knickers
[/caption]
Out of all the pieces in your debut collection, which piece is your favourite and why?
The Lion Heart robe. It was the first piece I saw in my mind's eye the moment I first saw the print artwork.
Print design seems to be evolving in lingerie with designers using themes other than florals and alternatives to softer palettes. Why do you think this is occurring?
Digital print technology has evolved hugely over the past 10 years, which has ultimately meant print design has also developed. My philosophy is that consumers are overstimulated with choice; therefore, designers should push boundaries on traditional design to keep it interesting.
[caption id="attachment_38948" align="aligncenter" width="720"]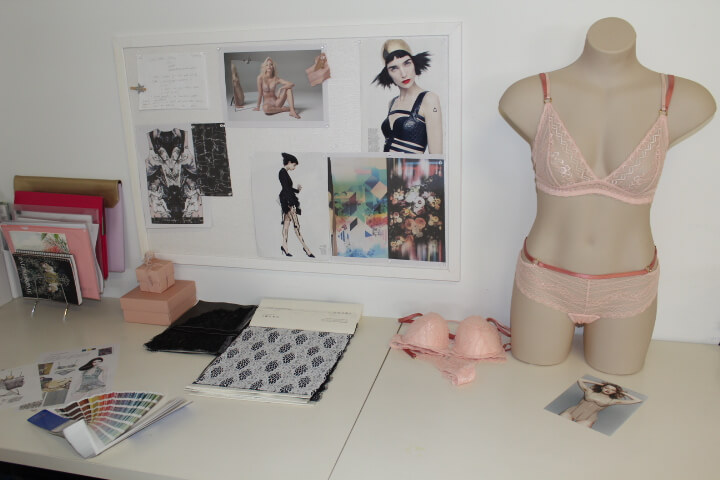 Palindrome - Studio with Panthera on the mannequin[/caption]
Your photoshoot featuring model Fredricka Larsson is contemporary chic. What is the inspiration behind the shoot? What's the Palindrome woman like?  
Making an impactful first impression is paramount so a lot of time and planning went into creating a finished look that was polished, easy and a perfect balance of feminine and masculine elements which reflect the brand's signature. We added mirrors to create palindromic innuendo.
The Palindrome girl knows herself and what she likes. She's effortlessly cool and into fashion.
[caption id="attachment_39064" align="aligncenter" width="550"]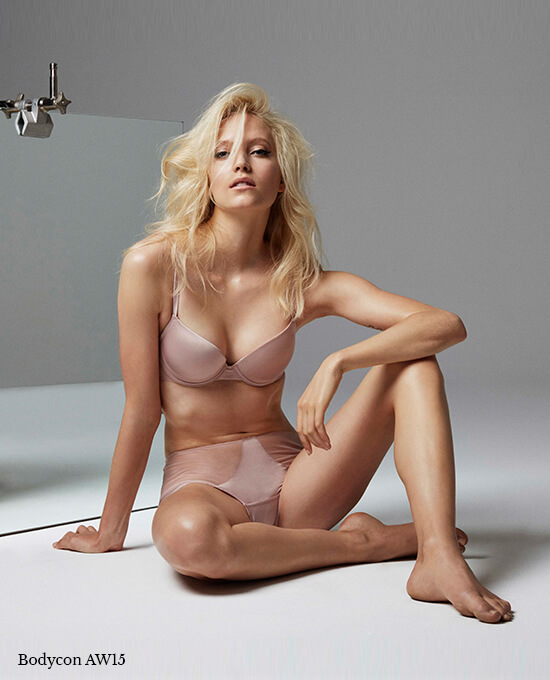 Palindrome - Bodycon Push up Bra and Boyleg Brief
[/caption]
What other Australian brands do you love and why?
Zimmermann. Great design, amazing attention to detail, exquisite prints, quality fabrics. This is my go-to label, especially for something special. Zimmermann is world-class, I'm proud to see successful Aussie brands kicking it when I travel abroad. More recently my attention has been drawn to a brand called Asilio, great design at affordable prices.
[caption id="attachment_38949" align="aligncenter" width="550"]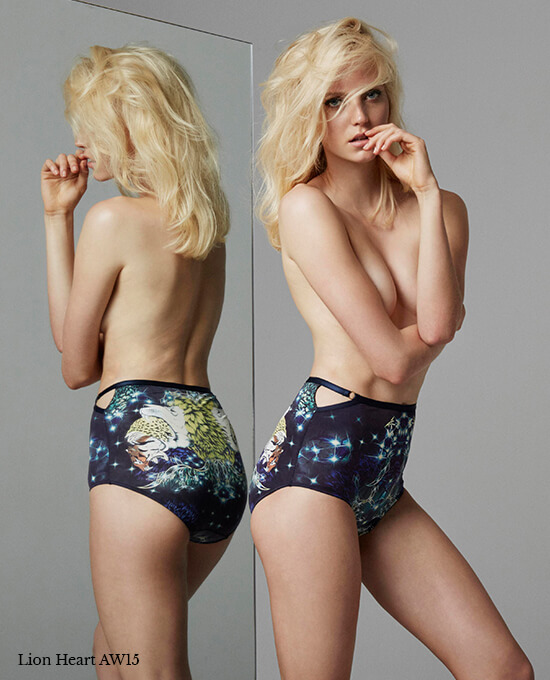 Palindrome - Lion Heart Maxi Brief
[/caption]
Are there any fashion rules you love to break?
There are no rules in fashion except the rules of proportion in knowing what works for your body shape.
Tell us something unusual about yourself.
I'm still a boy band groupie. I still see the Backstreet Boys every time they tour and I couldn't miss a One Direction concert either!
Your guilty pleasure?
Expensive shoes are my weakness. The higher, the better.
[caption id="attachment_38950" align="aligncenter" width="550"]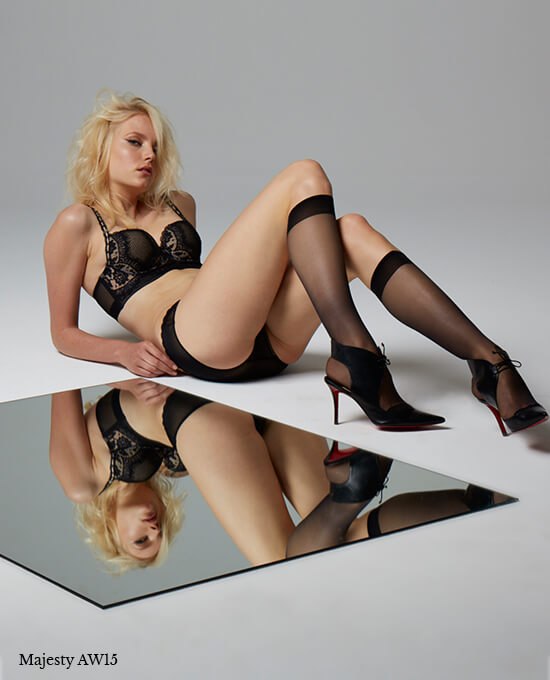 Palindrome - Majesty Bra and Midi Brief
[/caption]
Where can we purchase Palindrome lingerie? What's in store for next season?
http://www.palindromestudio.com.au Or selected Myer stores in Australia www.myer.com.au http://www.myer.com.au
Our next collection is 'Curated Botanical.' Vivid colour with an optimistic mood.
[caption id="attachment_38952" align="aligncenter" width="550"]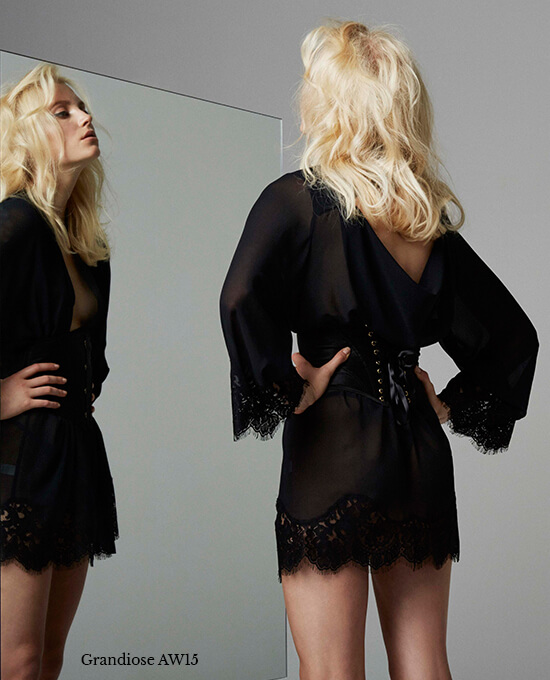 Palindrome - Grandiose
[/caption]
What are your favourite pieces from Palindrome? What are your opinions about the changes within the lingerie industry?