A Lingerie Lover's Guide To London
I'm a born-and-bred Londoner, so I've got to know the underwear ins and outs of my city pretty well over the years. I thought that I'd share some of my favourite lingerie locations with you, just in case you're planning a trip to the capital in the near future!
All photography by Karolina Laskowska unless otherwise credited.
Location: 11 Pont Street, SW1X 9EH
Opening times: Monday from 14h00 to 18h00 - Tuesday - Saturday from 10h30 to 18h30
Given that Carine Gilson is one of my favourite ever lingerie designers, I wasn't going to leave her London boutique off the list! In my opinion it is the closest you can come to lingerie paradise – but would you expect anything but from couture lingerie?
Admittedly, the lingerie that you'll find here are pretty far out of most people's price ranges (my own included), though I thoroughly recommend a visit even if it is just to peruse the latest collections and stare adoringly at the beautiful lace and incredible craftsmanship.
The boutique has two floors, with the basement offering the most opulent changing room I've ever seen – plenty of twirling space, with gorgeous gilded artwork on the wall and further racks of delicious lingerie to tempt you. The staff are incredibly friendly and welcoming, and should you have the funds and they don't have your size in stock, they may be able to arrange for the atelier to make it specially. This is literally the pinnacle of luxury lingerie!
Location: Cromwell Road, SW7 2RL
Opening times: 10h00-17.45 daily, 10h00-22h00 Fridays
The V&A is my favourite museum of all time, and a must for any fashion lover. It's free to visit, with certain temporary exhibitions carrying entry charges.
The permanent fashion collection contains some absolutely exquisite examples of vintage and historical lingerie – including (but not limited to!) 18th century stays, Victorian corsetry and crinolines, 1920s slips and Christian Dior's New Look foundations. It's also possible to make appointments to view the archive and see certain parts of the collection that aren't available to the public up close.
Location: 23 Monmouth Street, WC2H 9DD
Opening times: Monday - Saturday 11h00-19h00, Sunday 12h00-18hoo
Coco De Mer is world renowned for its blend of fashion and eroticism – and with good reason! It's one of my all-time favourite boutiques to shop in, with a near-unbeatable selection of luxury lingerie to suit nearly every tastes – whether you're into feminine silk and lace or hardcore leather and latex.
One of the things that I love most about this shop is that they stock so many new and unusual designers that may not be the easiest to find in the UK – including most recently Paloma Casile, Edge O' Beyond, Something Wicked and I.D. Sarrieri.
Coco De Mer also has its own range of lingerie, with plenty of cheeky naughtiness to be found – expect lots of ouvert knickers and cupless bras! The boutique also carries a range of gorgeous one-off corsetry from designers Sian Hoffman and Kunza, and a range of utterly gorgeous vintage silk kimonos.
The staff here are always friendly and helpful, and very knowledgeable about the products and the fit. Be warned though! Dispersed between the beautiful lingerie you will also encounter quite a few sex toys, so this may not be the best place to visit on a family holiday!
Location: 400 Oxford Street, W1A 1AB
Opening times: Monday - Saturday 9h30-21hoo, Sunday 11h30 - 18h15
Selfridges is an incredible department store, but for obvious reasons the lingerie department is my favourite part. It's a relatively diverse department, offering lower price point brands such as L'Agent, Wacoal and Elle Macpherson, alongside its more luxurious offerings. You'll also find an excellent hosiery section (including my personal favourites Falke and Wolford), nightwear (with lace deliciousness from Marjolaine and beautiful silk prints from Meng) and concessions for Myla, La Perla and Agent Provocateur (the latter stocking an excellent selection of their 'Soiree' range, which I thoroughly recommend inspecting in person for the beautiful details that you can't make out online).
However, my favourite part of the Selfridges lingerie department is the 'Contemporary' section. Here you'll find the most exciting independent lingerie brands, often with exclusive designs for Selfridges. The range of designers seems to change every season, but the last time I visited, the section included Something Wicked, Loveday London, ID Sarrieri and Bordelle. I've enjoyed many afternoons playing dress up here and have spent entirely too much money in their seasonal sales!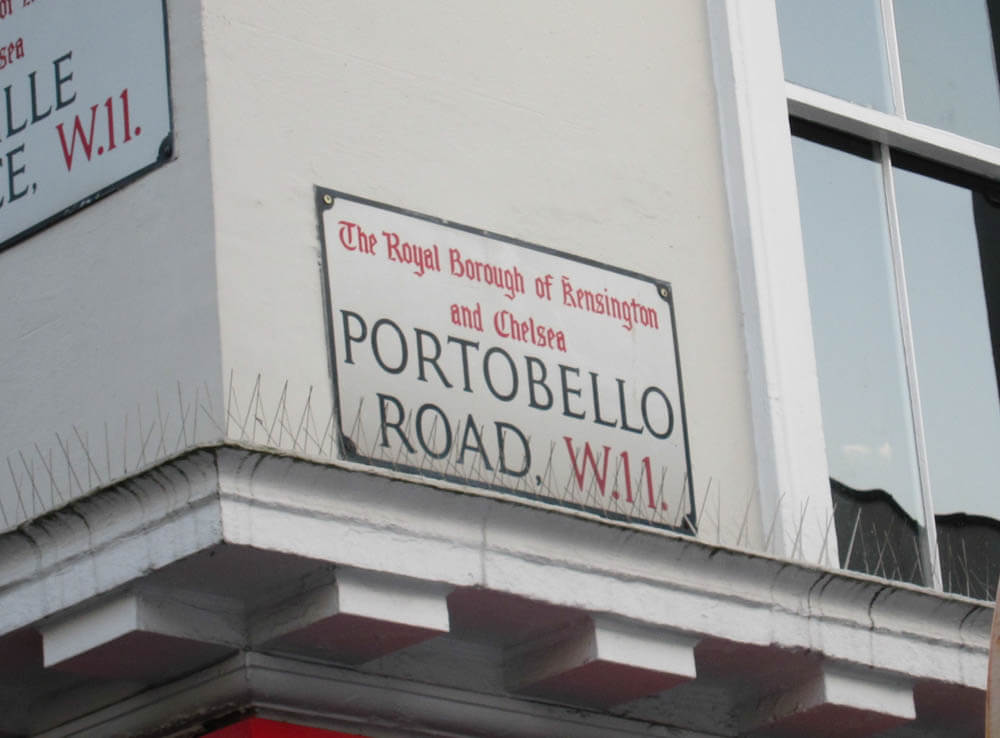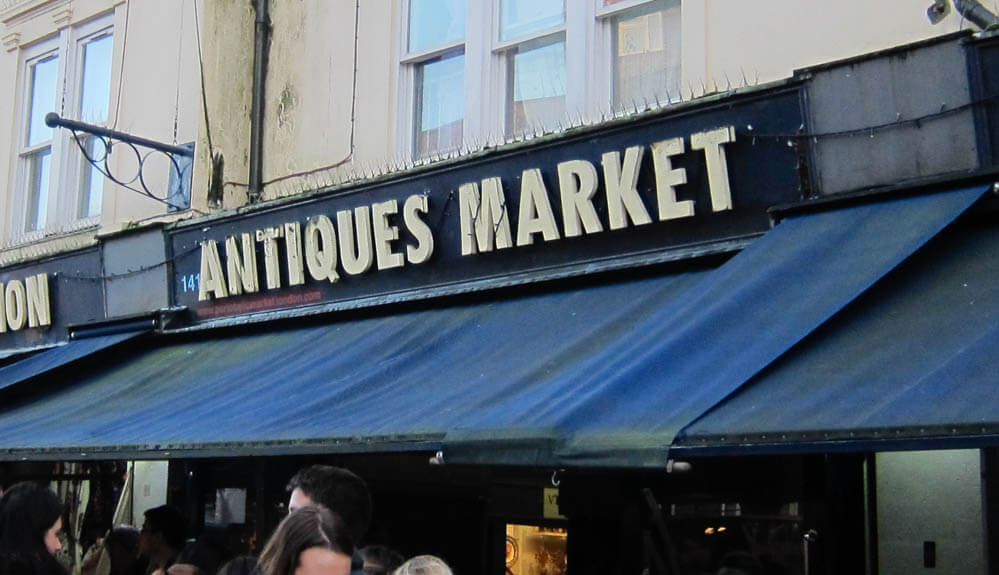 Location: Portobello Road, W10 5TA
Opening times: Antique market open 09h00-19h00 (though trading may begin earlier)
Portobello market is a famous antique market – as a designer I've found it one of the most inspiring locations in London. As a lingerie addict, I've also found it dangerously easy to spend my money!
Here you can find stalls and arcades selling absolutely stunning antique laces (trust me when I say you simply cannot compare it to modern lace, it is that beautiful), genuine Victorian fashion plates detailing stunning corset illustrations and vintage fully fashioned stockings and lingerie.
Admittedly, all of this will require a great deal of digging and patience. It's a pretty big market with a lot to see! I've also learned that it doesn't hurt to haggle and try to get a better deal. I've even had stallholders tell me off for not trying! The best stalls are out on a Saturday, and I would recommend visiting early to try to avoid the crowds.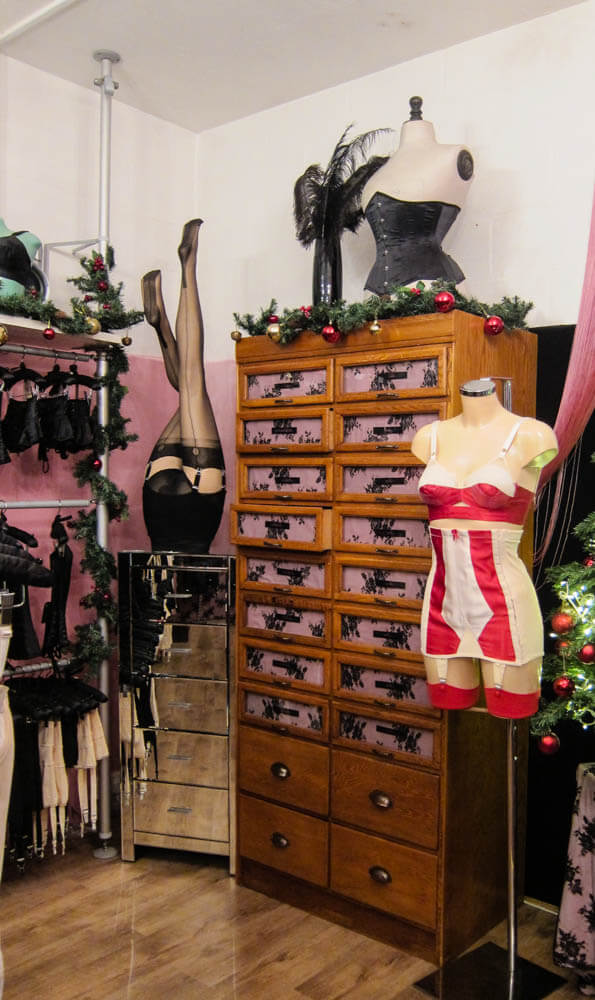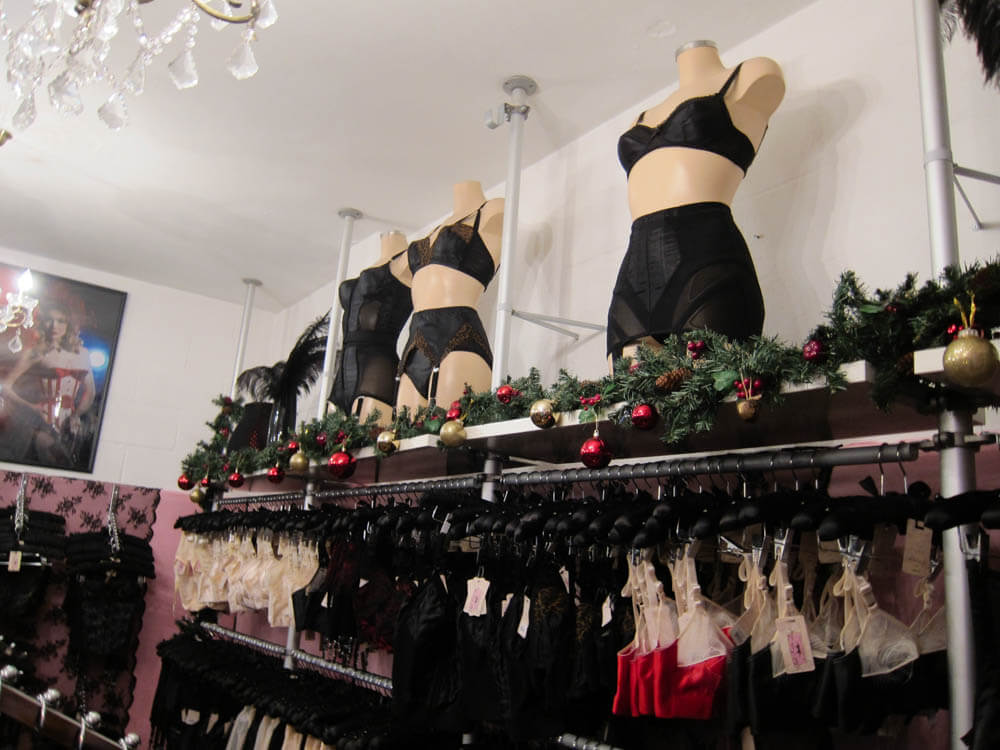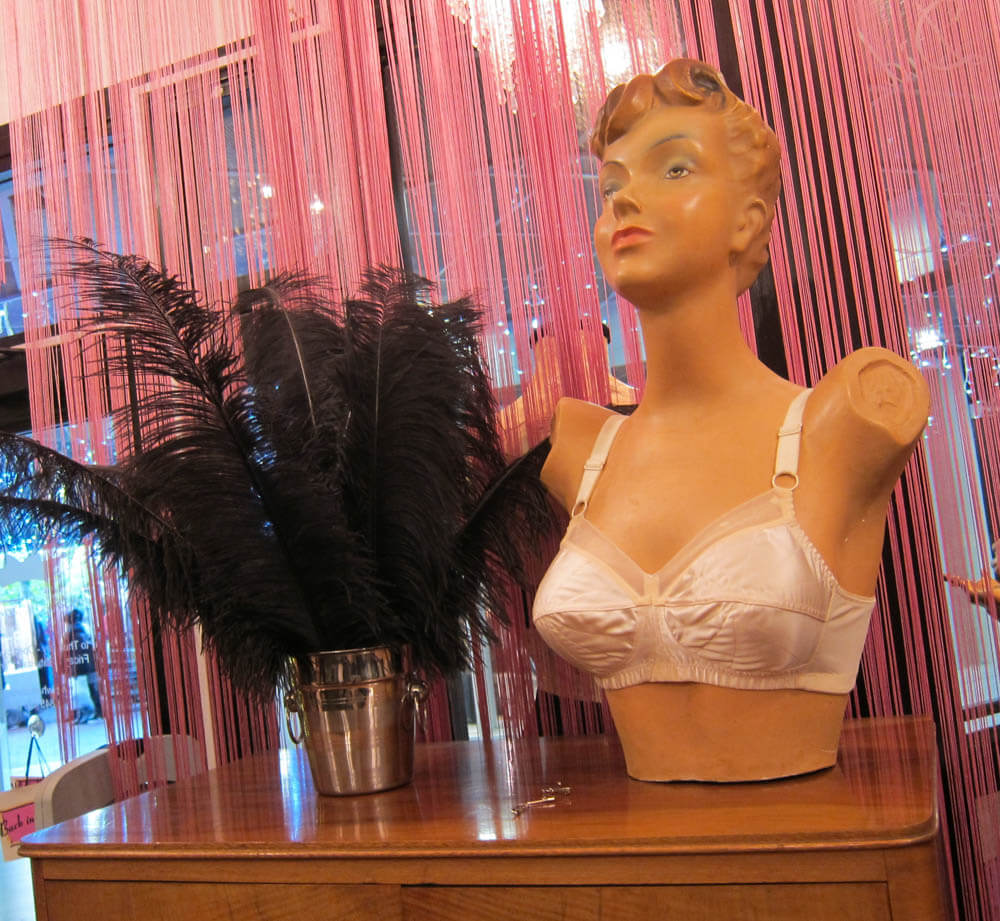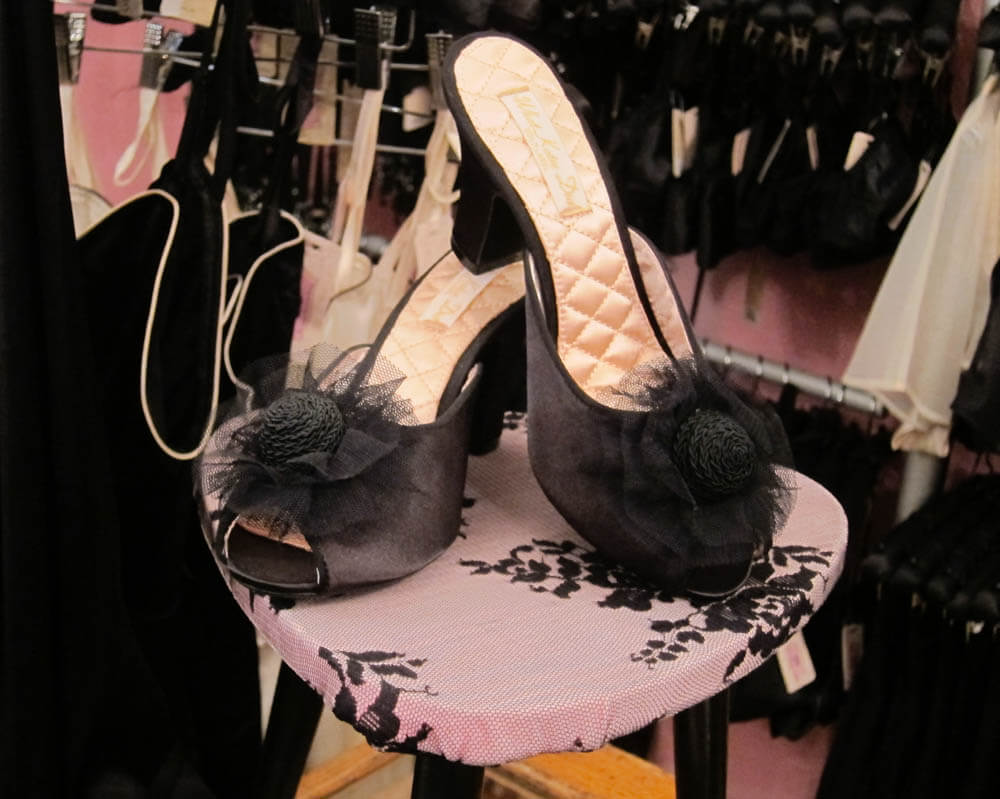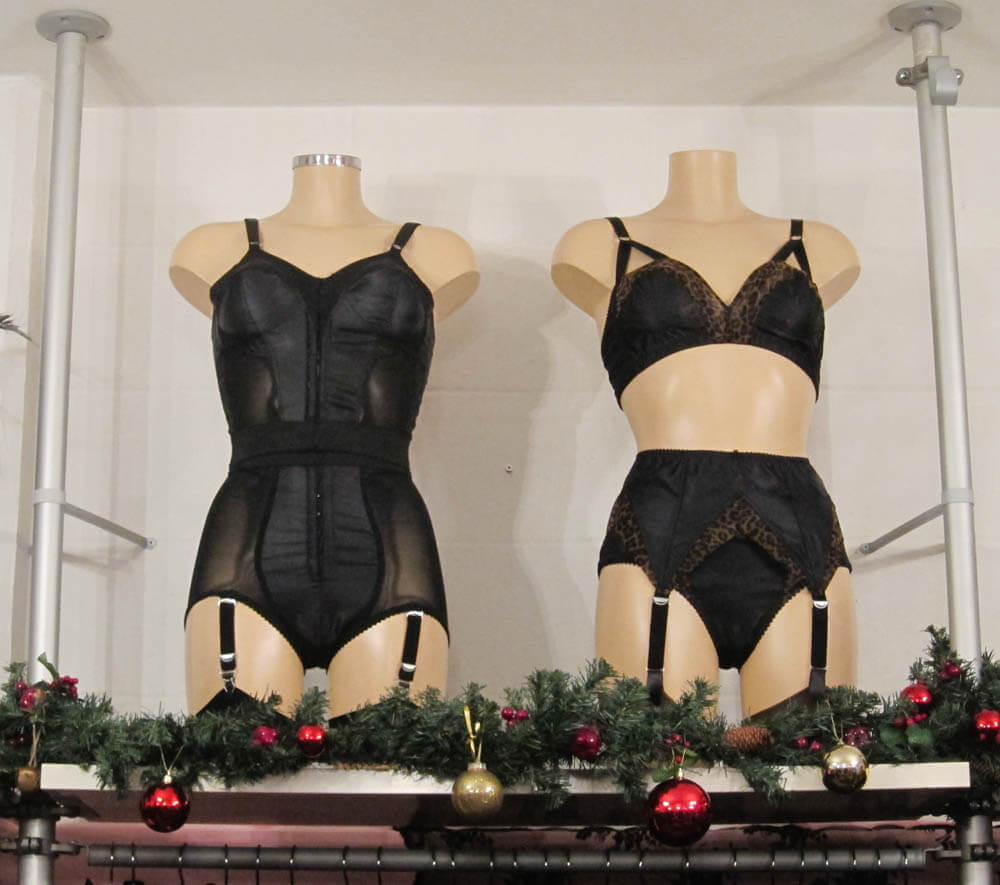 Location: 26 Portobello Green, 281 Portobello Road, W10 5TZ
Opening times: Friday-Saturday 10h00-18hoo. Tuesday to Thursday by appointment only.
If you happen to be visiting Portobello market, then I thoroughly recommend that you pop into the What Katie Did boutique. Their reproduction vintage lingerie is absolutely stunning! They stock everything from bullet bras and tap pants to the best off-the-rack corsetry I've personally been able to find.
Here you'll be able to find sturdy garter belts with 6 straps that can hold up to everyday wear, as well as an amazing range of stretch and fully fashioned stockings at reasonable prices. I have to stop myself from wandering in too often now as their boudoir mules keep tempting me – with such lovely shop assistants and a discount for account holders, it's only a matter of time before I cave in!
Lingerie addicts! Have you ever visited London? What were your favourite lingerie places to shop?
Save
Save