Review: Chantelle C Naturel Minimizer Bra
Disclosure: I was sent this lingerie free of charge by Chantelle. All opinions are my own.
Chantelle is one of those lingerie brands that I've seen countless times in department stores, but never actually made a conscious effort to discover for myself. Their bras have always seemed pretty to me, but not exciting enough to pique my interest -- my main associations with them are of delicate lace and embroidered balconette bras.
I was a little surprised when I was sent their 'C Naturel' minimizer bra to review. Not only is this kind of minimal style something that I don't associate with the Chantelle brand, but minimizer bras in general have never really been on my lingerie radar. I tend to have quite a dim view of beige t-shirt style bras, given that I prefer the more frivolous and fancy variety of lingerie. Consequently, I seriously wasn't expecting to like this bra as much as I do.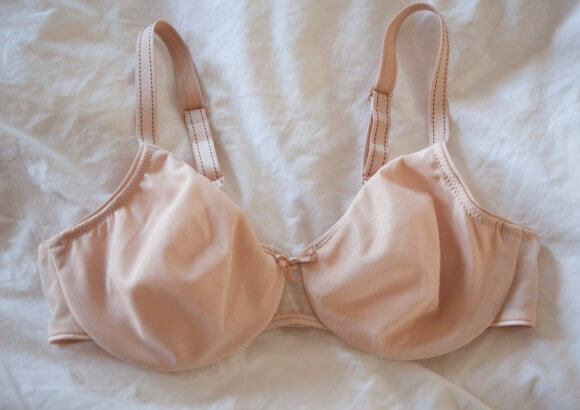 I was sent the 'C Naturel' bra in the 'blush' colourway. I was sent a 32C, sister size to my normal 30D. The bra retails at $69 and is available in band sizes 30-42 and cup sizes C-H. It is also available in caramel, orchid and ebony colourways.
The bra is a full cup style with an impressively seamless construction. The cups are comprised of a double layer of stretch fabric -- the outer a powermesh with what feels like a microfibre lining. The cup neck edges are finished with a satin foldover elastic, with a subtle brown 'stitch' pattern along its length, a feature repeated on the straps. The centre front is also finished with this foldover elastic and a tiny satin bow with rose gold Chantelle logo charm; these are nice extra, unfussy details on an otherwise simple design.
The side cradle and centre front pieces of the bra are made with a double layer of non-stretch tulle, with the bra wings being comprised of an outer layer of powermesh and soft knit jersey underneath. The straps are in a 'ballet back' formation, which lends this bra an extra element of comfort. The bra wire casing is stitched in to be invisible externally, and even features what appears to be a layer of padding for extra comfort. The 32C closes with two hooks and eyes at the centre back at a 38mm width.
When I initially received the bra, I was a little disturbed to discover that the label advertised it as a 'slimming' bra. I have never considered breast size or shape to be equivalent to one's overall weight or body shape.  Reassuringly, when this was brought up with a Chantelle US representative they agreed with me over this language concern; hopefully this was just a translation issue and will be rectified in future production runs!
I wasn't sure what a minimizer bra could really offer me, given that I consider myself fairly small busted. Although I ordinarily wear a 30D, this largely means I have a very narrow ribcage. Nevertheless, I was pleasantly surprised by the shape this bra gave me when it was actually on the body. The cups have a small amount of stretch, so gave gentle lift and a naturally rounded shape. I love the silhouette this gives; it's subtly flattening and it works excellently under some of the more androgynous jersey tops I tend to wear on a day-to-day basis.
My breasts are fairly bottom heavy, so I tend to avoid full cup bras as I struggle to fill them out. As you can see in the photo above, the cup on my smaller breast is slightly baggy on the top part. This doesn't particularly bother me or show up under clothing. The wires on this bra are true to size and encase my breast tissue fully and comfortably. The wires are fairly flexible (more than most of my other everyday bras), but I actually found this quite comfortable. I'd be curious to see if this is a feature that extends to the higher end of this style's size range, given that the 32C is the smallest cup size made in it. I found that the band came up true to size, and while the 32C was fairly comfortable on the tightest hook, I think I would have been better suited to the 30D. This bra was extremely comfortable throughout wear; I'd forget I was even wearing it on a daily basis, and it's held up to multiple hand washes perfectly, with very few signs of wear.
Overall, I'm a pretty big fan of the C Naturel Minimizer bra. Although it's not something I'd ever have picked out for myself, I'm so glad that I got to try it. I can get so caught up in the appearance of lingerie that the concept of silhouette and its effect on outerwear can often fall by the wayside. For those looking for a bra with subtle shaping and gentle lift, I thoroughly recommend this Chantelle piece.
Readers: Have you ever tried Chantelle? Which designs are your favourites?