Victoria's Secret Designer Collection Spring/Summer 2015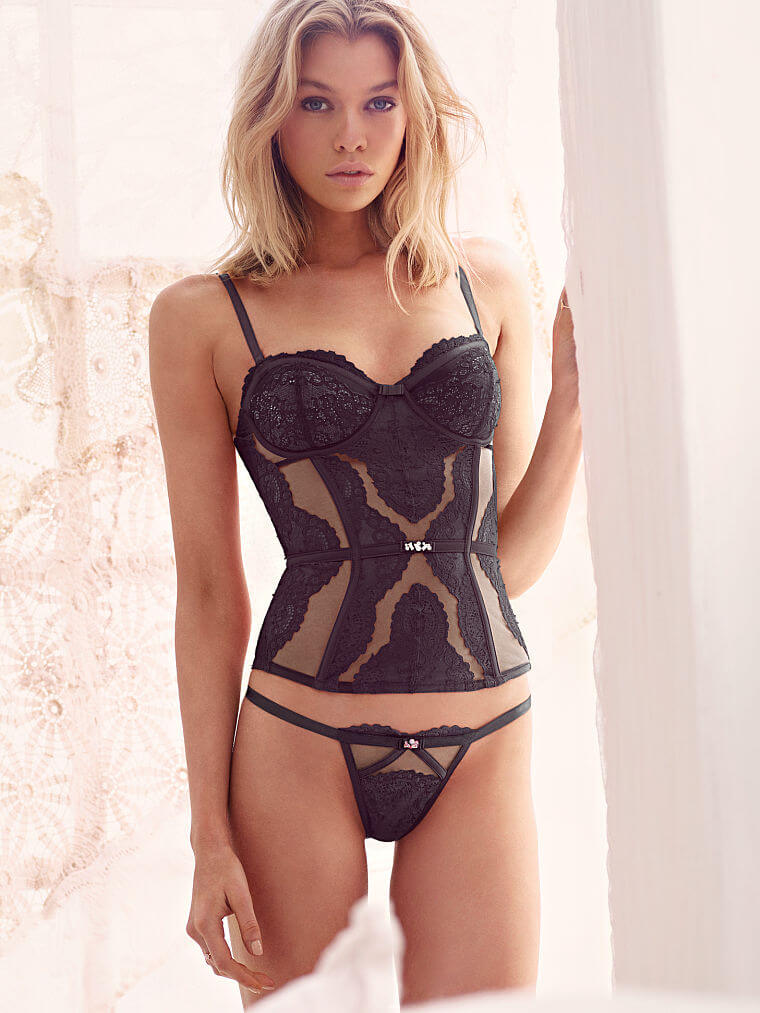 Victoria's Secret has released its newest "Designer Collection" for Spring/Summer 2015. As with last year's release, the collection is targeting customers who want something "special" from a name they already know well. Yet so much of what makes a piece truly "special" is in the purchasing experience itself. And here is where the Victoria's Secret "Designer Collection" is really lacking. These campaign images are pure catalog. There is no sense of fantasy or luxury in these images. Considering the collection is crafted of polyester-blend fabrics, you would think they would elevate their photos to help elevate the pieces themselves (and justify the price point!).
Victoria's Secret is resting on its name recognition and the fact that their target audience doesn't know to look for "more" in a special occasion piece. They are banking on their customers not realizing that at this price point they should expect stronger editorial images, richer fabrics, and more innovative silhouettes. Instead they are getting more of the Victoria's Secret same. Other than a few details, it's hard to tell this is a "Designer" collection. It would be easy to stumble onto these offerings from another area of the Victoria's Secret site and not know you were looking at the brand's "luxury" offerings. The silhouettes, models, and styling are indistinguishable from other collections on the site.
Overall the collection has a pretty narrow size range, with bras available in band sizes 32-36, with cup sizes B-D, and teddies and babydolls in S-L (fitting sizes 4-14). Victoria's Secret is smart to design many pieces to accommodate cup sizes outside of this range with unstructured busts that feature adjustable halter ties. Not only does this open the collection up to a wider audience, it allows for ease of manufacturing for the brand as well.
Most of what sets this collection apart is the use of Swarovski crystal elements to provide a bit of sparkle, shine, and textural interest. A heavily-beaded detachable halter strap gives new life to a lace balconette bra. Pale pink panties glitter with girlish charm. And a light blue lace bodysuit has ice-like gems along the cups.
There are a few pieces in the collection that stand out. The red chiffon teddy has a daring plunge front crafted of sheer tulle that is dotted with Swarovski crystals. It ties in a halter at the base of the neck for a completely open back. The attached briefs have corded Chantilly lace with a sheer panel at the front.
The delicate lace and chiffon slip has an unstructured cut that skims the body. Lace curves around the bodice and hips with the scalloped edge forming an attractive neckline. The below-the-knee length has a lace-trimmed slit on one thigh for ease of movement. A barely-there, deeply scooped back is topped with narrow ties that give the appearance of one little tug and the slip is gone (which is fun).
Lastly, the ice blue teddy is quite texturally interesting, with Chantilly lace darted cups and center panel edged with floral guipure lace. Swarovski crystals hug the outer edges of the cups and decorate the floral applique at the bra's center. There is a waist-defining ribbon band that ties in the back above a V-string bottom. This is a pretty take on "something blue" for brides to be.
What do you think of Victoria's Secret's newest Designer Collection? Do any of these pieces read as "luxury" to you? When shopping for a special occasion item or investment piece, does the photography of a collection influence your purchasing?