Review: Tallulah Love Hummingbird Knicker Gift Set
Disclosure: I received this set free of charge for review purposes. All opinions are my own.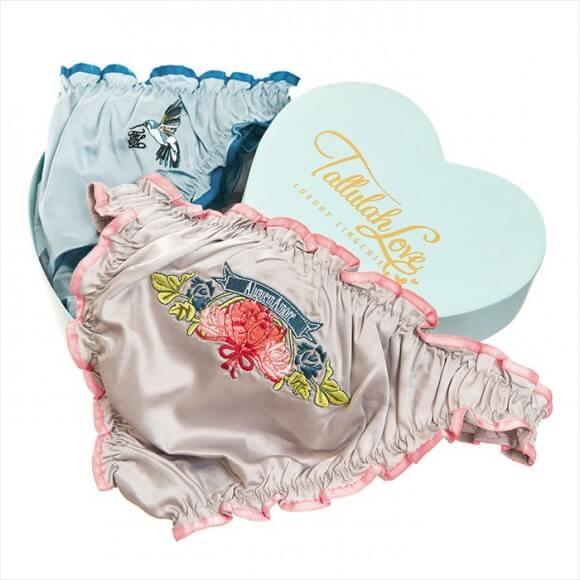 There's always been something about gorgeous branding that's been absolutely irresistible to me. I'll always adore lingerie for what it is, but when you throw in beautiful tags and a gift box – well, you've pretty much stolen my heart. I'm sure that I'm not alone in this – I know plenty of fellow lingeristas who keep their lingerie gift boxes for storage because they're that damn pretty.
From a designer's perspective, I know just how expensive it can be to make beautiful branding a reality.  Minimum order quantities are very high and can be so expensive they're unattainable for many new brands. Consequently, when I see an independent brand who have their entire lingerie experience so utterly on point, it's a total joy.  British indie Tallulah Love is one of those brands.  Cora has previously reviewed their 'Frilly Filly' set and shared their 'Darkside collection' lookbook, but this was my first experience with the product in person.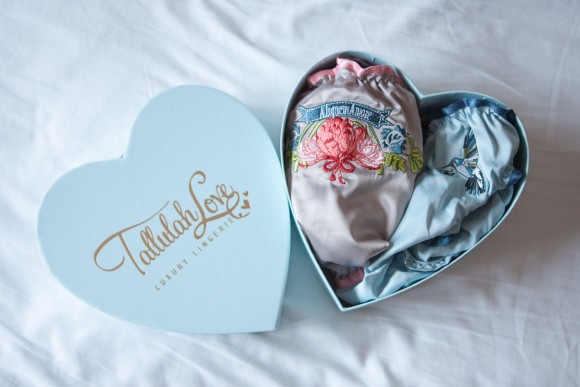 I was sent one of Tallulah Love's 'Hummingbird' gift sets in a size Medium (equivalent to a UK 12). It's comprised of two satin knickers, beautifully presented in one of the brand's pale blue and gold heart-shaped boxes, retailing at £42.50 - a price point that I couldn't help but consider incredibly reasonable, considering the intricate embellishment and elaborate packaging.
When I received the package it was a positive joy to open – even the mailing bag is pretty, in pale blue with gold accents and the Tallulah Love logo. The knickers themselves are wonderfully pretty – the first is a pale grey satin with a satin coral pink ribbon ruffle on all the edges and a pale grey rosette at the centre front. There is profuse decorative embroidery on the back of these knickers –floral motifs in blue, green and pink with the Latin words 'Aliquem Amore' scrolling across the top (a translation of the brand's 'Show Some Love' tagline, I believe). Although the website's product photos show this knicker with the Tallulah Love logo embroidered on the hip, this is absent from the product that I received. The second is a pale duck-egg blue satin with a darker blue ribbon ruffle, dark blue rosette, and a subtler embroidered hummingbird on the side back of the knicker.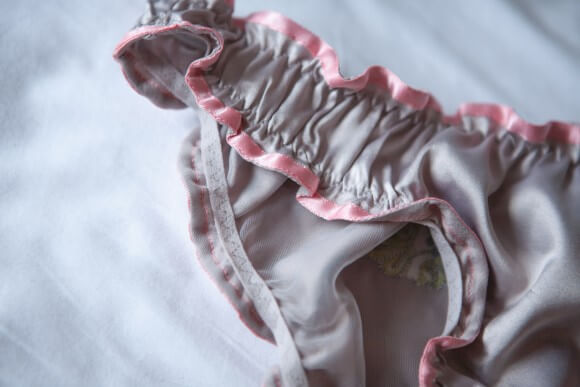 Both knickers are well made and I could find no faults in the construction. The satin in both knickers is made of polyester – it doesn't carry quite the same lustre or softness as silk, but as far as poly-satins go, it's of a good quality.  Even after washing, I haven't experienced the pilling you would normally find in cheaper satins.  Gussets are lined in a cotton jersey whilst the leg and waist elastic is very soft and plush.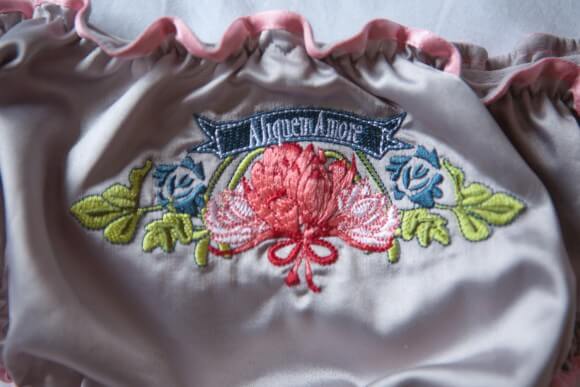 The grey/coral knicker with the larger piece of embroidery features a synthetic mesh lining to prevent skin contact with the embroidery. Although I understand why it's been included (as such heavy embroidery can tend to have quite a scratchy backing), the layering of several synthetic fabrics means that these knickers have almost no breathability. I found this got quite uncomfortable and sweaty during wear, to the extent that I would not be able to wear these comfortably throughout an entire day.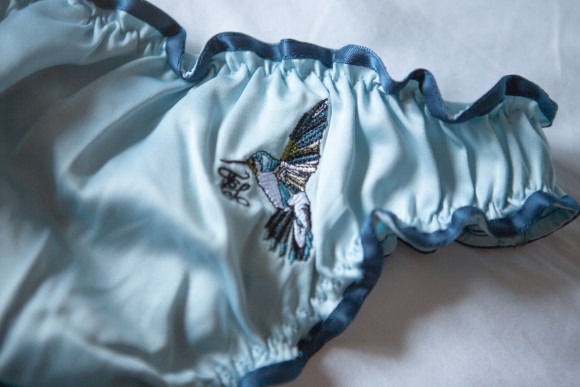 Fortunately this wasn't nearly as bad with the blue pair of knickers – the hummingbird embroidery isn't nearly as profuse as the lily knicker and its placement is in a less sensitive area. The blue knickers don't have any lining, and the embroidery didn't really cause any discomfort while wearing them. Both of the knickers are a good fit – true to size with very soft elastic that doesn't cause any pinching, and enough coverage for the knickers to feel playfully cheeky.  They're a fairly bulky knicker style - the frilly edges will show through lightweight clothing. I wouldn't recommend these for everyday wear from the perspective of visibility and comfort.
Overall, I think this knicker set is utterly adorable, especially due to the gorgeous box they're presented in. My only real criticism is the fabrics - I'm fully aware that wishing for silk isn't a reasonable expectation at this price point (the cost of silk has gone up ridiculously in recent years), but I do feel it could have taken these knickers from a cute gifting item to beautifully indulgent luxury.  Whilst I wouldn't recommend them for everyday wear, I still think they're perfect for gifting – after all, knickers this pretty don't really need to venture out of the boudoir!
Readers: Have you ever tried Tallulah Love? Would you gift a style like this?