Introducing Tisja Damen: Intricate Patchwork Lingerie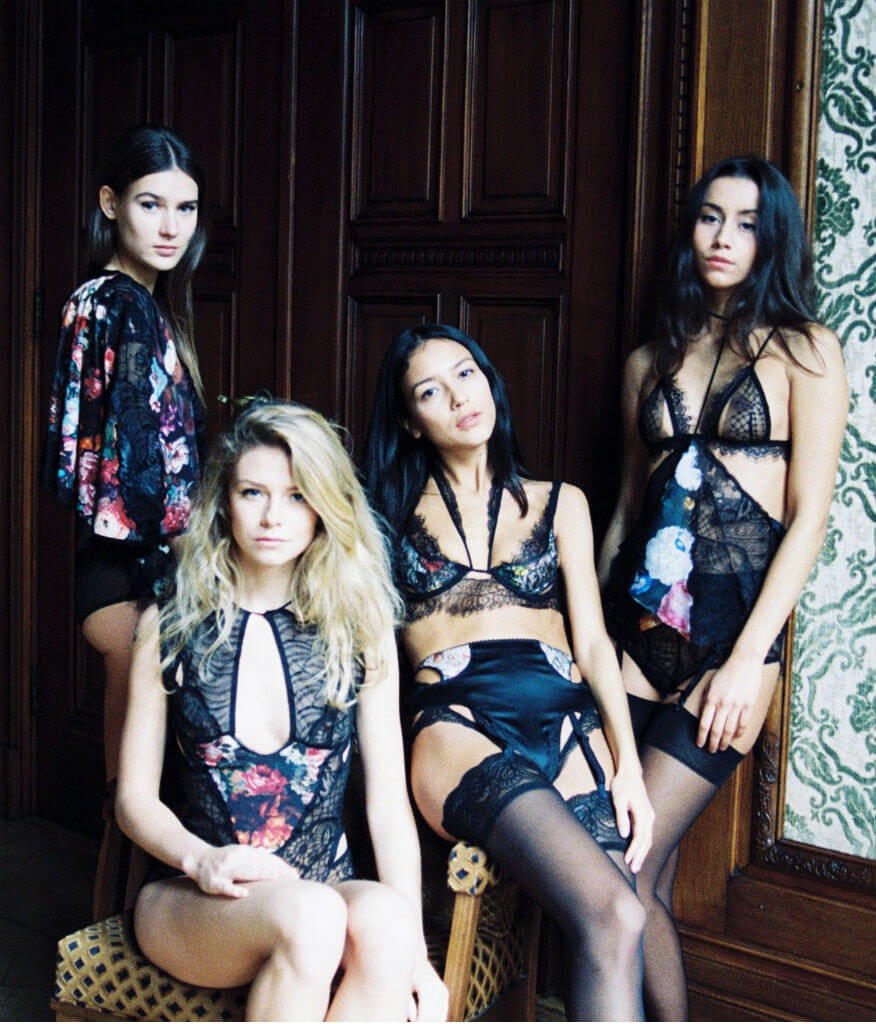 Ever discover a piece of lingerie that leaves you in awe, as if you were looking at a breathtaking painting? In fact, you may have thought, "This is so beautiful, I would hang it on the wall like art." Tisja Damen is such a lingerie line. More art than lingerie, Tisja Damen's work is richly detailed and nuanced, every square inch a new and surprising discovery. In fact, the designer herself seeks to elevate lingerie as art. "I want to bewilder people again like only art seems to do, to some, nowadays," she said. And we are utterly beguiled.
Tisja attempts to define her work as handcrafted patchwork lingerie. The term "patchwork" has craft-like connotations, but it is, in fact, a piecing together of elements to create a whole. While each piece is lovely on its own, it is the whole that creates a vision. There is nothing homespun about these patchwork pieces. These are incredibly intricate creations that use lavish and layered laces to tell a story, using the body as a canvas.
The Fleurs Du Mal collection, released early last year, was inspired by the storyline of "The Virgin Suicides." There is a romantic sadness and loss of innocence in the film that is evident in the collection. Dark, brooding florals are set against almost tattered laces, giving a sense of fragility and decay. There is a fascinating play of texture and line the collection. Each piece utilizes a multitude of laces and fabrics that layer to both conceal and reveal, encouraging the eye to move across the body. And our eyes are eager to take it all in!
The Stone Fox bodysuit incorporates over 20 different pieces of luxury laces and Italian fabrics and includes a detachable lace skirt. There are cutaways and peepholes throughout, giving enticing glimpses of skin, making the body part of the piece itself. The back of the bodysuit features a large lace medallion that skims down the length of the spine, almost melting into the skin. This is lingerie that truly becomes one with the wearer.
The backs of these pieces are as thoughtfully designed as the fronts. Bras have lacy (and racy!) racerback or keyhole styles that are begging to be shown beneath low backed tops. Cheeky panties have bands of lace that cup the bottom, putting the emphasis on the fullest part of the derriere. They are the opposite of the trendy ouvert panty, and prove that a little peek can be way more seductive than showing it all.
The showpiece of the collection may be the "Ophelia" bralette (shown below). A compelling combination of dainty and daring, there are so many visual elements to take in. Somehow this stunningly complicated piece reads as completely effortless. And that, right there, is art.
While this Amsterdam-based label has yet to open an online shop, select pieces are available at the Amsterdam boutique, Pleasurements. Pieces are handcrafted and made to order, in sizes S-L
Photographers credits from various photoshoots: Franggy Yanez, Lana Prins, and Sophie van der Perre
What do you think of these pieces by Tisja Damen? Do you have a favorite look from the collection? Do you believe lingerie can be as magical as fine art?