Lingerie Review: Curvy Kate Luxe Strapless Bra
Disclosure: I received these products free of charge for review purposes. All opinions are my own.
The holiday party season is fully underway, and with those pretty little strapless dresses comes the search for the perfect strapless bra. If you're full-busted, you know the drill when going strapless: Put it on. Pull it up. Repeat all night. It becomes a muscle memory, a flashing sign saying, "Yep, I'm wearing a strapless bra tonight!" Paired with the fact that so many full-bust strapless bras are just boring and, well, I don't even bother trying anymore. But some of my favorite party dresses require a smooth line across the shoulders, so I jumped at the chance to review Curvy Kate's new Luxe convertible bra.
The Luxe, available in black or a pretty beige shade called Biscotti, is a "basic" strapless set, but it's certainly not boring. I normally would wear a bra with cute straps under a tank top rather than a boring strapless, but the cute tuxedo detailing and satin stripe fabric are so pretty that I found myself excited to put it on. The Luxe ranges from a D to a J cup in UK sizes.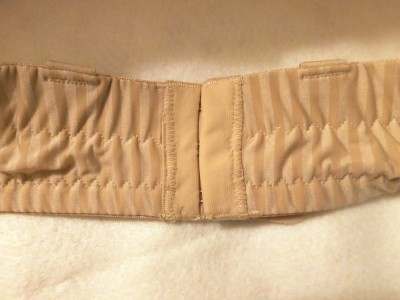 My usual size is 34F, which converts to a UK 34E, which honestly fits me perfectly. I'm on the smaller end of the Curvy Kate range so I can't speak for larger sizes, but I'm really impressed with the hold and shaping of the Luxe bra. It's technically a convertible bra, but stays up so well on its own that I'll probably never use the removable straps. I have very even breasts and on most days the cups fit perfectly, but on some days I feel too shallow to fill out the very top of this full-cup bra. I've heard many Curvy Kate styles are good for women who are fuller on top, and this seems to lean that way. And since it is a full-cup bra, if your dress is cut low and you want to show off loads of cleavage, the Luxe probably isn't what you're looking for.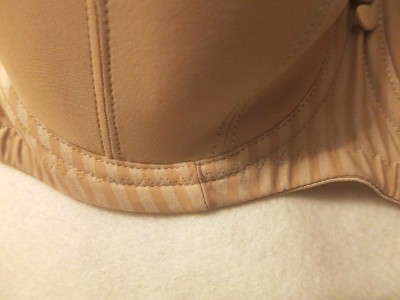 The contouring seams on the cups make the shape a bit more natural than some orb-like strapless bra cups. However, those seams might be an issue if you're looking for a perfectly smooth cup beneath a thin or clingy dress.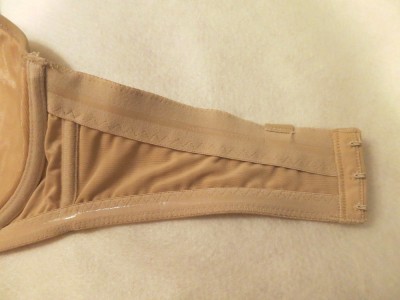 The hold-up strips across the top and bottom of the band are 100% silicone. I have skin that's sensitive to a lot of materials, but even after wearing it a few full days, I didn't have any irritation or reaction.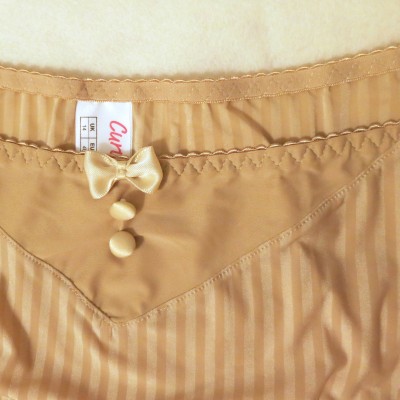 The panties themselves are well-made and comfortable; my hips are 40" so I got a Large, which fits true-to-size. The construction of both the bra and panty are lovely, and I think the quality is excellent for the price. If you're busty and are attending an event where you don't want to be thinking about the reliability of your strapless bra, the Luxe is definitely a set to try.