Full Bust Lingerie Review: The Elomi "Betty" Set in Turquoise
Samples for this review were provided by Elomi and Karnation Lingerie. Karnation Lingerie is both a client of my business and an advertiser with The Lingerie Addict. All thoughts and opinions are my own. 
I've been on a serious Elomi kick over at my blog recently, so I was thrilled when not one but two of the turquoise Betty bras showed up at my door. One was from the lovely Karnation Lingerie (who introduced me to Elomi in the first place) and one was from Elomi themselves. While this may seem excessive, I've actually worn both most weeks since I got it, which says something about how much I absolutely love this bra.
This bra is technically from the Elomi basics range, although it's an incredibly cute fashion offering as well. I love the dramatic turquoise color as a jewel tone alternative for Autumn/Winter, as well as the purple embroidery that gives the bra some added sophistication. Sweater season always frees me up to wear lots of bold colors under my clothing, so this set is a great addition to my weekly lingerie rotation. So how does this work on a non-model figure?
Here I am in the 34HH bra and the matching briefs: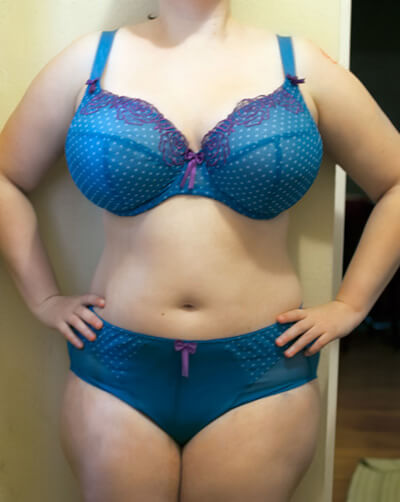 This is a more full coverage plunge than some options, but the support is unparalleled. I've tried it under t-shirts and under dresses with a low v-neck with lots of success. I was previously wearing the Bravissimo Satine bras when I wanted a plunge, but the Betty is definitely superior in terms of lift and shape. Plunges have a tendency to be less supportive in the higher cup sizes, but this bra has gotten me through running lots of errands and the occasional backyard playtime with my dog. It's a great bra for every day life as well as a night out. This is a 34HH and runs true to size in both the band and the cup.
I don't usually wax rhapsodic about matching briefs, but these deserve a special mention. They're extra flattering on my stomach and hit perfectly. I'm reasonably short (5'4") so you may get a higher or lower rise depending on how tall you are. They're also incredibly comfortable and don't create lots of lines under clingy dresses or thinner fabrics, which can be an issue with higher rise briefs. I like that this brief is cut for more coverage without feeling matronly --- I feel like a nice sophisticated 27-year-old in them, rather than feeling like I'm channeling my grandmother. I handwash all of my lingerie because I'm a paranoid person, but I suspect you could toss them in the washer in a lingerie bag with no ill effects as well.
If you're looking for a basic plunge in this size range, I think the Betty is the best option on the market right now. I'm really excited about the blush and raspberry versions that will be released in 2014 as well --- they'll both definitely be finding a home in my lingerie drawer.
Have you tried the Betty bra yet? What do you think of the latest Elomi offerings?