Tried And True: 7 Lingerie Trends That Never Go Out Of Style
Disclosure: This blog post contains affiliate links.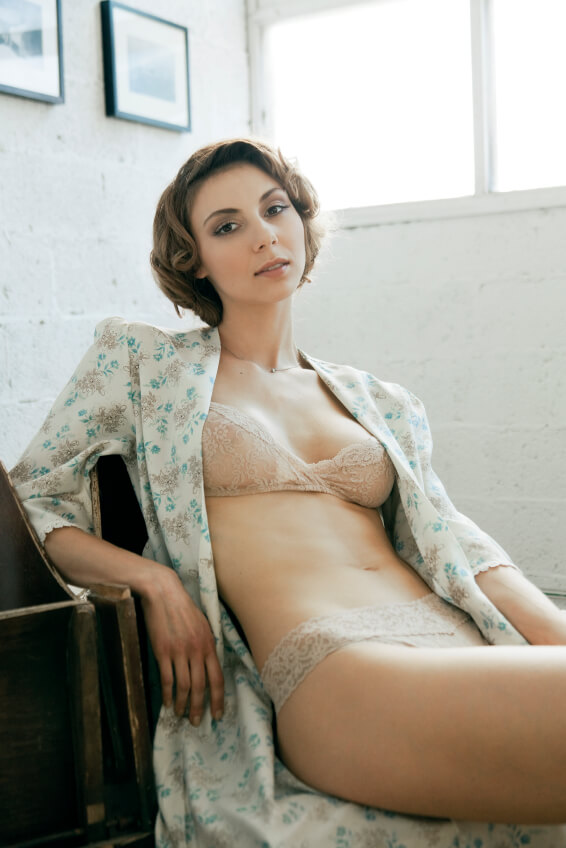 Trends come and trends go, but some things last forever. There are certain classics that transcend the confines of time. This holds true even in today's "fast fashion" culture -- whether it's a specific color or shape that compliments a wide range of people, or a certain fabric or treatment that stands out from the rest. Timeless trends are born to withstand the test of time, and investing in them is always a safe bet.
I spent many years designing lingerie for the mass markets before I embarked on my own venture. Department stores and chain retailers made up the majority of my clients, and each season we scrambled to discover the new "it" bra, the hottest color combination and the coolest fabrics. But despite my best efforts, buyers consistently rejected the trendy designs in favor of more basic, classic items.
With time I learned that my buyers were wary with good reason. Most shoppers, while appreciating new and innovative design, were still hesitant to invest in those pieces that were more stylized and fashionable. Times are tough and consumers are more cautious these days about what they spend their money on.
When it comes to lingerie, the majority of mass-market consumers are looking for comfort, versatility, and longevity in their underwear. People want bras that will support them and not show through their clothing. They want undies that can be worn comfortably all day. And they want to splurge on sexy lingerie that will last.
Slowly, I began to understand how creative designs can be a financial risk for retailers, and why they are reluctant to deviate from the tried-and-true styles they've carried in previous seasons. I learned which colors and styles sold best and which designs could carry forward indefinitely. I worked hard at channeling my creativity into designs that would make it onto the best-seller list without looking too basic and boring. And finally I learned how to appreciate the new "classics" for what they were and understand why they are so popular.
Here I'd like to share with you my top seven classic lingerie trends that I believe are worth an investment if you're looking for style that will last. Only time will tell if these trends are strong enough to turn into classics, but for now I can confirm that they're here to stay!
1. Head-To-Toe Black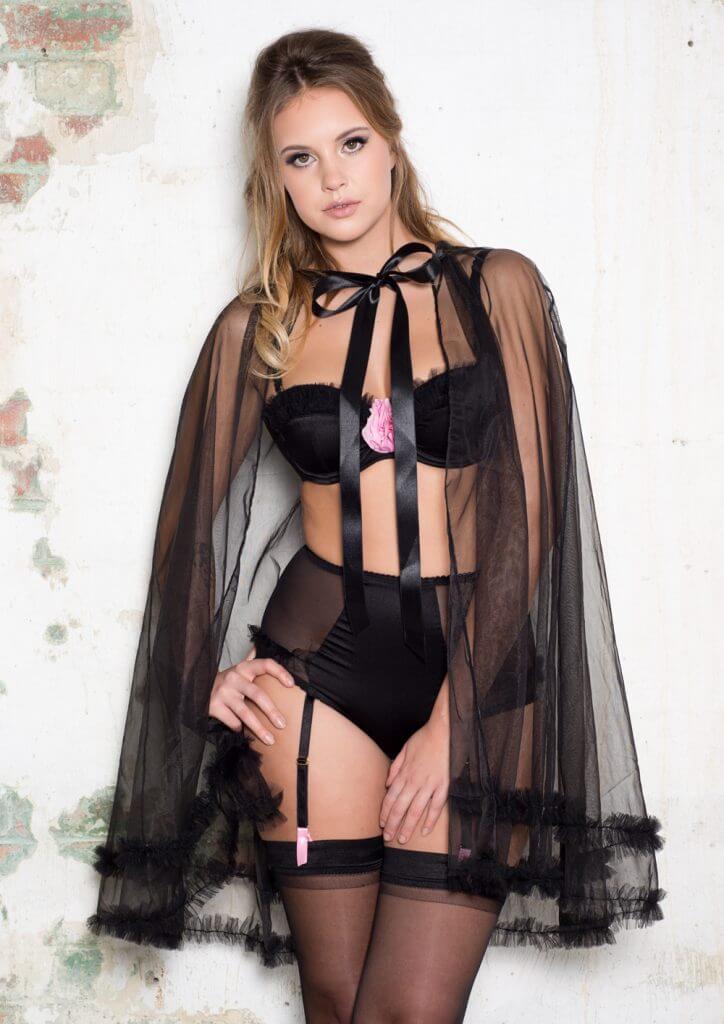 How can you go wrong with black? It looks good on a variety of skin tones, and goes with just about everything. Black lingerie is the perfect embodiment of sexy and can be found in pretty much all designers' repertoires. It stands for sophistication and can bring an unconventional design to a more understandable level. Piling on the black lingerie is always considered chic, and you can have fun playing with textures and layering pieces to make the look as unique as you are.
Cape and lingerie set by La Lilouche
2. Three-Piece Sets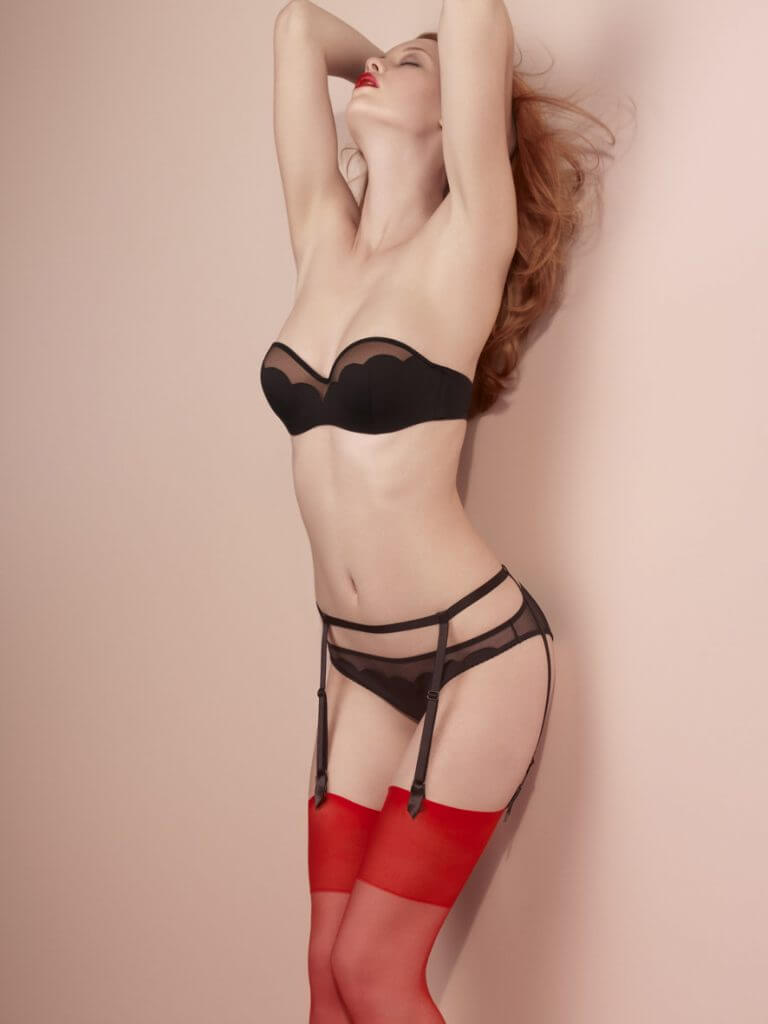 A matching bra, panty, and garter belt make up the three-piece set that is synonymous with lingerie. There are many variations of this look, but these three basic pieces are always a winner when it comes to seductive underpinnings. Often performing double duty, you can wear the bra and panty alone during the day and later add the garter belt to transition the look into a more provocative ensemble at night. This is a look that has been favored for decades and is still going strong today with modern takes on its shape and styling.
Lingerie set by Huit
3. Animal Print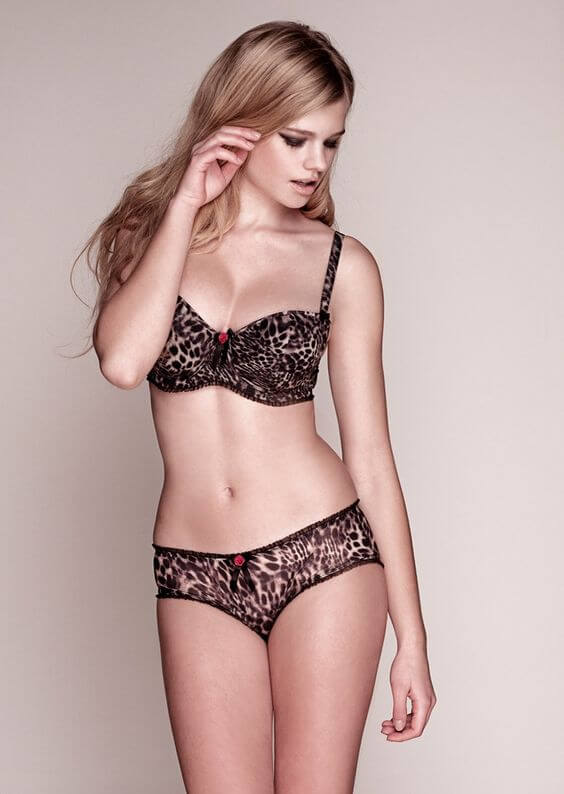 Customers appreciate multiple color options to choose from when shopping for lingerie... after all, variety is the spice of life! However, I've learned that besides the usual black, white and beige, one of the top-ranking "colors" is not a color at all, but an animal print – specifically a leopard or cheetah in natural tones. This print is widely popular and has the ability to transform itself into many different styles. From retro and playful to sophisticated and understated – its no wonder the animal print has reached classic status.
Lingerie set by Miss Mandalay
4. Lace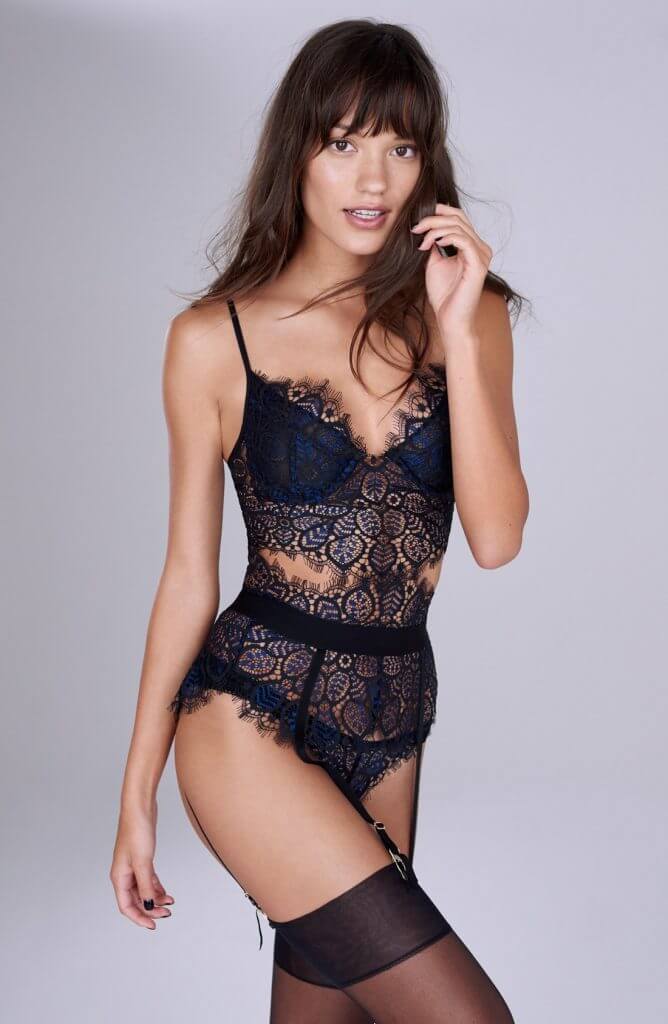 For many, lingerie means lace. It has that "wow" factor and adds interest to everything it touches. It is the epitome of femininity as the open textures and shadows make for a sensual effect on the skin. An art form in itself, the variety of patterns and designs are limitless, making this fabric a classic with lasting appeal. Lace knows no boundaries and has become a staple in many collections and wardrobes as a year-round best seller.
Lingerie set by For Love And Lemons (via Nordstrom)
5. Black And White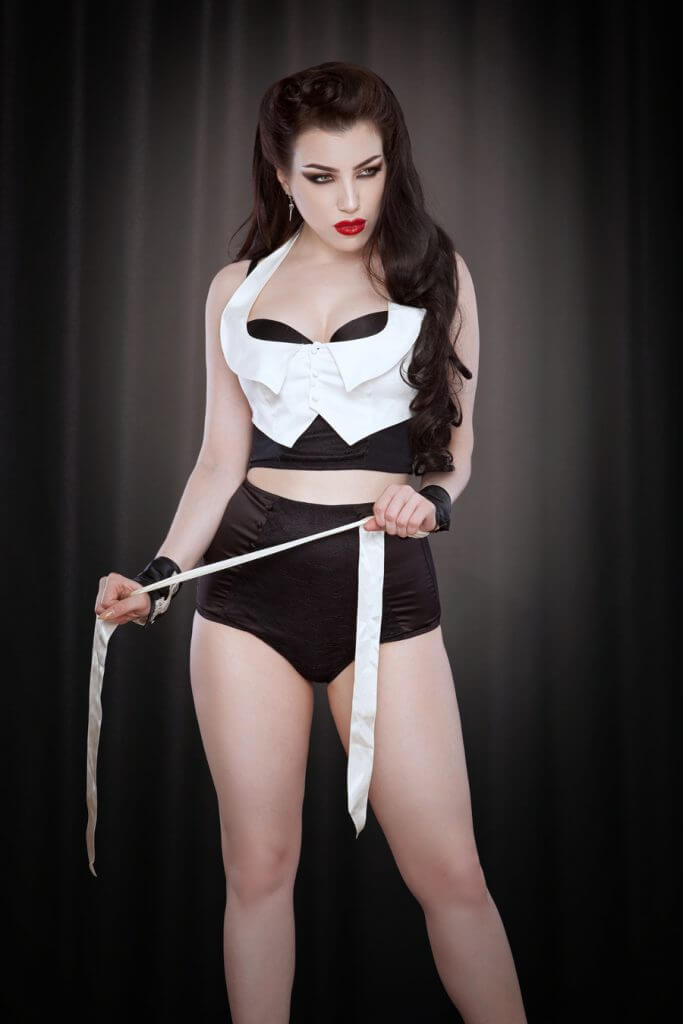 We already know about the power of black, but pairing black and white in one look is a trend most people can get on board with. Neutral and sophisticated, the black and white combo can make any style look more formal with its tuxedo-like feel and high contrast. This grouping of non-colors compliments many different skin colors and can always be relied on to raise the status of an otherwise ordinary design.
Lingerie set by Kiss Me Deadly
6. Cheeky Bottoms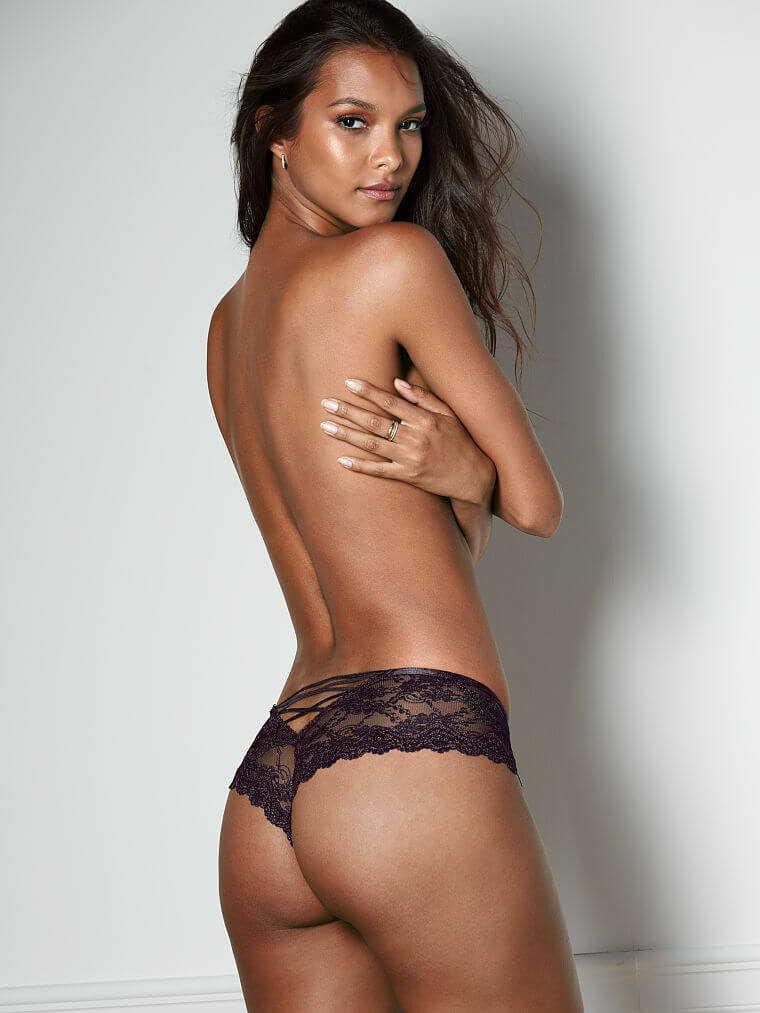 Some people call them brazilians, some people call them tangas, and some people call them cheekies. Whatever term you use, there's no denying that this cut is hot. It straddles the line between full coverage bottoms and barely there thongs. The back end is cut high on the bottom, allowing for semi-coverage while the bottom peeks out below for a bit of naughtiness. This fit may not be the most comfortable for everyone, but the look is perfect on an array of body types, making this style a bedroom staple for many.
Cheeky panties by Victoria's Secret
7. Notched Collar Pajamas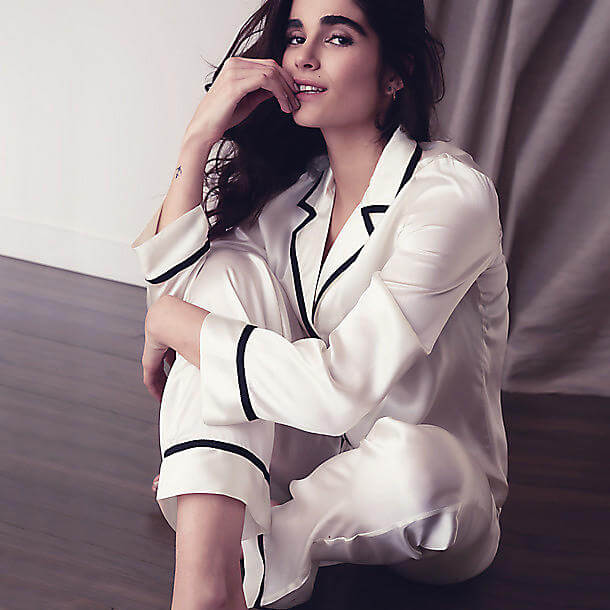 The sleepwear industry isn't what it used to be, as customers are buying fewer coordinating pieces in favor of comfy separates they already own (think sweatpants and a t-shirt). Pajamas are becoming a tougher sell and typically enjoy the peak of their popularity during the holiday gift-giving season. One of the most popular styles of pajamas sold today is the classic notched-collar set with button down shirt and wide leg pants. A long-living basic and cozy alternative to sweatpants, this style returns each season in new prints reflective of the current trends. It's a great way to update a tried-and-true silhouette while remaining classic and timeless.
Pajama set by Journelle
Do you own any of these "classics"? What other lingerie styles do you consider timeless?
Save
Save