Chromat Autumn/Winter 2014: Bionic Bodies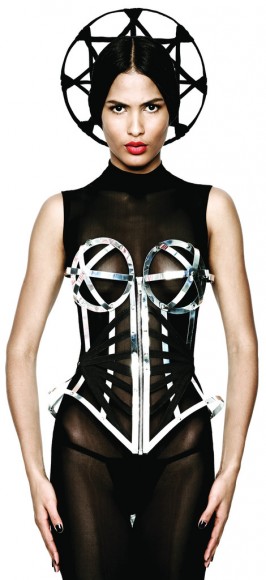 Chromat is a unique talent in the lingerie world. A marriage of avant-garde fashion and experimental, almost fetishistic, lingerie, this innovative label is truly wearable art. Designer Becca McCharen's background in architecture and urban design informs the brand's mission of creating "structural experiments for the human body." Chromat's A/W 2014 collection, Bionic Bodies, tells the story of a love affair of a human and robotic being. And a love affair of design it is, bringing together the most exciting components of humans and robots to birth silhouettes that are stunningly futuristic.
We recently got a sneak peek at their S/S 2015 swimwear range at NY Fashion Week where Chromat's famous cages were used to great effect. But it is their A/W 2014 collection that takes the concept of "wearable exoskeletons" to new heights. These decorative cages are evident throughout all pieces, melding seamlessly within a garment or worn outside the body. They accentuate the human form, eroticizing it in a way that is equal parts strength and sex appeal.
The Metropolis Corset (shown above) features chromed boning stabilized by radial elastic banding. Circular cages dome around breasts and hips jut out dramatically. It's definitely a look (as if we could stop looking!) but don't touch. The Halo Crown (also shown above) is an unapologetically irreverent take on religious iconography. This is for a new goddess, one who is theatrical and takes no prisoners.
You'll see wearable armor throughout the collection as well. It's used in a chestplate, an underbust basque (called a ribcage), a bralette, and on the cups of a sheer bodysuit. Shiny chrome adds glossy glamor to these pieces, making sharp edges seem dangerously sexy. The chrome is nickel silver-plated copper and is fused over neoprene cups in the the bralette and bodysuit. I love that the chestplate provides a reflection of the wearer's face. The Metropolis dress is an architectural marvel with 100 chromed plates and 1,000 metal O-ring connection joints. A linked chain halter skims down the back in delicate spine-like fashion. But the best part are the linked strands that form the skirt. Part Barbarella, part flapper girl, and totally fabulous.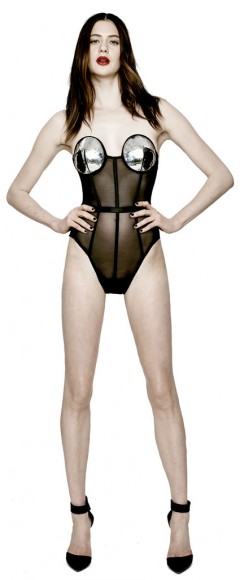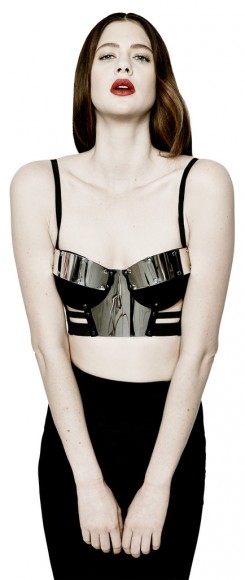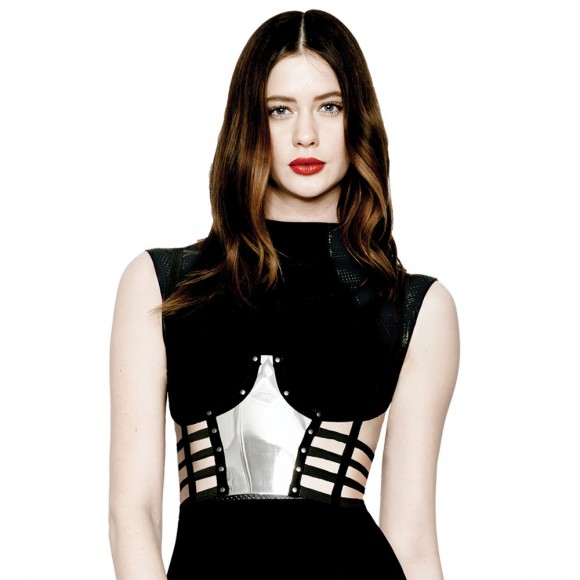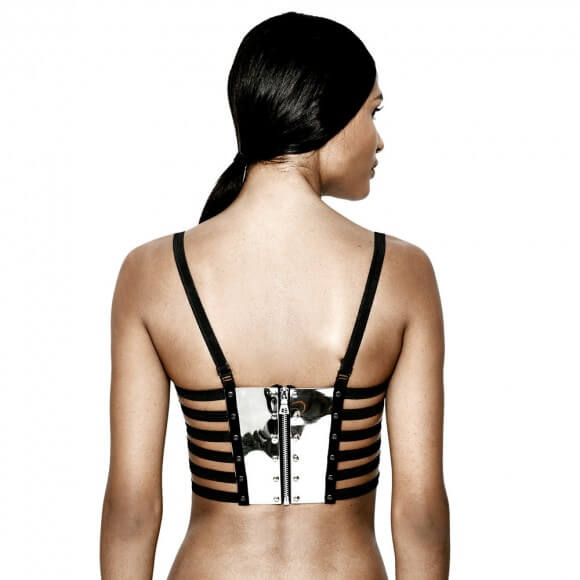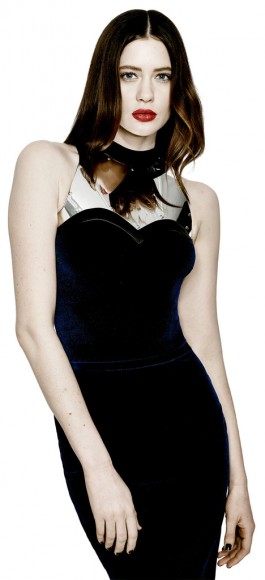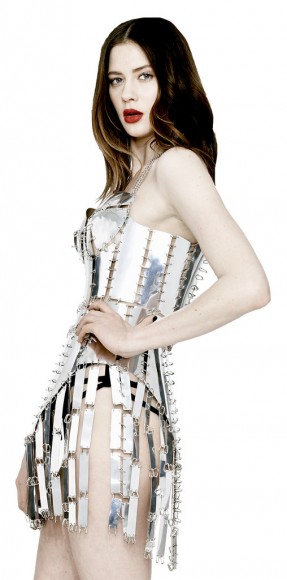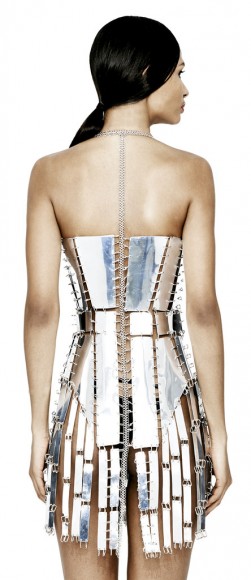 Corset boning is used to manipulate fantastic shapes in several pieces. The Android Arms are linear armor, inspired by scaffolding and robotic appendages. The Coil Skirt features a caged crinoline that attaches to a velvet knee length pencil skirt. The Cantilever bustier juts away from the bustline. Just like its architectural namesake, the structure extends beyond the foundation. The Axis belt simulates a nipped waist, and would be a great entry point into these caged styles, easily being worn over more conservative outerwear.
The most dramatic caged piece is the Cage Dress that utilizes intricate boning, underwire, and elastic to create an exaggerated shape. It's meant to simulate the exposed wiring of your inner fembot and it's a thing of beauty. Strong, graphic lines cup the breasts, criss-cross over and around the torso, and flare into a rounded, bubble shape. Shown over a sheer dress, this would also look amazing over a more subdued shift dress or a sleek bodysuit.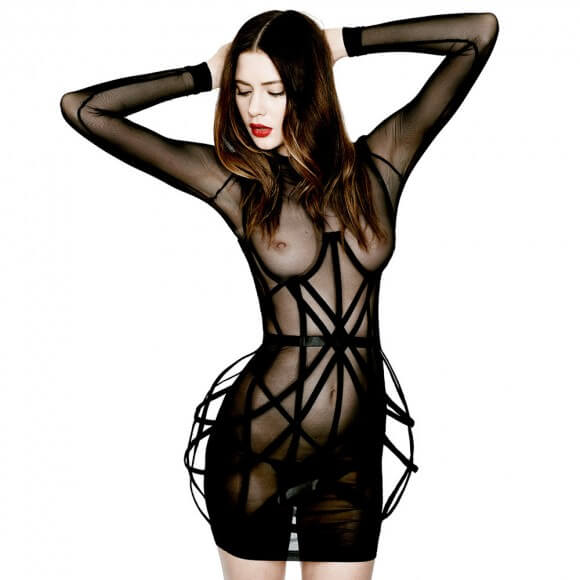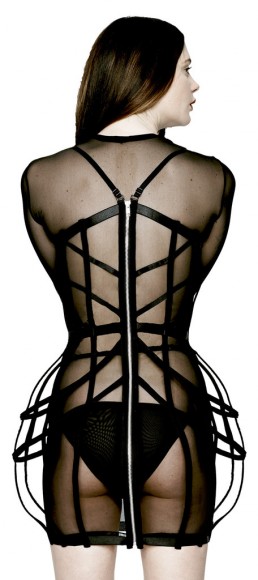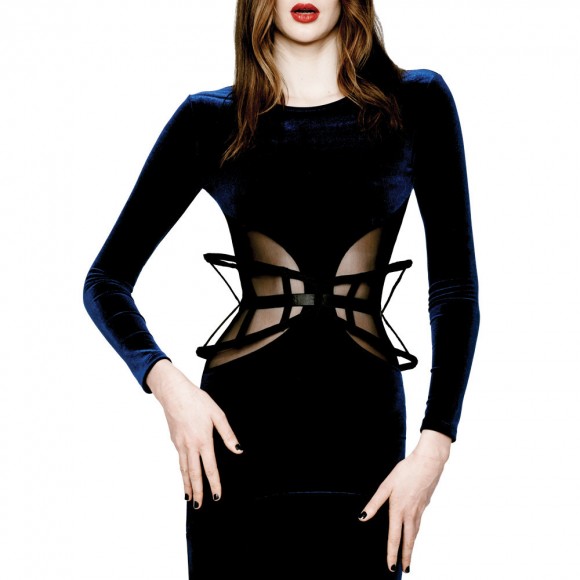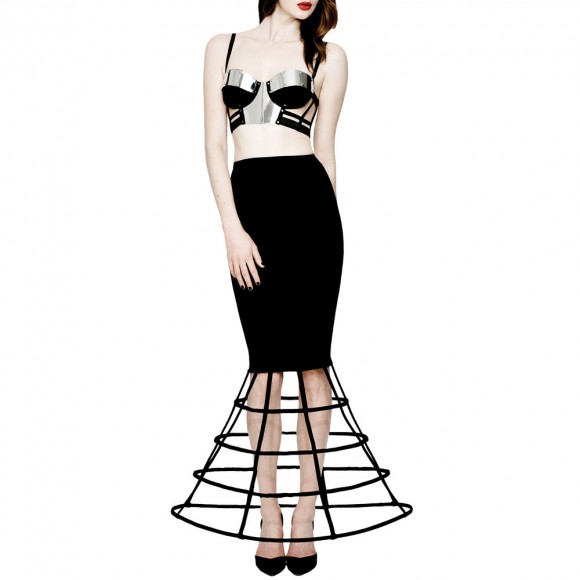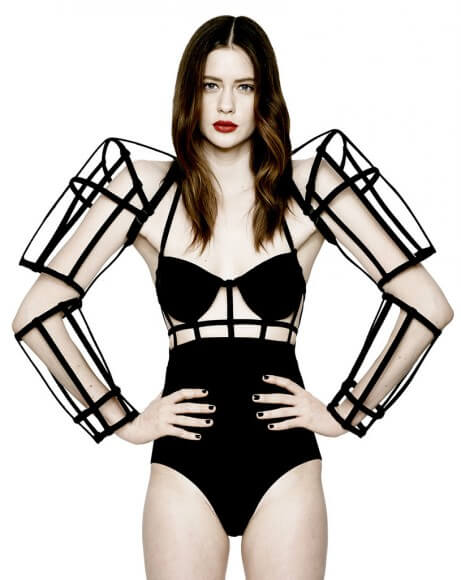 Other lingerie pieces are tame in comparison to the cage and chrome pieces, but are imminently wearable. A perforated leather hot pants and bra set, and strappy pieces made of semi-sheer meshes, swimwear ready lycras, and velvets. Pentagrams feature prominently and look fresh when paired with plush velvet or are placed unexpectedly (that garter belt is deliciously naughty!). While the strappy lingerie trend has definitely been feeling tired lately, Chromat keeps this aesthetic looking thoroughly modern with strong architectural leanings that combine a bit of fetish.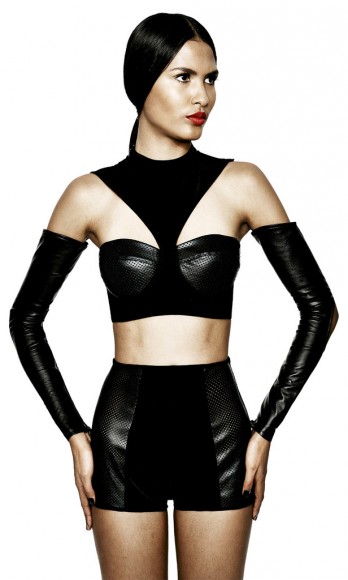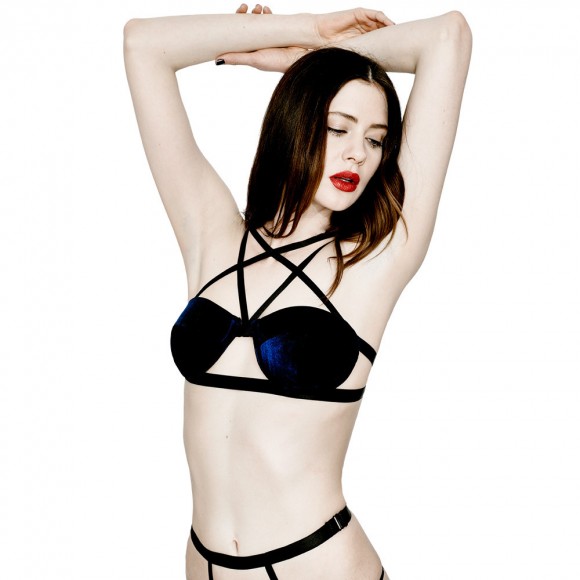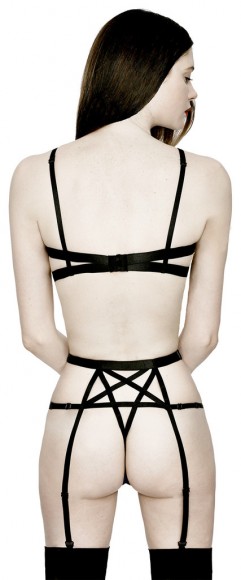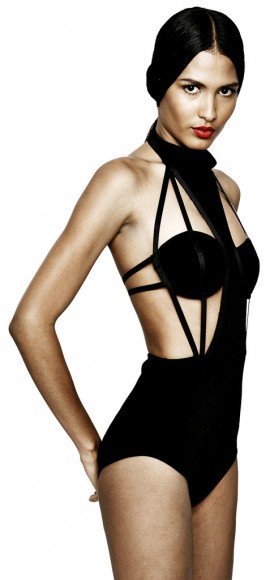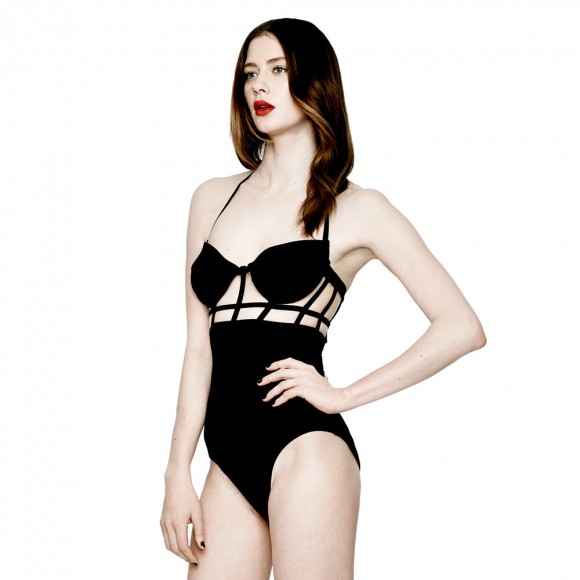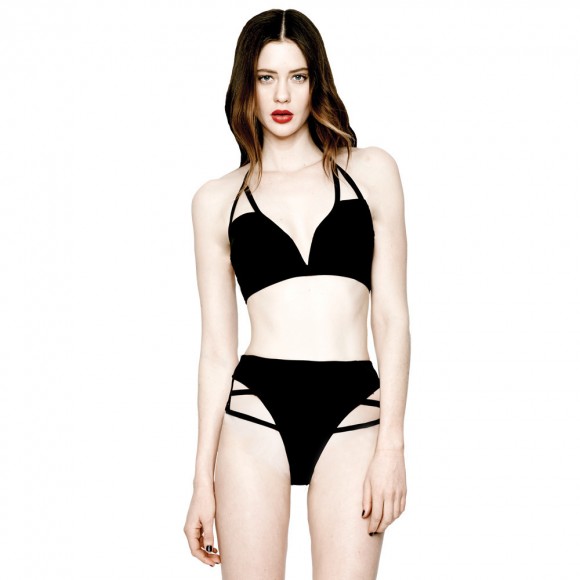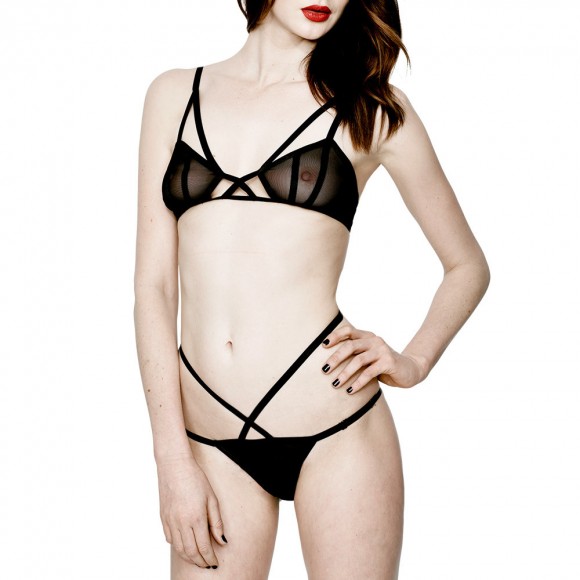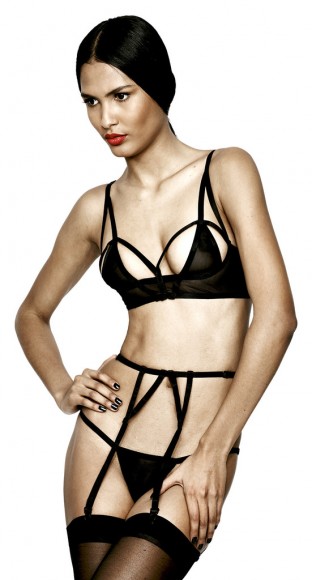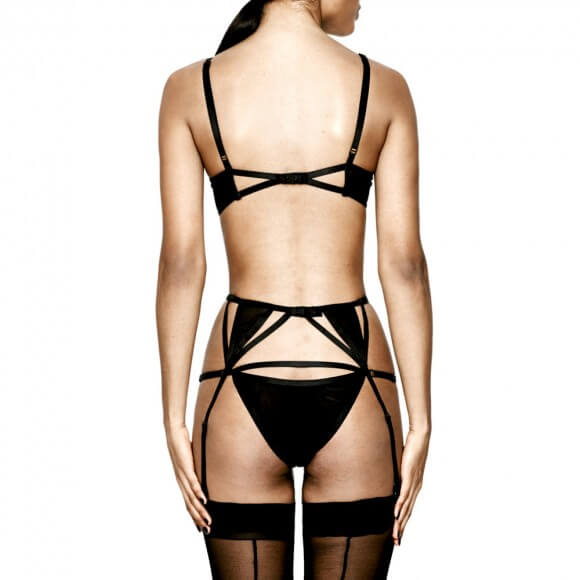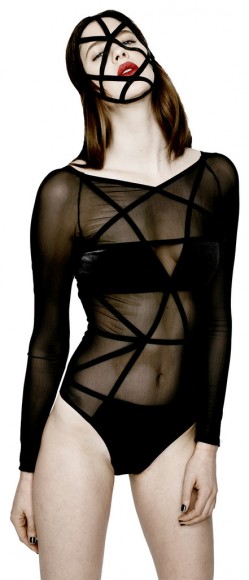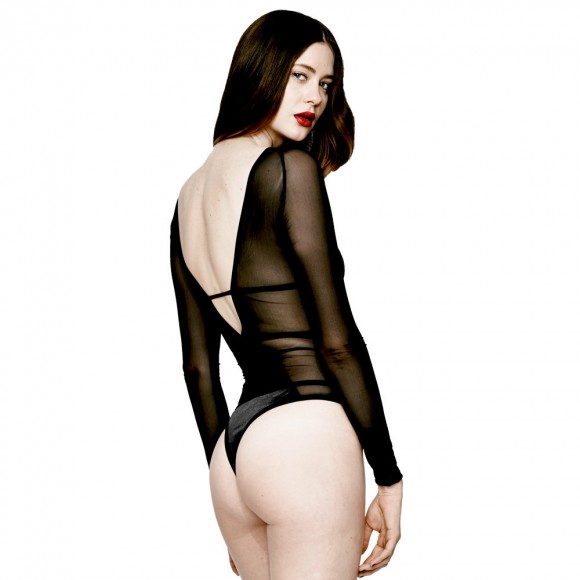 While the above pieces are certainly theatrical, either for clubbing or for the boudoir, there are a few pieces in the Bionic Bodies collection that are outlandish good fun. Chromat features LED lights on a few pieces, including their Bionic Bra, a mask, and a full length cape. While the bra and mask are definitely for the fashion fearless, those of us that love a little drama could still definitely rock that fabulous cape (if we had the right venue and, of course, the funds).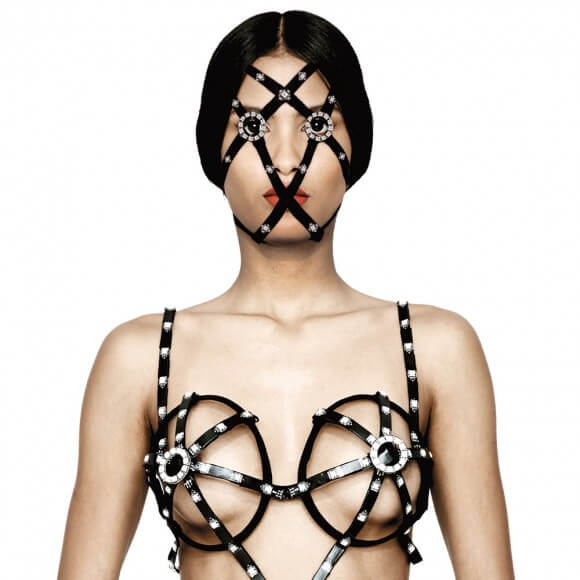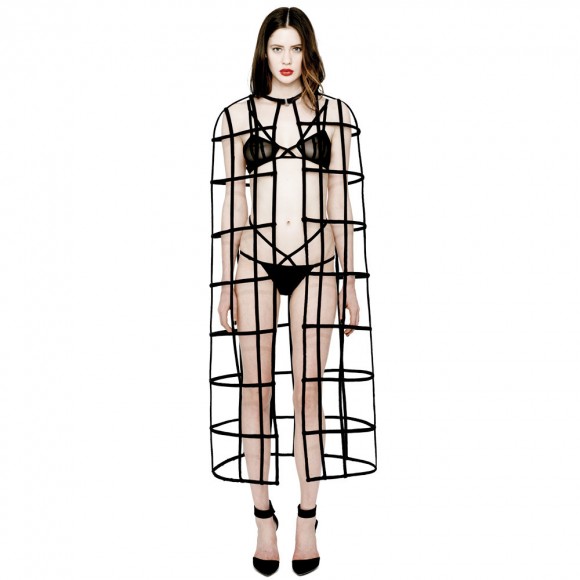 What do you think of Chromat's Bionic Bodies collection? Do any of the cage pieces catch your eye? Would you try any of the more subdued (yet still absolutely fashion-forward) lingerie pieces?