Steph Aman & Paul Seville: An Erotic Partnership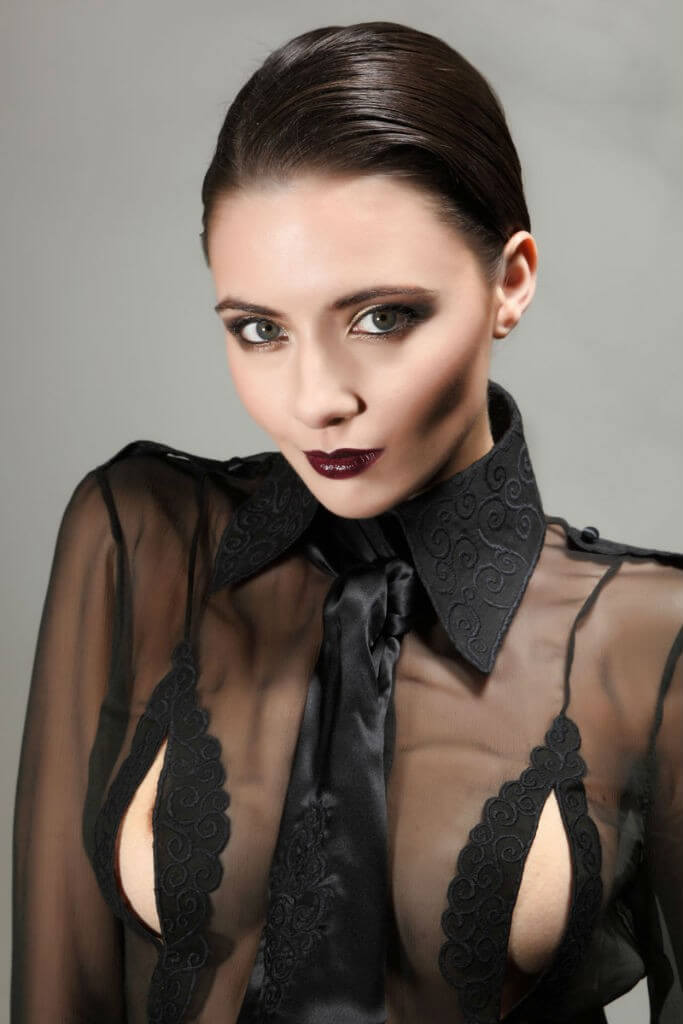 Please note: Most of these images contain nudity and are NSFW
The single best part about the 50 Shades phenomenon is the more open dialogue that is happening about embracing your fantasies, however shy or bold they may be. And what better way to explore your fantasies than with lingerie? There is something to be said about the transformative powers of lingerie. Stepping into an erotic fantasy is made easier when first stepping into a garment that takes you out of your comfort zone and into role playing. Yearning to be more submissive? Dreaming of dominating? When considering your darkest fantasies, consider what you will wear to make them happen.
There's an incredibly exciting partnership happening in the lingerie world that celebrates these desires and empowers a fantasy mind-set. You may remember hearing about Steph Aman's incredible textile work. Her pieces were a highlight at last season's Salon de la Lingerie and her diaphanous embroidered robe was a standout on our luxury Valentine's Day shopping guide. Utilizing a century-old Irish embroidery machine, and exceptional hand finishing techniques, Steph transforms fine fabrics into true works of art. And now, in partnership with her husband and leather craftsman, Paul Seville, she transforms the body through decadently luxe erotic lingerie.
Paul blends old-school leather craftsmanship with couture tailoring techniques to create corsets, harnesses, and other erotic accessories that add edge to Steph's dreamily dark designs. His early work helped create the luxury erotica market and genre, collaborating with such fashion powerhouses as Alexander McQueen, Karl Lagerfeld, and Vivienne Westwood. Together with Steph the two have founded an unconventional British luxury collective, Gallery 58.
Steph Aman's 'Violet' collection is crafted of lush tulles and chiffons, with opulent decorative details that highlight risqué silhouettes. The 'Dominatrix' shirt has slashes at the bust to allow the breasts to show. These can be buttoned up with snakeskin covered buttons to allow only a peek of nipple. The slashes are framed with ornate embossed embroideries which serve to highlight the body as the work of art it is. You'll also find this embossed work framing the silk chaps (how incredibly decadent and deliciously naughty!) along the waist, hips, and cuffs.
There is an intriguing play where exotic and erotic come together in those pieces that highlight Steph's talent with textiles. The capes are adorned with intricate moth wings or bird skeletons which add moody drama to tulle that clings to the skin. The embossed moth wings also create an organic netting when used as a veil (shown paired with a leather mask and skull cap topped with a horsetail).
I find it especially exciting when Steph's filmy fabrics are paired with the harder edges of Paul's leather and snakeskin pieces. This is when the fantasy is truly kicked up a notch, when darkly romantic looks are given a bit of kink. The laced-up closure on the horsetail corset belt mimics the sense of being bound, adding graphic elements and hardware that curves around the body to beneath the breasts. The wrap corset belt features a wrapped panel of leather that adjusts with a stud closure and is topped by a separate belt that mirrors the brass chains of harnesses and leads.
While Steph Aman and Paul Seville are each masters of their own crafts, it is their unexpected pairing that elevates these looks to the stuff of fantasies. I imagine the wearer goes through a ritual of sorts donning these exquisite pieces. They inspire a sense of both restraint and release that are truly remarkable. It is empowering to see lingerie used in a way that is completely uninhibited.
What do you think of the collaboration between Steph Aman and Paul Seville? Do you believe lingerie plays an important part in the role of erotic fantasies? Would you wear any of these daring styles?