How to Organize Your Lingerie Collection in 5 Easy Steps
Disclosure: This article contains affiliate links.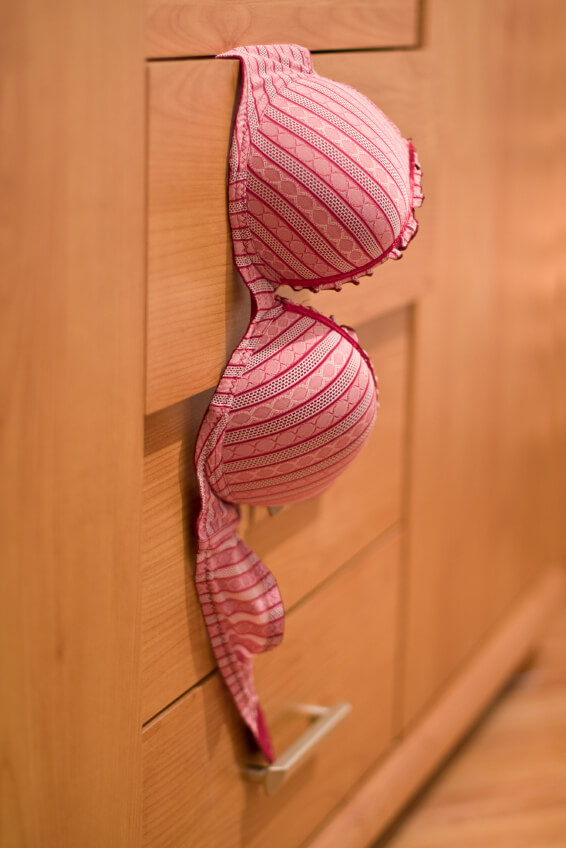 I finally set aside some time this weekend and dealt with my overflow of lingerie. My situation is obviously more drastic than other people. I see lots of lingerie due to my column here and my job as a lingerie copywriter. However, almost all of us have stuff that is old, worn out, or that we just don't wear anymore lurking around our lingerie drawers.
Since most of us have limited storage space, it's important to organize your lingerie, to clear out the old and make room for the new. A bit of lingerie organization also gives you the opportunity to figure out what you really do need, as well as what lingerie you wear a lot and should buy more of. Organizing your lingerie collection can seem really overwhelming, so today I've put together a list of steps that can help make it a reasonably short and easy process.
1. Throw away the obviously bad pieces.
Panties are usually the worst culprit here, as we all have a tendency to keep things that are stained or ripped. Get rid of all of the obviously bad stuff. This includes lingerie that is stained, ripped, has bad elastic or is just not wearable. Make sure you go through all of your lingerie, including stockings to check them for runs. For bras, throw out anything that is stained or where the bra is just dead.
2. Sort your lingerie into piles.
Now that you've gotten rid of the trash, you're left with things you want to keep and lingerie that is in good enough shape to sell or giveaway. Pull out the stuff you wear on a regular basis and look for patterns. Is it all beige? Is it all red? Do you gravitate towards a certain bra cut? Why does this lingerie work with your wardrobe so well? These are all things you can take notes on and remember when you're contemplating future purchases.
Now, take a look at the second pile. There are two options at this point: selling and giving things away. There are now several Facebook groups centered around selling gently used bras. If you're full busted, you should try the Clothes For Boobs group there. You can also talk to local consignment shops if you have one in your area or try Ebay.
3. Organize what you're keeping and plan how you're going to store it.
While it's tempting to just shove all of your bras back in your drawers, it's really not good for them. If you have tons of drawer space you can store them flat, but you can also look into supplies like these lingerie hangers if you have more closet space than drawer space. Take care with molded cup bras so they don't get flattened when you store them. I also like to store all of my stockings together, whether it's in their original packaging or in a protective bag so they can't snag on anything.
4. Invest in a decent lingerie wash.
If you're full busted or just into more expensive bra brands, this step is particularly important. You can wash your lingerie with baby shampoo (and I'm not judging people who do), but some of the more expensive lingerie washes contain components that will help preserve your bra elastics and extend the life of your bras and stockings. By stepping up your game with your lingerie wash, you're saving money by extending the life of your lingerie. My current favorite is this version by Journelle that I reviewed a few months ago.
5. Fill in the holes in your lingerie wardrobe.
Now that you've done this, you should have a pretty good idea of what you need in your lingerie wardrobe. You may also have some extra cash if you've sold your gently used bras! When you contemplate new purchases, think first about what you need and what you tend to wear on a regular basis. If in doubt, look at your now edited lingerie collection and see if your new purchase fits in with the kind of lingerie you tend to reach for on a daily basis.
When was the last time you cleaned out your lingerie collection? What's your favorite lingerie wash? Let me know in the comments.
Save