Lingerie Wash Review: Journelle's Linden Lingerie Wash
This product was purchased by me. All thoughts and opinions are my own.
While I've never been to a Journelle store in person, I've always loved the look and feel of their online presence. However, lots of my lingerie-loving friends have shopped at Journelle in person and they all mention one thing --- the amazing way the physical stores smell. I managed to score another great Beautiful Bottoms robe in the online sale section there last week, which reminded me of how my friends gushed about the smell of the stores. Naturally, I wondered if Journelle's lingerie wash in Linden could give me the same experience in a travel size bottle.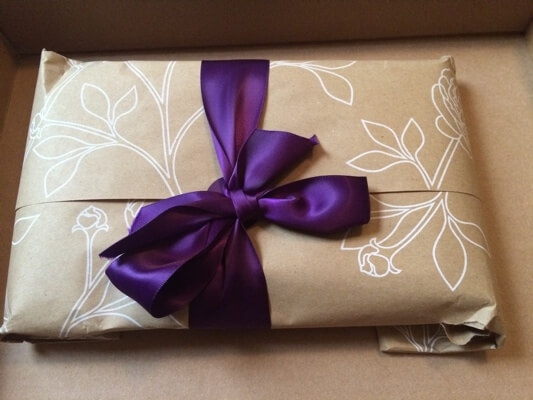 I wanted to make some comments about the shopping experience, as I know buying stuff online can be scary. This was my first order from Journelle and I really loved the whole experience --- I'm picky about boutiques and I'll definitely be a repeat customer. When I first put in my order, I used the discount code they offer for signing up for their newsletter. It applied to my lingerie wash, but not my robe (which was on final sale). I assumed this meant the code didn't apply to final sale stuff and checked out anyway. When I got the automatic email for my invoice, the code had been applied to both items in my order! Since I was ordering super late at night, I'm amazed their system caught it and corrected it. Color me super impressed.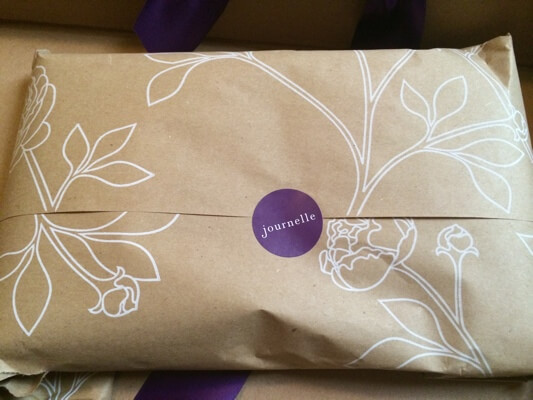 My stuff came in about a week and as you can see, even their basic packaging feels luxurious and elegant. Lots of luxury boutiques just shove your expensive items into a plastic bag (especially if they're on sale) so it was great to see that Journelle doesn't treat its online customers and sale buyers as lesser consumers.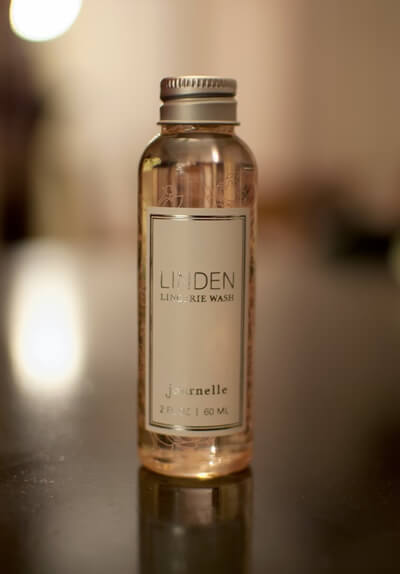 This may be the most elegantly packaged lingerie wash I've ever seen. The bottle itself is beautiful, despite only being a 2 oz travel size. It's also sturdy, which I appreciate as it was wrapped together with my robe. I would have no fears throwing this in the pocket of my suitcase or a carry on bag.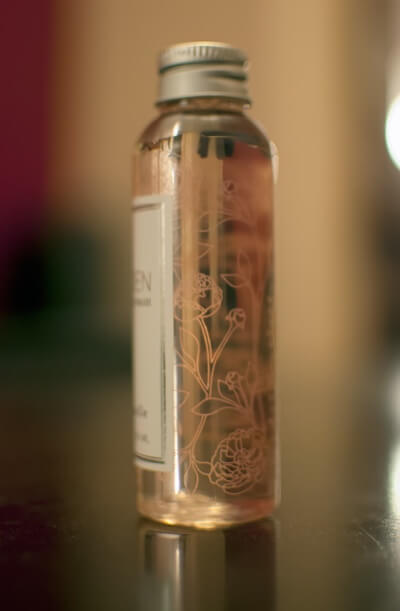 The same elegant flowers that are on the Journelle packaging decorate the bottle, which makes it pretty enough to leave out in your bathroom and not worry if guests see it. In fact, it might improve their opinion of you! The lingerie wash says that it cleans, brightens and helps preserve hosiery and other elasticated materials. If you buy expensive bras, lots of silk lingerie or lots of nice stockings, this is definitely a bonus.
So how does it smell? In a word, heavenly. I was expecting a highly perfumed smell that would be extremely strong, but it's light and natural. However, it's also strong enough so the scent sticks around on your lingerie and you feel like it's worth the cost. Journelle describes the scent as "fresh linden blossom, hints of soft violet and velvety gardenia, over the dark sails of bois cire and earthy cedars" but it honestly just smells the most wonderful garden scent to me. It's clean, fresh and very modern. It only takes two or three capfuls to handwash a tub of lingerie for me, so it's reasonably cost effective as well.
My only complaint is I wish that it came in bigger bottles! It looks like Journelle was selling a 16 oz version but is now out --- hopefully they'll restock sometime soon. At $12, the 16 oz bottle is a reasonable price for a dash of luxury and to protect your favorite lingerie. The 2 oz bottle that I bought is only $4. As long as Journelle is answering my wishes, I'd also buy a linen or delicates spray in this scent on a regular basis! It would be great to see them expand their line while sticking with this signature scent.
What is your go to lingerie wash? Do you prefer scented or unscented versions?