Lingerie School: De Montfort University Contour Fashion Graduates, 2014
After three years studying Contour Fashion at De Montfort University, the end is finally in sight - I'm about to graduate from Lingerie School!
Contour Fashion is a degree that specialises in intimate apparel, covering almost all areas of lingerie and then some. We've studied everything from corsetry to swimwear, and each chose our own final major projects. Some chose to go down a technical route to fulfill a market niche, whilst others chose to design around aesthetics, pushing the boundaries of lingerie design.
My class is full of incredibly talented individuals and I'm so proud of what everyone has achieved. We all started at the same place, yet the final collections that everyone has created are so wonderfully varied, both from an aesthetic and technical perspective.
Our final projects give students an opportunity to create something unique and boundary pushing, without having to worry about the consequences of whether the garments would sell at retail. It's some of the most beautiful lingerie that, sadly, you'll never be able to buy!
I'm sharing a small fraction of this year's graduates' work with you, and I hope you love it all as much as I do. Thank you to De Montfort University for letting me share all these images!
All photoshoot images courtesy of De Montfort University.
Akaibi Vine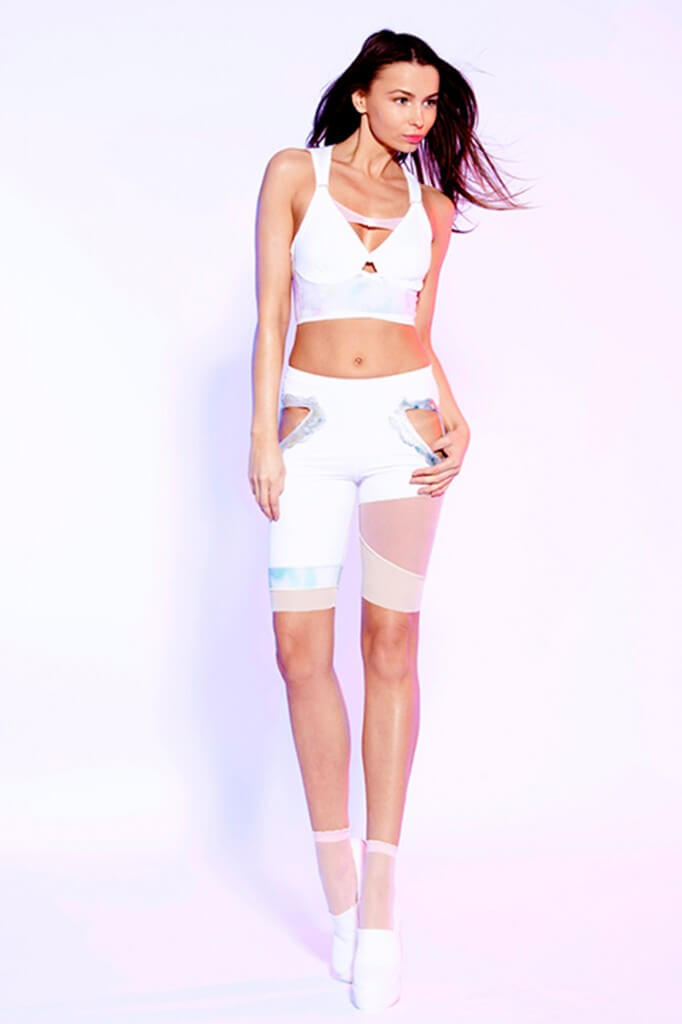 Akaibi's project is focused on sportswear for people with limited dexterity and flexibility, taking her inspiration from the Paralympics that were founded in her home town. By conducting interviews with people who suffer from limited mobility, she developed special silicone grips to aid the process of dressing. The amount of technical detail and consideration that has gone into this collection is astounding and I can't do it justice in a short paragraph. Nevertheless, as a collection it's a fresh and interesting take on sportswear, in a woefully underserved market.
Amber Khan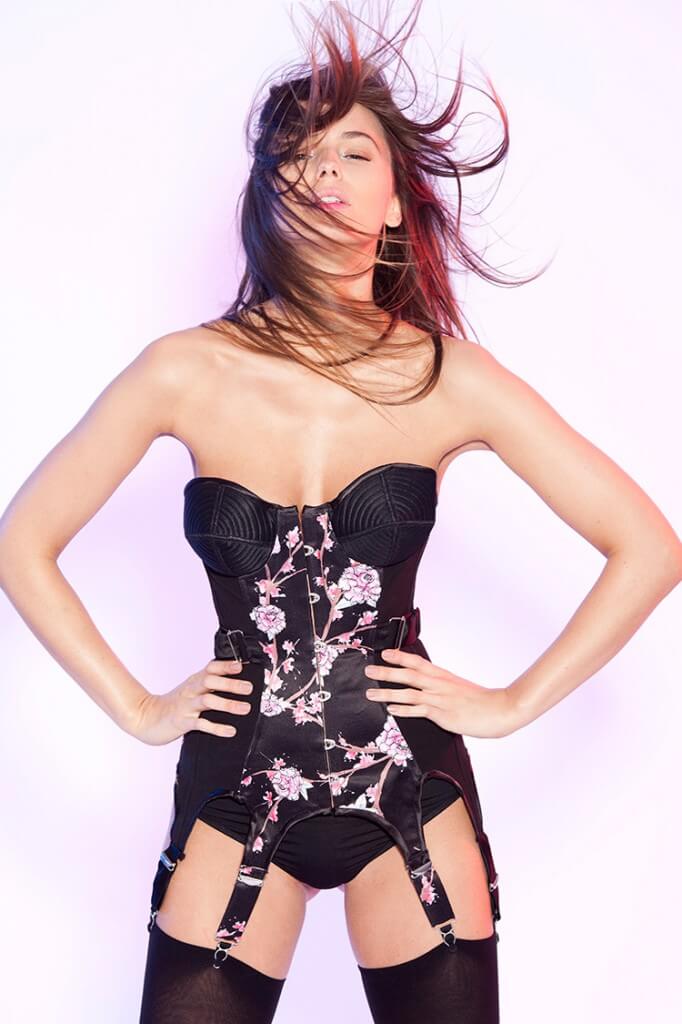 Amber created a corsetry and lingerie based collection, taking its inspiration from florals and 1950s silhouettes and fabric techniques. It's focused on rigid structures designed to emphasize the contours of a feminine body. She used fan lacing as a key feature in the garments, taken from her love of vintage corsetry, as well as trying to recreate the structures of oriental fans. Amber designed her own floral print for the collection, using a mix of illustrations in digital print and embroidery.
Charlie Watson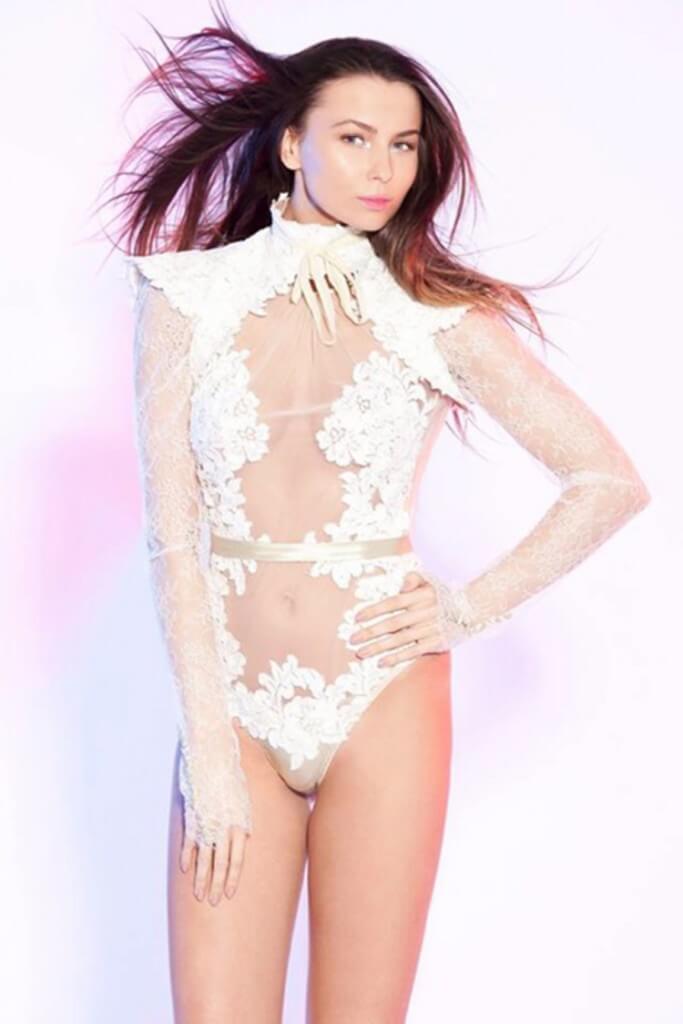 Charlie's collection is inspired by the natural decay of flowers, using the varied textures throughout her surface embellishment. She's used both modern and vintage shapes to create a stunning range of boudoir wear, with luxurious fabrics such as delicate leavers laces, silk satins, georgettes and chiffons. Corded lace was carefully positioned and appliquéd over the sheer fabrics to protect the wearer's modesty, giving the collection a seductive and playful edge.
Charlotte Watson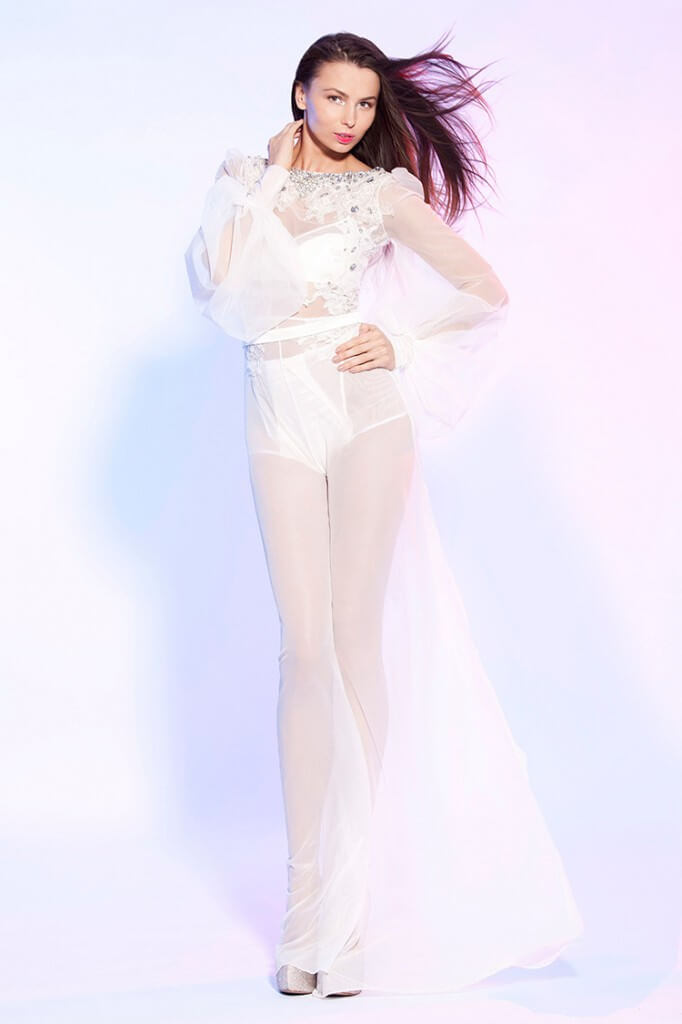 Charlotte's collection 'Aurora' approaches soft bras from a fresh direction, using unusual construction features such as overbust and sidebust slings to give the garments aesthetic appeal, as well as uplifting and supporting the breasts. Aesthetic inspiration came from glacier formations (with an icy colour palette and delicate lace applique and beading), whilst styling took its inspiration from the 1920s and 30s.
Charlotte Spence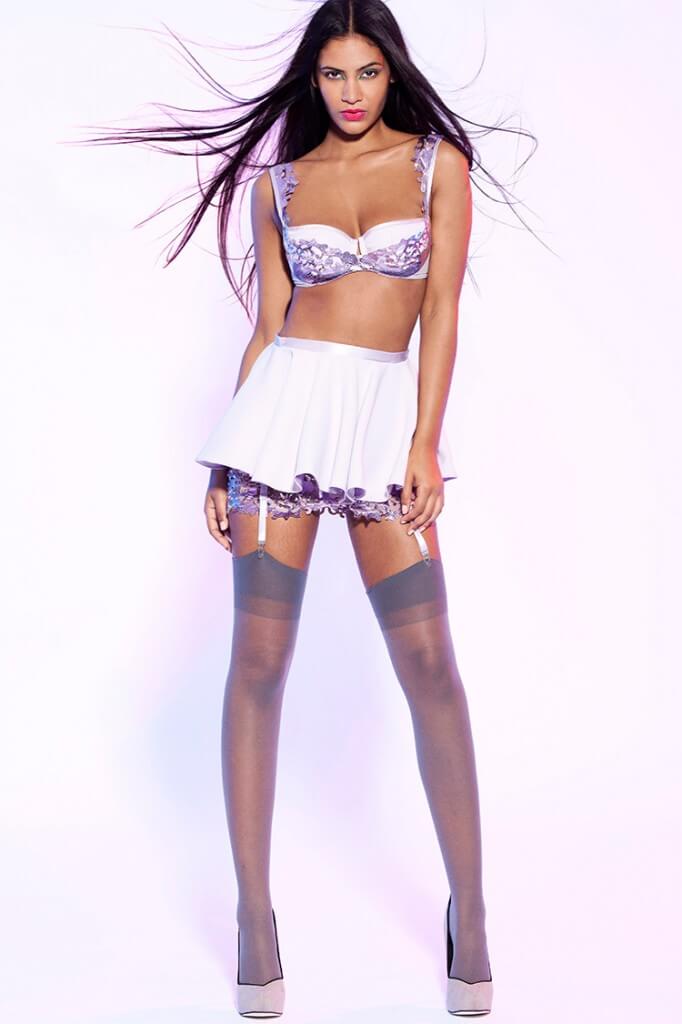 Charlotte was initially inspired by a 1920s barber chair, with the design process focusing on each of the chair's individual elements, from the textured upholstery to the intricate iron works. The collection is called 'The Cut Lilac Collection' and includes intricately laser cut faux metallic snakeskin along with lilac silk and crepe contrast elements.
Daisy Hobbs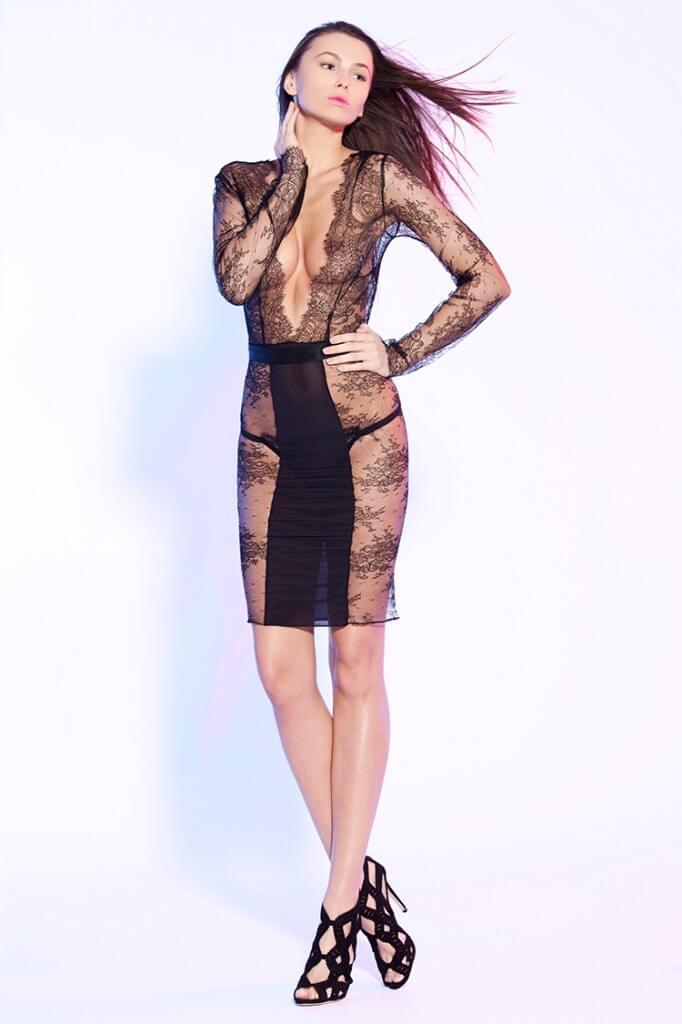 Daisy's collection 'L'Amore a La Vie' is designed with a bride's trousseau in mind - building up each outfit for her special day. Her inspiration originated from a Fabarge exhibition and an exploration into the life of the Royals and the part that sheer excess played. The collection uses delicate Chantilly laces and luxurious silks.
Emma Stubbs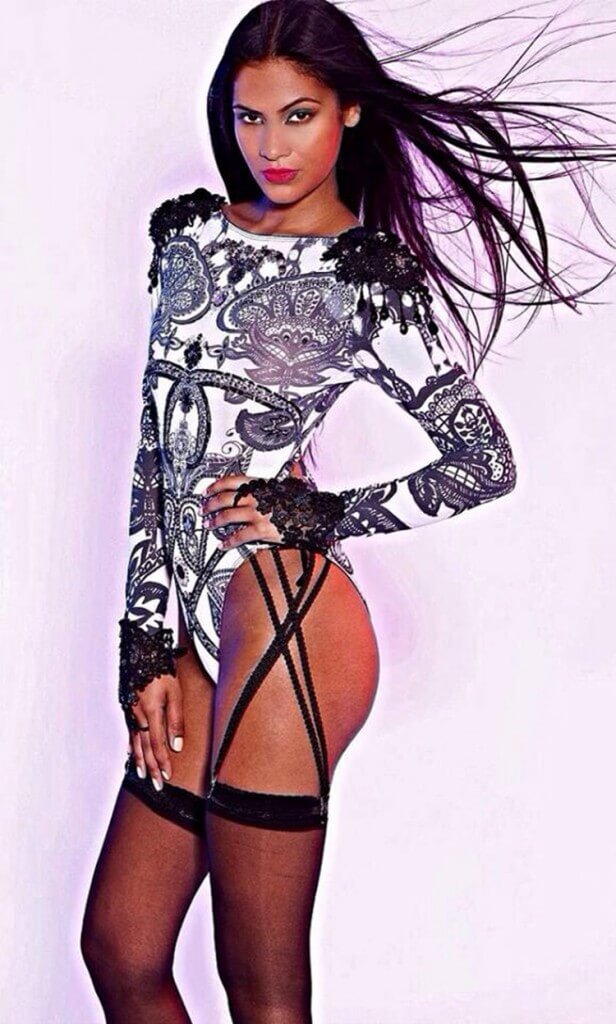 'Labyrinth' takes its inspiration from traditional black work embroidery, updating it with a modern twist. Emma developed the print from her own illustrations, creating floral motif patterns from drawings of crowns, jewels, and masquerade masks. The designs are created as one-off show pieces and are embellished with lace and beading.
Georgie McCarten
Georgie's collection 'Palazzo di Giardino' was initially inspired by intricate and elegant Florentine architecture. Golden silk satins and chiffons are layered with lace appliqué and hints of blue, accented with crackled blue leather and embellished with beading. The collection is aimed at a boutique lingerie level.
Jennifer Lodge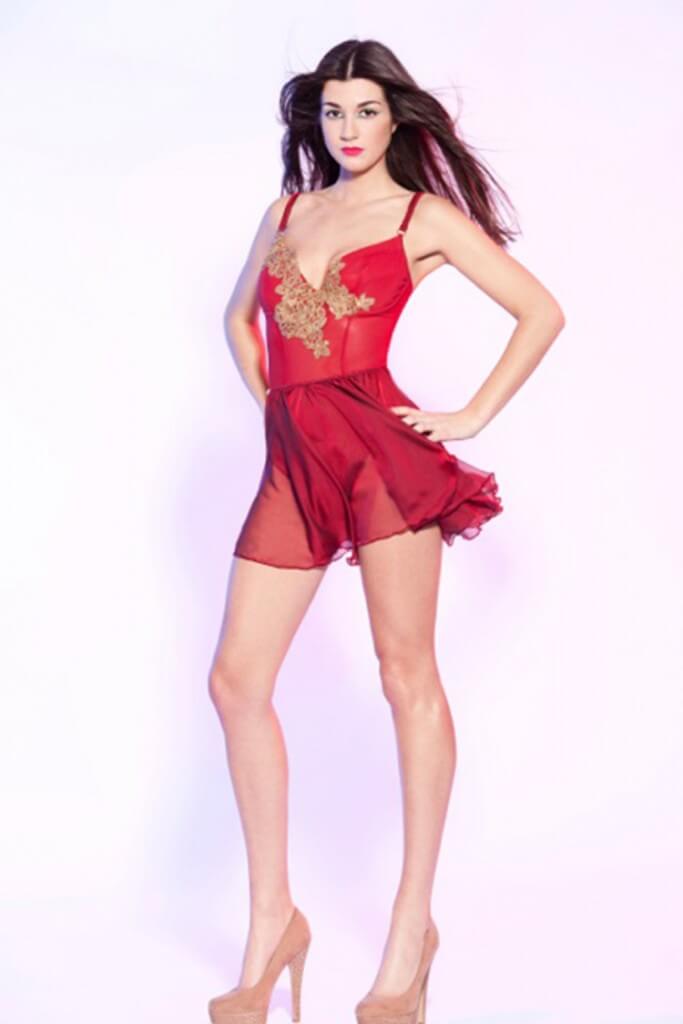 Jennifer's collection focused on the market niche of women with a 36-44 D-K cup bra size in dress sizes 14-26, creating a range of luxury boudoir lingerie. Titled 'A Russian Affair,' it was inspired by decadent Russian palaces with bold colours and striking gold embellishments. Stretch mesh was used to shape and control the body, with silk chiffons and satins creating fluidity and movement.
Karolina Laskowska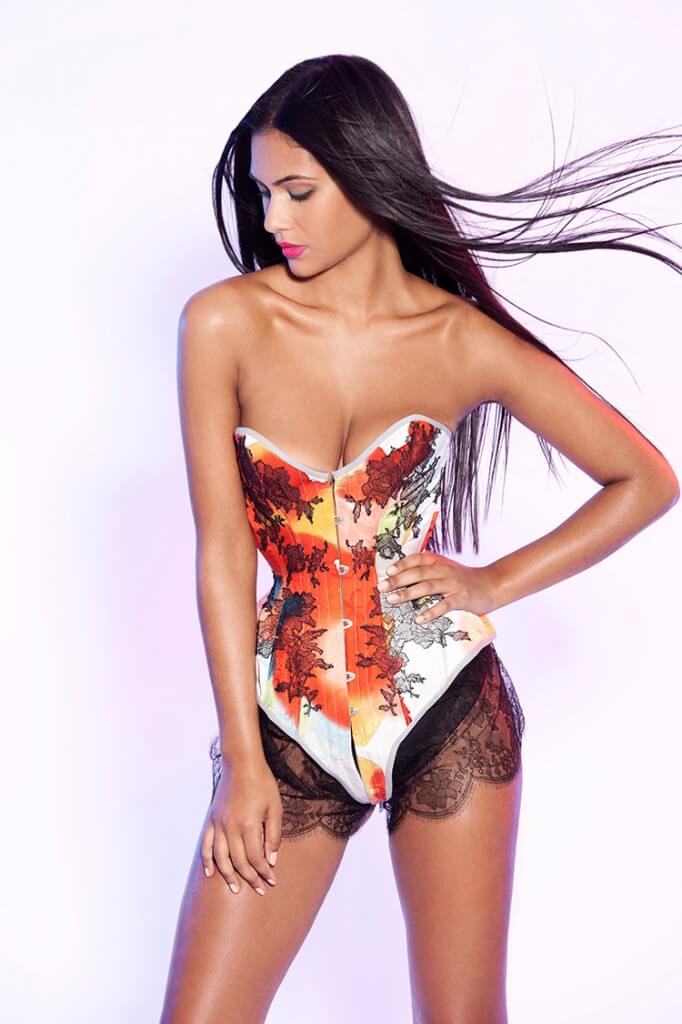 My collection focused on bespoke corsetry, drawing its inspiration from Japanese kimono and antique corsetry, with colours drawn from orchids and French macarons. All of the corsetry utilised genuine vintage kimono silks, giving them a new lease on life. They've been paired with exquisite French Leavers laces, both as a fabric and intricate appliqué. The corsets were all designed to give dramatic shaping, with a cupped rib silhouette allowing for comfortable waist reduction.
Nancy Hallam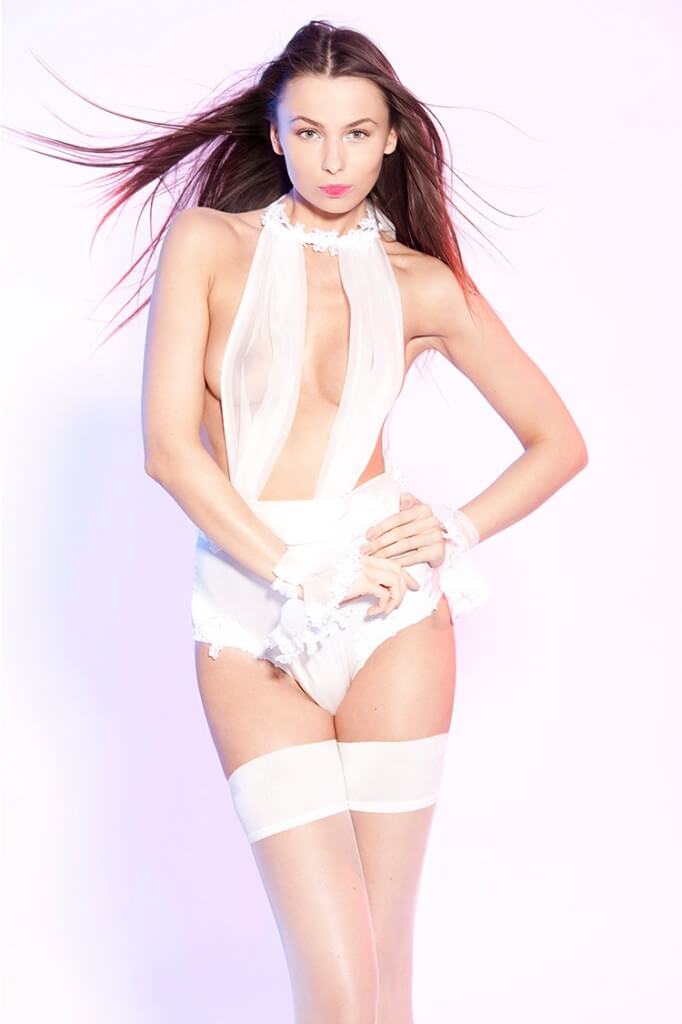 Nancy's collection is called the 'Ethereal Bride Collection.' It draws its inspiration from Edwardian fashion and architecture, using exquisite hand made laces with intricate beading and luxurious silks.
Rosa Silva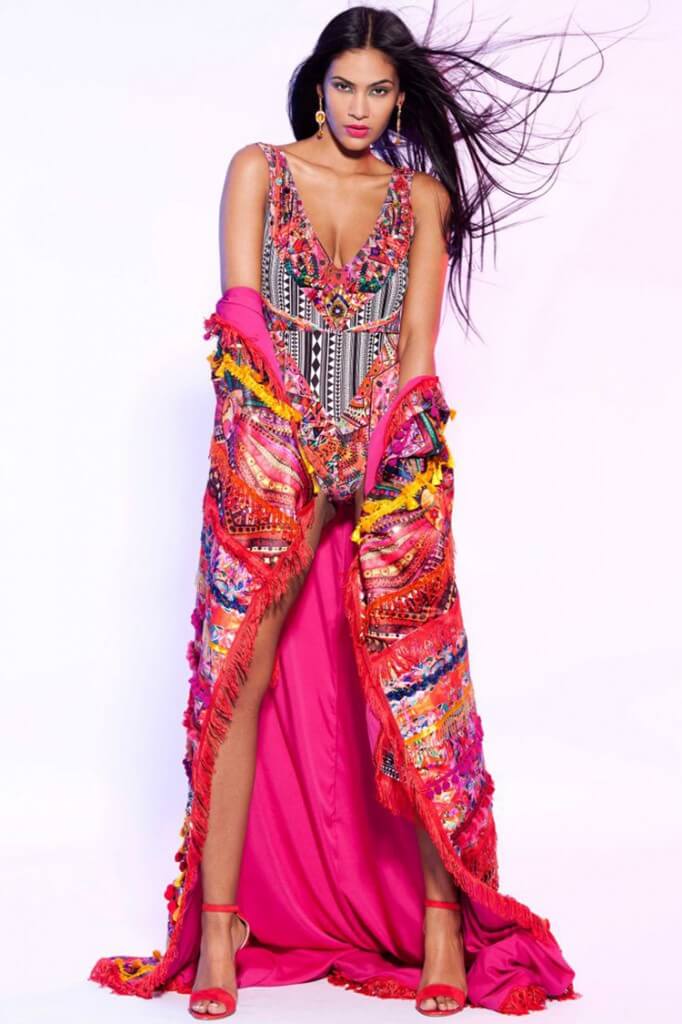 Rosa created a collection of high end swimwear entitled 'Ceylon.' Her prints were inspired by Sri Lanka, conveyed through kaleidoscopic designs and rich embellishments. Designs are fashion forward with dramatic strapping details and exciting trimmings, from pompoms to beading, with contrast panelling in PVC.
Selina Bond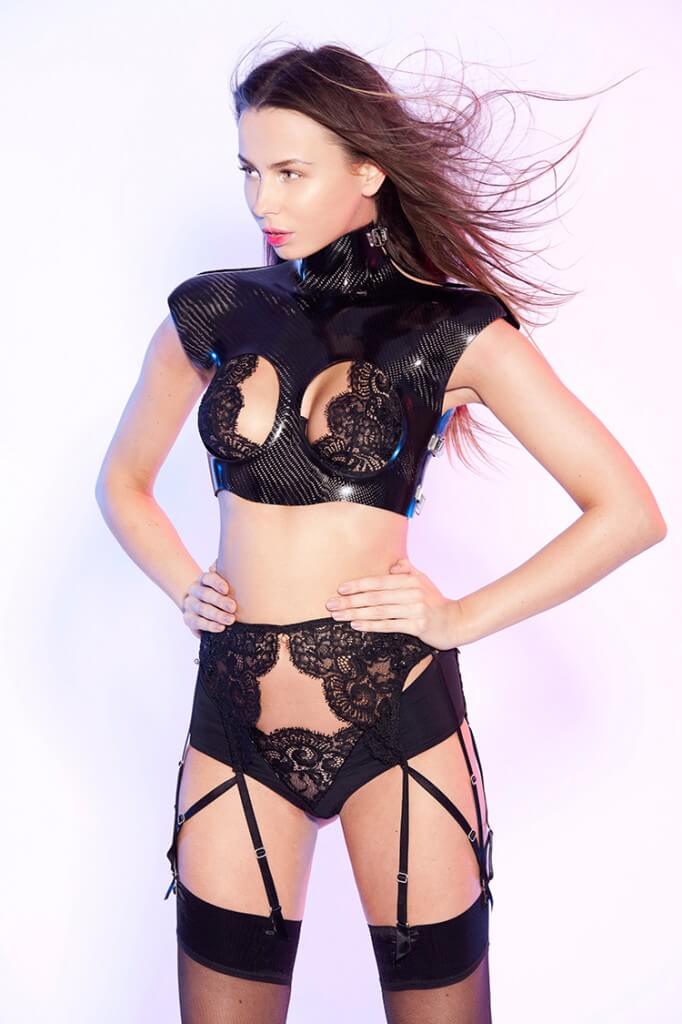 'Bella Suora' drew its inspiration from the catacombs of Napoli and the clothing of Italian widows and nuns, in particular the use of lace and structured head-dresses. Selina created a collection of luxury lingerie, pairing unusual materials. Carbon fibre was used to create structured, contoured pieces, while Leavers laces gave the lingerie an elegant contrast.
Sophie Cook
Sophie's initial inspiration was drawn from images of insects covered in dew drops, which later led to a study of the shaping of coral. Her collection echos the delicacy of detail found within the insects' wings, contrasted with the harsh structure of the coral. Fine stretch meshes and crepe de chine were used, paired with delicate lace appliqué and embellished with beads and Swarovski crystals, a visual translation of glistening dew drops.
Readers: Which of these designs is your favourite? Have you ever considered studying lingerie design?
Save
Save