Lingerie Review: Parfait by Affinitas 'Charlotte' Padded Bra
Disclosure: This blog post contains affiliate links.
Editor's Note: I purchased this bra set. All opinions are my own. Affinitas is unaffiliated with this review.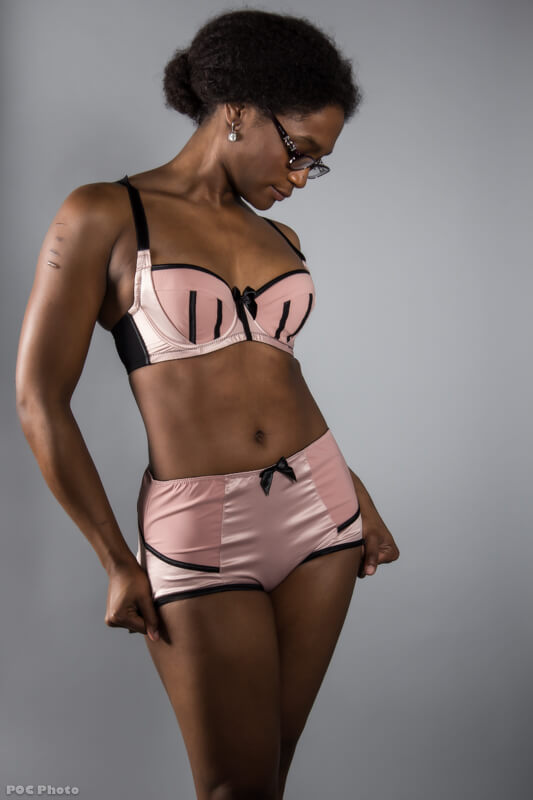 I've been in love with the subject of today's bra review for a very long time. As part of my experiment with 32D cups (and full bust bra brands I've read about often, but never tried), I decided to finally purchase the Parfait by Affinitas Charlotte Bra and Brief Set.
First impressions count for a lot, and my immediate reaction to this set is that it's truly stunning. The color... the quality... none of it disappoints. I can say without reservation that both the Charlotte bra and brief were just as beautiful in person as they were online. And the reason I'm emphasizing this is because sometimes satin can feel a bit cheap or tacky --- especially for more budget-friendly brands. However, that's definitely not the case here.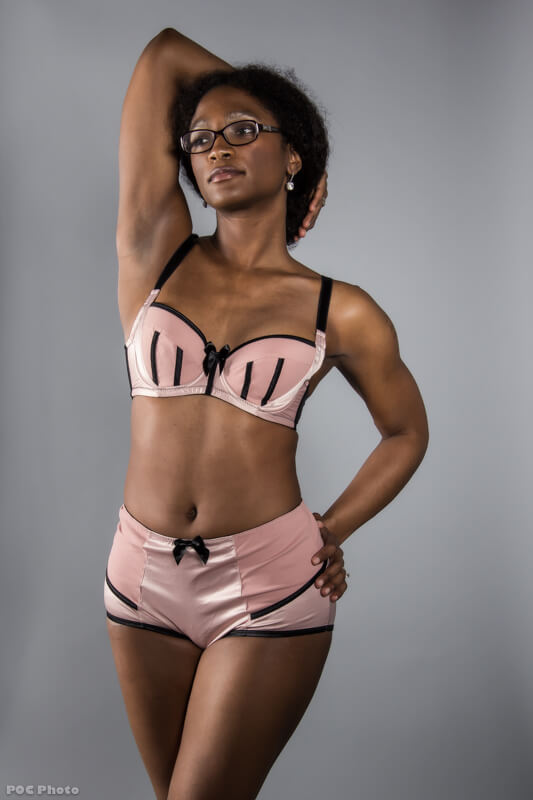 The sheen of the satin contrasts with the matte microfiber in lovely way, and I was very pleased with the soft, dusky rose color. The shape of the bra itself is also very pretty, and I thought the contrasting accents were a stylish touch. In so many words, this is a thoughtfully designed bra at a wonderful price point. It feels surprisingly luxe --- like it should cost about twice as much. No wonder the Charlotte is a best-seller.
In terms of fit and feel, I would say this bra really pulled my breasts front and center and added lift (the side sling helps with that effect a lot). I don't tend to wear bras to change either my breast shape or profile, so that kind of "aggressive" support is something I notice immediately. To put it bluntly, my breasts felt like they were on a shelf. The product descriptor calls this bra padded, but it felt like more of a contour cup to me. You get shaping, but not any extra bulk. The bustline is lifted because of the construction of the bra, not from any push-up padding. I'd also say the Charlotte frames the chest beautifully, almost like a portrait neckline.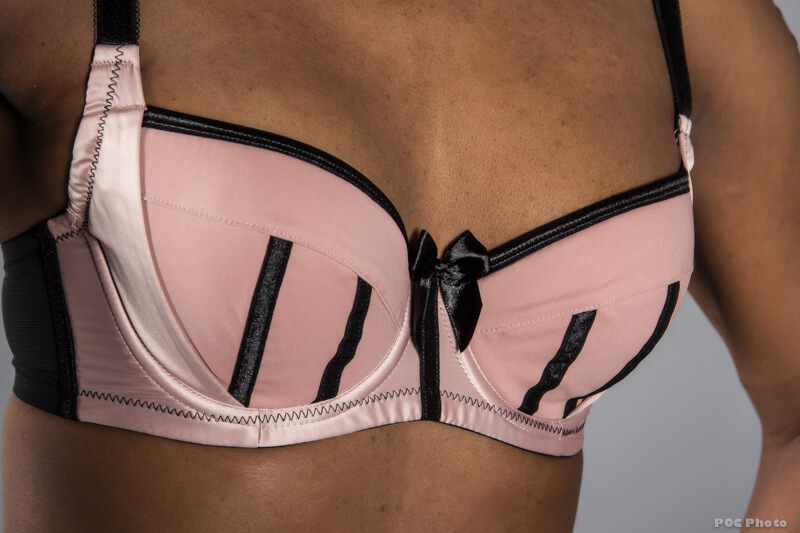 The reviews you may have read calling this bra a snug fit are correct. Unlike other bras in this size that I've tried which had pressure points focused on the underwires, this bra was tight all around. Ironically, that helped with wearing the Charlotte (I can tolerate the sensation of all over pressure better than I can tolerate it in one specific spot), but when it started to hurt, it hurt a lot. While the gore tacked (unlike the other 32D bras I've tried), I was left sore for hours after wear. My sternum is still achy, actually, and I haven't had this bra on for a couple of days. After my last test wear, I also noticed a welt in the shape of the right side underwire beneath my breast... something that has never happened before. These are heavy duty wires, and this bra is tight. It's still a cute bra, but it's probably the tightest 32 band I've tried so far. I honestly don't know if I'd need to go up one size or two were I to try it again.
That said, I don't think this bra is flawed or poorly made. I just got the wrong size. And I'd honestly still recommend it to people. Even with the sizing "hack," the Affinitas Charlotte is still an excellent buy for the money. While I likely won't attempt to wear this bra all day again, it'll probably make an appearance in photoshoots later on (perhaps with a bit of moleskine tucked between the gore and my sternum). I'm already wondering about how the hot pink colorway might look, though I have to admit the peach is a charming shade as well. One last note... I've also heard some people remark that the cups are a bit small. I personally didn't feel like the cups were too small for my breasts, but I also have a shallow bust profile, so take that as you will. If your breasts are fuller on top or if you have softer breast tissue, it may be a good idea to go up a letter cup size as well.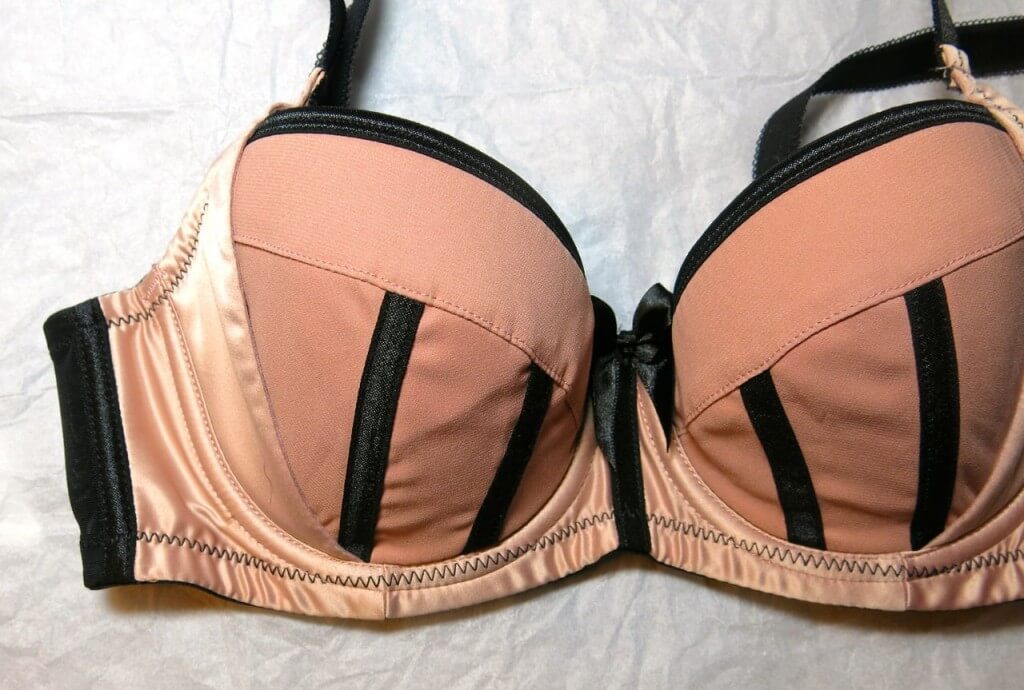 Last thing - let's talk about the knickers. I found these panties to be super roomy and comfortable. Both the shiny satin and matte microfiber (if that's what it is) are very soft, but also very sturdy. And I didn't have any issues with uncomfortable seams or binding elastic. If anything, I might call these knickers generously sized... which for me, is always preferable to too tight. I'd say this set works great for daily wear, a pinup or boudoir photoshoot, or even something provocative to wear for a sensual night in (especially if you're less comfortable with skimpy or unsupportive lingerie).
All in all, I'd say this set is a buy. The quality is good. It comes in several fashion colors. The size range for fuller busts is excellent (up to K cup). And if you're able to go up a band size or so, you should be fine.
What do you think of the Parfait by Affinitas Charlotte Bra Set? Do you own it? Would you buy it?