A Comprehensive Taste of Interfiliere Paris: My Introduction to the Role of Fabric in Lingerie
Disclosure: This post is sponsored by Lycra.
On Monday, I had the very great pleasure of attending the Taste of Interfiliere Show at Tribeca Skyline Studios in Manhattan. For those who haven't heard of it, Interfiliere is Eurovet's (the same company that owns Curve) fabric tradeshow for lingerie, swimwear, and loungewear. Basically, it's a place for lingerie designers to place their fabric orders for the next season; in the same way that Curve is a place for lingerie boutiques to place their shop orders for next season. The company Invista collaborated with Eurovet for the event, and Invista invited me to attend. Invista is world-known for the production of Lycra fabrics, which make a frequent appearance in lingerie and swimwear. While at Interfiliere, I got to preview fabrics for A/W 2014 as well as S/S 2015, and I got a ton of new insight into the role fabrics and fabric purchasing plays in the final product lingerie consumers see. Up until now, Interfiliere has only been held in Shanghai and Paris, but I sincerely hope they bring the show to NYC again. Not only is it great for stateside buyers, it's a genuinely interesting show for the press as well.
Lycra sponsored my attendance at Taste of Interfiliere, and they were also a collaborator on the event itself. As one of the best known names in the textile industry, Lycra is world famous for the quality and durability of their fabrics and fibers. While at the show, I got the inside scoop on two Lycra fibers and two Lycra fabrics in particular: Lycra XtraLife and Lycra fibre with W Technology (both fibers) & Lycra beauty and Lycra Sport (both fabrics). I have to admit... before the show, I didn't really think about the difference between fabrics and fibers, or even about the role fabric technology has in the final garment. And though I'm certainly no textile expert (this show really brought home how much I don't know), I was really intrigued at the science and research behind bringing a new fabric or fiber to market. Quick note (because I didn't know this until recently): fibers are the material which make up the fabric. Lycra makes both fibers and fabrics, but they also sell the actual Lycra fibers to other fabric mills (some of which I'll talk about later) to make their own fabrics. I'm worried I'm making this sound more complicated than it really is, but that's only because it's so new to me. At any rate, I'll start with the Lycra fibers.
Lycra Lingerie Fibers and Fabrics
Lycra fibre with W Technology is all about making sure your lingerie stays the color it's supposed to be as it makes the journey from the factory to the showroom floor. Lycra fibre with W Technology helps ensure intimate apparel stays a true, bright white (so you're not buying an off-white or dingy bra from the retailer), and that the color of the fabric, if it's dyed, is truer, richer, and more saturated. It didn't really occur to me that loss of color would be an issue between the factory and the store, but it makes perfect sense. These garments are made months ahead of time; if you're a retailer, you don't want to order a white bra and wind up with a beige one.
The second fiber I viewed was Lycra XtraLife, which is a swimwear specific fiber. This one was really cool because it relates directly to issues consumers deal with in their swimwear... namely, swimsuits that become stretched out, broken, see-through, and otherwise ruined before swimwear season is even over. I was also really intrigued by this fabric because of how much science and research went into it. Lycra was doing things like soaking swimsuits in sunscreen and pool water, and then leaving them in the conditions similar to the trunk of your car for hours to replicate the damage the everyday woman might do to her swimsuit. The fiber they produced as a result of all this research lasts 5x longer than regular chlorine-resistant elastane... and the colors were brighter and richer after all that wear as well.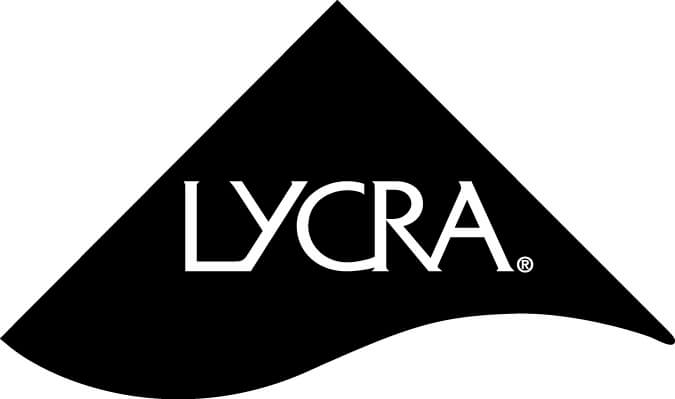 Moving onto to fabrics, Lycra beauty fabric is used in shapewear and shaping swimwear (when used in swimwear, it also meets the criteria for Lycra Xtralife fiber described above). In terms of what was most relevant to me (and probably what most people are familiar with), I'd say it was Lycra beauty. Lycra beauty comes in four categories for lingerie (ordered from least to most shaping): smoothing, sensual curves, sculpt, and control, as well as two fabrics for swimwear: firm and extra firm. Again, I thought it was really cool how much market research and scientific research a company like Lycra does. We're talking 3D body scans and force analysis tests to see exactly how much shaping their shaping fabric provides. This wasn't something I was even aware was happening, but it shows how deliberate and how serious fabric development is in the market.
Finally, the last fabric I looked at was Lycra Sport. As the name implies, Lycra Sport is all about athletic wear... specifically, about retaining fit and stretch (sans bagging or sagging), muscle support, and durability after repeated washings. This isn't a lingerie fabric, per se, (the research I read about it was on men's leggings), but I know for a fact I own several Lycra sports bras that have lasted forever. Like all the other fabrics and fibers mentioned here, you see Lycra sport in both luxury and budget level products.
So Many Gorgeous Laces...
Though Lycra sponsored the mini-Interfilere, there were plenty more companies present besides Lycra... 21 fabric mills to be exact (though this represents only a tiny fraction of the companies that usually exhibit at a fabric show). Lycra and Eurovet pulled the companies they were felt were most innovative, creative, and visually dynamic and there were mills from the USA, Italy, Belgium, France, Germany, Taiwan, China, and Columbia at the event. One of the things I learned is that I don't know to photograph fabric very well (which is why most of my photos are of laces). For example, this one mill named Liebaert out of Belgium made some gorgeously soft, plush, luxurious powermesh and stretch fabrics... I just wanted to wrap myself up in them (and buy a full-body girdle made from them!), but when I tried to take a photo, the whole image felt flat. I was told that, in the future, I should crumple and play with the fabric a bit while photographing it so show the texture, and I'm looking forward to trying that technique at the next show.
Earlier in this post, I mentioned that I learned a lot about the role of fabric in the final garment consumers see. For example, I learned part of the cost of lace is determined by how close together the stitches are (i.e. the number of stitches per inch). Expensive embroideries and laces have more stitches, but to make a expensive lace cheaper, companies can request that the mill remove stitches and make the lace less "dense." As customers, you still get the same effect of the pattern, but the lace isn't quite as fine. I also learned that many of the large mills sell lace by the tens of thousands of meters; I talked to some mills that will only accept orders for certain laces of 20,000 meters or more. While that's great for a really big company (especially since it might also come with some exclusivity, i.e. no else in North America can use that lace), it negatively impacts small, indie brands who simply don't have the capacity to turn 20,000 meters of the same lace in the same color into garments. As a result, those smaller designers have to go to lace mills and factories that allow smaller buys... but with the side effect that they cost more per meter. That increased cost is, of course, passed on to consumers.
In addition, I learned that trends, color stories, and patterns are decided upon a year or so in advance of when I see items at market. While at Interfiliere, I saw a trends presentation that detailed a number of fabric trends for A/W 2014 and S/S 2015 (keywords from my notes include: airy, lightweight, white, nature, dimension, bohemian, richness, renaissance, gothic, night sky, folk, creatures, and geometrics). What that means is, by the time a buyer sees these fabrics in market, they've already been under development for a year or two years prior. It makes perfect sense for these things to be planned so far in advance, of course, but it still blows me away. I realize I'm only seeing a tiny part of the lingerie industry when I attend lingerie market twice a year. The fabrics I recently saw for S/S 2014 lingerie, for example, have been in development since at least 2012... and that's amazing.
In case you haven't noticed, I would really like to attend another one of these, and I'm keeping my fingers crossed that Interfiliere returns to NYC next year. I feel like there's such a rich story to share here about the role of fabrics in the lingerie we buy, and I'm more than aware that I'm only just barely scratching the surface. It's my hope to return to this topic a few times and from a few different angles... discussing luxury brands, mass-produced brands, indie labels, and so on as I think that understanding fabrics as they relate to lingerie can only help us all become better lingerie consumers. And it goes without saying that if someone would like to write a guest post on this subject for TLA, you are more than welcome to do so!
Please take a few seconds to scroll through the fabric gallery below and tell me what your favorite lace is. I'd also be interested to know if you look for the Lycra brand when buying lingerie, shapewear, or swimwear. Finally, would you be interested in learning more about the fabrics behind lingerie on TLA? Share your thoughts in the comments!