Cotton Candy Indulgence: The Lilliana Set by Tutti Rouge!
This lingerie set was provided by Tutti Rouge. All opinions are my own. 
Several months ago, the internet bra blogger grapevine started buzzing about a new brand that was going to change everything. Tutti Rouge had it all: adorable commercials featuring cute lingerie and models baking treats, reasonable prices, as well as 28 bands and a DD to HH cup range. There wasn't a ton of information out there when the brand was first announced, so figuring out the details became sort of a mass blogger obsession. People took screenshots of the commercials and deconstructed which bra was which and hovered around the Facebook page waiting for more information to appear. Some people even wondered whether the idea of the brand could live up to all of the hype that it had generated.
Part of the buzz has been generated by the gradual launch of Tutti Rouge's first collection. The Lilliana Bra, Shorts and Thong have recently been released through Bravissimo and Esty Lingerie but the rest of the pieces will be released gradually throughout the rest of the summer. It's a cautious approach from a new company as well as a novel one.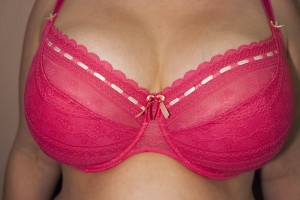 I was lucky enough to get a sample from the first round of Lilliana sets and I suppose I can go ahead and start with my conclusion: despite some finicky fit issues, this brand is all that the hype has said it would be and more. I'm in love and I suspect lots of other people will be as well. It's a worthy competitor to Cleo and in my opinion blows Curvy Kate out of the water. The fabrics, the colors, and the detail work are just perfect.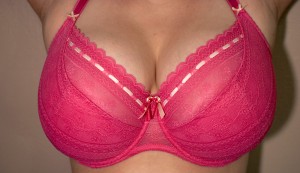 I asked for the Lilliana Bra in my standard Panache size of 34HH and a size L in the Lilliana Short. When the sample package came, I was shocked by how pink everything was. Tutti Rouge is clearly aimed at a younger audience, but this was the brightest bubblegum pink I had ever seen. I completely fell in love with the color as soon as I put it on. This color looks great on lots of people and really pops on my pale skin tone. The bra is sort of a half cup plunge, but has a lots of support built in so you feel secure. I've noticed that Tutti Rouge seems to favor half cup bras, which gives me high hopes that the rest of the line will be just as great in terms of looks and support.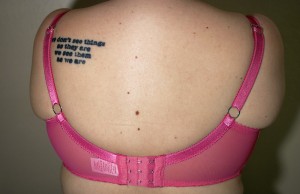 The details on this bra are amazing: From the tiny polka dot ribbons to the heart-shaped strap extenders, everything just works. The polka dot ribbon detail is carried through to the shorts, which have nice coverage but are sheer enough to feel extremely sexy. I'm usually the first to complain about the overused woven ribbon detail on the top of bra cups, but this element breaks up the pink nicely and works with the sheer section on the top of the bra. The materials used are firm enough to be supportive but also breathable and fun. I love the slightly sheer section at the top of the cups.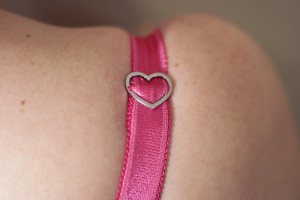 As others have reported, this bra does run small in both the band and the cups. This is the only bra in the line that comes in a J cup, so if you're usually an HH I'd suggest sizing up. I'd also suggest sizing up in the band if you're on the firmer end of a band size. For my next Tutti Rouge set I intend to try a 36HH, which I think might be perfect. As you can tell from the pictures, even a slightly too small size looks amazing in terms of shape and lift! I've worn this a lot with very few issues beyond some readjusting throughout the day, so the set still gets an A+ from me.
I'm scheduled to get a sample of the Betty set when it is released, so there will definitely be a second part to this review along with a size comparison. In the meantime, pick up the Lilliana while you can! Other bloggers have said this as well, but I think it bears repeating --- this set thrills me as a 27 year old, but a brand like this would have changed my life when I was a 17 year old. I love the idea that younger generations of full busted women won't spend their time crying as they are stuffed into ill-fitting minimizer bras like I did. I think these sets are great for adult women, but would also be a great choice for someone's daughter or niece as well. Tutti Rouge doesn't have a website yet, but you can stay up to date on their gradual release through their Facebook page. I can't wait to see what they come out with next!