Paris Lingerie Adventures: Fifi Chachnil and Cadolle Boutique Reviews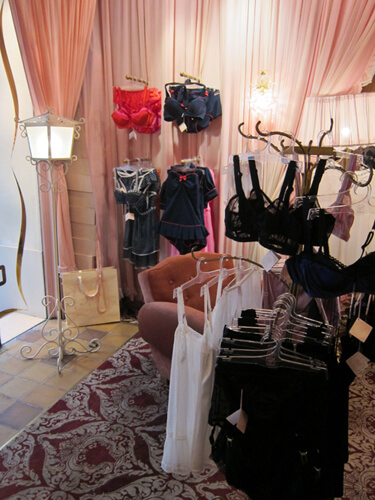 Inside Fifi Chachnil on Rue St Honoré
Mid-January saw me travelling to Paris for the Salon de la Lingerie trade show. Although I was only there for the weekend, I simply had to make the time to see some of the great Parisian lingerie sights. My last day in the city saw me making a mad dash from shop to shop (suitcase in tow!), trying to find the perfect souvenir.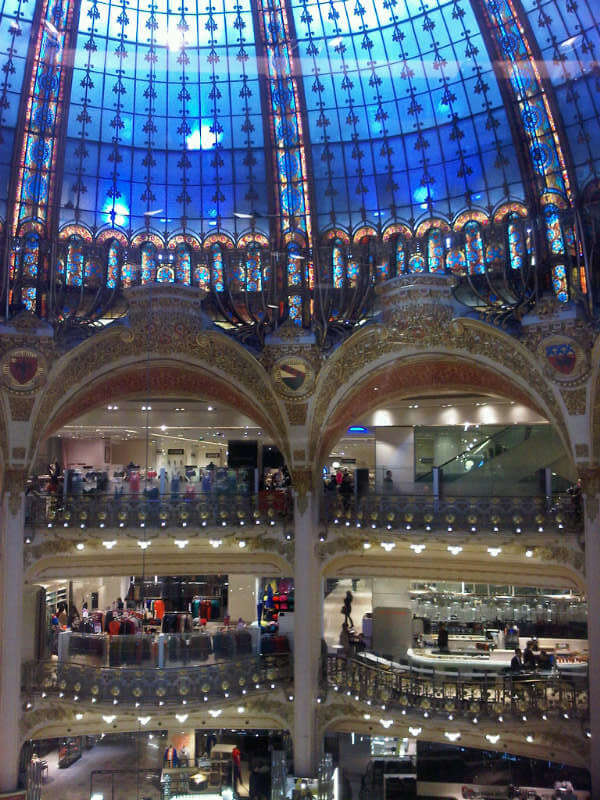 The stunning interior of Galeries Lafayette
My first destination was the Galeries Lafayette, a wonderful department store with beautiful architecture. Whilst offering a great selection of brands (Chantal Thomass, Aubade, Eres, Huit, Princesse Tam Tam, Implicite, and Lejaby to name a few) I left the shop a little disheartened. There were some fantastic sales bargains, but there just wasn't anything special enough or that fit well enough. I was also a little disappointed to discover how ambivalent the staff was – in the fitting rooms I literally had to stick my head out of the booth and shout despite there being call buttons inside! Not exactly the most glamorous experience when you're trying not to let anyone see you in your knickers.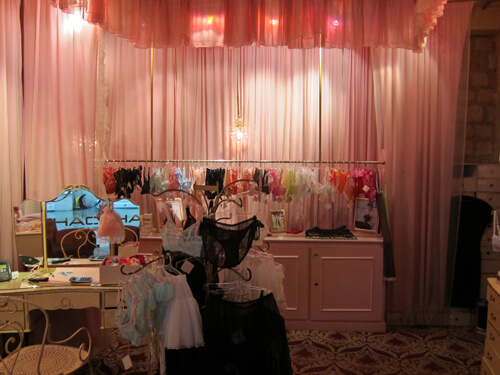 Inside the Fifi Chachnil boutique
Nevertheless, my quest for lingerie went on. I headed onwards to the Rue St Honoré to visit the fabulous Fifi Chachnil boutique. As soon as I walked through the plate glass doors, I was in a girly paradise. The plush décor, with its soft lighting and sumptuous furnishings, gave the boutique more of a boudoir feel than simply a shop.
And then there's the lingerie – each piece is a beautifully girly piece of art. Exquisite colour combinations, fabrics, and trimmings on each garment made me feel like I'd landed in heaven. The sales assistant was also perfectly lovely and incredibly helpful – as soon as she'd finished with another customer, she came over to welcome me to the shop and explained the layout, pointing out the sale rail tucked away discreetly at the back of the shop. I must admit this was a feature that was particularly refreshing – there were no brash signs or stickers anywhere to interrupt the beautiful décor.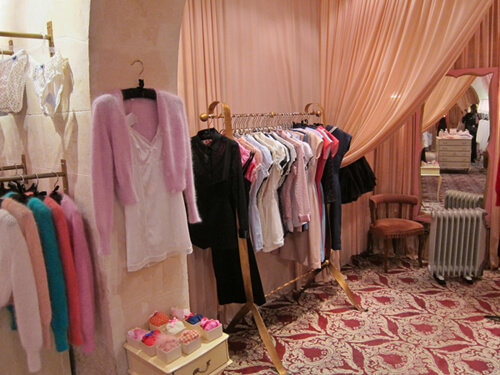 Outerwear in the Fifi Chachnil boutique
Soon enough, I was making my way to the changing room with an armful of pretty underthings to try on. My initial observation was that the sizing comes up incredibly small – my usual size Medium was far too tight, with the knicker elastic actually cutting into my legs. This meant I had to try a size Large – the largest size they stocked, which was certainly a novel experience for me.
I had a similar problem with the bras. I am usually a 30D, yet the 32C I tried (which should have technically been too large for me) was so small that I was getting the dreaded 'double boob' and the CF wasn't anywhere near to sitting flat. I tried a size up and whilst my breasts could fit a little better in the cups, the underwires still wouldn't sit flat in a single one of the styles that I tried on. Although I often put fashion above fit when it comes to lingerie, there was simply no way I could justify spending so much money on garments that wouldn't fit.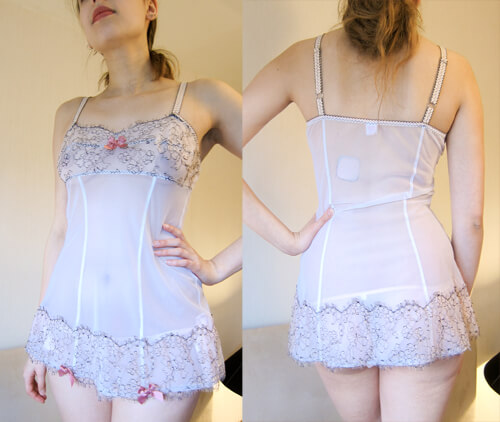 My new Fifi Chachnil slip
By this stage, I was beginning to feel more than a little sorry for the sales assistant. She had tirelessly been bringing me new sizes and styles only for me to reject everything. But then I was brought one of the slips from the sale – a delightful concoction of delicate Chantilly Leavers lace and sheer mesh. As soon as I tried it on I was in love – and to my great delight it was a perfect fit! The vintage shape and delightful details (from the sumptuous satin bows to the contrast stitching) made it a must-have.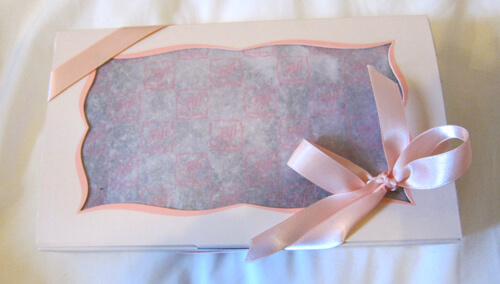 Beautiful packaging
Even after having paid I was still delighted by the amount of detail that goes into Fifi Chachnil's designs and branding – my purchase had been beautifully wrapped in a gorgeous branded box with tissue paper and a satin bow. These little details certainly don't go unmissed and made the entire experience so much more luxurious!
However, my trip to Cadolle was a massive contrast. Cadolle is a heritage brand renowned for its corsets (they claim their founder, Hemione Cadolle, created the first bra). The boutique was located on the equally prestigious Rue Cambon, just down the road from Chanel. As it was the Sales season, it was understandable to see the shop in slight chaos. Trays strewn with bras and knickers were laid out on one side of the shop whilst bins of corsets stood on the other. It was a little overwhelming to see so many styles thrown together. I briefly picked through each of the bins but nothing particularly caught my eye – styles seemed a little dated and there wasn't anything that stood out as exceptional design. The corset silhouettes didn't come across as anything special, which was disappointing considering Cadolle are renowned for their corsets.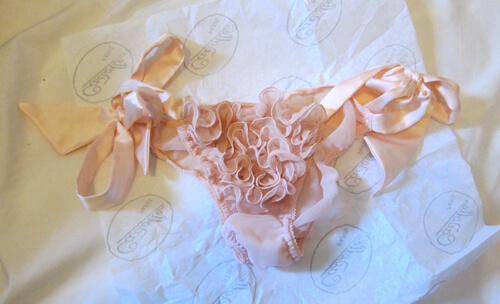 My new Cadolle knickers --- unfortunately one of the few designs in the shop I actually liked!
The service was also a little disappointing. A lady came out from the back of the shop only to say there was a sale on and later to take payment. I ended up picking out a cute pair of chiffon knickers, feeling like I had to leave with something. Overall I was a little disappointed; with the brand's history and price point, I genuinely expected something a little more special from the boutique.
Nevertheless, I left Paris very pleased with my lingerie purchases, especially considering I only had an afternoon to shop! I'm sure the city has plenty more lingerie adventures to offer and I can't wait to go back to explore.
 Readers, have you ever visited these shops? What are your favourite Parisian lingerie haunts?