Lingerie School: The Corset and Basque Project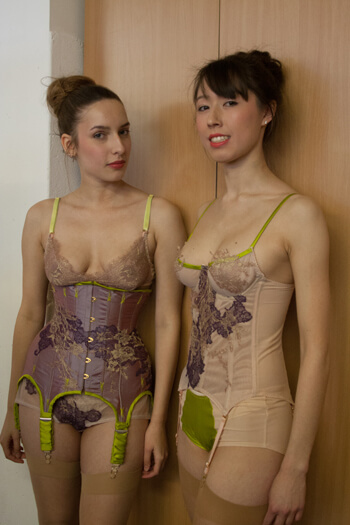 Design by Karolina Laskowska: backstage at the catwalk show
As usual, the end of term at lingerie school (aka the Contour Fashion course at De Montfort University) saw every student in a state of panic – deadlines were starting to loom from all angles and stress was mounting! Our final assignment was the corset and basque project – a rather self-explanatory project that required us to design, pattern cut and sew a corset and basque, with an extra bit of pressure – our class also had to organise and present a fashion show with our final designs! As unfortunate as it was that you all missed the catwalk, I thought I'd make up for it as best as I could by sharing some of my classmates' and my own designs and explaining our inspirations behind them. Enjoy!
Karolina Laskowska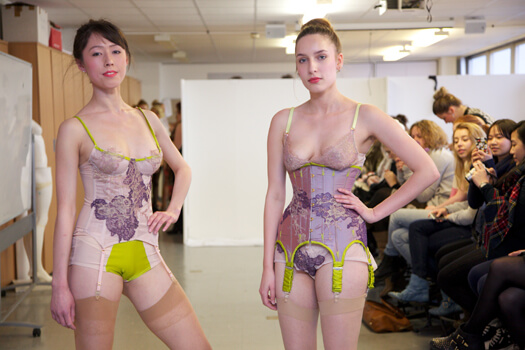 On the catwalk, photo by Andy Espin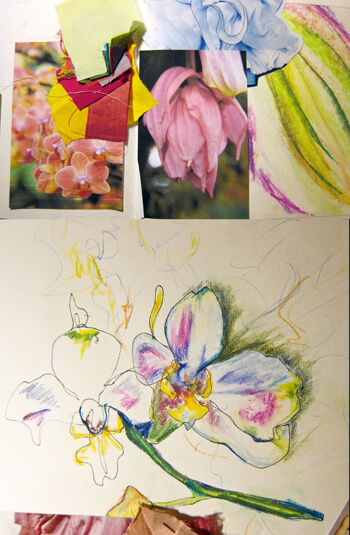 Sketchbook work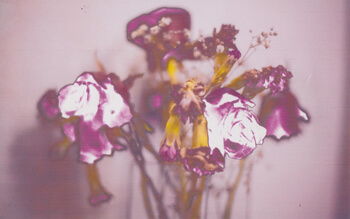 Experimental photography
Idea sketches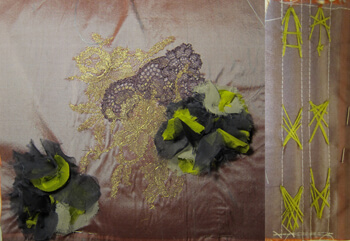 Textile development - appliqué and flossing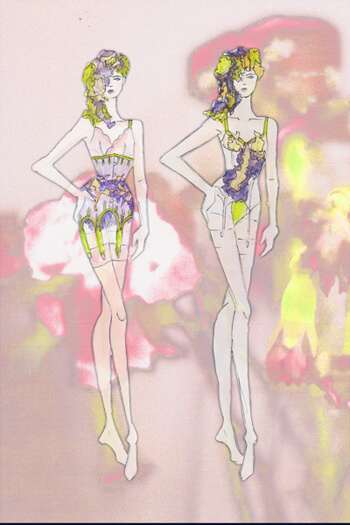 Illustrations of final designs
Using the colour black is my comfort zone when it comes to design, so I really wanted to push myself and embrace colours in this project. I began by looking at flowers: orchids with their tropical hues, the process of decay in cut flowers, and the surreal colours within Jiang Zhi's photographic series 'Love Letters', where beautiful flower arrangements are doused in methylated spirits and set alight, surrounding them in an intensely beautiful blue flame. I was also greatly influenced by my Summer internship with Sparklewren corsetry – I'm still in awe of Jenni's beautiful use of lace appliqué and had been dying to use the technique on some of my own work. My final designs ended up far more colourful than I could have ever anticipated – and I'm very pleased to say I'm incredibly happy with the final garments and how they looked on the catwalk!
Charlotte Spence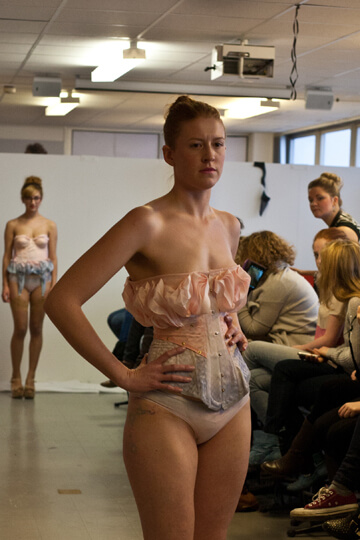 Final corset on the catwalk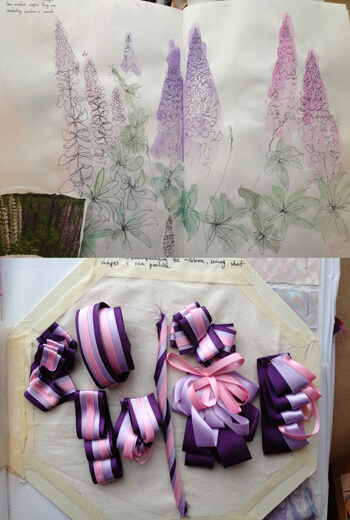 Sketchbook and textile development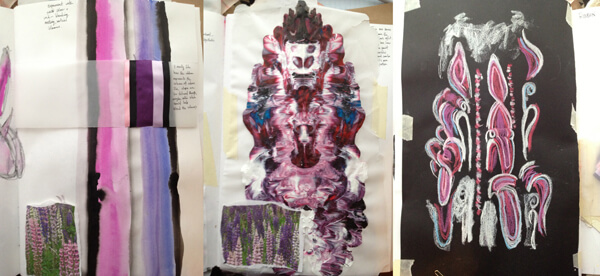 Sketchbook development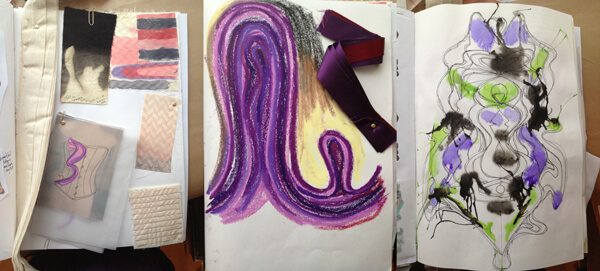 Sketchbook development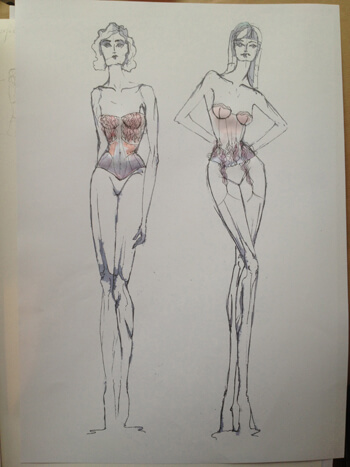 Final design illustrations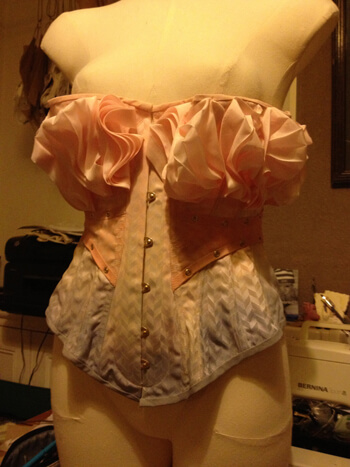 Corset details
Charlotte Spence's designs were originally inspired by Summer Lupins, pastel shades, and the blending of colours. The main fabric for her corset was a hand-dyed brocade that incorporated hand-dyed pleats. She wanted to use ribboning as an embellishment, which led to her studying hand-carved candles and opening the pleats into organic shapes to create interesting lines on her corset. The corset's shape originated from an 1885 sports corset pattern, with the eyelets supposedly 'aerating' the body.
Emily Roberts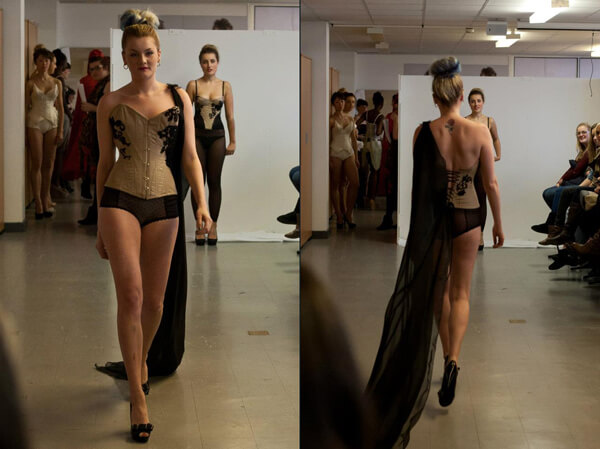 Final corset on the catwalk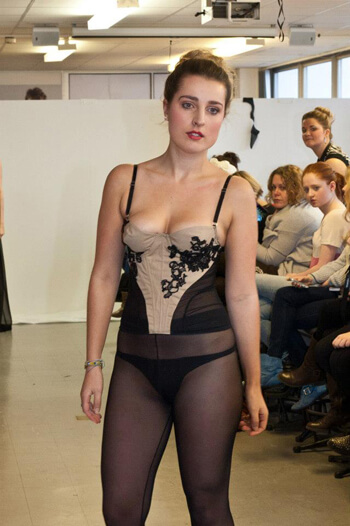 Final basque on the catwalk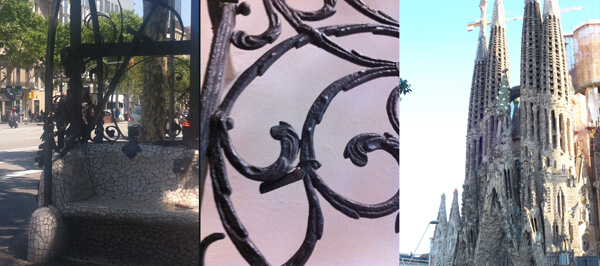 Initial inspiration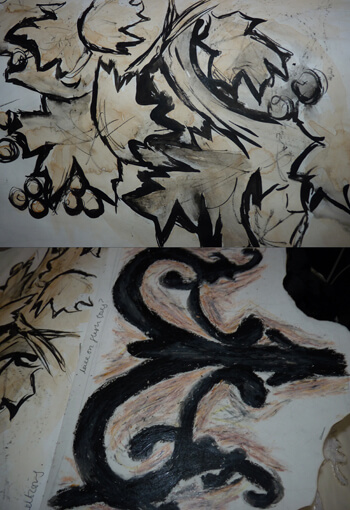 Sketchbook development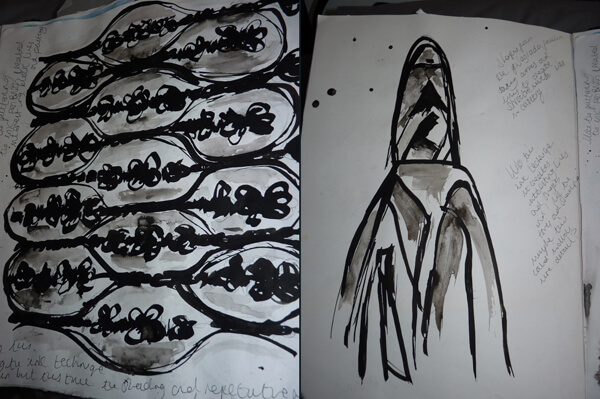 Sketchbook development
Emily was inspired by a trip to Barcelona and its amazing architecture, particularly Gaudi's work and traditional Spanish buildings. She focused on metalwork and recreated the aesthetic by using lace with embellishment.
Samantha Thorburn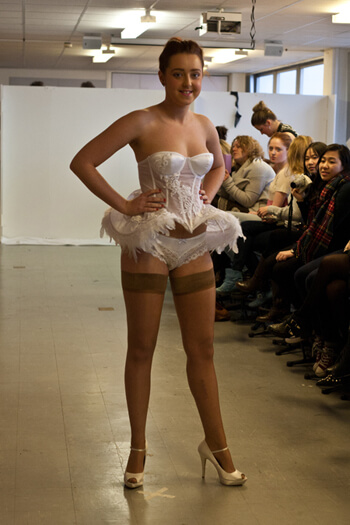 Final garment on the catwalk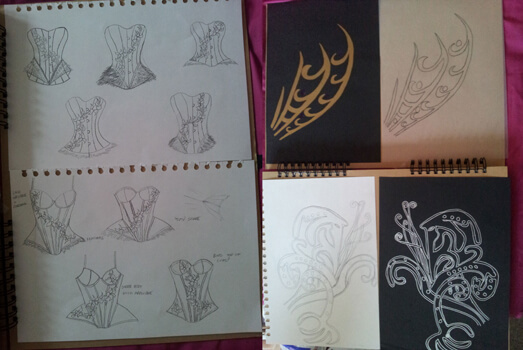 Sketchbook development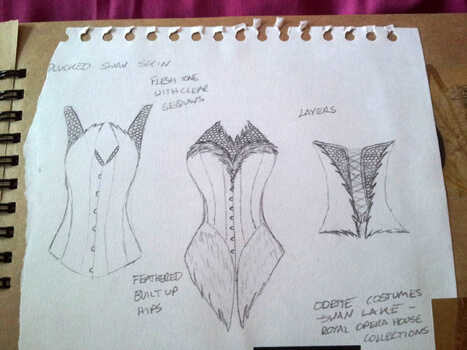 Design development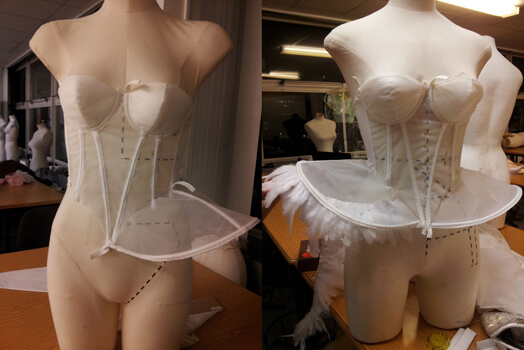 Design development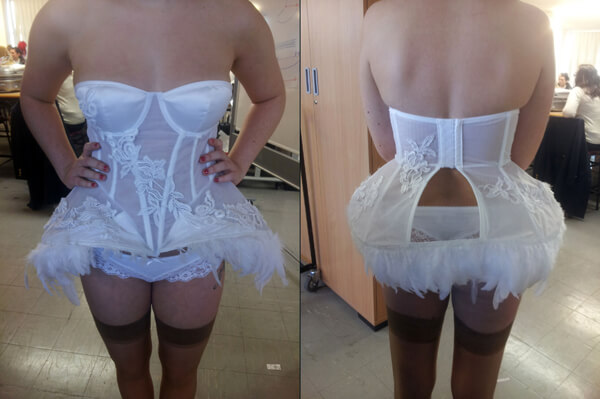 Final garment details
Samantha's designs were inspired by the characters Odette and Odile from Swan Lake, after seeing the Birmingham Royal Ballet perform the ballet. She also went to see the collection of historical ballet costumes at the Royal Opera house and was particularly taken with the embroidered details on the costumes, as well as the stories and personalities of the characters. Her catwalk basque represented the character of Odette.
Akaibi Vine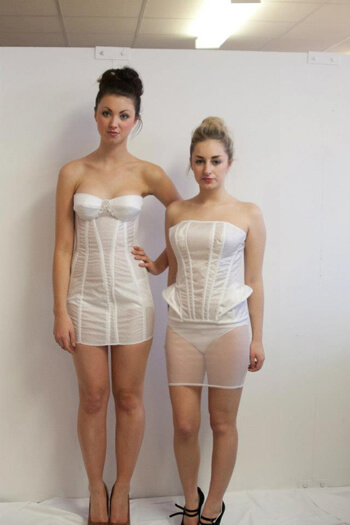 Final garments backstage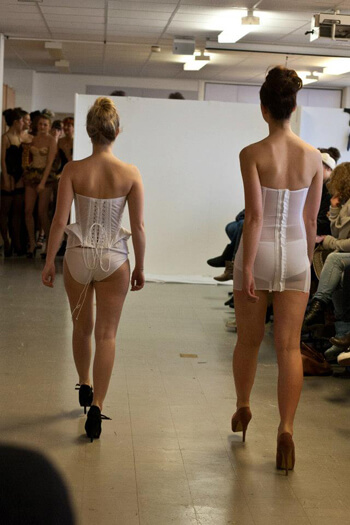 Catwalk back views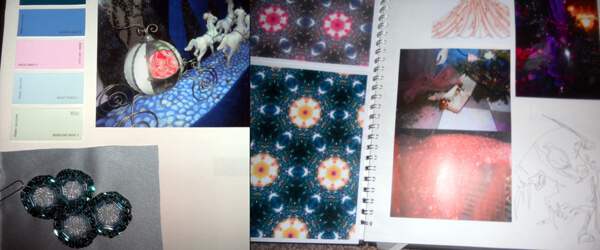 Sketchbook development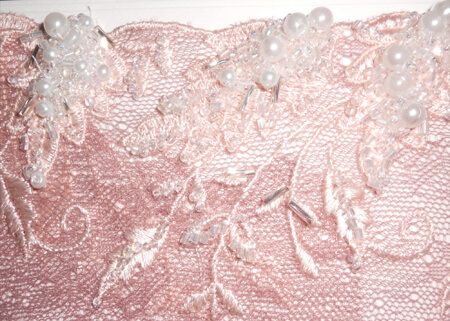 Textile development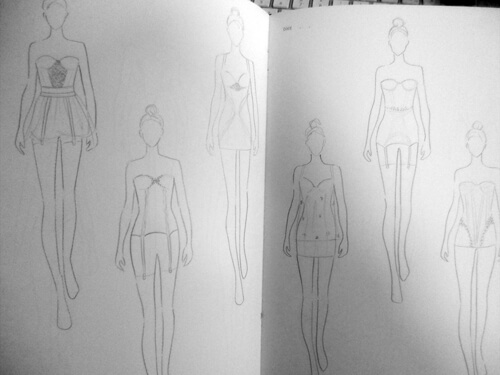 Design development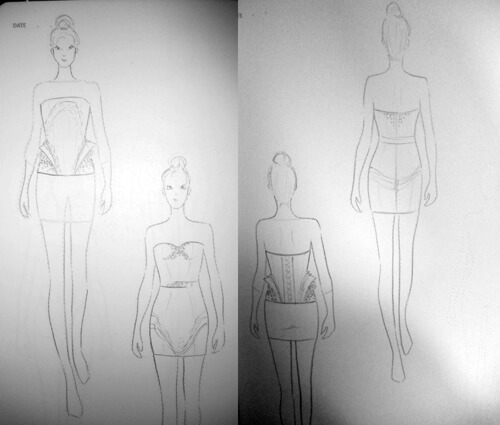 Final designs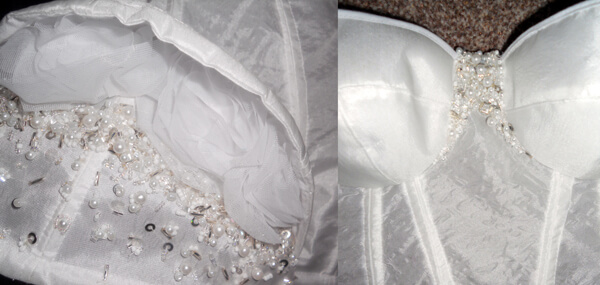 Final garment details
Akaibi's initial inspiration came from a visit to photographer Tim Walker's 'Storyteller' exhibition and the Disney-inspired Christmas window displays at British department store Harrods. She wanted to create a modern twist on fairytales --- not just the characters and stories but the backdrops, costumes, and atmosphere created when modern artists turn their hand to these classic tales. She explored the idea of using a whitework (a type of embroidery), being more inspired by textures and finishes than colours or prints. For her final garments she laminated various fabrics and worked onto them with beading and ribbon work. The longline basque and corset worn with a skirt are both nods to the gowns of the Disney princesses with a modern finish.
As manic and crazy as the catwalk day was, we just about managed to all survive! We all managed to pull together to create a fantastic show that somehow made all of the tears and stress worth it. I'm incredibly proud of what our class managed to achieve and it's set a very high standard for the rest of the year's work!
Readers: What do you think of our final designs? Have you ever had your own catwalk experiences?