Lingerie School: What I've Learned About Luxury Lingerie
By: Karolina
The topic of whether or not luxury lingerie is worth the price tag is not exactly original. Yet, as my first year of teaching at lingerie school draws to an end, it's made me reconsider the relationships of value and quality. More and more have I been disappointed with recent lingerie purchases – high-end lingerie where you'd expect a little something extra in exchange for the hefty price tag.
However, this is not to suggest that quality control in the luxury sector has magically disappeared. It's simply that, having been introduced to the finer details of lingerie construction, I've begun to view my lingerie with a much more critical eye.
Images by La Perla
Recently, I considered myself one of the luckiest girls on the world when I got my hands on a piece from the stunning Gaultier for La Perla collection. Having been a huge fan since the collaboration's inception, there was a time when I would have offered to trade a limb for one of those bras. Imagine my excitement when 'Createur' balconette bra arrived. Unfortunately, this excitement was not going to last.
Upon first trying it on, I was pleasantly surprised. Although I'd bought the wrong size (I rarely come across my first choice of 30D), the fit was surprisingly good. This surprise was dampened when I inspected the bra more closely.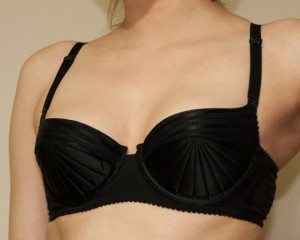 With my critical lingerie student's eyes, I noticed some faults – the first being that the bra wire had been sewn onto the cup and not the cradle. In our lessons, we have been routinely told that the purpose of the cradle is for a place to sew the bra wire onto. The only exception to this is cradle-less bras, for obvious reasons. I suppose you could argue that this is a design feature, though it's one that's left me quite confused!
Nevertheless, that's not enough of a reason to get upset over the bra. What did get me upset was the bra wire that they'd used. Just by feeling it, you can tell it is entirely too big for its case, with a lot of strain at either end.
When a bra is constructed, approximately 1cm of 'wireplay' (extra space) has to be left in each wire case. This is due to the fact that the wire moves around when being worn. By leaving extra space, the wire is less likely to wear a hole through the bra. Designers must also take the washing of bras into consideration – when fabric comes into contact with water, it shrinks. This puts extra pressure onto the wire, as its container becomes far more constricted. Add to this the extra movement that washing a garment creates, and a too-big wire faces a greater risk of ripping through its case.
This sole detail is what left me so upset about this bra – with a retail price of £270, I am genuinely shocked about this lapse in good construction. Additionally, I am fully aware that most people would be unaware of this – and would be left thoroughly disappointed should they wear it more than a few times.
I haven't been left entirely pessimistic and cynical though. I still come across lingerie that routinely wows and impresses me. I was recently lucky enough to snap up a Sian Hoffman panty-girdle in a sample sale.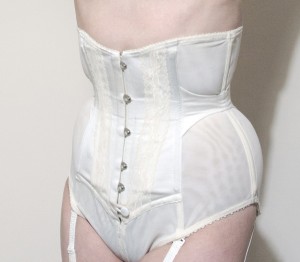 This panty-girdle has immediately become one of the most prized pieces within my collection – even if it is a sample piece! Not only is the design absolutely stunning and original, but the fit and comfort are also wonderful. It gives the cinch of a corset but with far less constriction (thank goodness for powernet!).
No doubt it's an expensive lesson to learn for yourself, but price tags are not always reflective of a good piece of lingerie. Regardless of how much you like the design, it's important to consider whether you're really willing to spend that much on a piece you'll only be able to wear a couple of times. I have expensive bras that I've been wearing for near-on four years now that are still in good condition, whilst others that I've had to throw out after a couple of weeks.
Readers: What have your experiences been with price vs. quality when it comes to lingerie? Have you ever been particularly impressed or disappointed?