Lingerie Wishlist: Emerald & Palm Dressing Gown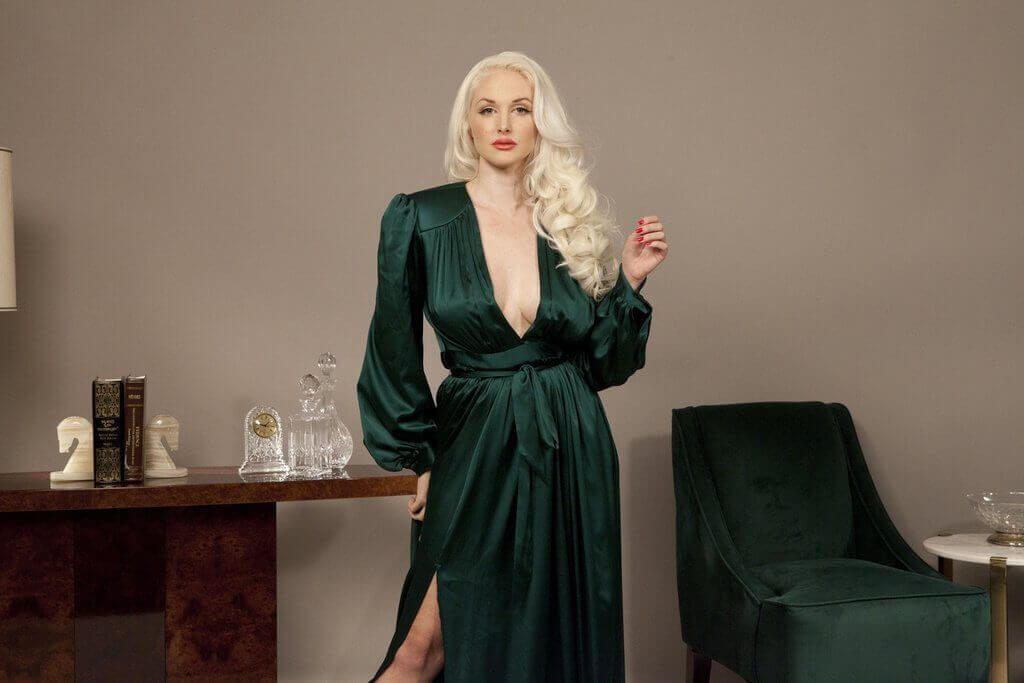 I just can't even come up with the words to describe my feelings for this gown. If ever there was a dressing gown that embodied Hollywood glamour - that was pure, undiluted, old school, cigarette holder, dripping jewels allure - this is it. The Emerald & Palm Dressing Gown has no shame about being what it is, and what it is over the top, lascivious, inspired luxury. There's no attempt to be more subdued, to bring things down a notch, to lessen the drama. This gown takes up space and encourages its wearer to do the same. Lounge. Be lazy. Dream and fantasize because while you're wearing this, you are the most entracing person on the planet.
Obviously, I have a lot of feelings about this gown.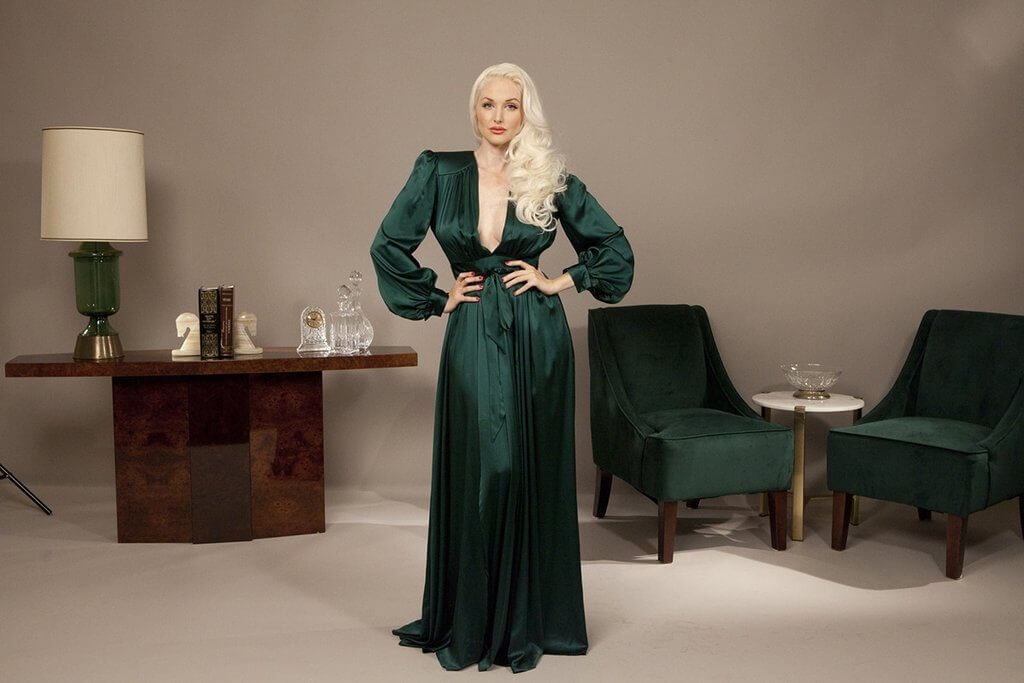 Made by Emerald & Palm, a designed in Hollywood/made in Los Angeles, clothing line, this vintage-inspired label is all about offering timeless, premium fashion for an honest price.
One thing I often hear (and an opinion I honestly used to have), is that there's no reason for any luxury lingerie to cost what it does. While that is occasionally true, it's also true, especially for many smaller labels, that a price in the several hundreds of dollars is simply reflective of what buying in small quantities, paying fair wages, and doing a bit of marketing looks like. A business can't run in the negative and survive, and I admit to being relieved when I saw what I thought was a fair price for these gowns: $618. I mean, just look at all that silk - yards and yards and yards of decadent silk satin.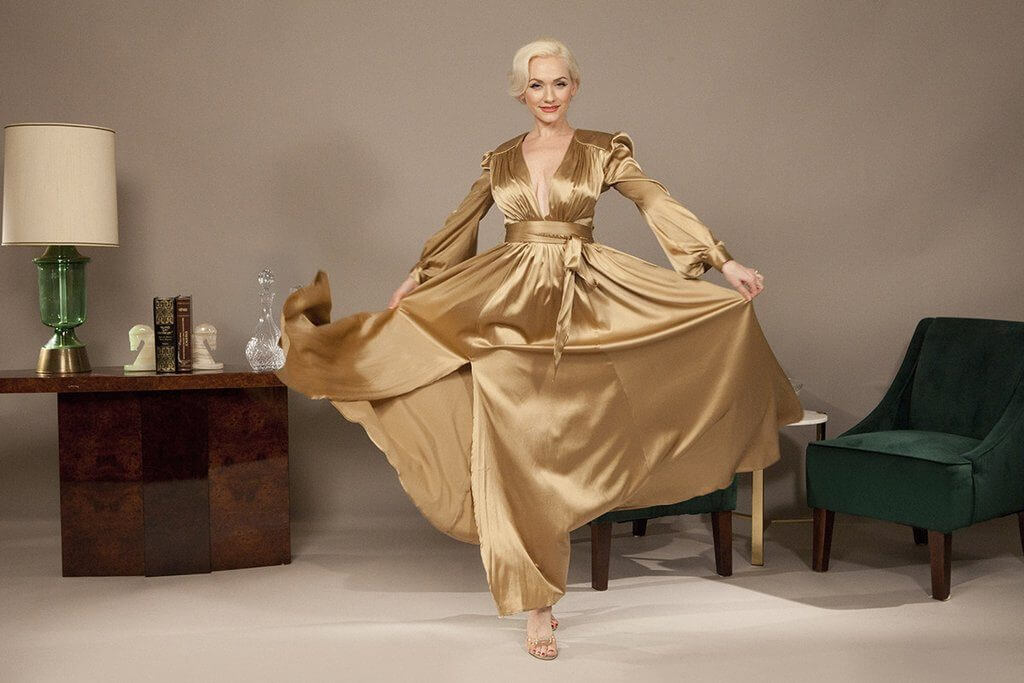 I want to sip champagne in one of these, using a cupola not a flute, maybe with a little floral porcelain dish of raspberry sorbet nearby. I want to wear this to a fancy desert spa, but since I'll likely never be able to afford one of those, swanning about on the deck while watering my plants will have to do. And, of course, I'd have to don a little headwrap. Because it's only hardcore lounging when your headwrap is on.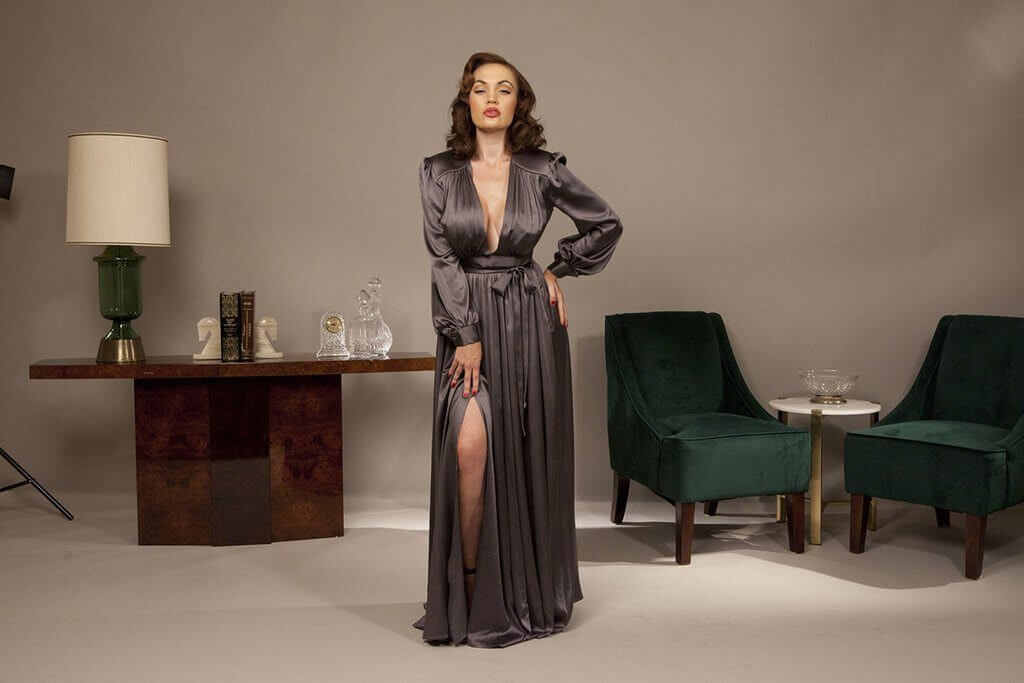 I kid, but I am genuinely happy when I discover indie labels still making gorgeous garments that qualify as objects of art in my eyes. Though nothing would replace seeing this robe in person (just imagine the weight and swish of the silk), I adore details like the bishop sleeve and structured shoulder, elements you rarely see on loungewear nowadays. I thought about only including the Emerald Green Gown in this post, but I honestly couldn't decide which color I liked better, so the Champagne Gold and Gunmetal Grey made it in as well (And I'm leaning towards the Champagne Gold right this minute, to be honest).
The Vivian Dressing Gown retails for $618, and is available in sizes 2/4, 6/8, and 10/12 (roughly corresponding to S, M, L, I imagine). It's made of 100% silk in Los Angeles and is dry clean only. Come to think of it, it could probably work as a dress too. Just in case you need more of an excuse to splurge.
What do you think of the Vivian Dressing Gown? Too much or just enough? If you liked this post, please share!

Save
Save