How to Buy Lingerie You'll Actually Wear
Disclosure: This blog post contains affiliate links.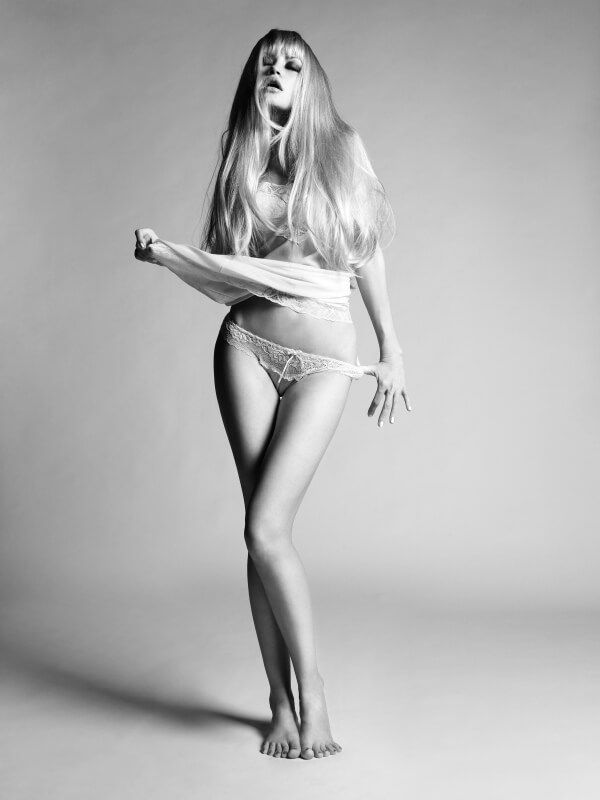 Every few months or so, I take inventory of my lingerie wardrobe. While I'm happy with how many of my bras sets and garter belts I've managed to wear, I can't help but feel disappointed that there are some panties in my drawer with the price tags still attached.
Even worse, some of this new lingerie doesn't interest me anymore and may never get worn. I don't imagine I'm all alone in this predicament, so I've compiled a set of tips to keep in mind when shopping for lingerie so you'll only buy the underwear you actually want to wear.
1) Study your personal style. What do the pieces in your closet say about you? Or, as the ladies at Knickers Blog would say, "What is your lingerie personality?" Someone who favors clingy, knit jersey dresses will likely prefer a different style of lingerie than someone who lounges in loose-fitting, bohemian caftans.
2) Take your measurements and get properly bra fitted. If you own a tape measure, you can get a friend to do this for you. You an also get a seamstress or perhaps someone from your local dry cleaners to measure you as well.
The three most critical measurements when it comes to lingerie are your bust (measure at its fullest point or directly above the nipple), your waist (measure slightly above the navel at the natural bend when you lean to the side), and your hips (measure at the widest part, where your bottom is fullest).
For your bra size, I recommend going to a department store and having one of their ladies in the lingerie department fit you. I do not, however, recommend going to Victoria's Secret for a bra fitting. I have never once gotten the correct size from any of their salespeople. Since I've always lived near a Nordstrom, they're my favorite bra fit specialists; Macy's is also a good choice.
3) Use those measurements when shopping. If you need to, write your bust-waist-hip proportions on a sticky note and keep it inside your wallet. Even if you know your bra size, always reference those measurements before purchasing something as fit can vary between designers, even if they're all technically the same cup size. And while we're on the subject of measurements...
4) Know your UK bra size. I say UK because they're the country I purchase the most lingerie from, but if you favor Italian brands (La Perla, anyone?), then learn your Italian bra size. If you like French lingerie (Chantal Thomass, oui?), then be able to convert your US size to Euro sizing. Even if you only buy from a handful of brands, knowing your converted bra size is useful for shopping at different sales online.
5) Only buy lingerie that makes you go "Wow!" If you don't feel like you must own a certain piece, then put it back. I know that every woman needs a stable of practical, go-to bras, but if they're all boring and drab, you won't be very motivated to wear them. Unless, of course, boring and drab is your thing, in which case, carry on. :-)
6) Buy lingerie that looks just as good underneath your clothes as on top of them. While this point is similar to the one above (don't buy lingerie that bores you), it also means don't buy bras or panties with lots of "bells and whistles" only to find that you can't wear them under anything. The pieces that get the most wear in my lingerie wardrobe are those that work equally well for a sexy date night out or for wearing under a suit to work.
7) Read and write lingerie reviews. Before I buy any lingerie, but especially before I buy any expensive lingerie, I Google search a review of it first. Getting more lingerie reviews online was actually one of the reasons I started this blog. Also, if you run across something, and you're not sure about it, you can always drop me a line at [email protected]. In the off chance I've worn it, I'll be more than happy to share.
8) Pay attention to what you wear most often and... 9) Don't be afraid to buy multiples of the same piece. Sometimes you buy things you think you'll like, wear them once or twice, and realize you don't. Other times, you'll buy something on a lark and then fall crazy in love with it. Pay attention to those feelings, and when you go ga-ga over a certain item, buy lots of it.
For example, I purchased two of this Myla bra when it was on sale for 75% off. Now I wish I'd bought seven because I wear it at least four times a week, every week.
10) Don't buy something just because it's cheap and don't buy just because it's expensive. I think of these two tips as different sides of an identical coin. Buying lingerie just because it was a designer brand really tripped me up during my first year of stockings blogging. Now, several of my favorite brands are budget brands. On the other end, don't buy those panties out of the Wal-Mart clearance bin just because they're 5/$1. When lingerie shopping, the primary concern should be value, not cost. When you buy something and don't wear it, that's a waste of money... even if it only cost $1.
Wolford stockings are a good example of this. They're very expensive, yes, but I wear them all the time and they last forever. My first pair of Wolford fishnets has amoritized to pennies per wear, and they still look just as good as the first day I bought them.
These are a few things that have worked for me. What do you do to make sure you wear everything in your lingerie closet?