28 Black-Owned Lingerie Brands You Should Know
It's been 5 years since TLA's last Black-owned lingerie brands list. In that time a lot has changed, most of it for the better. Not only are the majority of brands on 2017's list still in existence - which hasn't always been the case with previous roundup lists - the number of Black-owned lingerie brands available has increased exponentially!
Never have there been more lingerie companies owned by Black people - primarily Black women - than right now. As a Black woman, this is personally exciting to me. As a lingerie professional, it's exciting for the intimate apparel industry as well.
Why Black-Owned Lingerie Brands?
Speaking generally, more brands means more choice for everyone. However particularly with the explosion of Black brands, we're not only seeing more practical items - such as everyday nude lingerie in a range of skin tones - we're also seeing more diverse imagery, more expansive marketing, and a greater interest and effort in reaching out to customers that the more mainstream, traditional, and conservative lingerie industry has been all too happy to ignore.
While Victoria's Secret is often picked as a prime example of these kinds of exclusionary attitudes - and they are - it is also true their mindset is typical of the intimate apparel industry at-large: staid, stale, and resistant to change.
Black-owned lingerie brands offer a new vision of what the intimate apparel industry can be, with a more interesting and exciting range of products, and more interesting and exciting models as well. Truly, Black-owned brands are the future...we're just waiting for everyone else to catch up.
Selection Criteria (and Black Fashion Brands That Aren't Lingerie Brands)
For the "official" list, I've tried very hard to keep the focus on lingerie brands. While certain Black-owned fashion brands, namely the ones in this section, might carry a bit of loungewear, they don't have enough of a lingerie or lounge section for me to think of them lingerie brands. Rather, loungewear is a minor category within their larger fashion brand. But I still want you to know about these Black-owned companies! So they're being set off a little to the side before the main list. Think of this section as a sort of appetizer.
Of course, I suppose that means I'm technically breaking my own rule by even including them here. But I don't care! Because more options are more options, even if they're not necessarily from lingerie companies. Besides, there's always some fuzziness involved in subjective lists like this. What I think of as lingerie may not be what you think of as lingerie, and vice versa.
And as I've mentioned in other places, TLA's articles also serve as a sort of archive. So many brands disappear, it can sometimes feel like the only traces of their existence are here. Even if a brand sticks around, their previous collections are often taken offline. How could I possibly deny you a look at this stunning robe and slip set from Fe Noel's most recent "Rituals" collection? Just as one example.
On a more serious note though (and to bring us back to focus), because the brands listed below are those which are partially or primarily owned by Black women, rather than brands collaborate with Black women, certain limited edition collections such as GabiFresh for Playful Promises - which I adore, but isn't a brand owned by Gabi herself - aren't included.
I spent most of January and February trying to find as many Black-owned lingerie brands as possible. While I would never say I've found every single one (I hate that I even have to write disclaimers addressing potential criticisms, but here we are), I am so excited to share everything I've found with you.
I'm starting to feel as if I have so many disclaimers and explanations and whatnot, that you may be starting to wonder if I'm going to get to the actual lingerie brands. Well, good news! I'm done. The list officially begins below. Happy Shopping!
28 Black-Owned Lingerie Brands:
Note: Brands are listed in alphabetical order. For more information - such as pricing, sizing, customer service, and so on - you'll want to visit the company website or social media and ask directly.
Anya Lust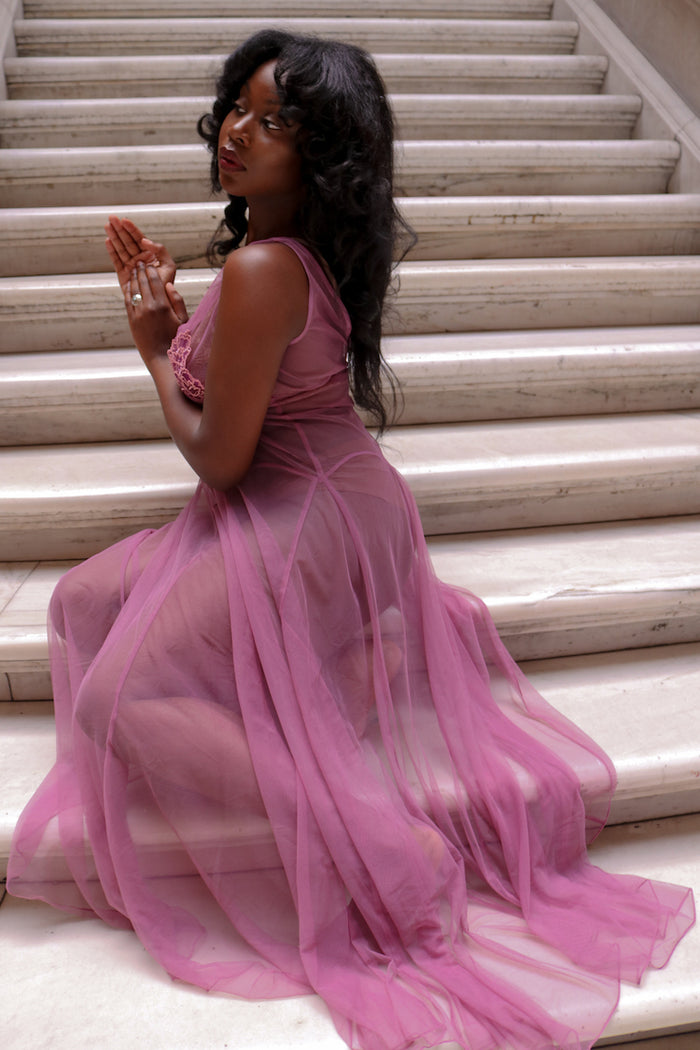 Undoubtedly one of the best luxury lingerie boutiques in the country, Anya Lust's founder Krystle Kotara specializes in rare designers for the most discerning of clientele. Krystle's point of view and eye are impeccable, and she's put together a dream lingerie store where I'd be ecstatic to have almost any item in my own personal lingerie drawer.
Asia Monet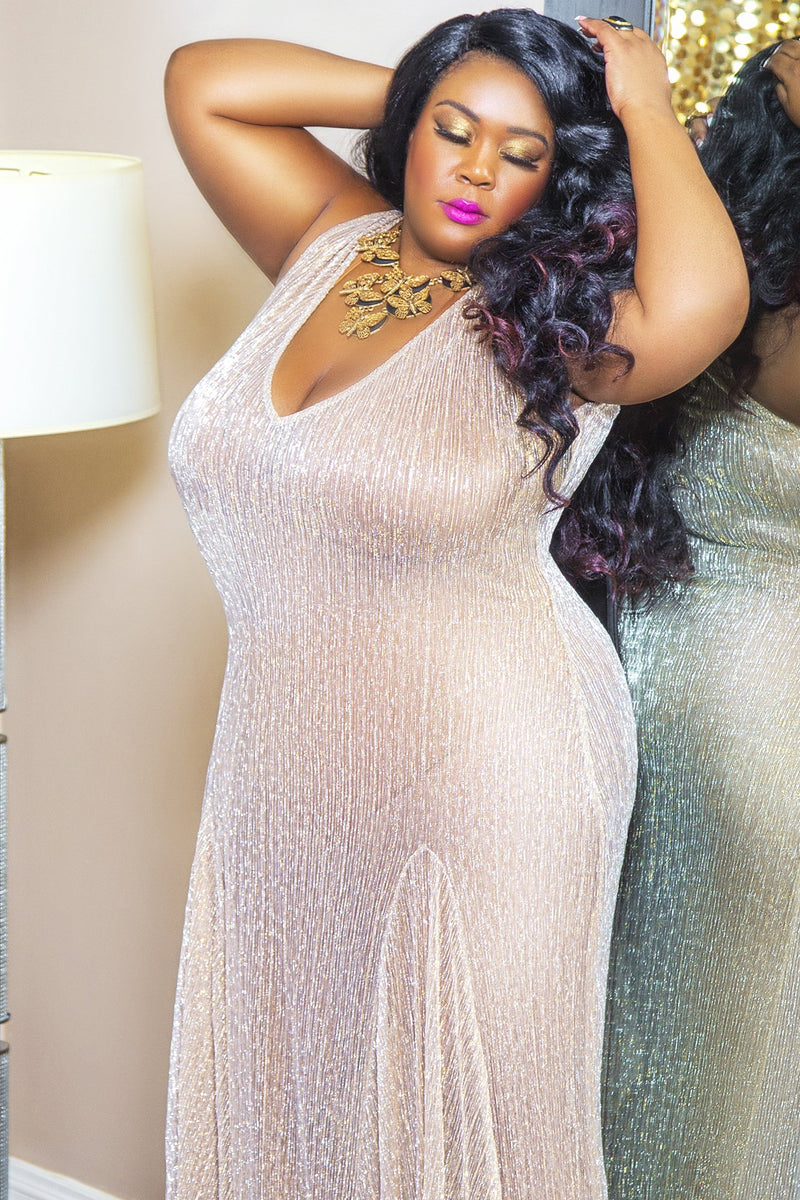 The icon Asia Monet is the most booked and busy fit model in the lingerie industry. If you've worn a plus sized bra from almost any major brand, anytime in the last decade - Yes, that brand. That one too. - chances are Asia Monet was the fit model. It's truly impossible to overstate her hidden impact in this industry, and the Asia Monet Signature Lingerie Collection is just as beautiful as she is.
Banke Kuku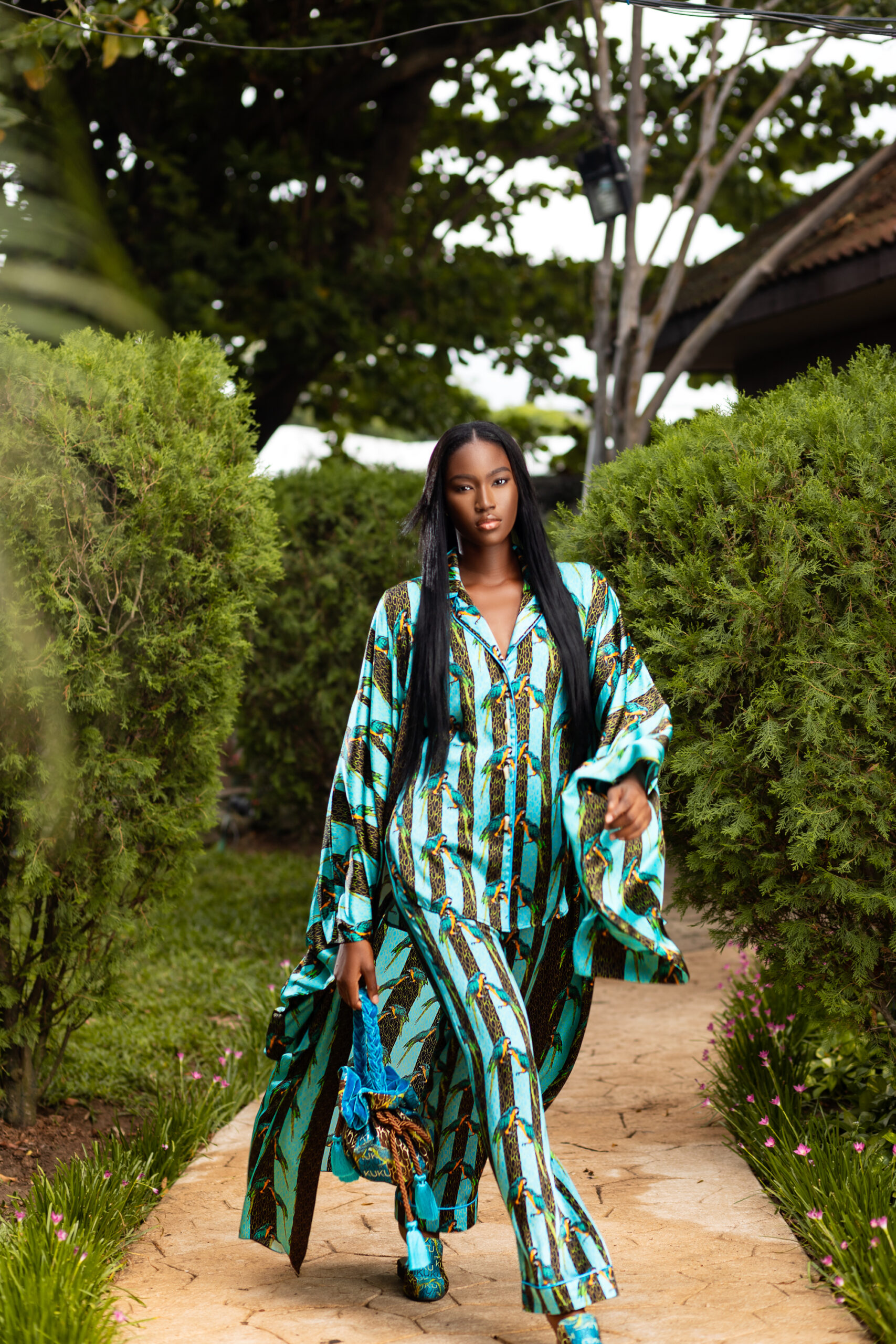 I don't even remember where I first heard about Banke Kuku. But what I do know is that I absolutely have to have something from this brand. Based in the UK (though the eponymous founder was born in Lagos), the vibrants prints from this brand have me absolutely smitten and gasping for breath. I need them all. Every single one is a work of art.
Blue Reign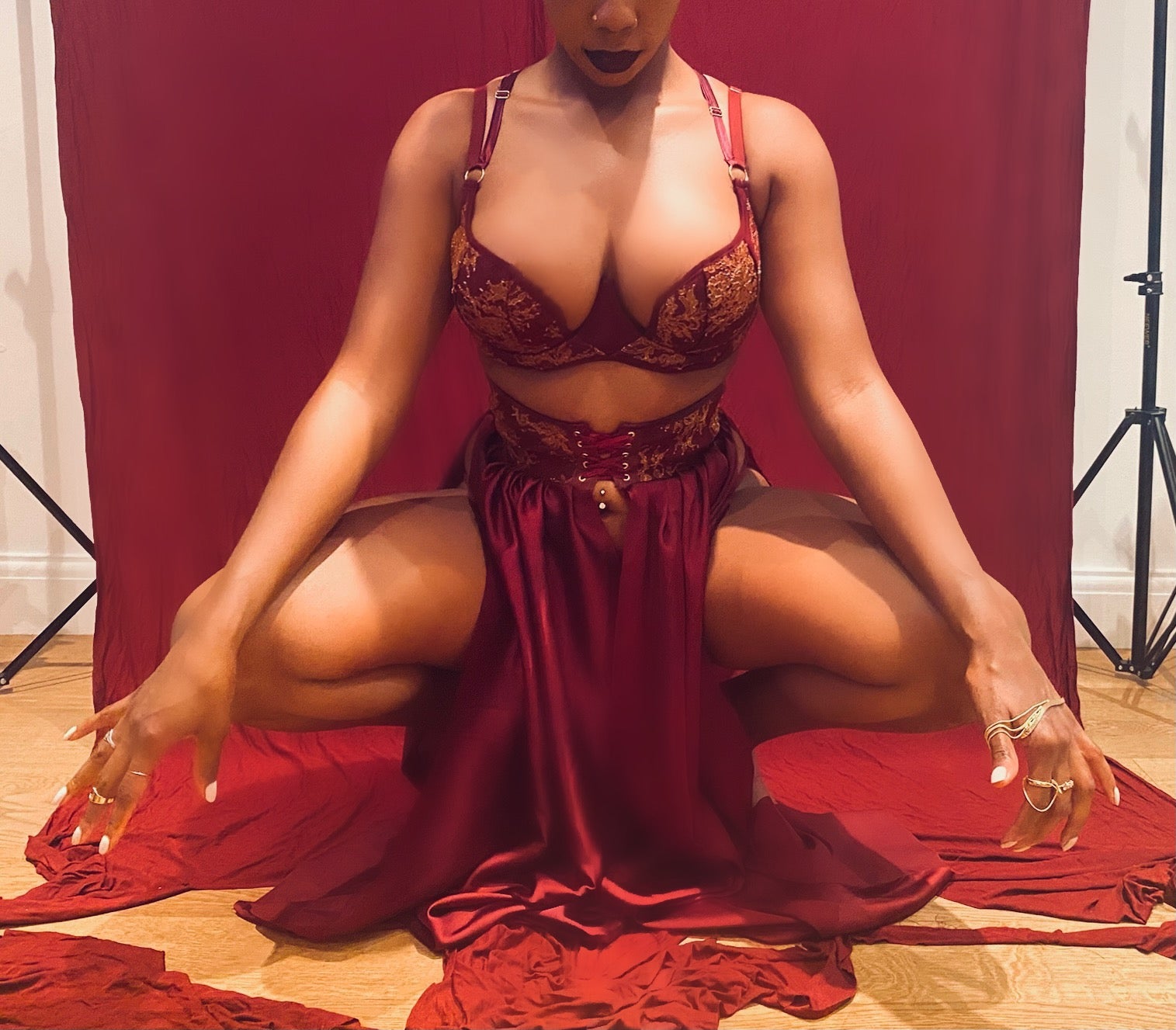 Alyx Jordan, creator of Blue Reign, is another returning designer from the last Black-owned lingerie brands post. Blue Reign's signature ranges are already iconic. This is definitely a brand where, if you miss out one of their collections, you'll regret it. Ethically sourced, made to order in London, and vegan-friendly, Blue Reign has everything a conscientious luxury lingerie customer could want.
d.bleu.dazzled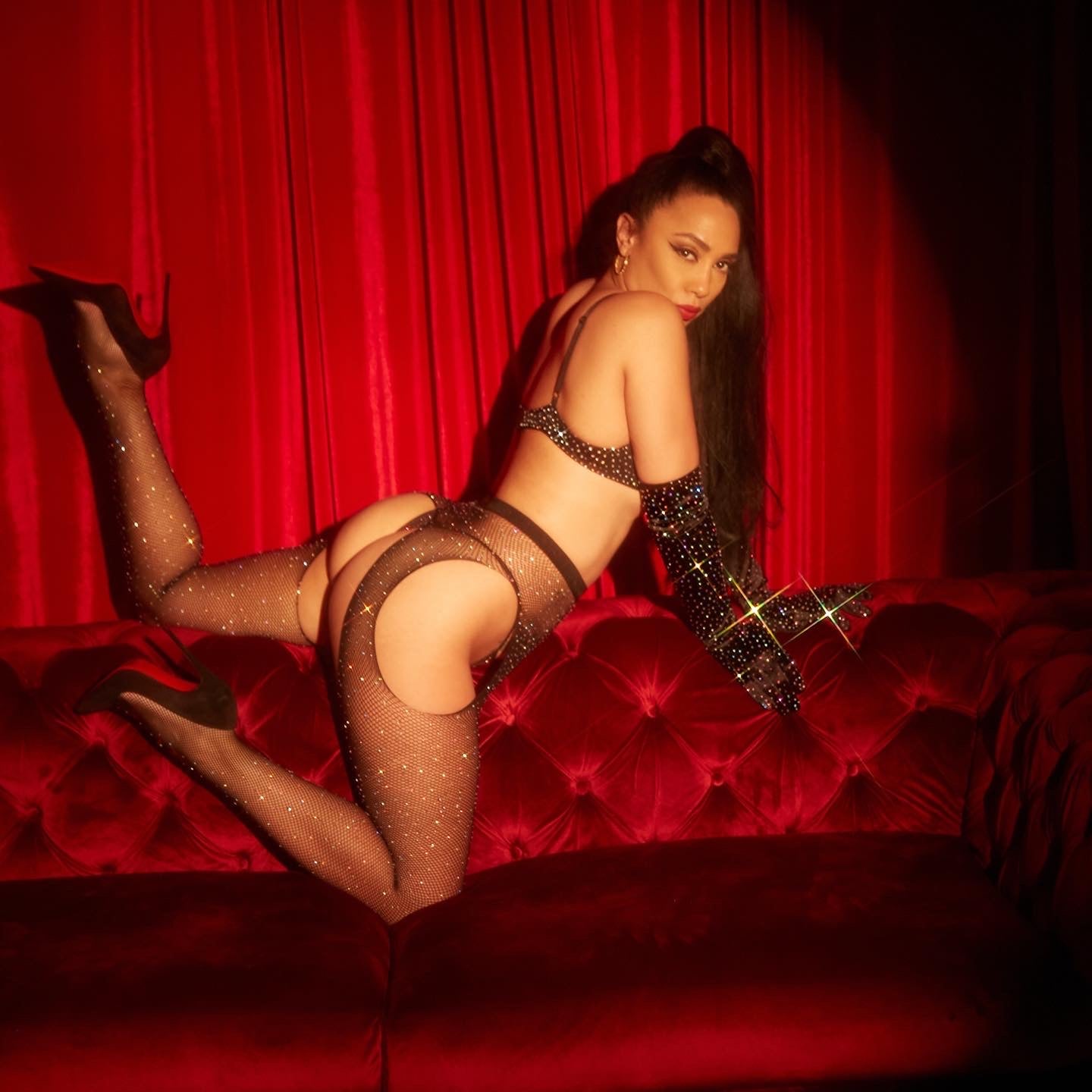 What is there to say about d.bleu.dazzled that hasn't been said already? This is the ultimate crystallized lingerie brand, worn by all the stars you know - from Beyonce to Lady Gaga to Cardi B and so many more. Destiny Bleu has developed an unmatched aesthetic, still easily recognizable despite all the many, many copycats.
Edge o' Beyond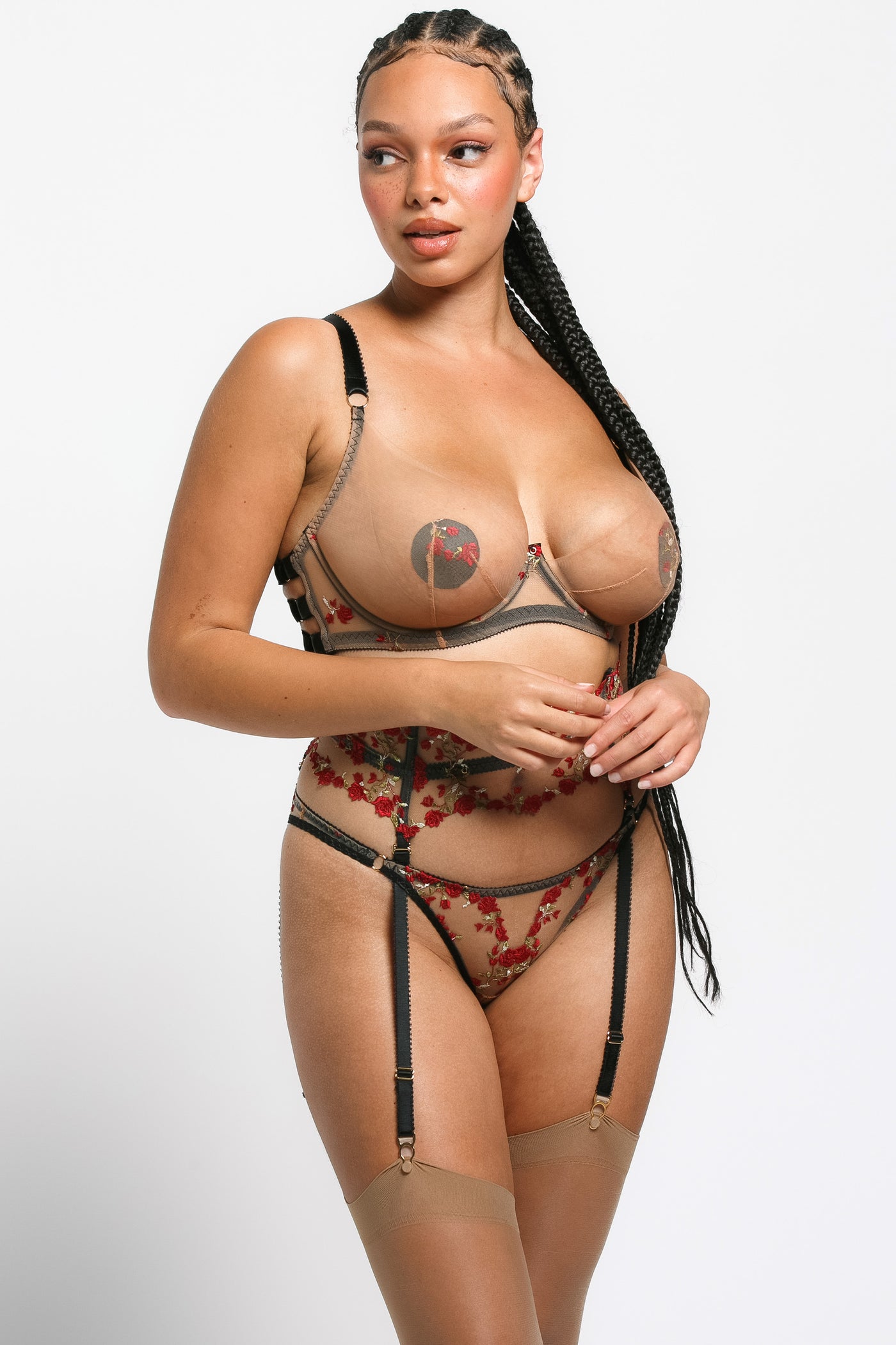 One of several British-based brands on this list, Naomi De Haan's Edge o' Beyond is known for their sheer tulles, delicate embroideries, and gold body jewelry. If you aspire to look like an English country garden, draped in gold, and a living work of art, this is the brand for you. I'm hoping to add a few more pieces to my personal lingerie collection before the end of the year.
Ihuoma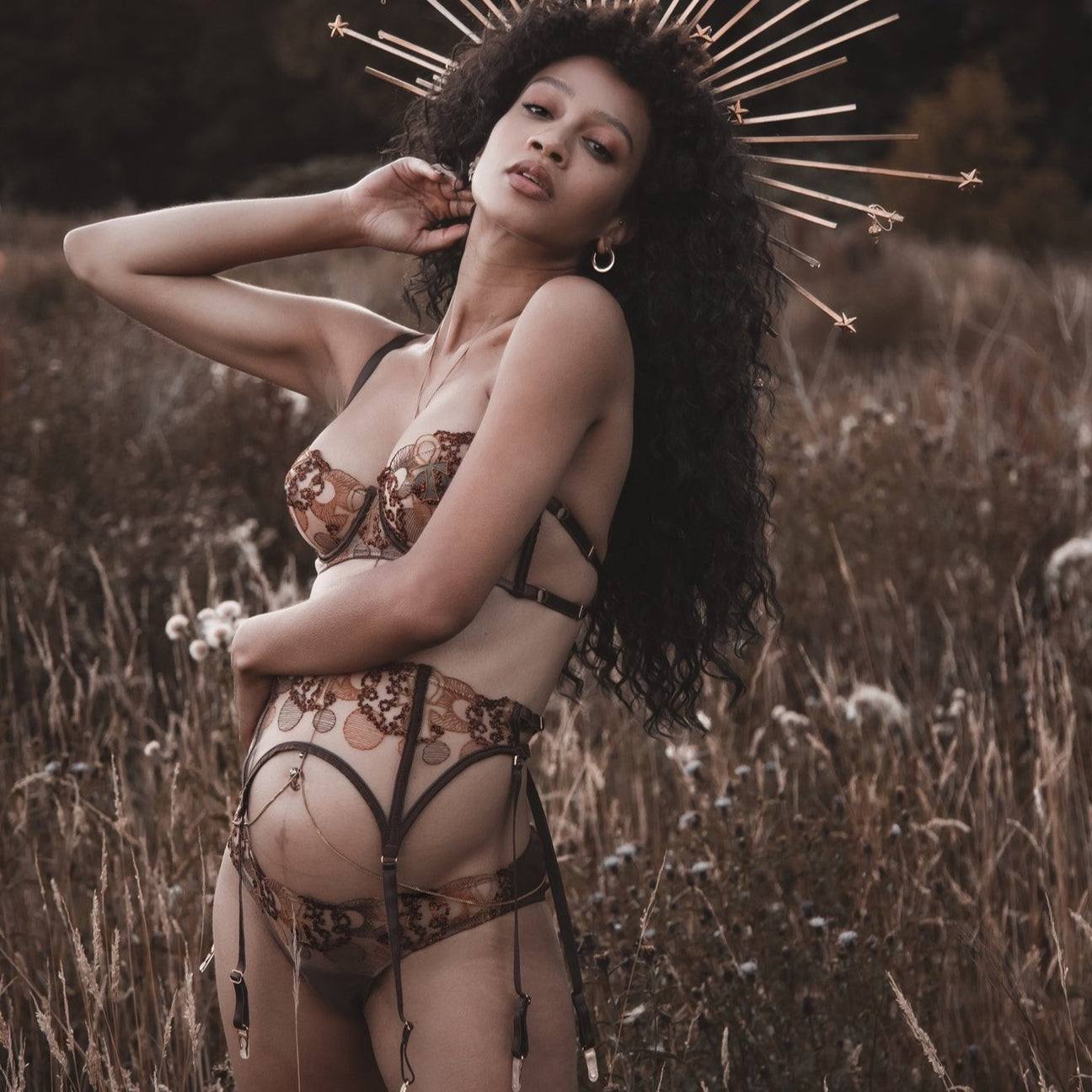 Created and designed by the founder of Beautifully Dressed, Annabelle Ihuoma Mu'azu (who you may remember from the last iteration of this article), Ihuoma is known for their stunning bespoke embroidery, created with Black femmes in mind. Personally, I can't wait to see what they do next.
Je Mérite
Translated from the French as "I deserve," Je Mérite is the essence of choosing one thing and doing it exceptionally well. With a focus on sleepwear, Tamara Thomas's debut collection features indispensable pieces, all in iconic black silk: a tap short, a cami, a gown, and a robe. An entire capsule loungewear wardrobe, all ethically made in NYC.
King Kitsu/Geek n' Boujique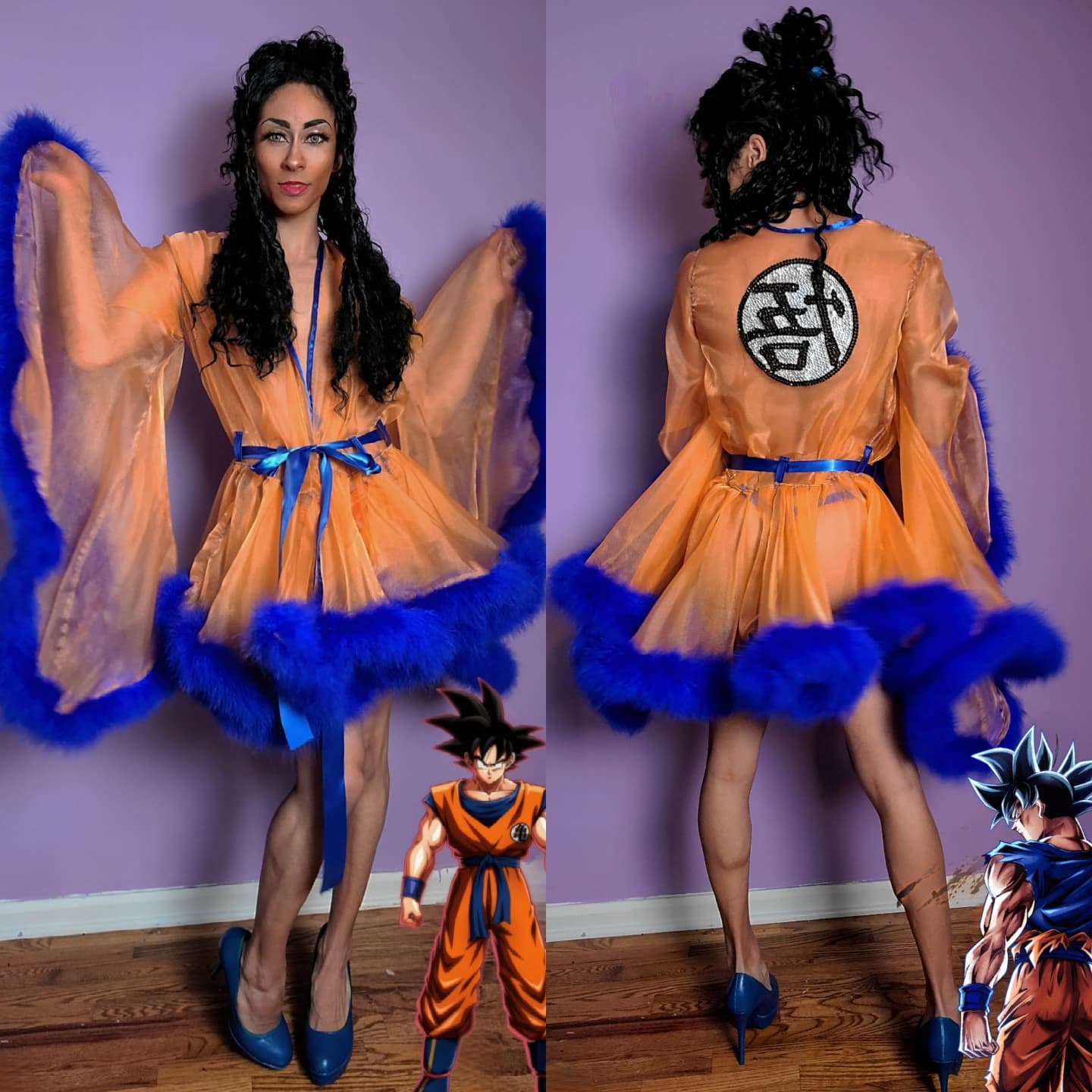 Sometimes I feel really out of touch, and the transition from a more digital storefront style retail model to one that primarily exists on social media is one of those times. Still, I credit social media with leading me to King Kitsu aka Geek n' Boujique. One of two brands on this list specializing in making geek-inspired lingerie, their robes are perfect for when I go to my next comic con!
Lasette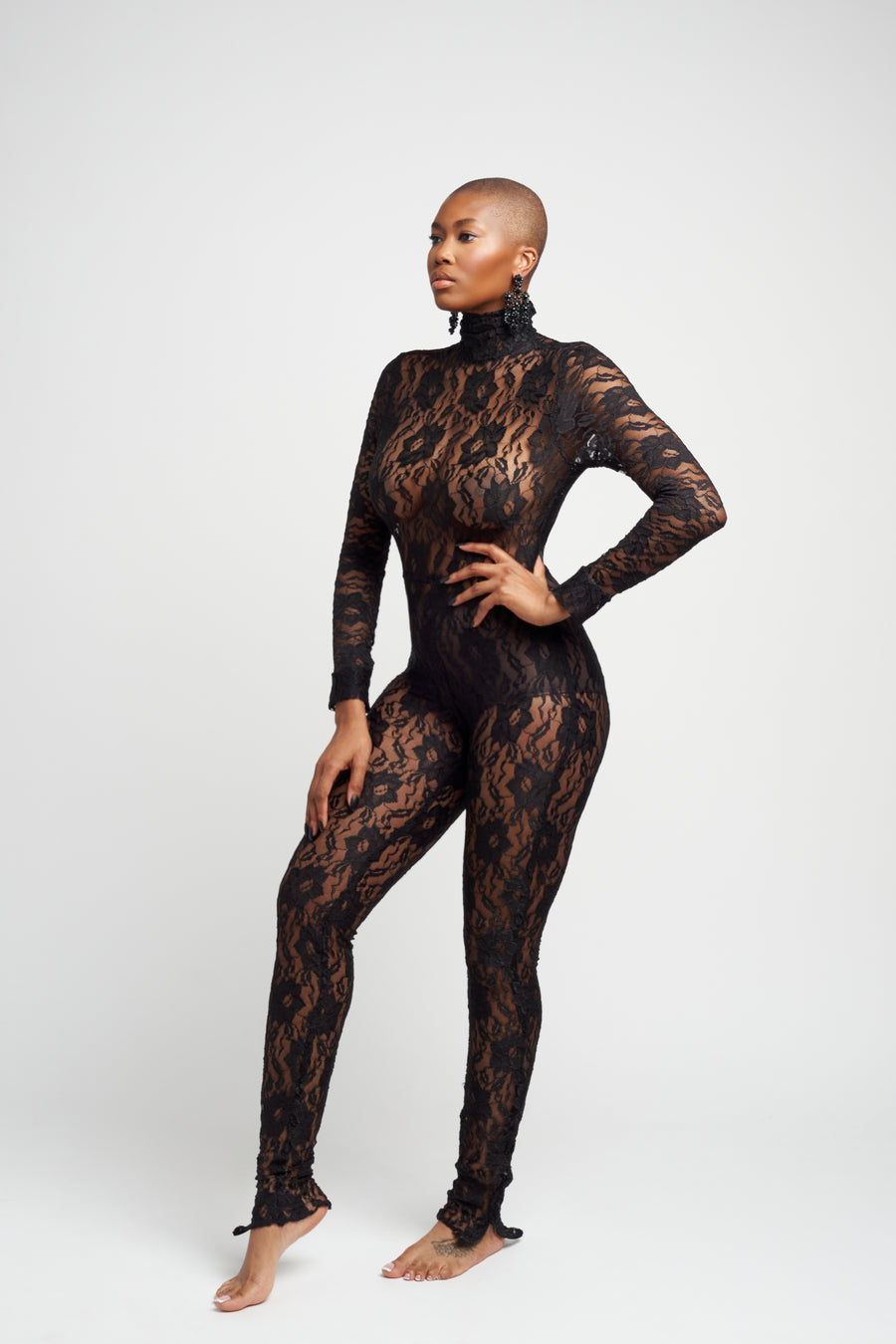 One of many new companies on this list, it was love at first sight as soon as I saw my personal kryptonite...the Lasette 'Dominique' lace bodysuit, pictured above. I mean, honestly. Can't you see me in this? I know I can. Shiara Robinson's Lasette is definitely a lingerie brand to watch.
Liberté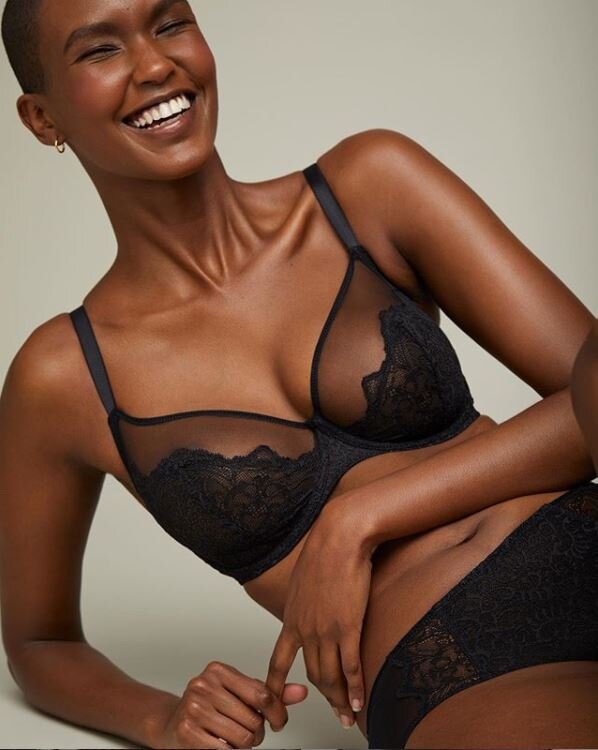 Every bra-wearer needs that ready, steady, everyday bra, and Liberté, founded by Amber Tolliver, aims to be that bra for you. Not to get too weird about it, but think of this as your "secret weapon" bra. Your "best friend" bra. Your "up for anything" bra. While still being pretty enough to feel special. What else would one expect from a former model turned designer?
Little Kitten LA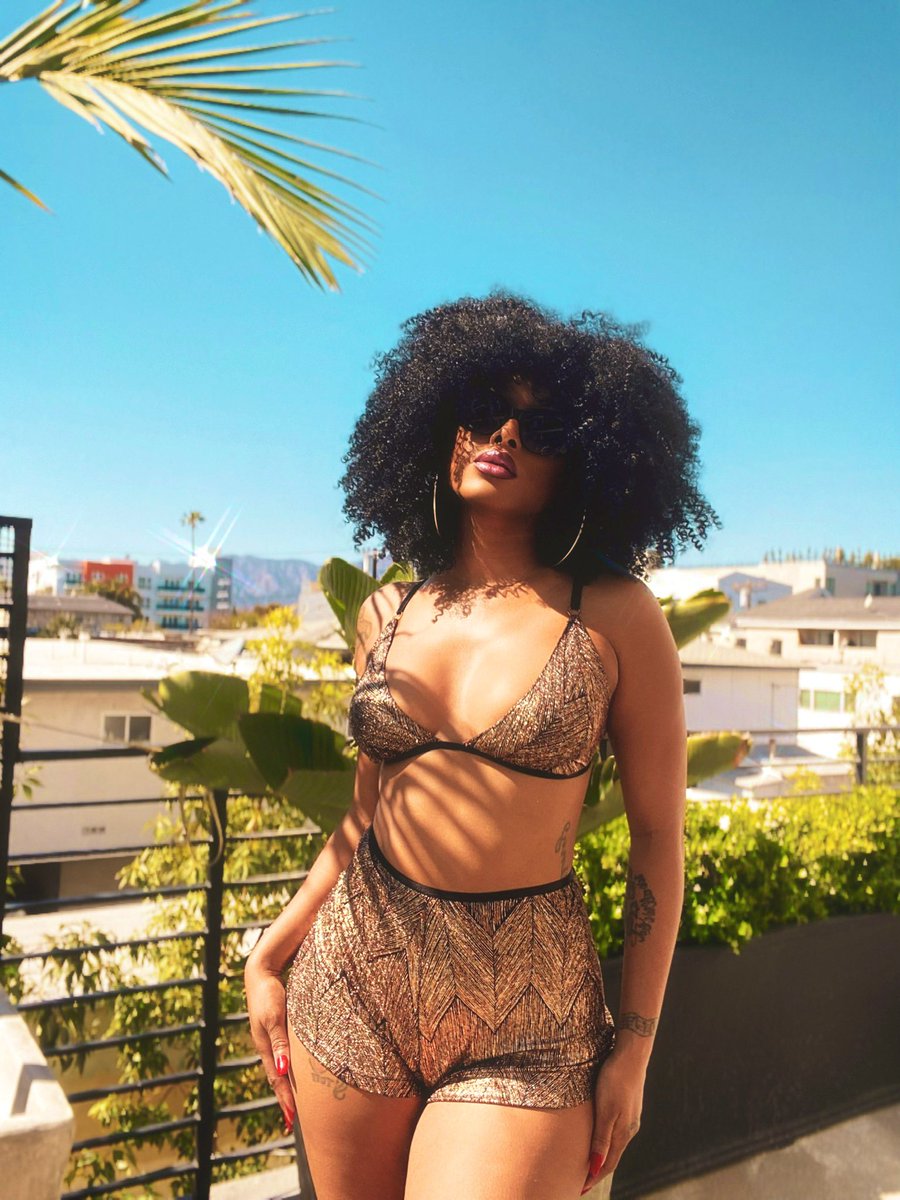 I genuinely love when new lingerie brands feel comfortable enough to get in touch with me. Even more, I love seeing new brands transform and come into their own. Though Little Kitten LA's shop is closed at the time of this writing, they're a label worth watching and waiting for. And while researching this, I learned Sanura, the founder, is also a singer? Truly a woman of multiple talents!
LJ Signature
A British brand bringing together that perfect unity of the matching bonnet and pajama set (which I am personally long overdue for pampering myself with), LJ Signature - named after designers Lisa and Jacqueline - offers a country garden take on the aesthetic, one that has me wanting to indulge on my next rural vacation or long train trip.
Loulette Lingerie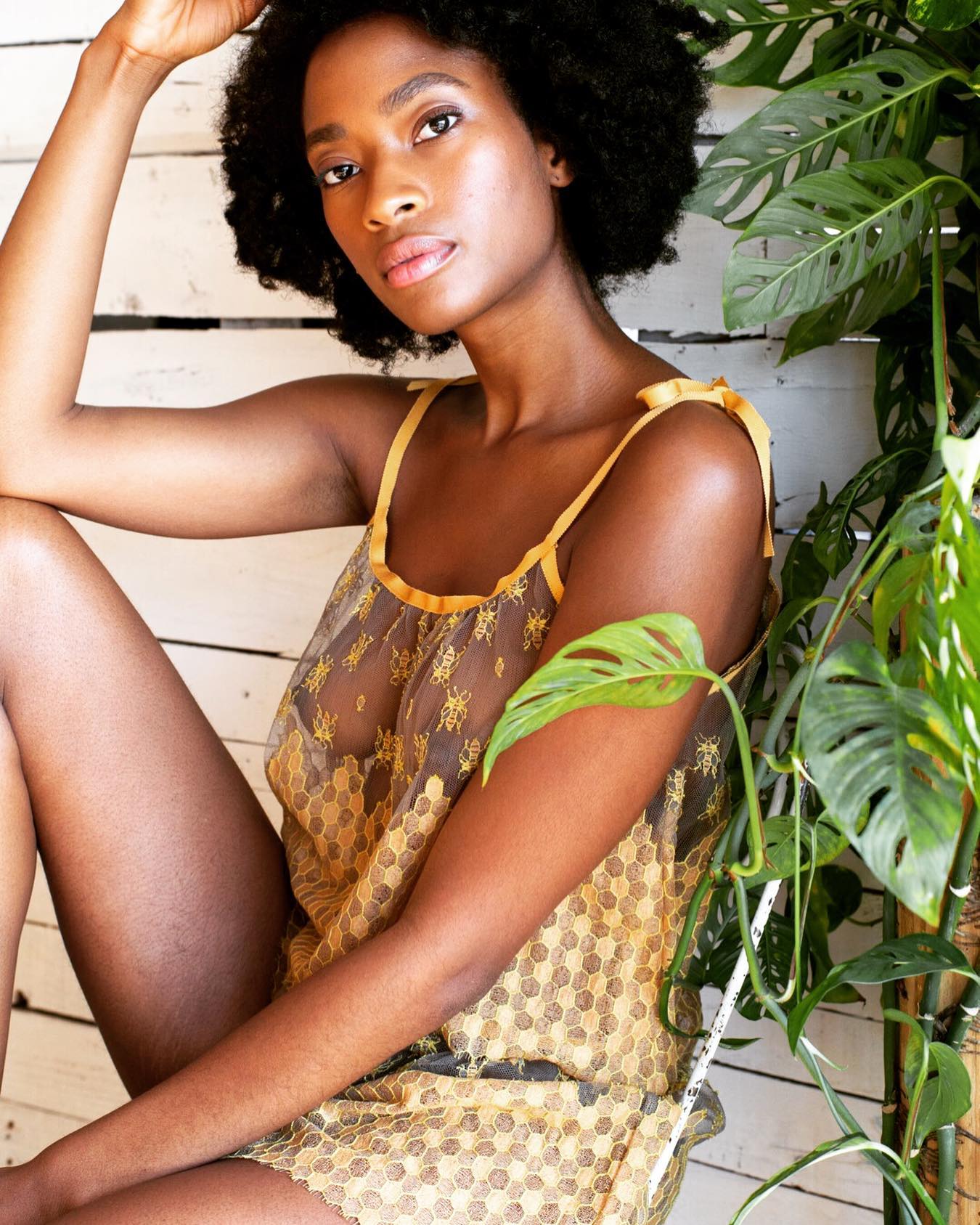 Made in the USA and based in Brooklyn, Loulette Lingerie is a luxury label specializing in bridal and honeymoon lingerie. While I love a number of their pieces, such as the Solange slip, my particular favorite is the lace Honeybee cami and short set - a perennial wishlist favorite for me! Founder and designer LaTimberly Johnson truly has an eye for unique fabrics.
Love, Vera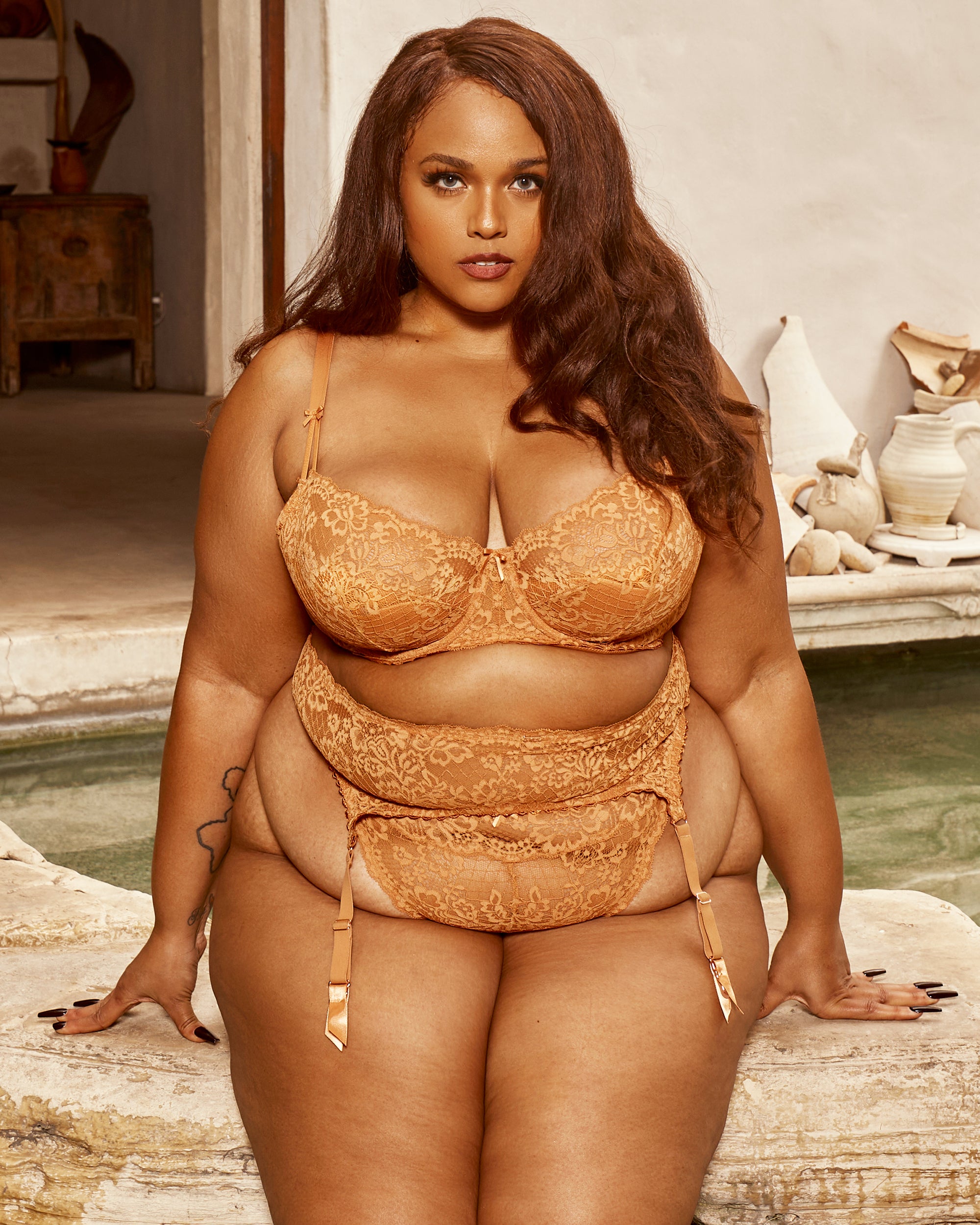 One of the most exciting lingerie brands to debut over the past few years, Love, Vera has risen quickly, personally recommended by Beyonce and stocked in major department stores like Nordstrom. Created by Vera Moore, this brand has their finger on the pulse of what lingerie wearers want. Not only are the fashion ranges impeccably cute, their nude shades are among the best in the industry.
Maguy de Chadirac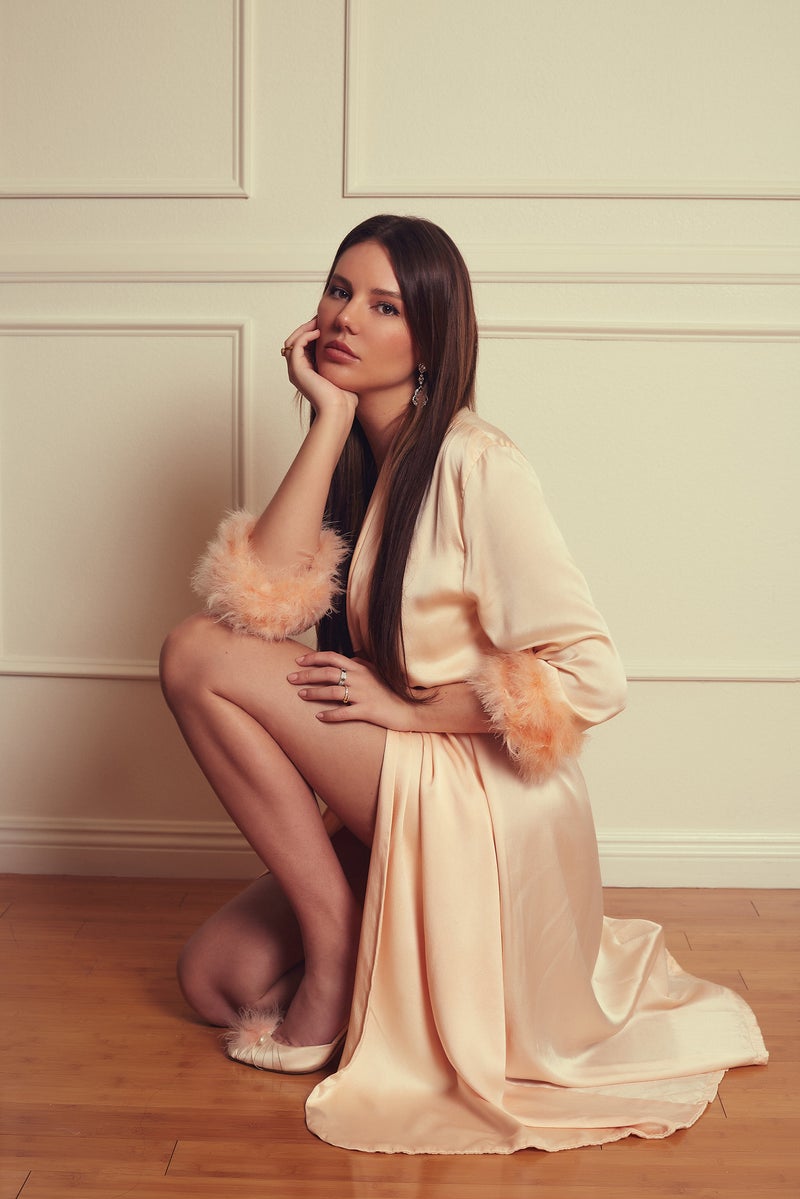 One of those "insider" lingerie brands ("if you know, you know"), French-born designer and graduate of the prestigious Chambre Syndicale de la Couture Parisienne, Maguy de Chadirac specializes in delectable silk and marabou loungewear with iconic, silver screen boudoir vibes. The essence of rich girl/I don't have to check the price tag/Give me your most expensive champagne vibes.
Miss Chi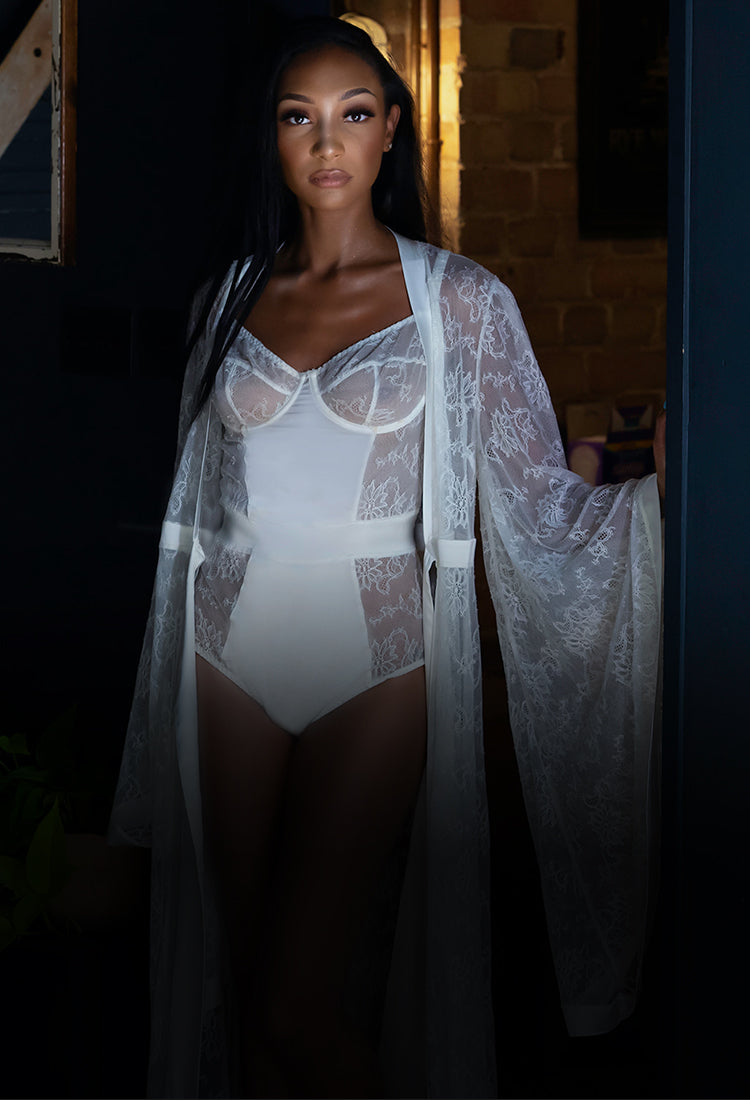 Built by Chiedza Dawn Ziyambe, Miss Chi is a brand I know next-to-nothing about, but as soon I saw them, I knew they had to be included here. After all, what good is a post about Black-owned lingerie brands if we're not both discovering new names, right? For lingerie addicts on a budget, Miss Chi also has their own, lower-priced diffusion line named Chii by Miss Chii.
Nkeoma by Ivy & Lily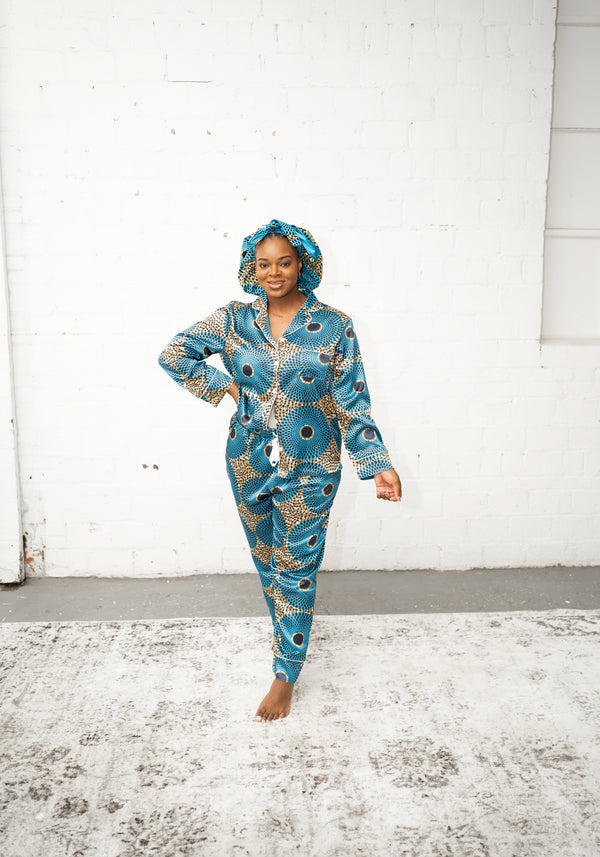 Another entry into the matching bonnet and pajama sets category? Yes, please! Ify Yvonne is the pharmacist (!!!) and entrepreneur behind Nkeoma by Ivy & Lily, and she knows exactly what the people want. This. Preferably three of them.
Nubian Skin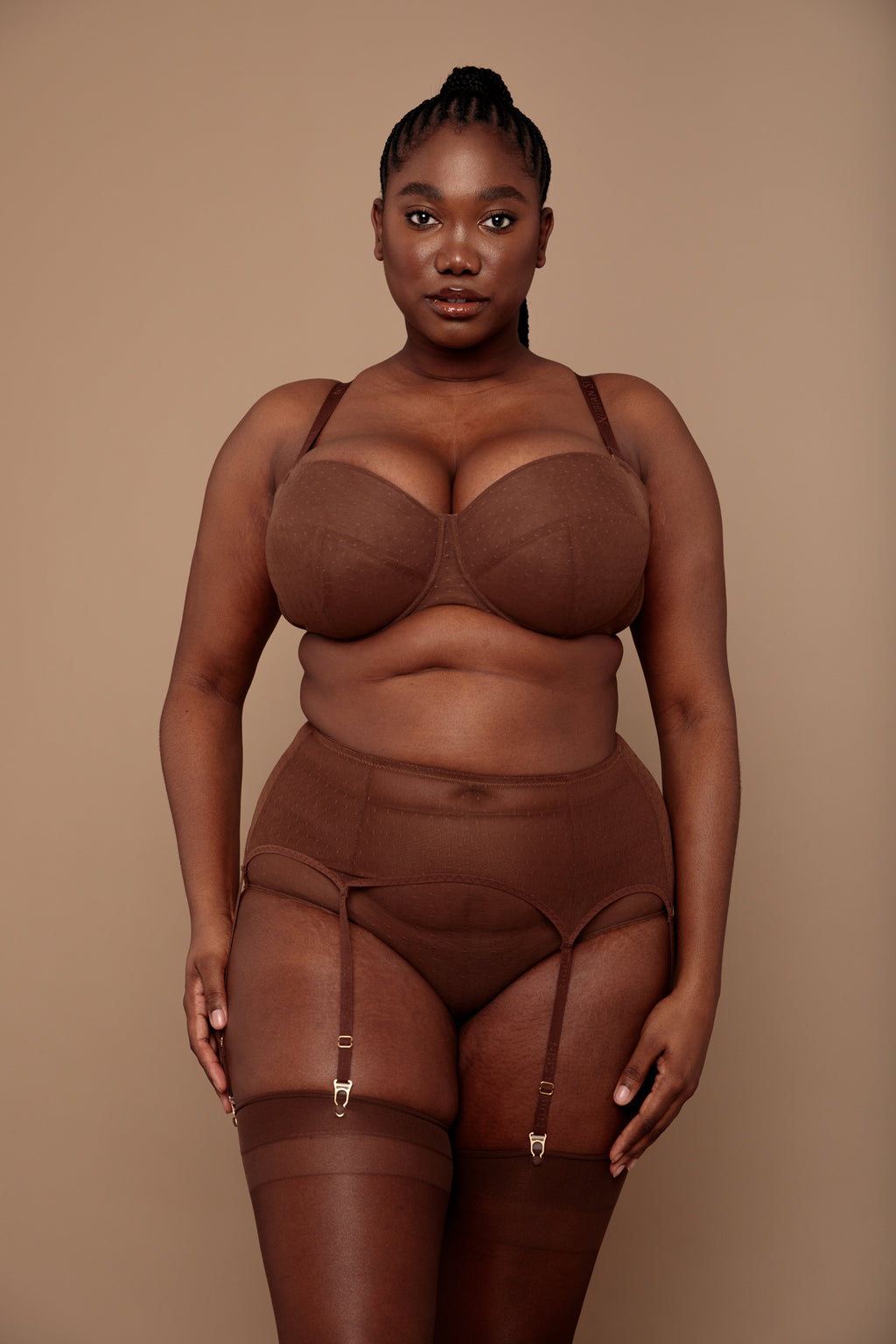 Any list of Black-owned lingerie brands that doesn't include the OG Nubian Skin is automatically incomplete. Period. Ade Hassan is that important to the lingerie industry. I could wax poetic for an entire article series about how Nubian Skin revolutionized intimate apparel, but let's just say that if your fave non-Black owned lingerie brand recently started making nudes in a range of skin tones, it's because of Nubian Skin. Yes, really.
Nude Barre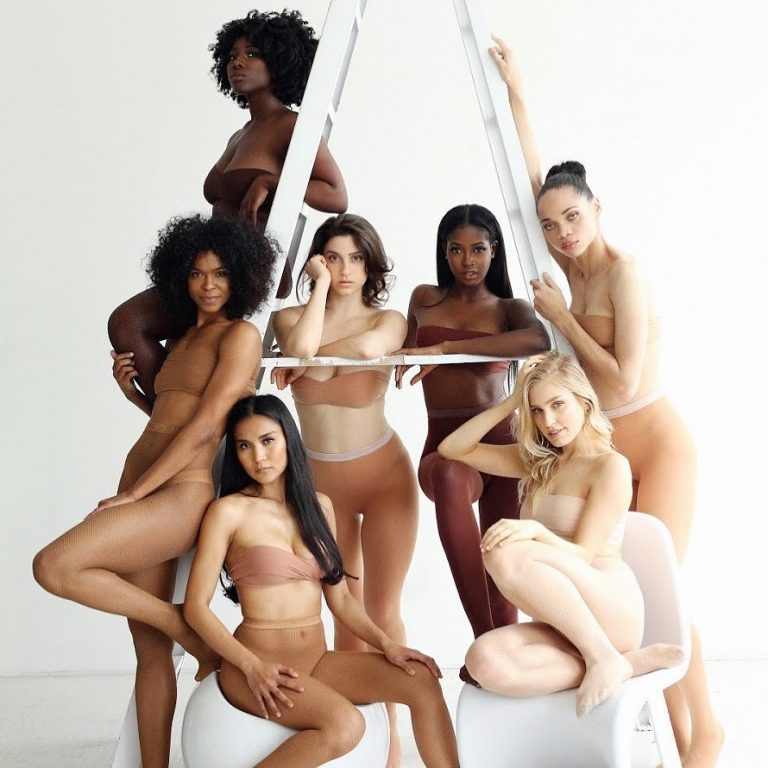 Sometimes I feel like an old lady going, "I remember when..." But I really do remember when! Established by Erin Carpenter, Nude Barre has absolutely found their stride in the last few years, becoming a go-to brand for all shades of nude, especially for the dance community.
Oh My, Senpai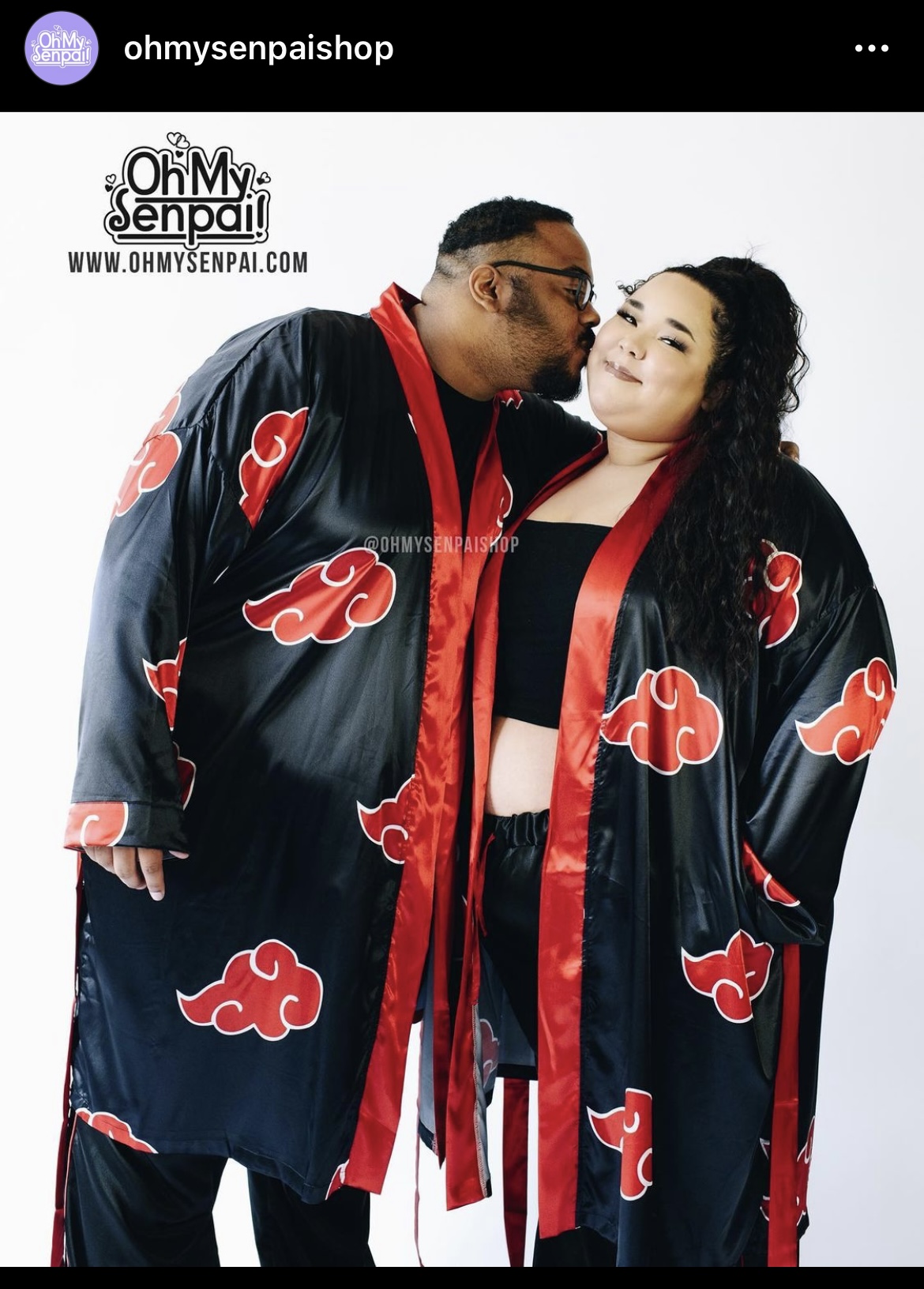 Oh My, Senpai, a new brand I heard about while researching this blog post (from a friend, no less!), is one I want to buy from when next they open. As a major nerd, I'm really, really interested. Who knew the one thing my lingerie wardrobe was lacking is an anime robe? And they have matching bonnets too!
O'jai Lingerie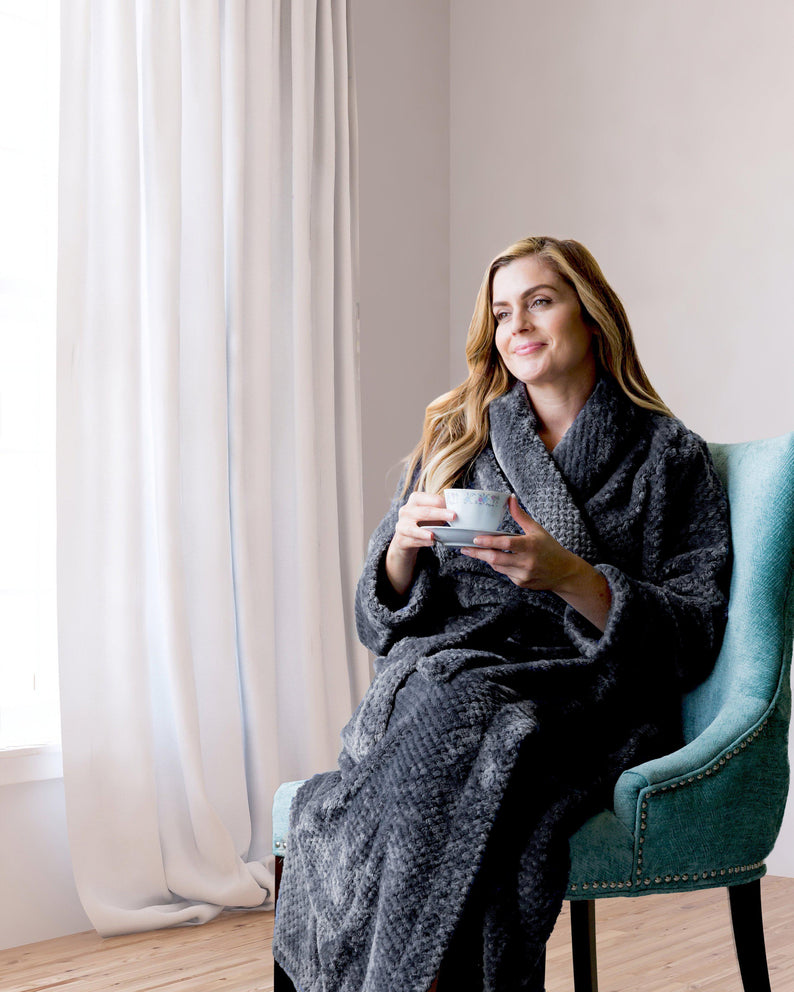 Though Malory Taylor's boutique O'jai Lingerie carries pieces from other brands, it's their in-house loungewear label that made me sit up and take notice. No matter your opinions about Oprah, I can't disagree with her choosing this ultra plush robe for her Favorite Things List 2020! Just looking at this picture makes me want to indulge.
Sada by Sarah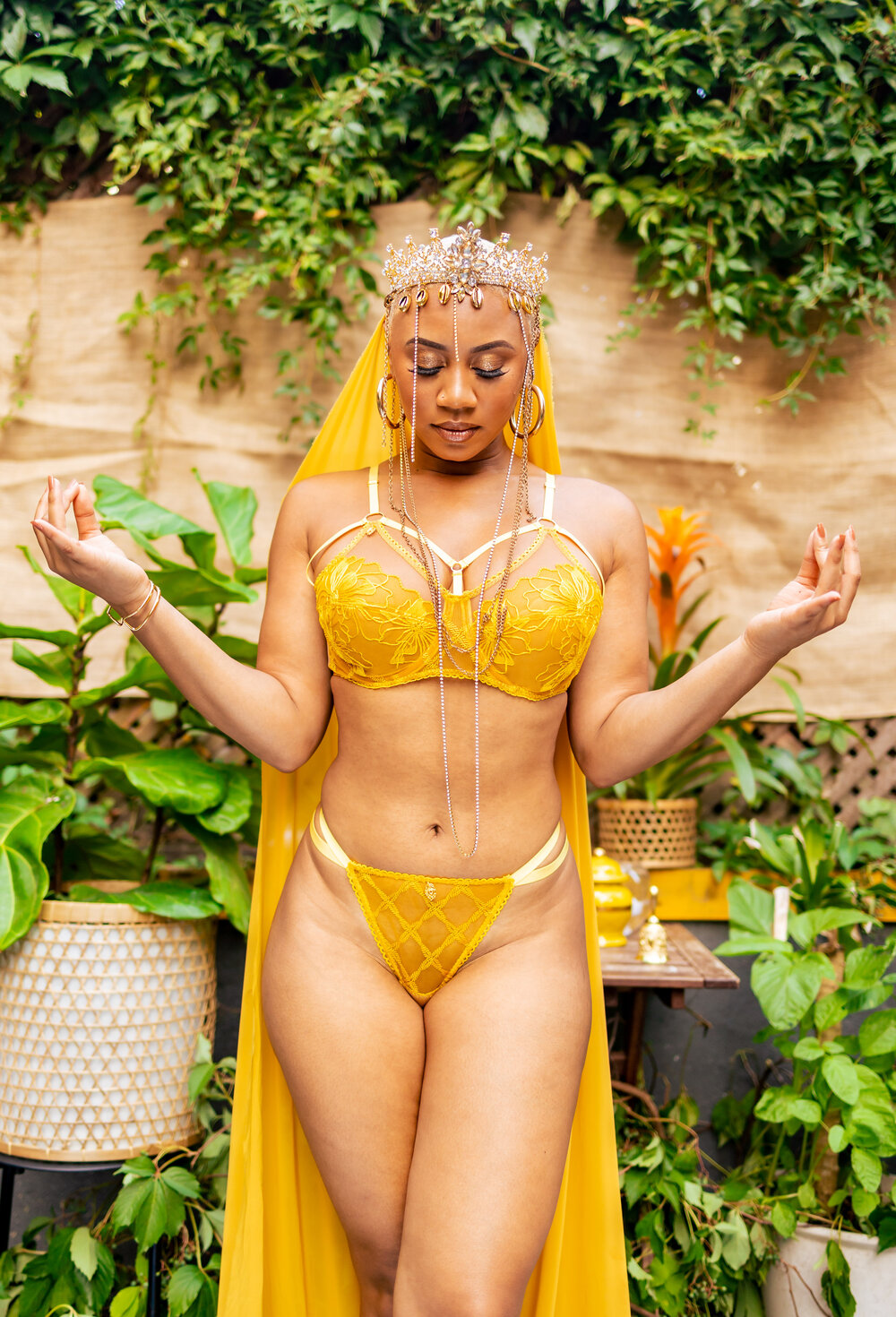 One of my passions is supporting young designers, and Sarah Dawson's Sada by Sarah is a new designer with so much style and so much promise and such a unique point of view, I know she has a long future ahead of her in the intimate apparel industry (if she so chooses). Her designs capture the moment with a fresh, relevant perspective that resonates.
Savage X Fenty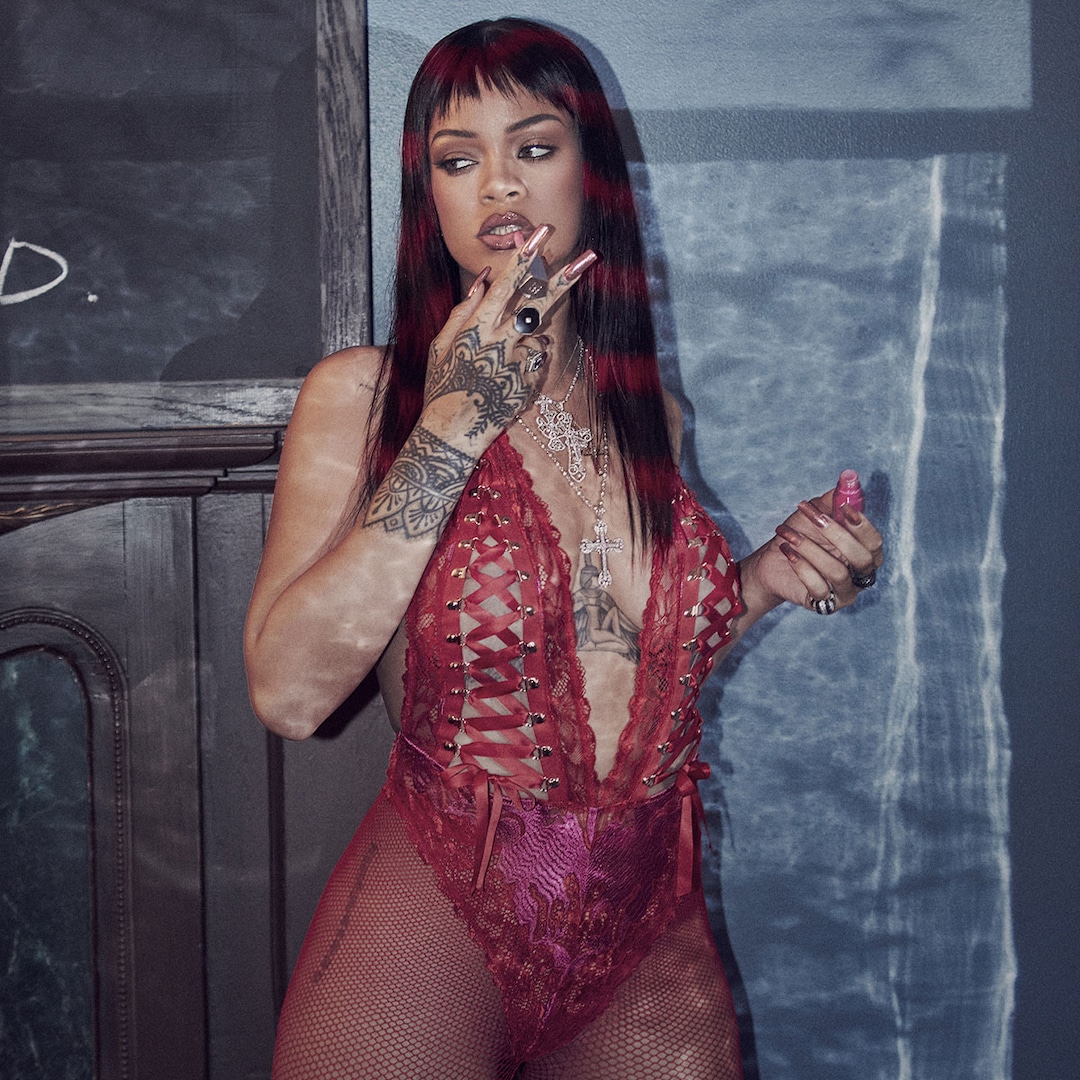 Of course, I have to include Rihanna Fenty's lingerie brand. No list of any kind about the lingerie industry is complete without mentioning Savage X. Rihanna has turned the entire intimate apparel industry on its head, and sent many legacy brands running to stay relevant with her wide range of products and similarly wide range of imagery, showing a possible future of what intimate apparel can be. For everyone.
Suzy Black NYC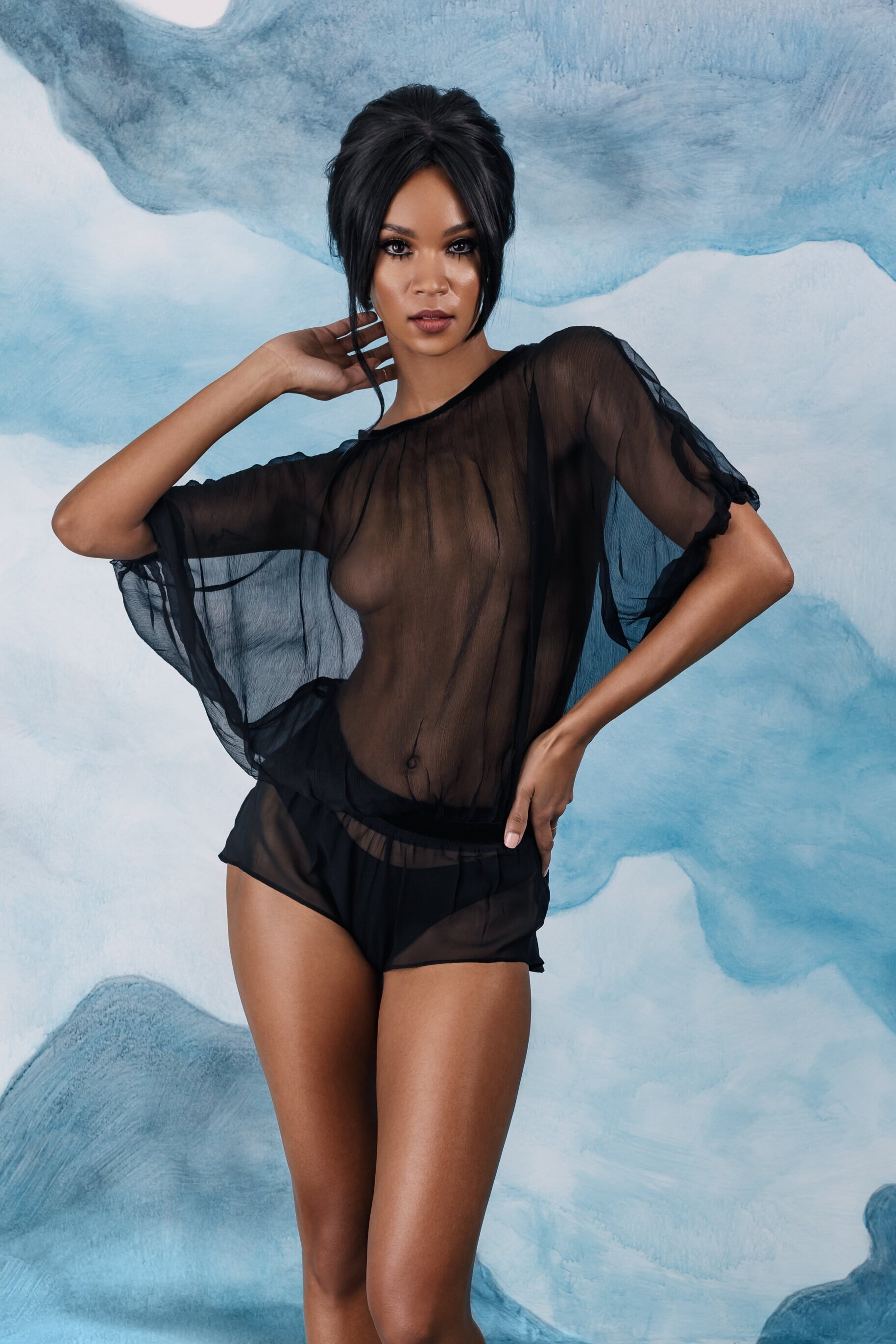 I've been a fan of Suzy Black NYC for the better part of a decade. Way back when, when most lingerie brands didn't take me seriously, Diondra Julian, founder of Suzy Black, did. That was a big deal in terms of my professional development and how I saw myself! It's thrilling to see the Suzy Black brand grow into an ever-stronger presence, now being stocked at Nordstrom and other retailers.
Torlowei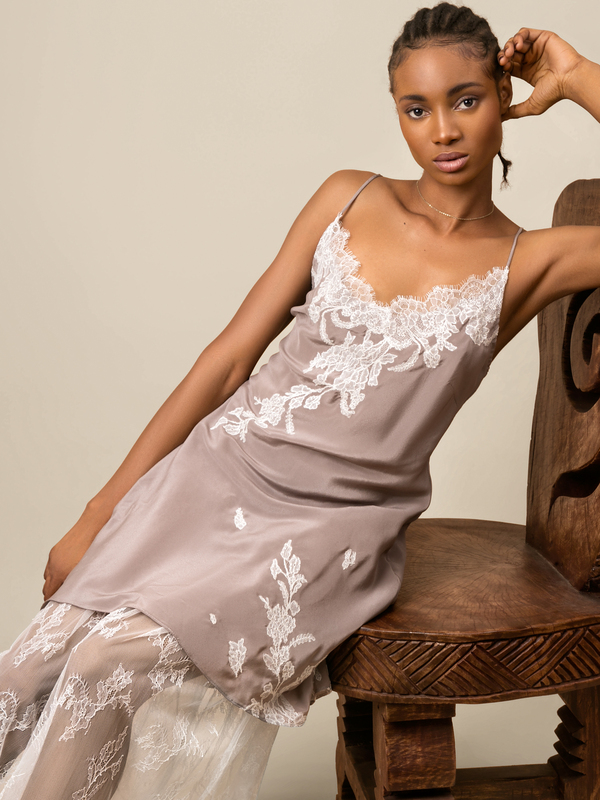 Now y'all know I'm a luxury babe, so when I first saw Torlowei, I almost expired from desire. The way Nigerian-based Patience Torlowei (who also manufactures in Nigeria) uses silk and French lace has me absolutely agog. I can't decide if I'd rather have the soft chemise pictured above or the vibrant, electric green caftan on her site. Both are immaculate.
The Underargument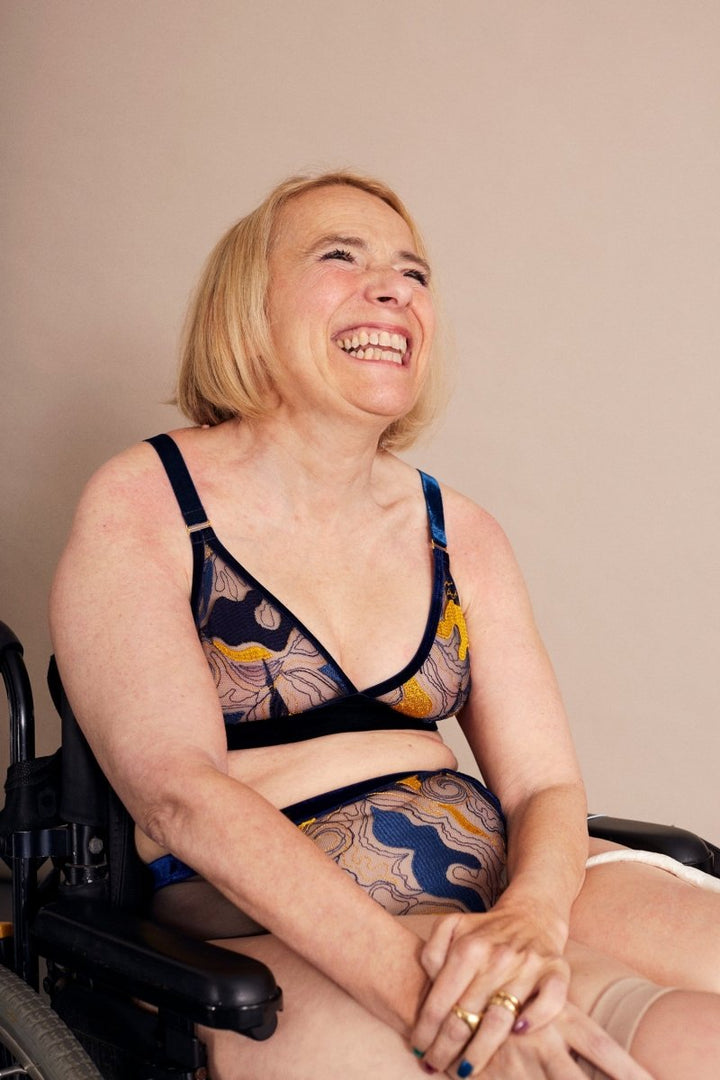 Unlike so many brands, luxury or modern, The Underargument stresses individuality, offering both personal stories and a striking array of diversity from their models. This French embroidered bra set in an abstract motif is a must-have for my lingerie wardrobe. I adore when designers like Maïna Cissé find things I haven't seen.
You! Lingerie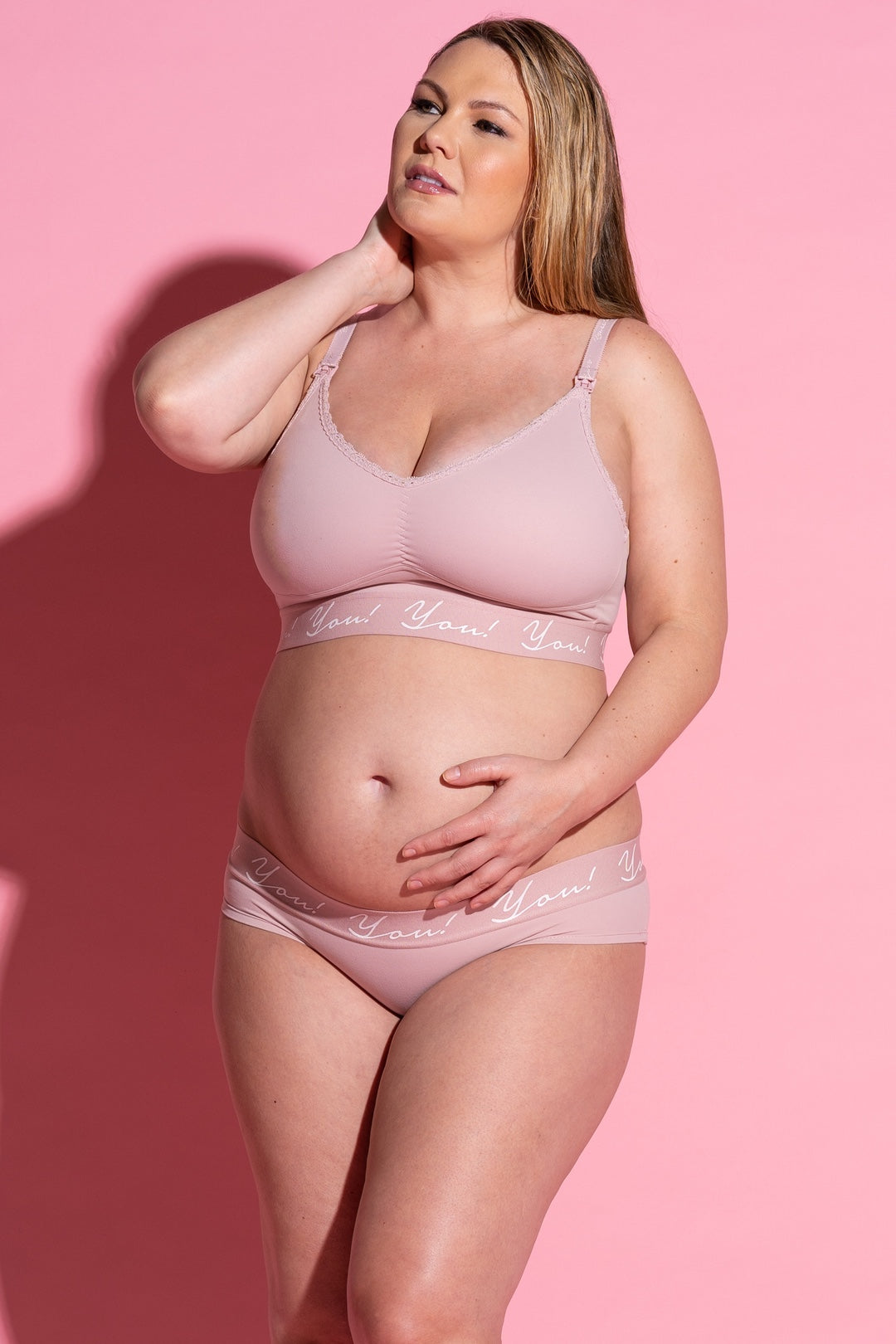 The only nursing and maternity brand on this list, You! Lingerie, created by Uyo Okebie-Eichelberger, is another returning favorite. If you're expecting and also wanting to support Black-owned lingerie brands, You! Lingerie is label for you.
A Few Last Words on Black-Owned Lingerie Brands...
Whew! What a list! What are your thoughts? Black History Month and supporting Black designers shouldn't just happen during February. It should be all year-round, and I hope this article helps you do that...and discover a new favorite along the way.
There are so many Black designers doing everything - from everyday wear to the fanciest of the fancy - that you could easily buy from only Black-owned lingerie brands if you so chose! And who could blame you when the choices are so incredible?
Did I leave anyone out? Please feel free to share in the comments! The more, the better!