Karolina Laskowska: The 'Celestial Bodies' Collection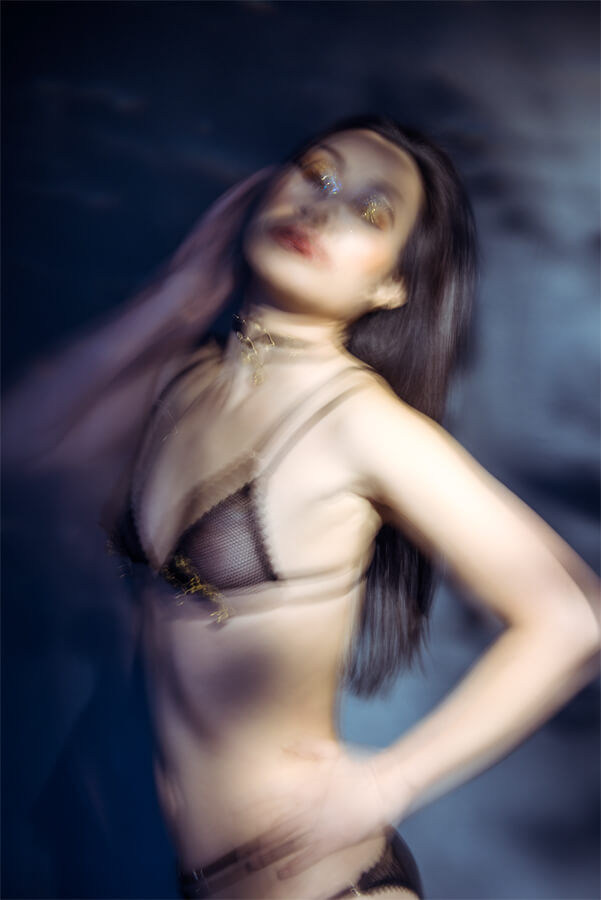 Syncope.
That's the official term for feeling breathless or lightheaded or like one is about to faint, and I also believe it's the perfect word to describe I felt when I first saw Karolina Laskowska's 'Celestial Bodies' collection.
I sometimes worry I'm overly effusive on TLA. The internet favors cynicism, a frosty veneer of unimpressedness that takes great pains to never get too excited. When I say a collection makes me gasp or makes me swoon, we all know I'm exaggerating slightly (sometimes) and that I just really, really like a thing. But this...this makes me feel a tightness in my chest. My eyes dilate, my breath quickens, I lean towards the screen because this is one of the most exquisite, the most breathtaking, collections I've ever laid eyes on.
As you may have noticed, at least if you're a regular reader, this is my first lookbook feature in awhile, and it's somewhat appropriate that it would be about Karolina Laskowska, who's not only an award-winning luxury lingerie designer but also one of TLA's very own writers. Yet that prior relationship is an Achilles' heel at the moment, and I have the unenviable sensation of having bitten off more than I can chew. There's so much detail in this collection, an overabundance of richness and opulence mingled with a fresh, raw sensuality and some rough-edged eroticism. I'm terrified of not doing a good enough job on this piece, of not describing this symphony of lingerie adequately enough to do it justice.
In an industry obsessed with low prices and efficient design, Karolina Laskowska daringly returns to heritage fabrics and couture construction techniques. The textiles chosen are decadent, extravagant even, and sourced from some of the finest lace manufacturers in Europe.  More importantly, Ms. Laskowska knows how to use this lace to brilliant effect. Her talent and expertise are especially evident in the Libra and Andromeda ranges, which both feature, among other things, cut-and-sewn French lace stockings.
In addition to lace, gold and platinum leaf are used with glorious, artistic abandon on Auriga's bobbinet tulle corset while the three-dimensional embellishment on Lacerta's hobble skirt and short cape evoke darkness and death and the majestic infiniteness of the universe, beautiful and horrifying all at once (we are made of stardust, after all). These are designs for Hel and Hecate, for The Morrigan and The Unseelie Queen. It is a privilege to watch a designer spread their wings, to stretch into their capabilities and fully inhabit their work. Were I to see the Celestial Bodies collection in person, I might cry.
Celestial Bodies is a two part collection, composed of an off-the-rack, mass-produced range made in Poland and a couture, made-to-order range sewn in London. As a point of reference, the Ara and Carina sets are factory-made, while most everything else would be couture and made upon request. Sizing for off-the-rack items generally runs S-L, fitting band sizes 30-36 and dress sizes 2-8 US. Made to measure items are fit in person at Karolina Laskowska's West London atelier and are not subject to these sizing restrictions. Prices for the main line range from £45-185 (approximately $65-$270), while the couture range begins at £550 (approximately $800) with the most limited edition items reaching £10,000 (approximately $14,500).
What are your thoughts on 'Celestial Bodies' by Karolina Laskowska? Do you have a favorite piece or look? And what do you think about an indie brand taking a risk by being super-luxe?
Photoshoot credits:
Photography: J. Tuliniemi
Model: Ceci Zhang
MUA: Anitka Kwiat