Are Sheertex Tights Worth It? Reviewing The Famous "Unbreakable" Sheer Pantyhose
Disclosure: This set was purchased by The Lingerie Addict for the purposes of this review. All opinions are my own.

I'll be honest. I hate buying tights and stockings. Not because I don't like them! But because a new stocking purchase means I've snagged or damaged a previous pair and tossed it into the trash, destined to slowly decompose (or not) in some NYC landfill.
Replacing lingerie sucks. Why can't clothing last forever?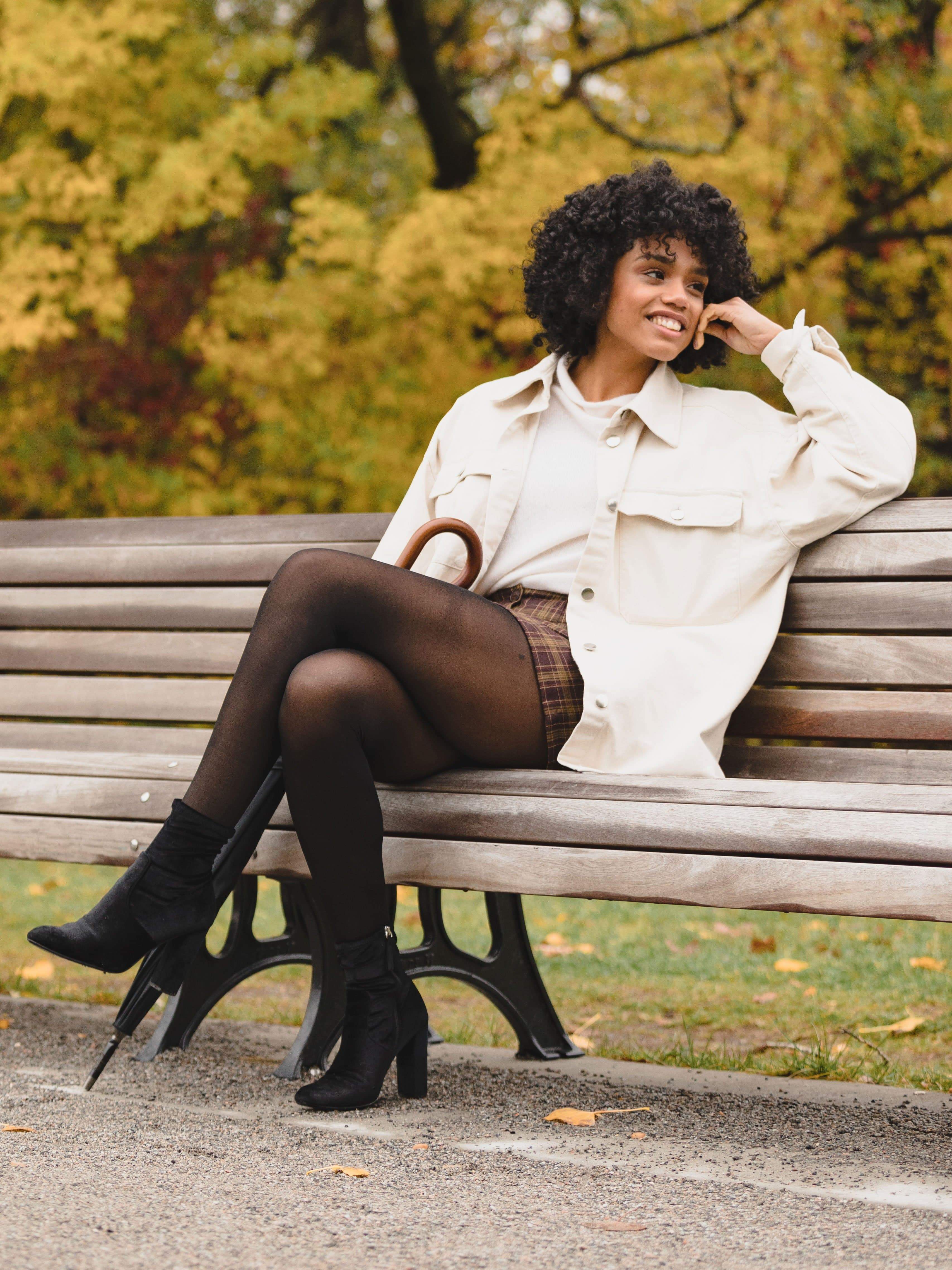 Well…maybe it can, according to Sheertex. This hosiery startup claims to make "unbreakable" tights. But as with most lingerie start-ups, I was skeptical. Like all clothing and lingerie, hosiery isn't infallible. This company claims their fiber is "stronger than steel," but so is traditional nylon. So like, how great could these tights be? I was determined to find out.
Sheertex's Classic Sheer Tights
These tights cost more than the $5 sheers from your local discount store. They even run a bit higher than brands like Wolford at full price. But! Sheertex is constantly running "daily sales" on select items, including their best sellers. I highly recommend waiting until your item is 50% off to make a purchase. Otherwise, you'll be overpaying.
The Classic Sheer Tights I tried cost $99 at full price, but are almost always marked down to $49. This is an average price for high quality tights.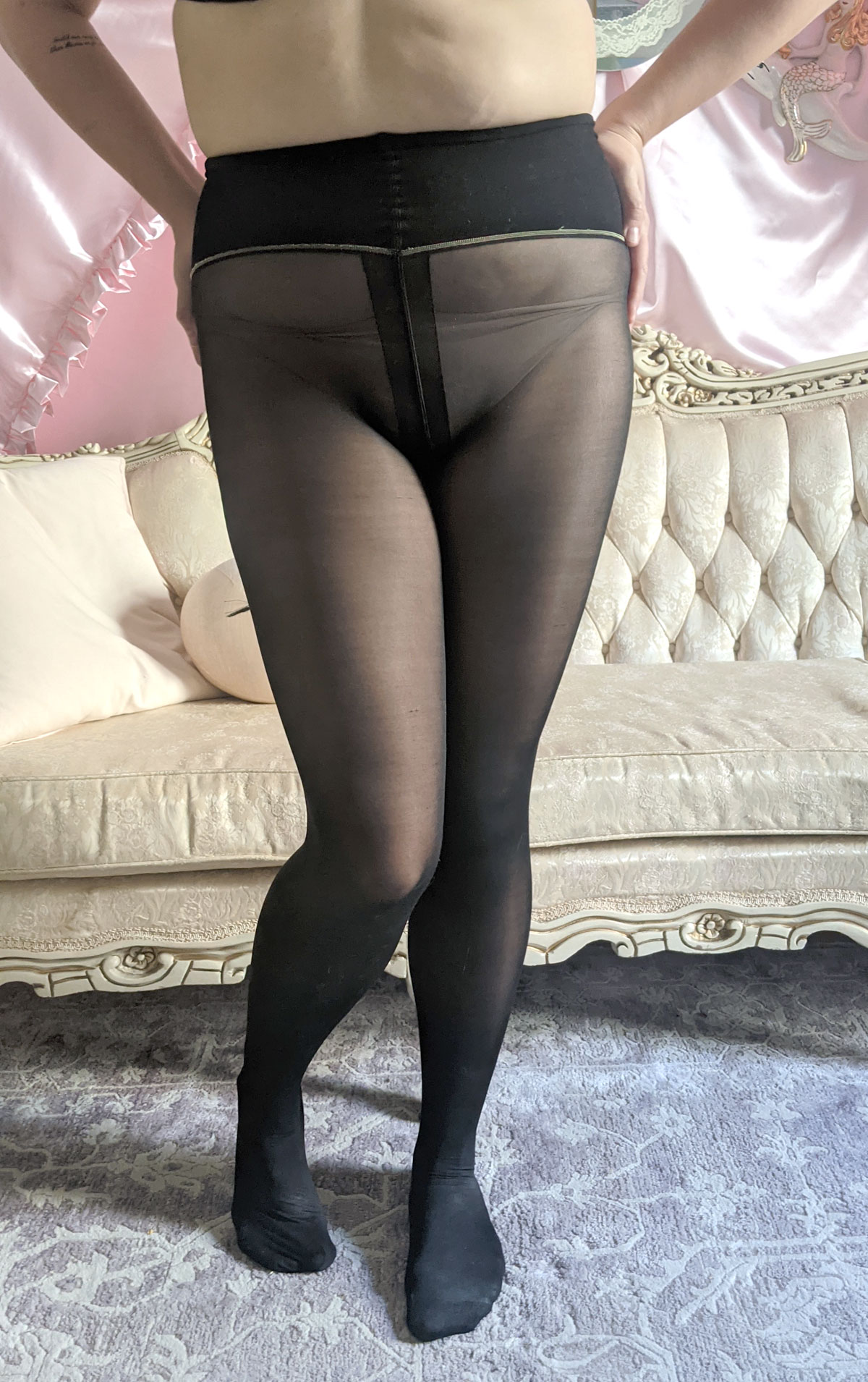 I weigh 155 pounds, so I bought the suggested size M. I'm 5'5" with long legs, and I can see these working on much taller and shorter people. They fit me quite well and don't roll down or sag.
However, the waistband rolls a tiny bit and digs into my waist. It's not uncomfortable, and I expected it with my squishy torso. But it does mean I wouldn't be able to wear these with a tight fitting dress, unless I wanted a very defined waistline. Overall, they fit the way I'd expect a $50 pair of tights to fit.
Otherwise, the first thing I noticed was how interesting the fabric is. To the hand, it feels slicker than your average pair of nylon/spandex tights. On the body, it feels more like a pair of running tights or leggings. But it looks like a classic pair of sheers.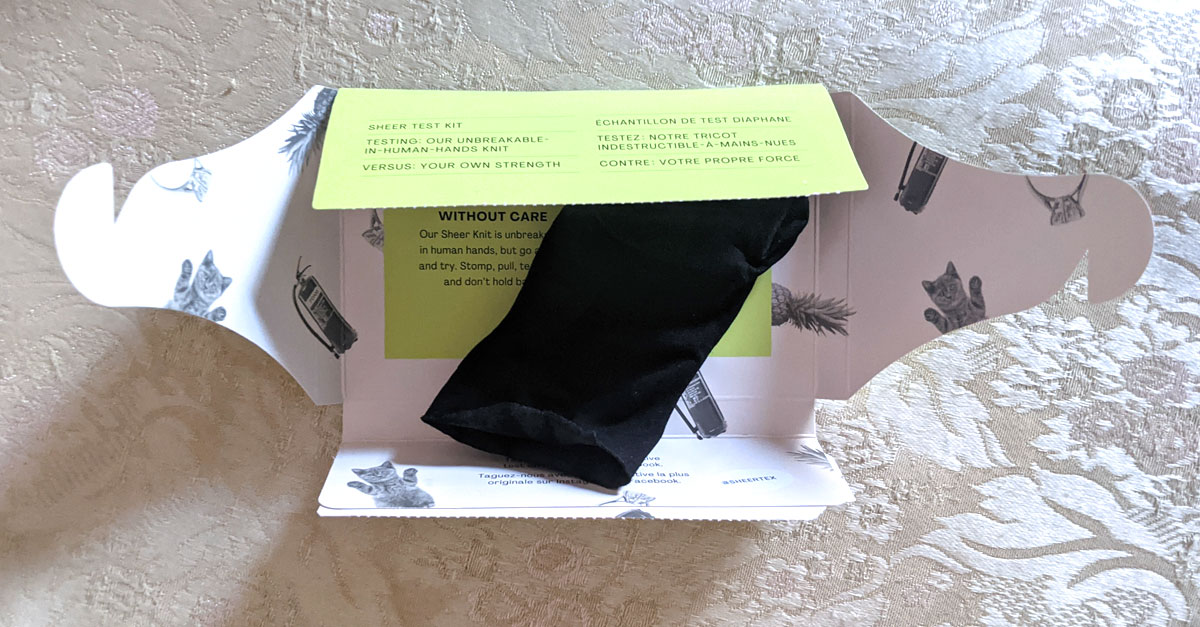 Sheertex sends you a little package with a sample of their fabric along with their tights, so you can test out its "unbreakable" qualities to your heart's content. This is genius. I know I wanted to start ruining my tights immediately! This little sample will keep most people from beating up their tights in the name of science.
Of course, I'm not most people! It was time to try and wreck these tights.
Testing Sheertex's "Unbreakable" Sheers
OK, I didn't stab them with a kitchen knife or anything. But I did try out some everyday actions I'd normally never do while wearing sheers.
I wore my Sheertex sheer tights for three full days with...
No manicure or pedicure. (I'm a runner and an artist, so my heel calluses and broken fingernails are great at destroying tights!)
Dr. Martens 1460s with no socks. (Anyone who wears Docs knows how great they are at ruining your ankle skin, much less your hosiery.)
A Lirika Matoshi tulle skirt with glitter appliques (This cheap fabric catches on everything.)
My cat and some treats. (Enough said.)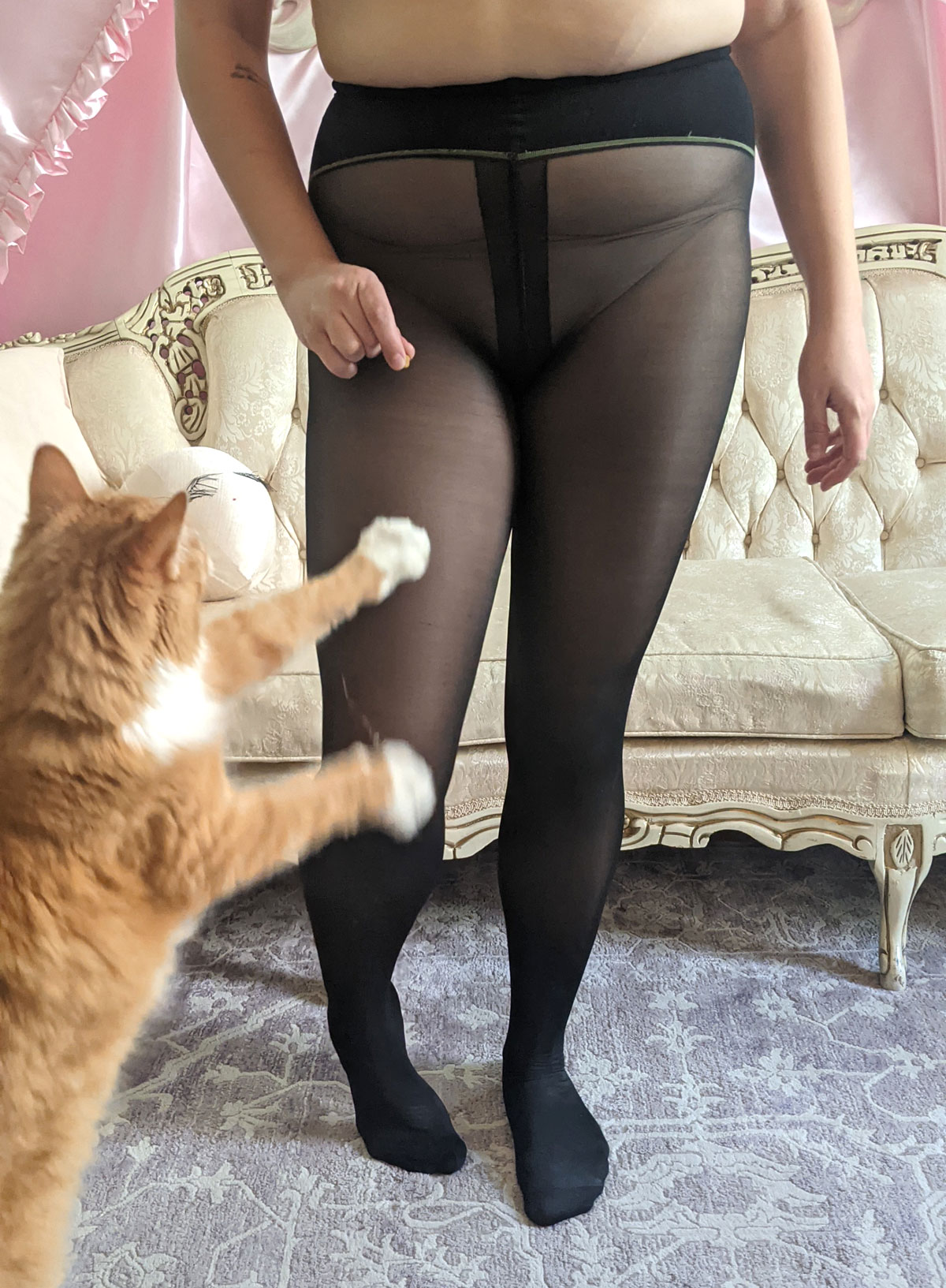 ...And you know what? They didn't run or rip. None of the fibers broke. I was shocked.
Running a sharp nail (or claw) over your thigh might cause the fibers to separate and look like a run, but the threads don't break. You can massage them back into place and it looks good as new. Wild!
The boots did rub some marks on the back of my ankle, but because the fabric is nearly opaque at the thinner parts of my leg, you can't see them at all. And the glittery skirt caused some pull lines around my hips, or "twisted threads," according to Sheertex. They claim these can either be massaged out, or pulled out by yanking on either side of the line. Unfortunately, I haven't had much success with that, no matter how hard I pull.
These things don't bother me. But if you're looking for tights that look 100% pristine for eternity, you won't find it here. (I don't think you'll find that anywhere, honestly. The laws of physics still apply.)
Final Thoughts on the Sheertex Tights
I was very skeptical of Sheertex. But even with purposeful rough treatment, these sheers didn't run. If you treat your Sheertex tights with the same care as your traditional tights, I imagine they will last many, many years in pristine condition.
This makes Sheertex some of the most environmentally-friendly hosiery out there. Next time I need a pair of basic tights or stockings, I'm absolutely buying a pair of these.