Is Kim Kardashian's Shapewear Line Worth Trying? Reviewing The SKIMS Sculpting Bodysuit
When I first heard that Kim Kardashian was launching shapewear line SKIMS, I thought it was genius. A celebrity known for her iconic figure, giving her fans the opportunity to have that figure themselves? Perfect.
Turns out, she wasn't stopping at shapewear. Today, the SKIMS line ranges from bralettes and t-shirt bras to cozy loungewear, nude hosiery, and more, with most foundational garments offered in eight shades of nude.
As a lingerie blogger, it's obviously easy for me to talk about underwear. But I feel a little uncomfortable talking about shapewear. There are a lot of aspects of this part of the industry I don't care about. Among them: fat-smoothing fabrics, garments that aim to indiscriminately reduce inches, and proclaiming solutions to "problems" that really only exist in our heads.
Even the most forward-thinking shapewear brands tend to rely on those old tropes, and SKIMS is no different.
I think lingerie that changes your body's shape, like corsetry and push-up bras, can be fun to play with. And even if you don't see your body parts as "problems," modern shapewear can be undeniably helpful. For instance, if you don't want to get your off-the-rack clothing tailored to your exact measurements, or if you want to emphasize a body part for a particular outfit or aesthetic. But it's so hard for me to see past the old-fashioned advertising that typically comes with it. Even for new brands that claim to be doing something different.
Even with all that in mind, I was hesitantly excited to try SKIMS. Unlike a lot of people, I don't really have an opinion either way on Kim Kardashian as a celebrity. However, I do have a lot of respect for anyone who crafts their life (including their body) in exactly the way they want it to be. I was fascinated to discover how her iconic aesthetic would translate to her shapewear.
For this review, I wanted something that I could see myself realistically wearing under an evening dress, so I picked the Sculpting Bodysuit with Snaps in Sand. This piece has a full brief bottom, snaps at the crotch for ease, and high leg openings. It claims to "hold in your core," give chest support, and lift your butt with a soft booty panel that doesn't cut in.
The bodysuit came packaged in a chic little printed box, perfect for pulling off the shelf at a high-end department store.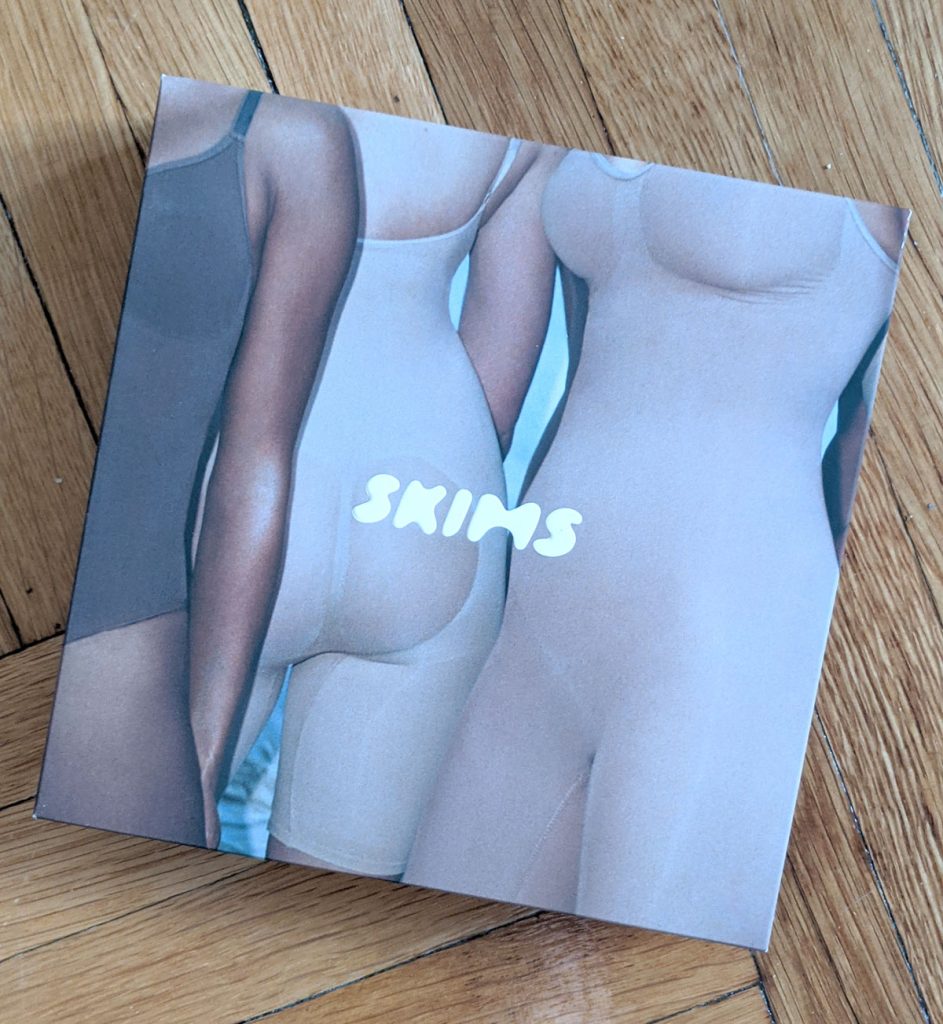 The website tells you to size up for everyday wear, but I wouldn't be wearing this on a regular basis. (Plus, I wanted the true SKIMS experience!) My measurements are currently bust 41", waist 33", and hips 40.5". That puts me at the lower end of a size L/XL (listed as bust 40-46.5, waist 33-39, hips 40.5-45.5). So that's the size I got.
And boy, is it tiny!
Fit
I cackled when I took this garment out of its box. Shapewear looks so silly before you put it on.
Of course, this is pretty typical for modern shapewear, which is designed to be small and stretch to fit. But I'll admit, it was rather painful to pull on, and I cringe thinking about someone at the upper end of the measurements trying to get this up over their hips.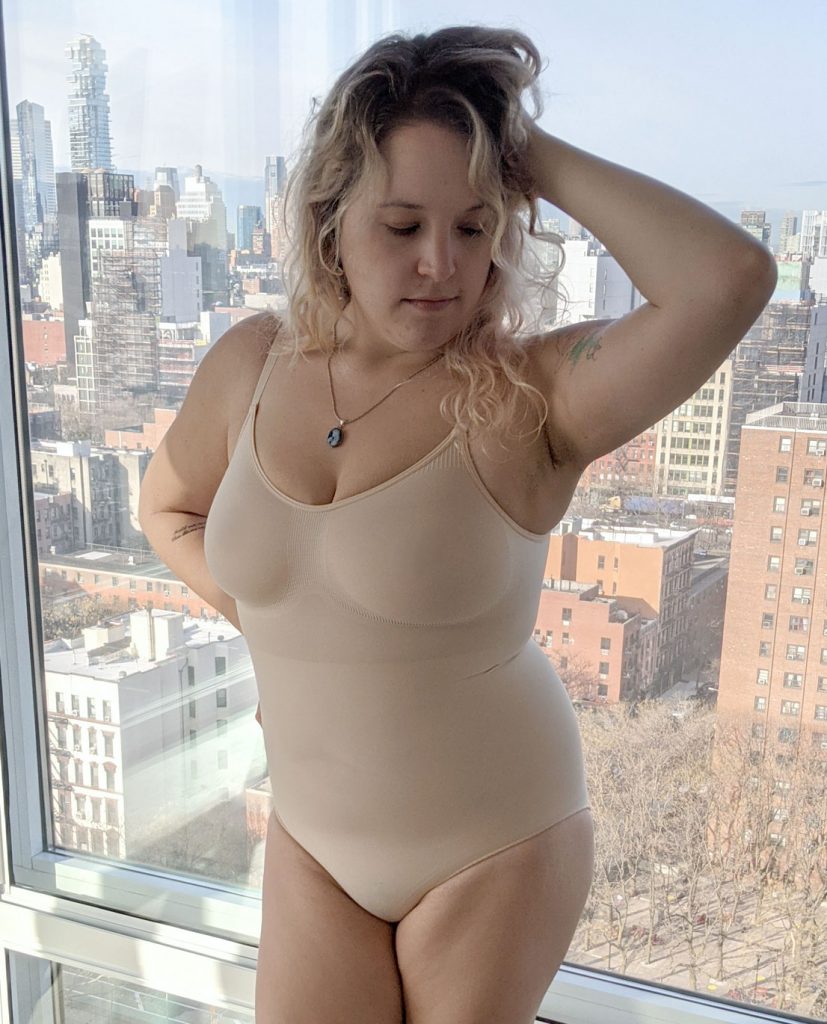 Once I got it on, it was really comfortable. It gives a nice amount of overall core support, and even alleviated some minor back soreness from my last run! Remember the controversy around SKIMS' maternity sculpting garments? I can absolutely see how this amount of compression and support would be beneficial for a pregnant person's changing body. This piece belongs under my next fancy party ensemble, for sure.
Unfortunately, that's the only rave I have about this fit.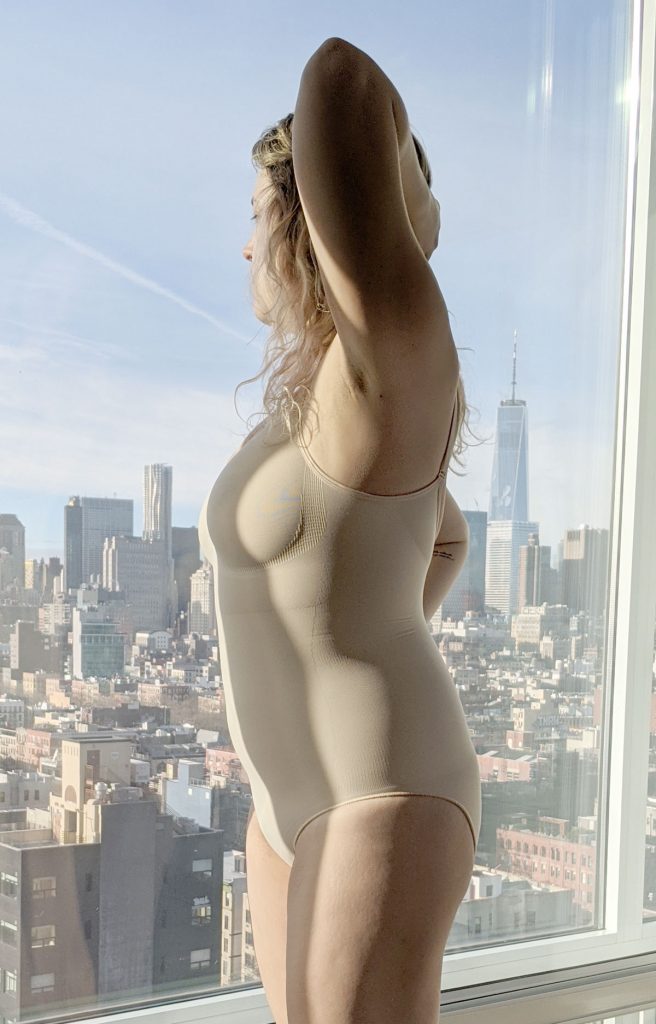 Let's start at the top. As you can see, the bust panels don't give any support. This is basically my natural shape, with a hint of compression.
The cups also cut in on me at the top. I expect this from most bodysuits, given my cup size. But I'm 5" smaller than the max bust size for this garment, so this really shouldn't be happening. (Also of note: I am wearing nipple covers, because this piece is slightly sheer.)
I love how the midsection feels sturdy and strong. But it doesn't nip you in at all, despite the location of the sturdier fabric from the underbust to the natural waist. It's a relatively straight compression down your waist and tummy, like most modern shapewear.
On the other hand, the leg openings cut in on me.  Again, this shouldn't be happening! I undeniably have narrow hips, and I'm at the very bottom of this size chart.
Plus, the "high-cut leg" is barely high cut. Well, I suppose it could be. But if I pull it up any higher than this, the snaps fail.
That's right! The snaps unsnap pretty easily, and it's not fun or graceful to re-snap them. I have a short torso, and thanks to these snaps, I cannot imagine this bodysuit working on someone with an average to long torso.
Finally, yes, the booty panels are soft, which would be great for the look they're going for. But the edges roll so easily! And dig in somehow, even on my small butt? I tried to get them to lay flat for the photos, and it was a lost cause. I can't imagine wearing this under a slinky dress and not seeing pantylines.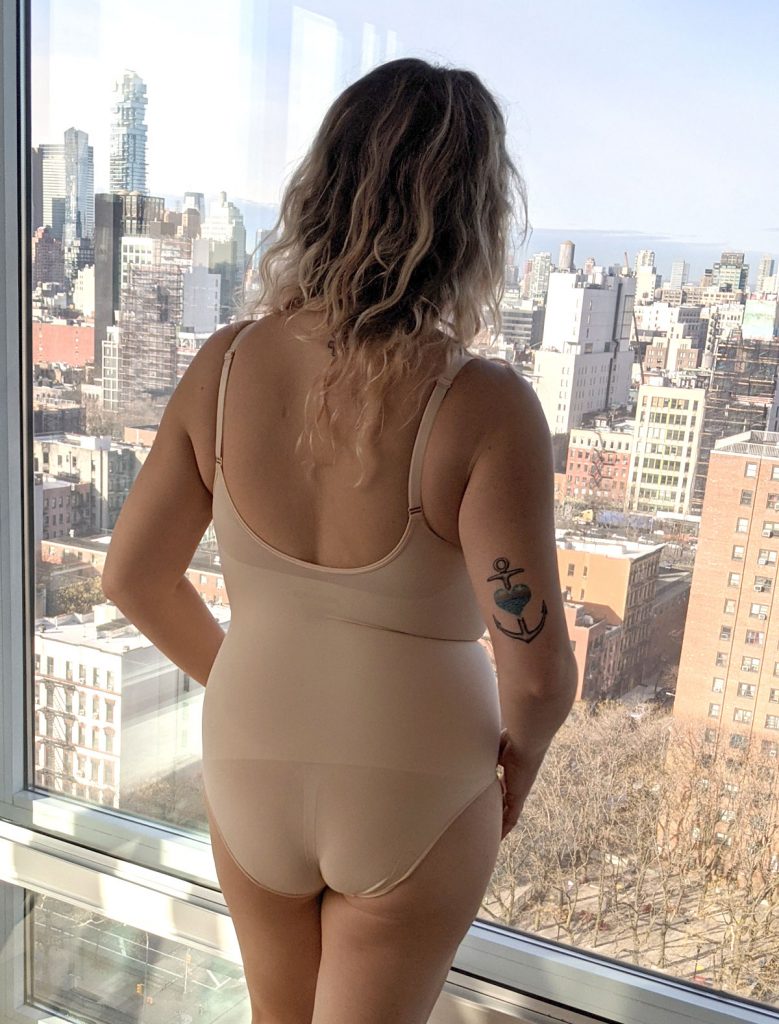 All signs point to "too small for me," but if I sized up, this wouldn't have enough compression on my torso to be a piece of shapewear anymore. It would just be… a nude bodysuit.
I'm not a shapewear expert, but I can't help but think there are some serious design flaws here.
A Few Last Thoughts...
I had high hopes for a unique product from SKIMS, but even if this bodysuit was a perfect fit on me, it feels like typical modern shapewear. If Kim's body is the product they're selling, they missed the mark.
I know that no piece of seamless shapewear is going to give a body, especially my body, the same hourglass shape as, say, a corset would, but there is so much room for improvement with this bodysuit. Fit issues aside, I wish the waistline itself was firmer. I wish the booty panels didn't roll. I wish the bust panels were softer. Because if they're not gonna be supportive, they might as well not cut in! I wish the legs were higher cut. I wish the snaps were sturdier, since they pop way too easily for a shapewear piece.
From my point of view, the best part of this line is the skin colors, which are great. So if you're looking to try a SKIMS garment that will match your skin tone and support your core, I'd skip the bra cups and bikini back. Maybe try something like their Sculpting Mid Waist Thong, or even their Solution Short, which beautifully fills a unique need in the market right now. But no matter what you buy, don't expect the actual shaping experience to be different from the rest of your shapewear solutions.