A Pause for Beauty: A Karolina Laskowska & Laura Sheridan Collaboration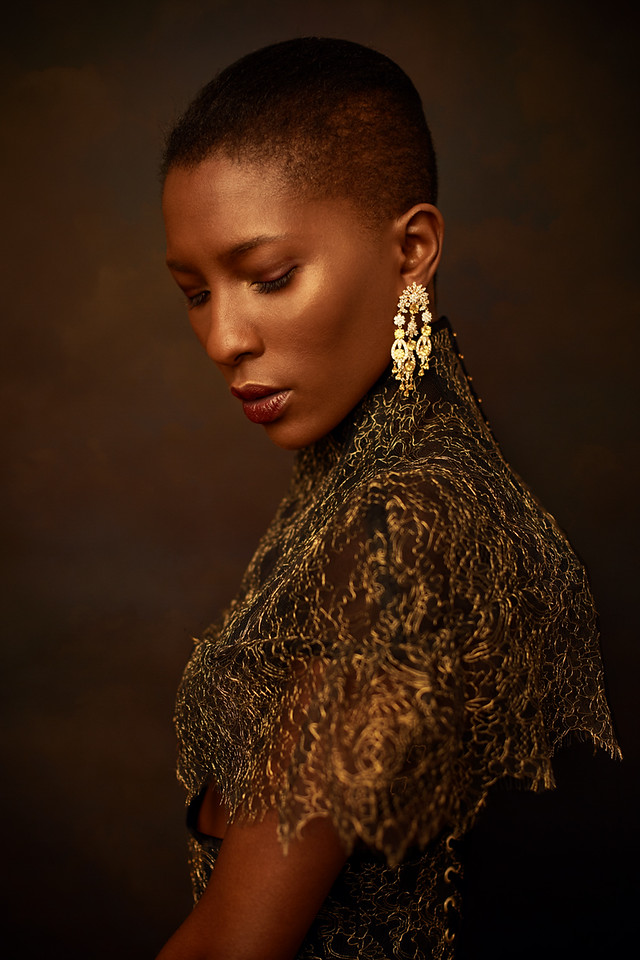 Last week, I reached my capacity for bad news (for future reference, I'm writing this in the time of coronavirus). Lately, I've taken to deliberately avoiding the latest headlines about Covid-19 and aggressively focusing on the things which give me joy. Like lingerie. (You're very surprised, I know.)
As a Black woman, I'm always looking for photographers who know how to capture our skintones without lightening them...and for designers who don't shy away from showing their work on darker complexions.
Karolina Laskowska's designs are, as always, breathtaking. One thing that struck me as she and I were discussing this series is how, despite being at a (rightfully) luxe price point, Karolina also practices the tenets of ethical fashion. In fact, that they're a key component of her brand.
Today, almost every label wants to brag about their ethics. Both high fashion and fast fashion brands have adopted the "ethical" tagline...not to mention any number of startups looking for ways to differentiate their otherwise bland products. Yet there seems to be an assumption among many that ethics and luxury are at odds. That, if something is unaffordable for certain budgets, then there's no way it could have been produced ethically. But the opposite is often true, especially with small intimate apparel brands.
For example, Karolina buys up excess fabric or "deadstock" from others, then puts it to careful use. Every scrap goes into something, helping to ensure fabric waste doesn't wind up in landfills. These practices result in limited edition pieces that are made with a level of precision, care, and expertise that can't be achieved cheaply. This is where ethics and fashion meet. My Karolina Laskowa pillow (the photo above is one example, although not my personal one) is among my most treasured possessions. Made from kimono silk scraps and stuffed with the same, it's a tiny delight.
The lingerie industry, especially the luxury lingerie industry, has long been reluctant to use darker-skinned models of color, with the worst offenders saying things like they need a "blank canvas" to show the designs to full effect. However, I would argue that if one's designs only look acceptable on the "blank canvas" of whiteness, perhaps the designer should reconsider if they're actually a designer at all.
Yet, brilliant design relies on brilliant photography to capture these pieces accurately and well. Laura Sheridan shows how beautiful this lingerie is on her model, Tinotenda. I know from personal experience in front of the camera that not every photographer can capture my skintone well. However, you can tell that Laura does not "wash out" her model or artificially lighten her. Rather she uses her skills as a photographer to capture people as they are. She respects the fact that beauty comes in all shades, and thereby respects her models.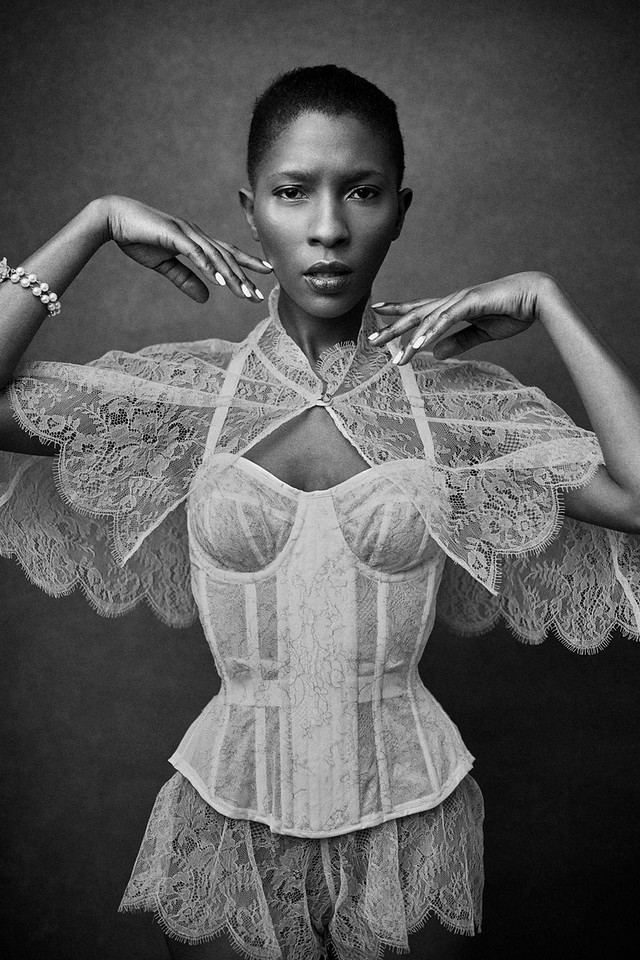 The mini-shoot featured includes three collections. The black/gold designs are from 'Hecate', which was designed as part of a collaboration with the illustrator Logandria. Based around an exquisite Sophie Hallette metallic lace, each piece within the collection is painstakingly pattern matched, highlighting the beautiful symmetrical lace. Hecate collection is made to order for individual customers and can also be produced in ivory and gold.
The ivory corset/cape/tap pants set is a one-off ensemble Karolina "made on a whim over Christmas." Though she describes the shapes as "simple" (at least by her standards!), it's a deliberate choice to let the gorgeous chantilly lace by Solstiss shine. The corset is made of cotton bobbinet with lace overlay, and is boned with synthetic baleen.
Finally, the plum lace set, 'Natasza' is an example of using deadstock fabric and creating as little waste as possible. The lace is a vintage English lace purchased at clearance (the factory producing it is closed), and hand dyed to this plum shade. The bra was meticulously cut to use the remnants of the lace once the capes and tap pants were cut out.
I've looked at these photos several times over the past week before writing this post, and every time, I feel that little exhalation that comes with my shoulders relaxing just slightly, focusing on something else. Something that isn't "important," but is oh so necessary. The pursuit of beauty.