Plus Size Bra Review: Goddess Keira Banded Full Cup Underwire
Disclaimer: The lingerie in this post was purchased by The Lingerie Addict for review. All opinions are my own.
Big-boobed fat folks have long been used to paying more for fewer choices than our smaller counterparts. While I face fewer difficulties in finding bras that fit at a size 38GG(ish) than those who wear larger band and/or cup sizes than me, I care about supporting those companies that include my size as well as many above it.
For this reason, I was curious about long-time full bust staple Goddess, whose full coverage bras come in a variety of colors at a relatively low price point. The Keira range is part of Goddess's core line and includes an underwire bra, a nursing bra, and a soft cup bra.
In this review, I selected the Keira Banded Underwire Bra in sea green. The Keira underwire bra is available in band sizes 34-46 and US cup sizes DD-N. It retails for $48 and comes in a range of skin tones, black, white, and a variety of fashion colors.
Construction
The Keira underwire bra is constructed with a non-stretch cup and powernet wings. A five-part cup features a side sling and lower cup in non-stretch simplex with a satin sheen. The upper cup is sheer and edged with foldover elastic.
The materials feel sturdy, and the stitching is quite neat throughout. The underwire is firm and fits neatly into the underwire channel without much lateral wiggle room. This snug fit is necessary to keep underwires from digging in under the arm and wearing through at weaker points due to friction. Not all full-cup bras achieve it!
I also appreciate that all the trims and hardware are dyed to match so the bra is the same jewel-toned emerald green throughout. That said, that the shiny simplex making up most of the cup does feel a little dated, especially when compared to the patterns, laces, and embroideries used by many full-cup brands these days. I don't know that it will necessarily be the most aesthetic bra in any wardrobe.
Sizing & Fit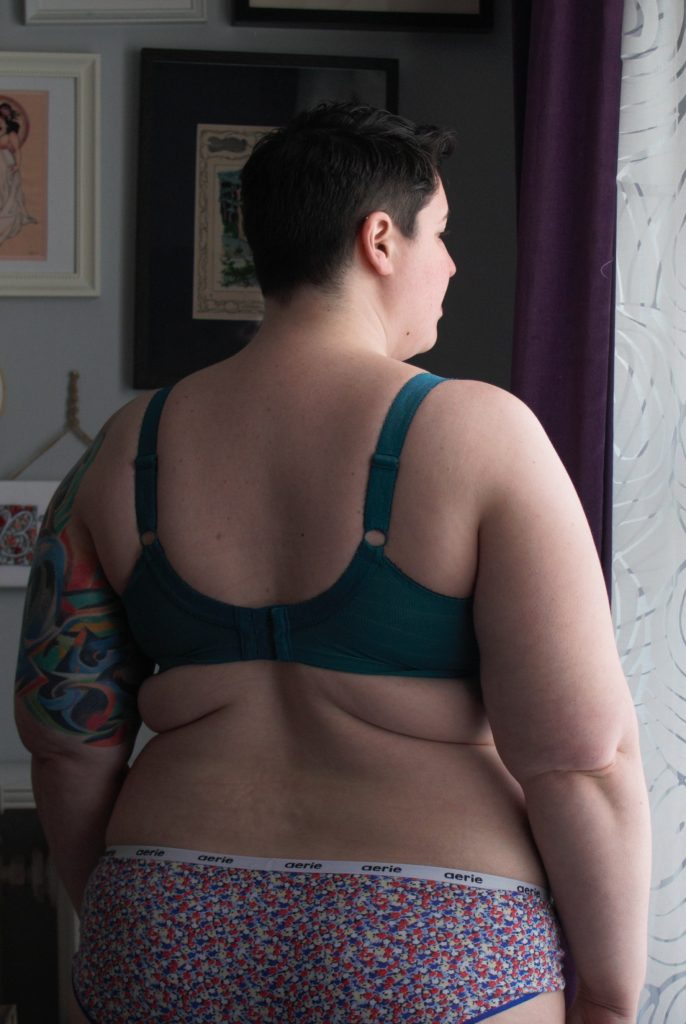 I ordered my usual size 38GG (38J US size). I immediately noticed that the band ran a little large, as right away I could fasten it on the second hook. With wear, this has stretched a little. Now, I can comfortably wear it on either the second or tightest hook, which means as it continues to stretch it will feel too large. Were I to order another, I would choose my corresponding size in a 36 band.
The cups fit well and comfortably. They are a true full-coverage cut and offer a very gently rounded shape with a moderate amount of lift. The straps are wide, padded, and do not cut into my shoulders.
As the cups are made of non-stretch materials, they are a little less comfortable on days when I have some hormonal breast size changes. (I do still get PMS despite no longer menstruating, and boob tenderness is one of those symptoms that remains!) Other than those days, this is a comfortable all-day bra.
Overall Impressions
I'll admit, the Keira bra still feels a bit staid to me, aesthetically. However, it makes up for it in comfort. While I would recommend sizing down in the band, the materials feel sturdy and lasting. I also appreciate the wide size range and affordability, as on sale the price often drops to $35 or lower with some retailers. The Keira is a great bra for everyday use for those who prefer to be a little more covered up.