Is Fashion Ever Sustainable? How to Find and Shop for Sustainable Lingerie
Sustainability is a hot topic these days. It seems like everyone I know is adjusting their lives in an attempt to help the environment in some small way, from eating less meat to taking fewer flights to buying less stuff.
I'm definitely buying less - really, how many things does one person need? - but as is unsurprising for someone who writes for a website called The Lingerie Addict, my lingerie buying habits have been difficult to adjust.
Even if you're not into shopping for new bras, lingerie, like any other type of clothing, is not infallible. So if you're trying to be a more mindful consumer, how do you justify buying things that are 100% guaranteed to stretch, tear, wear out, or just be thrown away over time?
If you're in the same boat, you've probably asked yourself this question, done a little research, and maybe regrettably turned a blind eye because it's super overwhelming. This is especially true when we need styles or sizes that are quite simply not sold by self-proclaimed sustainably-manufactured brands.
Luckily, shopping sustainably doesn't necessarily mean giving up your fashionable hobbies. It just means being a little smarter and doing a little more research when you go shopping.
What is Sustainable Fashion?
That depends on who you ask. "Unfortunately, there's no standard definition of what sustainable means today," says Alden Wicker, sustainable fashion expert and founder of EcoCult.com. "Traditionally, it meant, 'Made in a way that doesn't pollute or put a strain on the earth's resources,' but as it stands right now, no piece of new clothing can be considered fully sustainable."
That's not to say it's impossible to shop sustainably for lingerie. "Sustainability in fashion and intimate apparel is more about educating yourself in order to make the best choices you can along every step of the item's life cycle," says Larissa King, senior designer at Hanky Panky, a brand that champions sustainability in the lingerie industry. So with that in mind, let's examine some of the aspects of sustainable lingerie.
What Makes a Piece of Lingerie Sustainable?
"Sustainability in fashion isn't really a binary yes or no," says King. "Every single thing produced, purchased, and ultimately disposed of has an impact on our environment." There's no one part of a piece of lingerie that makes it sustainable, but there are a few general aspects that attribute to sustainability.
Materials. We haven't yet invented the holy grail of sustainable fibers, but experts agree that natural (and preferably organic) fibers like silk and cotton are more sustainable than plastic fibers like polyester and spandex that don't decompose.
Of course, most modern lingerie requires elastic to function properly, so there is a limit to how sustainable the materials can be in a piece of lingerie. But recycled fabrics are thankfully growing in popularity for lingerie. For instance, Freya uses fibers made from recycled marine plastics in their new swimwear.  Reformation uses at least 60% recycled materials in its lingerie, including recycled elastics.
Construction. This aspect is two-fold. First, there's the way the garment was created. Was it made by an eco-conscious factory, using low-waste production methods? Or was it made by a fast fashion brand producing far more product than demand requires?
Second, there's the actual physical quality of the garment. The higher the quality of a piece of lingerie, the longer it will last, and the less likely it is to be replaced.
Most importantly, there's the brand statement. "In the absence of information, I assume the worst," says Wicker. It pays to be upfront with your ethics, so if a brand doesn't say anything about their sustainability practices, you can be pretty certain that it's not a focus for them.
How Do We Figure This Stuff Out?
With those aspects in mind, starting down the path of sustainable lingerie can feel hopeless for the average consumer. How can we tell where a piece of lingerie was made? How can most of us judge the quality of construction, or know the source of the cotton in our underwear? Plus, the brands that do publicize their sustainable actions tend to make a very narrow type of lingerie: one that does not include underwire bras.
Out of the top 3 Google search results for "sustainable lingerie," only two of the 15 brands on The Good Trade's list, one of the brands on Ecocult's list, and none of the brands on Refinery29's list make underwire bras, which are a requirement for many people's daily wardrobes.
And are those lists even accurate? I literally spent 15 minutes trying to see if one of the underwire-manufacturing brands on The Good Trade's list actually "monitors its environmental impact," but found nothing official from the company on that topic - or any topic relating to ethics and sustainability, for that matter.
Of course, it's my job to do this research. But not many people have time to do all the research required, just to see if a brand may or may not have sustainable business practices.
How Can the Average Lingerie Buyer Shop More Sustainably?
"I tell people to move in the direction the can move in," says Aja Barber, a writer and consultant with a focus on ethical and sustainable fashion. "Sometimes, there is no sustainable option for your body." Luckily, buying lingerie sustainably involves way more than just buying organic cotton bralettes and loungewear.
One technique everyone can agree on? Shop less. This seems to be the easiest, most impactful way to be a sustainable lingerie shopper. By making smarter purchases that you'll wear longer and more frequently, you limit the amount of lingerie being brought into the world...and the amount of the lingerie being eventually thrown away.
Treat your existing lingerie kindly. Hand-washing, spot-cleaning, repairing, and carefully storing your lingerie will help it last longer, meaning you'll have to replace less. As King says, "Buy the best quality you can afford, and take good care of it."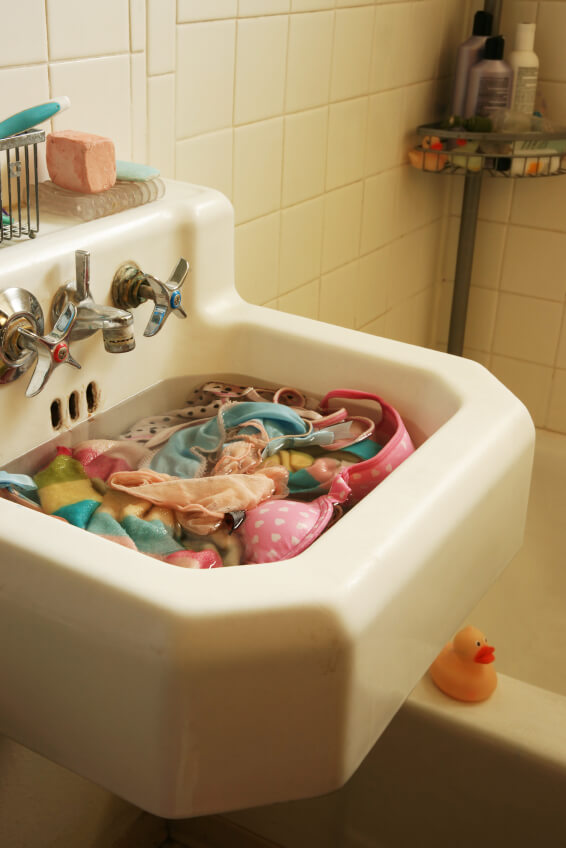 Try second hand. Websites like Bratabase, Depop, and even our Lingerie Addicts Facebook group make this easy. "Say I like a bra from a maker that doesn't have the best track record [with sustainability]," says Barber. "Instead of buying something new, I set an eBay alert and scour Poshmark to replace the item I have that I already love. It's a smaller carbon footprint rather than just buying new."
Buy local. King says Hanky Panky tries to source their fabrics domestically whenever possible. "This helps minimize the amount of fuel used on items being aired in or shipped from all over the world," she says. You can apply this to your own purchasing habits by buying items made in your own country, or even items sold locally. For instance, if 20 people decide not to buy a certain bra online in favor of going to an in-person retailer, the carbon footprint of those purchases would be smaller than 20 separate shipments from an e-commerce company.
Skip fast fashion at all costs. Everyone I spoke with agrees that fast fashion is the biggest issue standing between the fashion industry and sustainability. These companies tend to manufacture more clothes than the demand, use more resources than necessary, and create clothing that's meant to be thrown away. So instead of buying that $5 sheer novelty nightie you might wear once, invest in a nice negligee you can reasonably afford. If $5 is all you can afford, look for sales and at secondhand shops for a piece that you'll wear longer than the novelty item.
Understand that your actual underwear might not be the most important factor when shopping more sustainably. "With underwear, it's really not the same story [as fast fashion] at all," says Barber. " The average person I know wears their underwear until it falls apart, myself included ... [so] I don't think underwear contributes to the climate crisis in the same way our bags of last season's fast fashion do, when we dump them on a charity." So ecologically-speaking, you may not have to feel too guilty about buying cheap underwear—as long as you'll literally wear it to death.
"I don't want to say the material is unimportant but realistically, in an item like an underwire bra, there's not that much fabric," says Zoë Hong, a fashion industry educator and sustainability expert. If it's important to you, "Look for a fair trade/fair labor certification on the brand's website."
Be thoughtful when you get rid of something. Sell or donate to someone you actually know, rather than to a charity that might burn, trash, or sell your old lingerie. If they're past that part of their life cycle, use them as rags before tossing them, or send them to be recycled. Hanky Panky's Lingeriecycle program is an excellent (and free) way to recycle your old lingerie.
Why Isn't There One Easy Solution?
Unfortunately, there is no single way to buy lingerie sustainably, because there is no single definition for what makes a piece of clothing sustainable. At the end of the day, everything we purchase is going to end up in a landfill somewhere, disintegrating into the earth or sitting there for thousands of years.
One thing everyone can agree on is that the most sustainable lingerie is the lingerie you don't have to replace. "Buying the best quality you can afford and taking good care of your lingerie by hand washing, hanging to dry, and making minor repairs when needed helps it last a long time and ultimately reduces the environmental impact," says King.
So if sustainability is important to you, and you want one takeaway from this article, here it is: buy the highest quality lingerie you can afford, and only if you plan on wearing it for its entire life cycle. "Shoppers buying fewer pieces and keeping them for longer will keep less junk out of landfills," says Hong. This isn't just the easiest way to be a more sustainable consumer; It has the most impact, too.
No clothing is truly sustainable - yet - but by educating yourself on the life cycle of lingerie from production to disposal, you can make shopping choices you'll be proud of.