Celestial Goddesses: An Editorial by The Lingerie Addict & Sweet Nothings
Shop the looks in this editorial with the companion piece to this post on Sweet Nothings NYC! We share all our favorite pieces inspired by this shoot!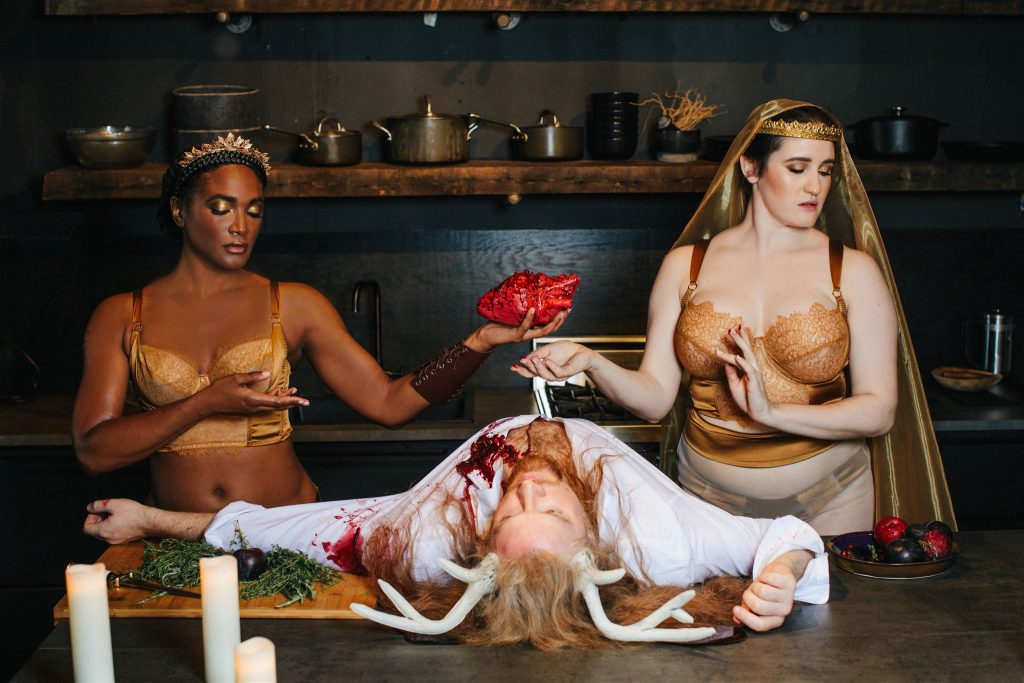 A few months ago, while having conversation and tea with Sweet Nothings NYC, we came to the rather startling realization that, not only were we both planning very similar goddess-inspired shoots, we were also intending to style the exact same lingerie sets.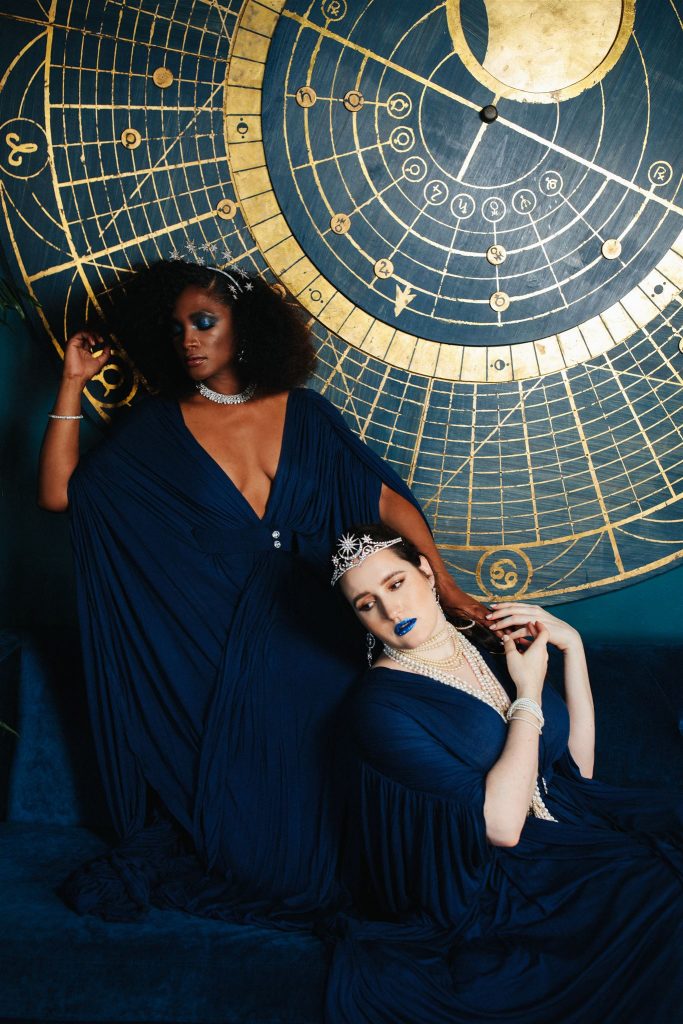 I'm not a big believer in kismet or fate or things being meant to be, but neither of us could deny that it seemed like a perfect moment - an ideal opportunity - to do something we'd only ever discussed in passing....collaborate on a lingerie editorial together.
More than that, by wearing the same garments - yet being different sizes and having different tastes - we could show how our favorite lingerie brands can work for anyone.
Credits: 
Divine Retribution: Artemis and Hestia
Once Sweets and I decided to work together on this editorial, we agreed on our core concepts and ideas fairly quickly.
We were both inspired by Artemisia Gentileschi's paintings of Judith Slaying Holofernes. The idea of a woman taking power - violently, indelicately, unapologetically - was something we were both intrigued by and interested in exploring, particularly in a political climate that seems increasingly intent on controlling and dominating women.
However, it wasn't just Gentileschi's art that inspired us. It was also her story. For centuries, Artemisia was defined - at least in the art world - by a sexual assault from another painter in her teens. While she's now recognized as a brilliant artist in her own right, the fact that so much of her life story was centered around sexual violence for so long also felt significant.
Women are often described by their proximity or relationship to a man, whether that connection is wanted or not. I doubt Gentileschi would want to be remembered first and foremost for an assault, yet it was only recently that the art community changed Gentileschi's narrative to one that centered her...not her assailant.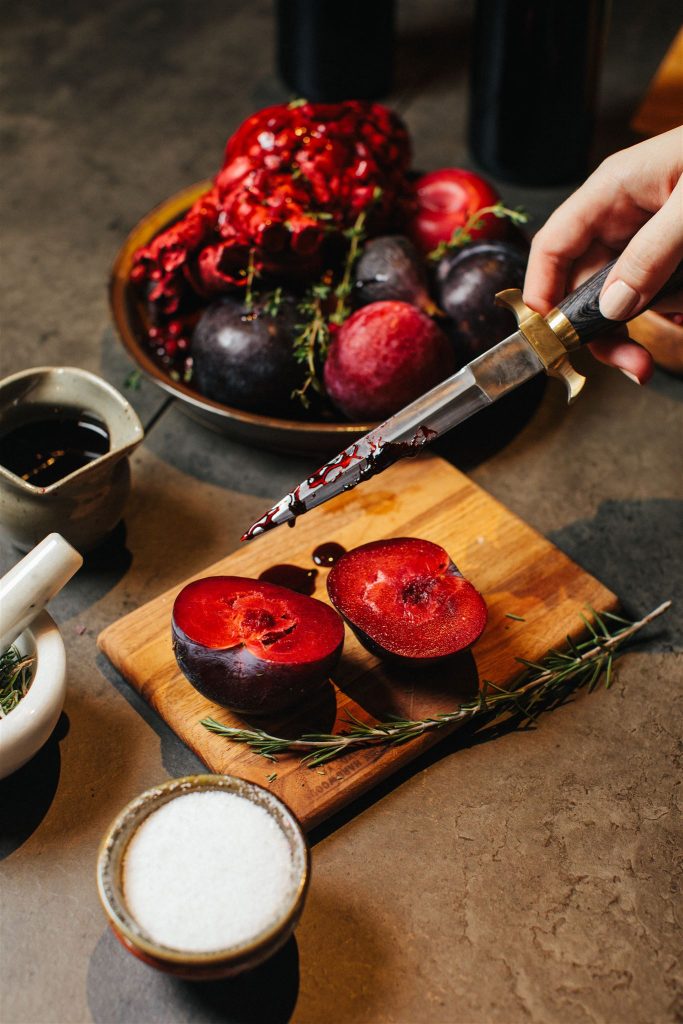 From an artistic and stylistic point of view, we were also intrigued by the idea of emerging from a dark background and capturing a sense of motion and tension. Though the composition of Judith Slaying Holofernes was the inspiration behind our editorial, we wanted to reinterpret that story, and chose figures from Greek mythology.
Instead of killing Holofernes, the invading Assyrian general, we would kill a man who dared to intrude on Artemis and her maidens (and how appropriate considering the Artemisia). Artemis was not only revered for being a great huntress, she was also known for turning men into stags when they violated her boundaries, notably Acteon.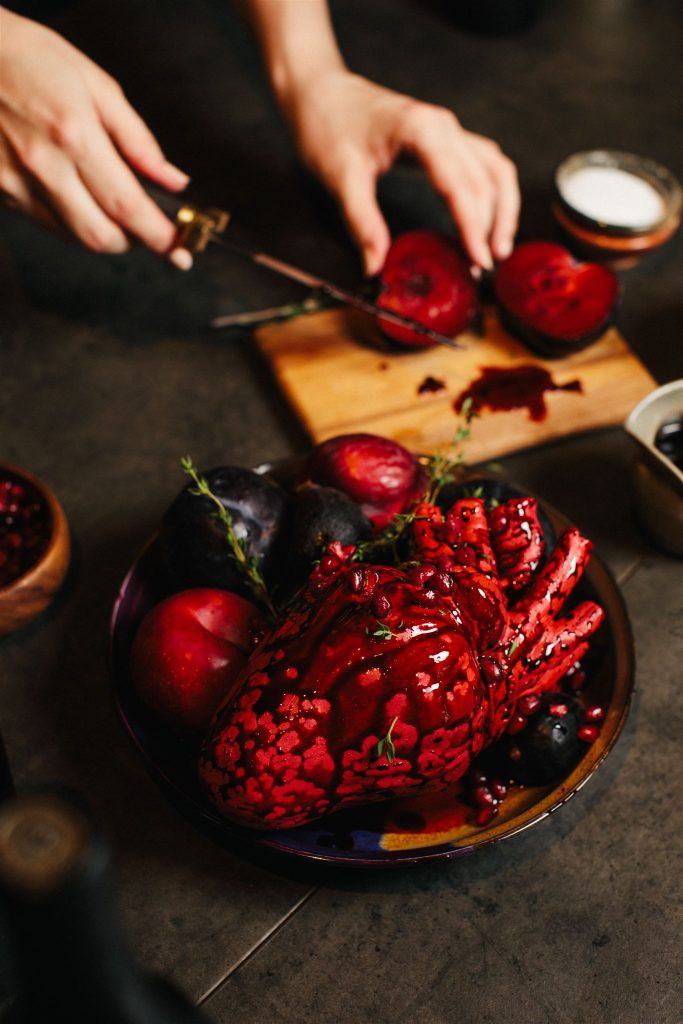 But who would Artemis bring her kill home to for the feast? Why not her Aunt Hestia, oldest of the twelve Olympians, and goddess of the hearth and home? While the idea of the domestic goddess is often seen as a feminine ideal, a sign of submission and being a "virtuous women" (which allows "men to be men)," the kitchen is also where the knives are. And the fire.
Finally, speaking of women who aren't defined by men, both our goddesses are eternal virgins, and we see their slaughter of the human/stag hybrid as an aggressive response to the patriarchy, to the idea that women exist for the pleasure and gaze of men.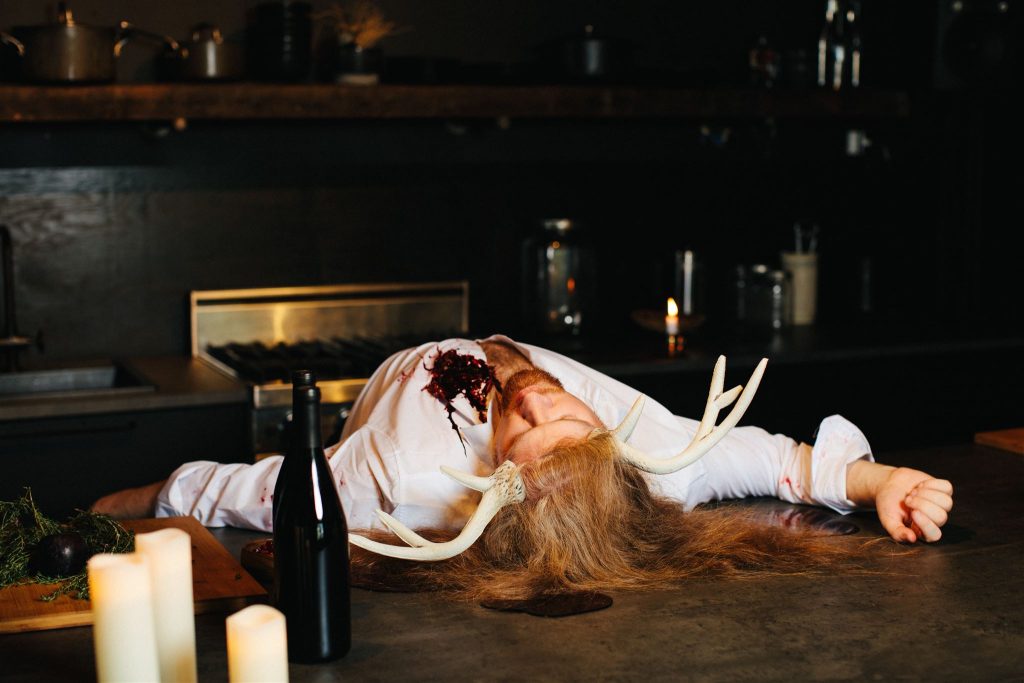 Artemis is represented here as a vigorous, athletic huntress, armed with her bow and crowned with a simple wreath of golden leaves. Hestia is a represented with a tiara and veil. While veils are often seen as a sign of modesty, here, the veil is an extension of Hestia's warmth, her flame, and a reminder to underestimate the fire at your own peril.
Garments worn: Harlow & Fox Viola Longline Bra, Tie Side Brief, Classic Brief, and Half-Slip (made to order)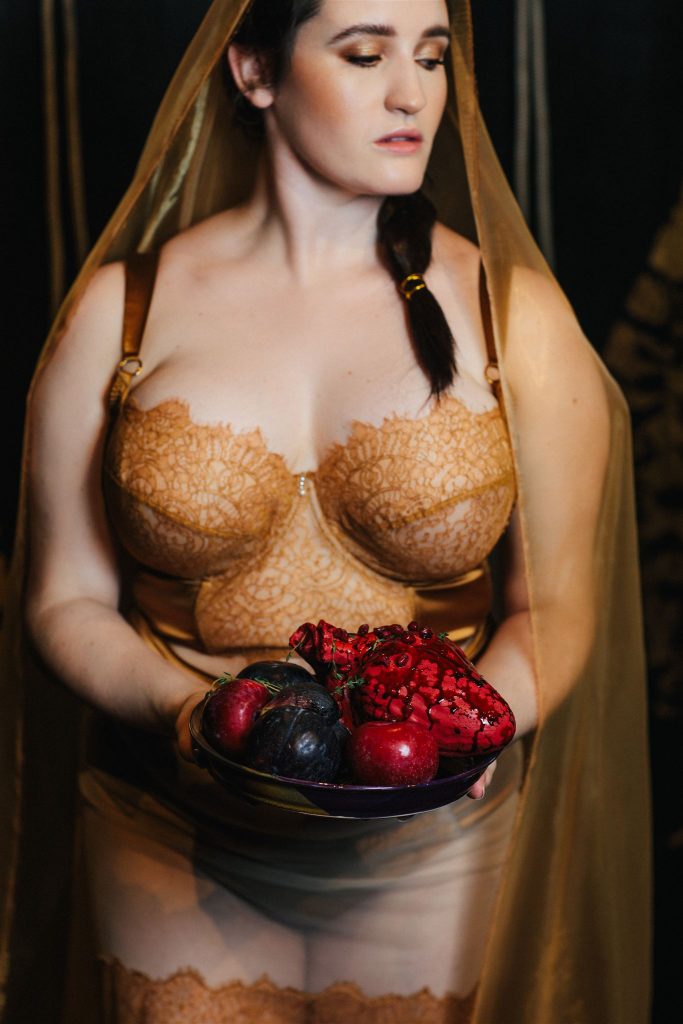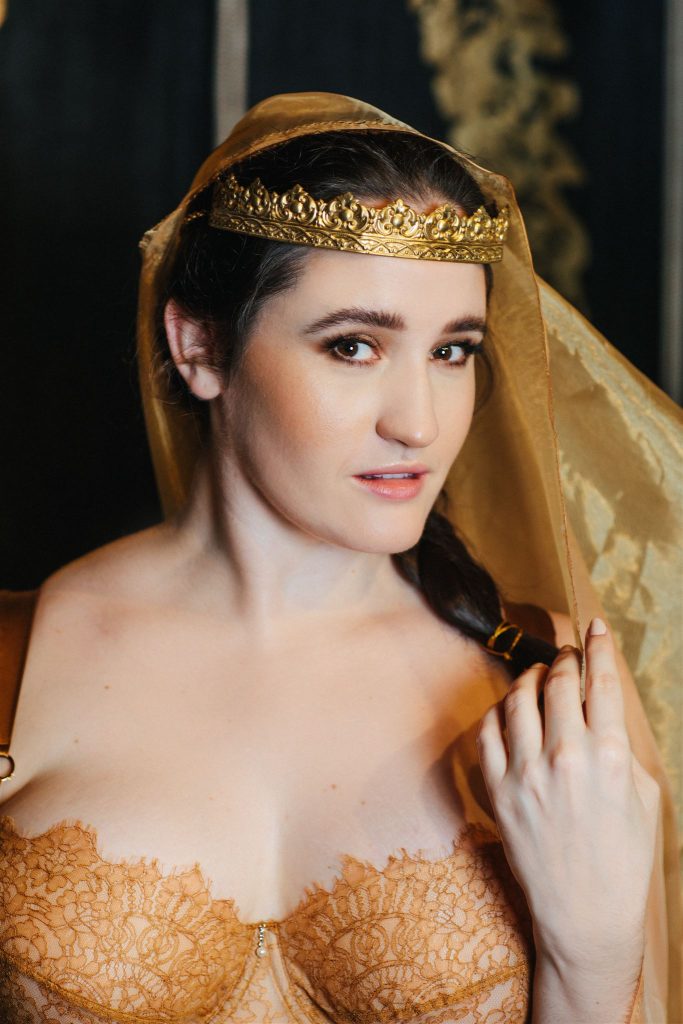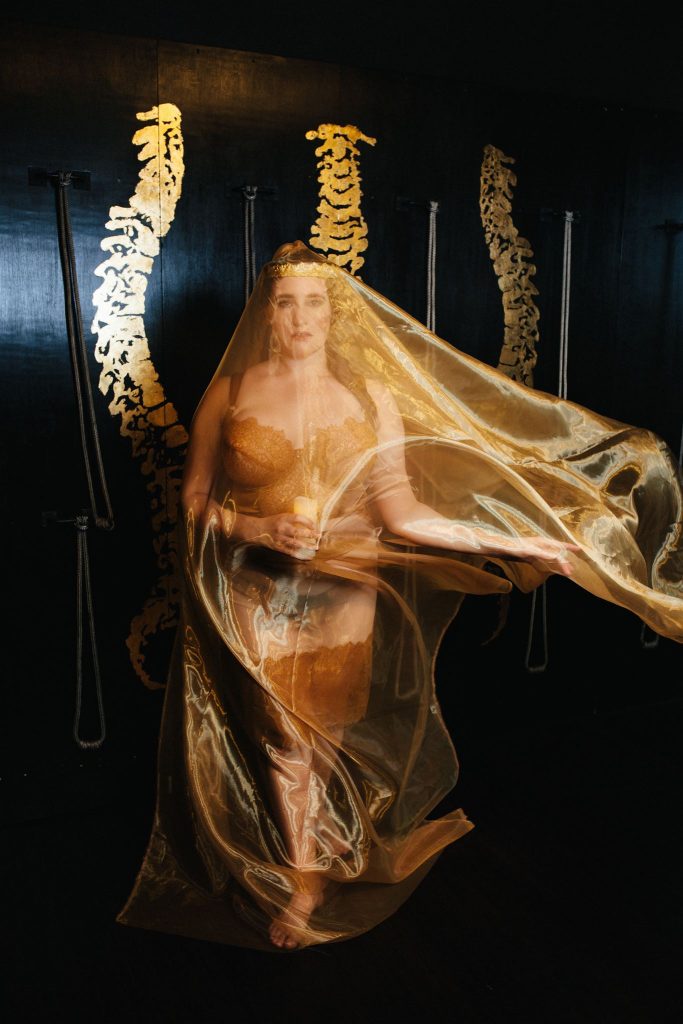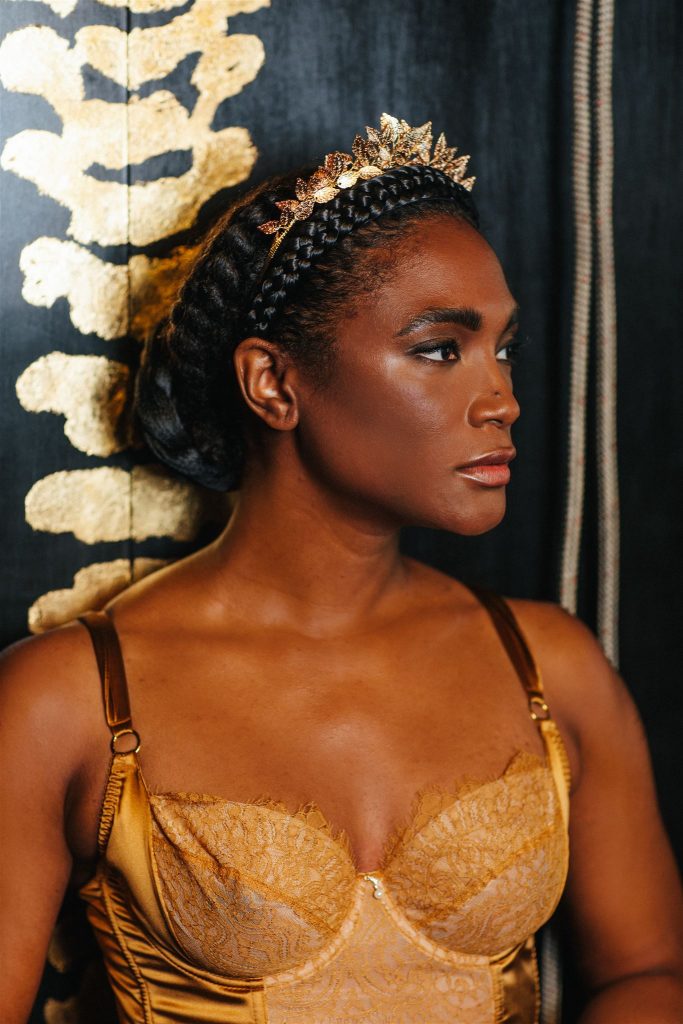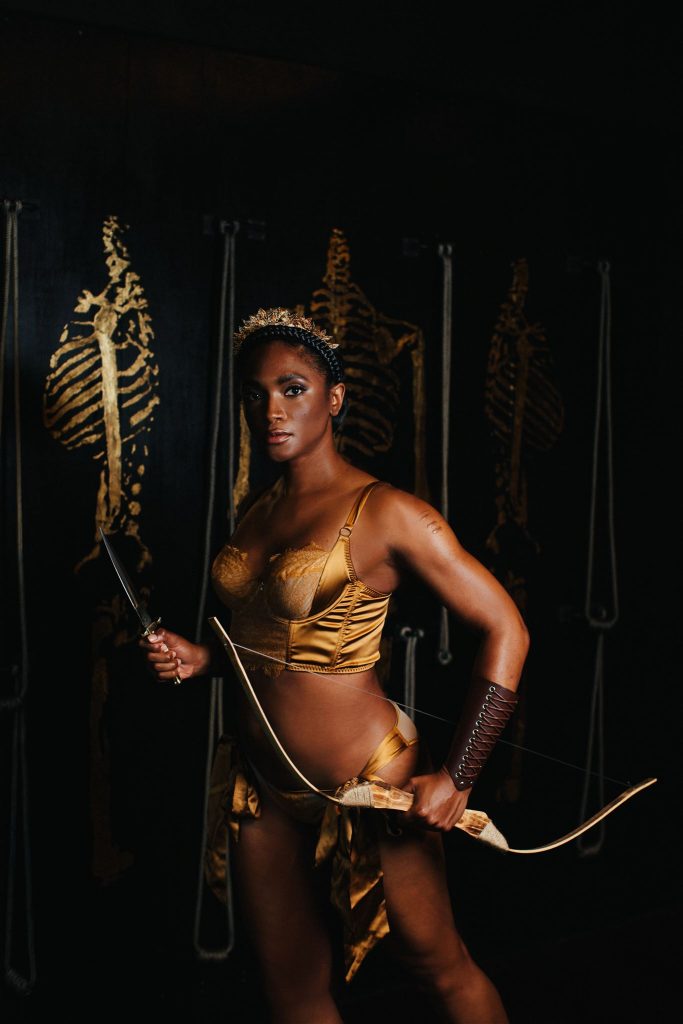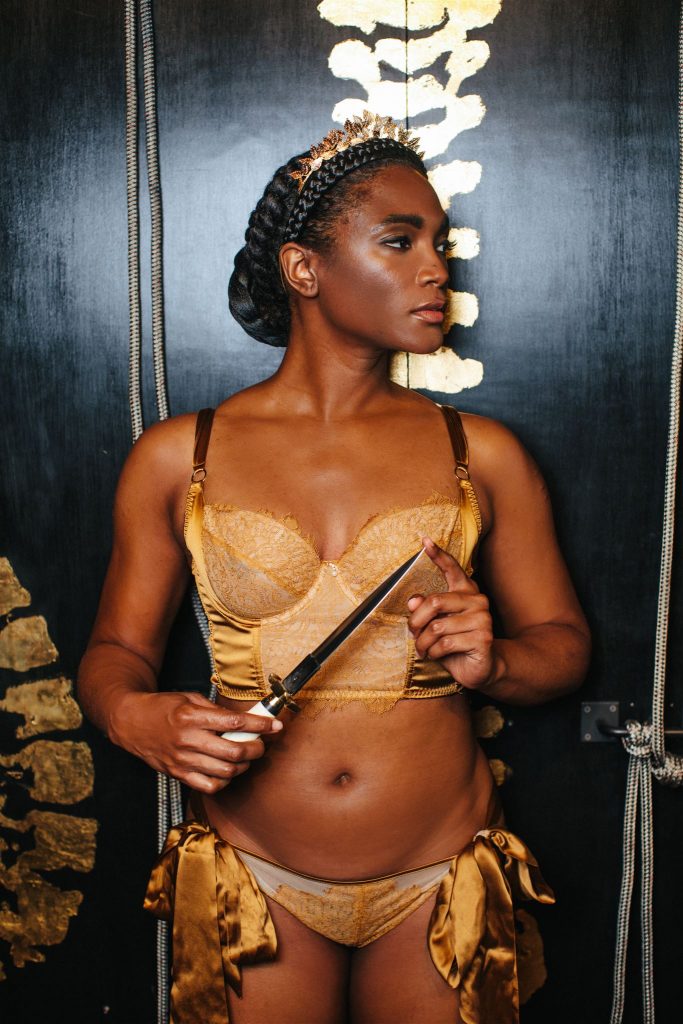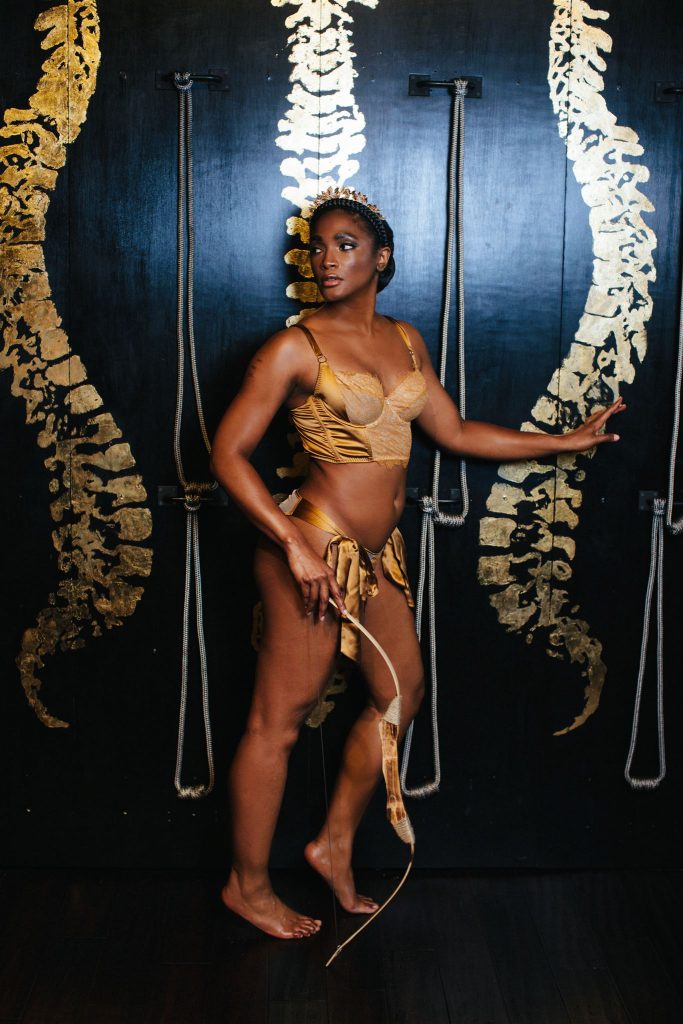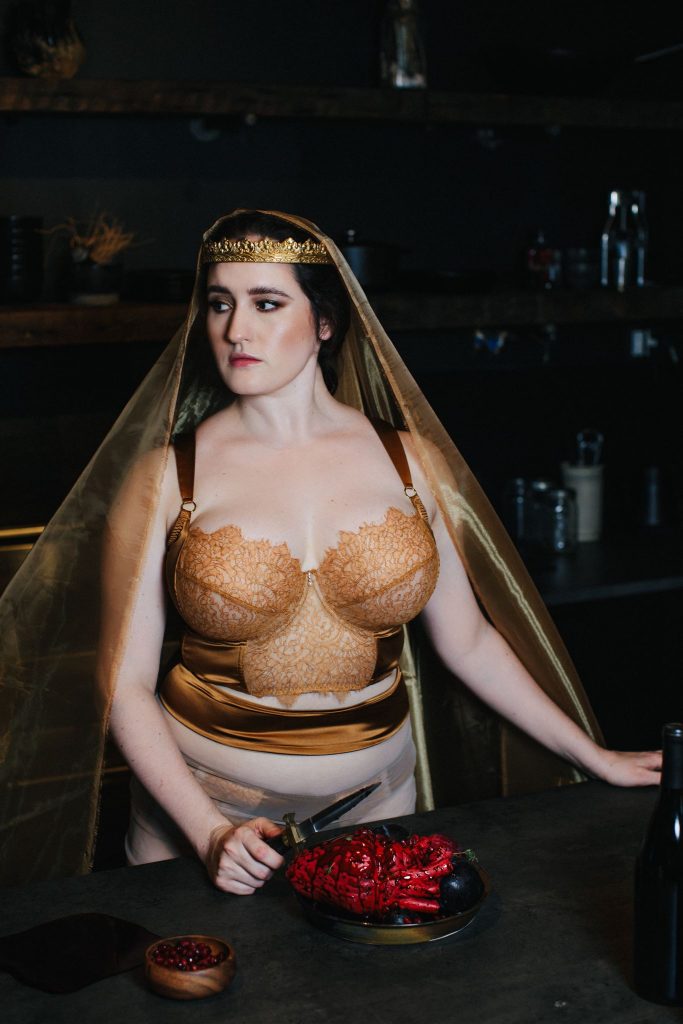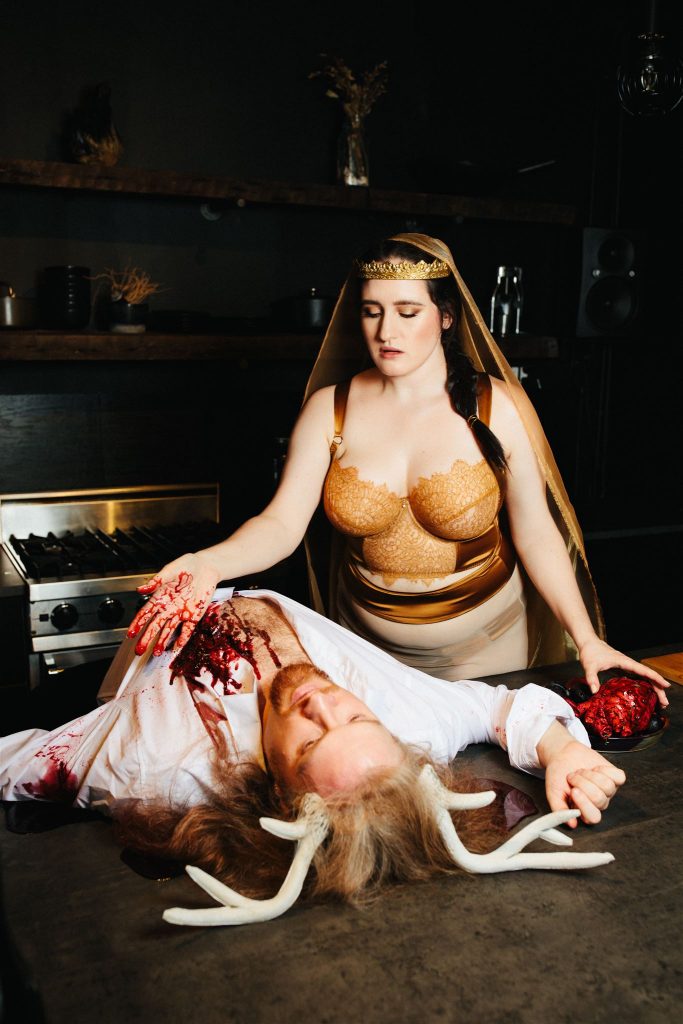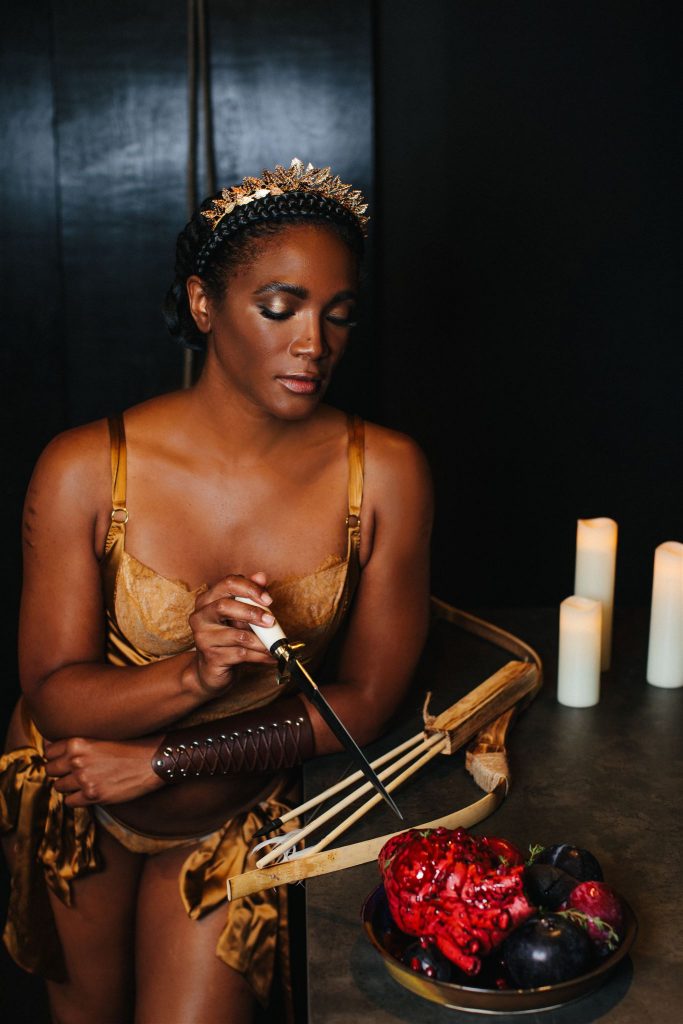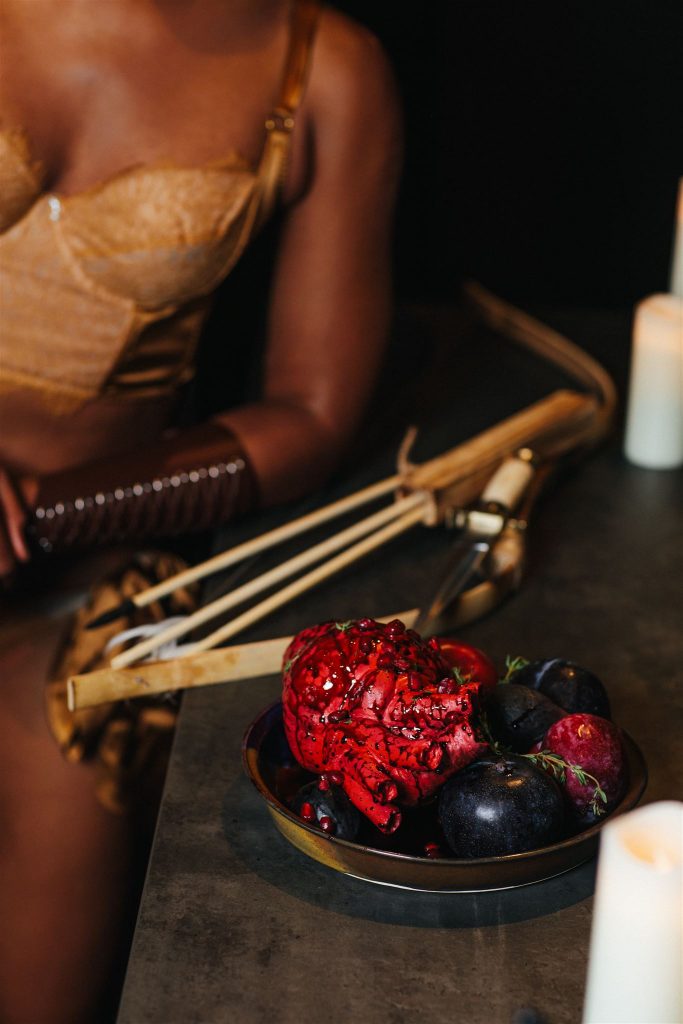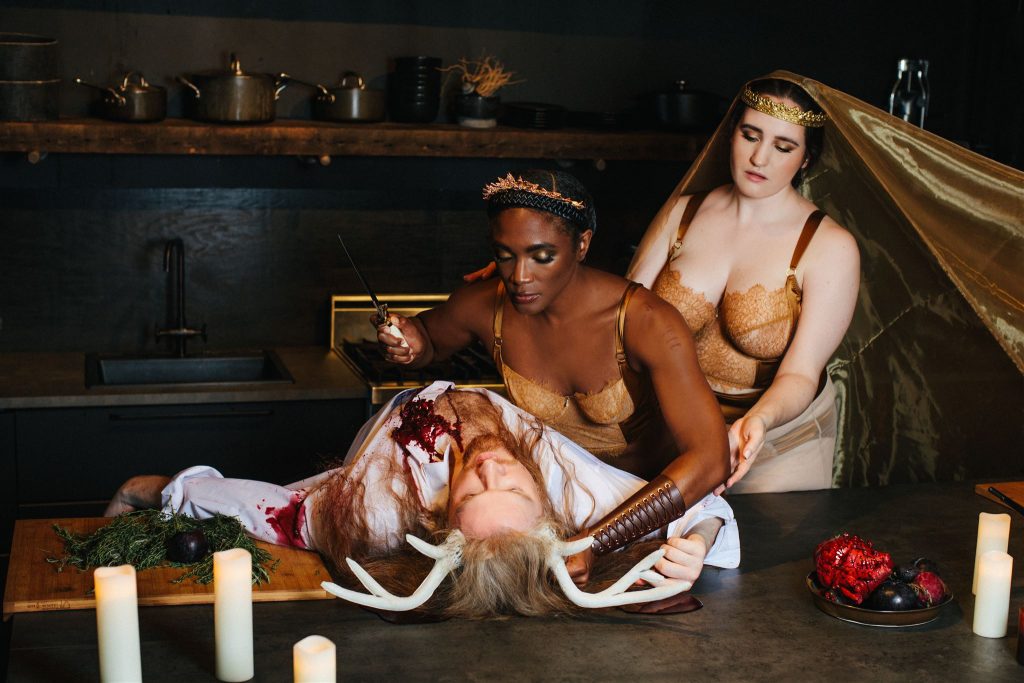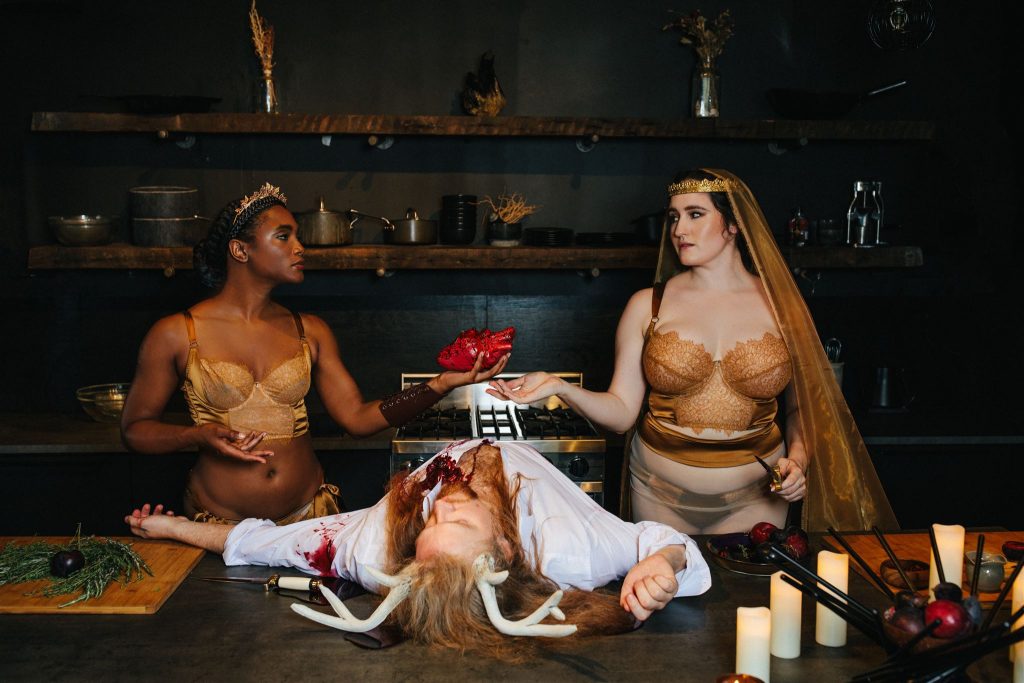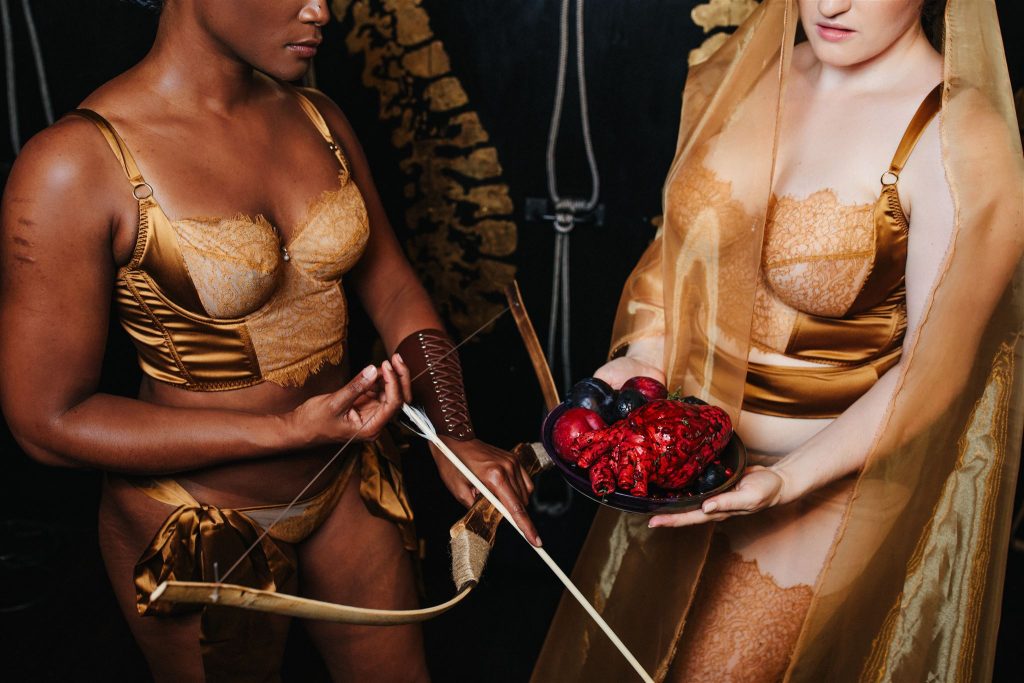 The Moon is Companion to the Night: Selene & Nyx
For the second story in our editorial, we chose a direction that was perhaps a little less violent but a little more existential.
Selene was the Titan goddess of the moon. More than that, she was the personification of the moon itself. Driving a silver chariot across, drawn by two brilliantly white horses, Selene was often associated with Artemis, who was also a moon goddess. Both Nyx and Selene are often portrayed with long, sweeping veils and we wanted to capture of that expansiveness with our styling.
For my second look, I chose Nyx, the Greek primordial goddess of the night. Older than any of the Olympians - older than even the Titans - Nyx was born of Chaos, feared by Zeus and mother to Sleep, Death, Darkness, and Day.
I see Nyx as an all-encompassing deity, wrapping the earth in her cloak of darkness, interspersed here and there with the twinkling stars of Asteria. Meanwhile, the moon is a lantern in the sky, a symbol of hope, and a reminder that there is often light in the darkness. But that relationship is also symbiotic, for without the dark, the moon would not appear so bright.
The night or darkness is a time of peace, quiet, sleep, and rest. But in the same way sleep is a type of darkness, so too is death. For millenia, the night and the moon have watched impassively, calmly as millions of humans lives their brief, short lives. And they will be here long after the last of us are gone.
Garments worn: Catherine D'Lish Kaylin Caftan, Playful Promises Luna Astrology Skirt (Sweet Nothings only), Harlow & Fox Eleanor Gown (Sweet Nothings only)