What To Do When Your Bra Hurts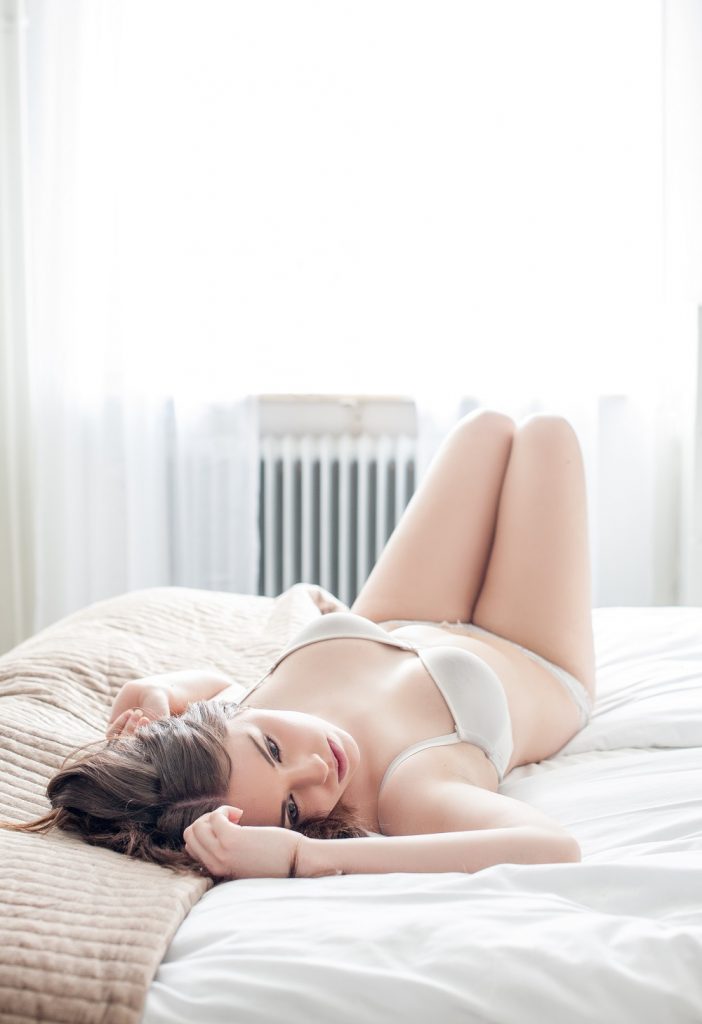 Bras aren't supposed to hurt. With the right fit, those tiny pieces of fabric, slivers of metal, and delicate findings can lift many pounds of flesh without you even noticing it's on.
But when something's off, it's really off, and that bra won't let you forget about it. The wrong undergarments can ruin your day.
So I've written a troubleshooting guide to solving your painful bra problems, from the straps to the band. You'll find simple recommendations for style options, fabric suggestions, and sizing adjustments (and do keep in mind the math behind sister sizes when trying a new size).
I'm not a doctor, and this article doesn't replace medical advice, especially if you're struggling with overall chronic pain. If you're dealing with fibromyalgia, you can also check out our article specifically about buying bras with fibromyalgia.
However, if you're not normally in pain and think your bras are to blame, use this troubleshooting guide to find out the root of your problems.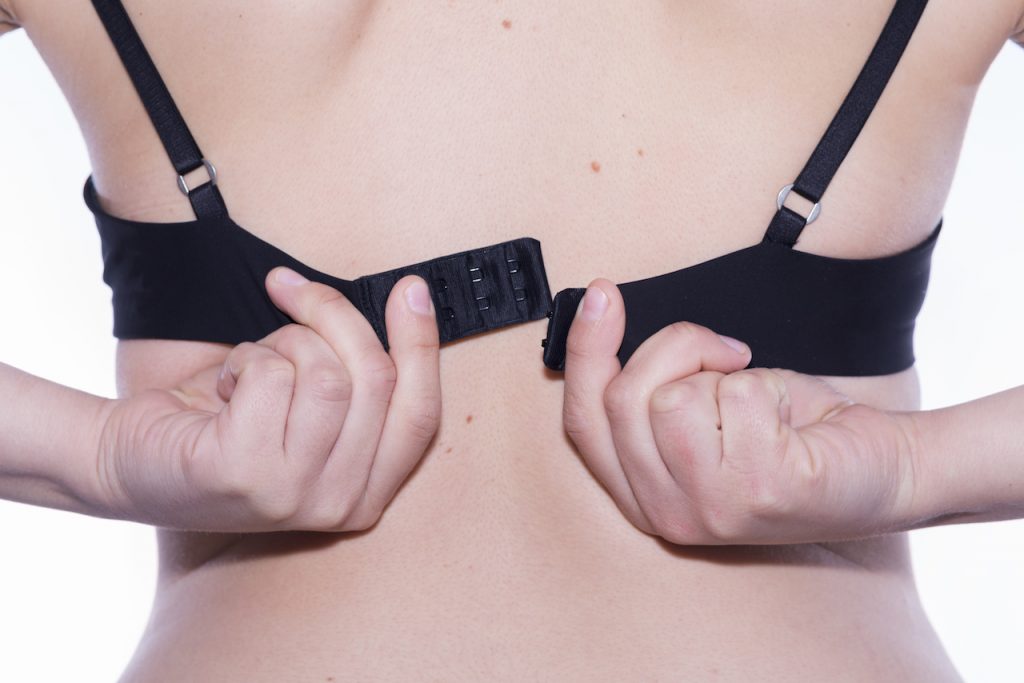 Pain from Bra Band
For the best support from your bra, the band should be snug against your torso. You might notice it during the day. However, it shouldn't be painful. If the pressure from your band is too much, try a band size bigger.
Additionally, it's normal to have a few red marks around your torso after you take your bra off at the end of the day. Any item of clothing or accessory that's snug against your skin all day will cause temporary marks. But if those band marks are painful, cause bruising, or last longer than 15 to 30 minutes, it's time to size up.
Inner Points of Wire Hurt
If the ends of the wire against the center of the bra are poking you painfully, check to make sure the wire isn't popping out. If it is, stop wearing the bra or have it repaired. Make sure to handwash and air dry your bras to keep this from happening.
If the wire's channel is thin and you're being poked through the fabric, you can reinforce it with a piece of moleskin, like the kind you can buy for blisters at the drugstore. You can also have a tailor reinforce it. In the future, you can prevent this by looking for bras with thicker fabric covering the wire.
If neither of those are the problem, you might have close-set breasts that would benefit from a lower gore (like on a plunge bra) or a more narrow gore. If you're feeling pain because your breast tissue is spilling out over the top and the wire is poking into them, you might consider a larger cup size. When you're shopping, make sure the wire sits against your ribcage, beneath all of your tissue.
Outer Points of Wire Hurt
If the wires of your bra are digging in on your sides, check the thinness of the material and ensure they haven't popped out.
Then, make sure the wire is the right width. Too narrow, and the wires will dig into your breast tissue. In this case, try a bigger cup size, or a bra with wider wires. Too wide, and you might feel too much pressure on the sides of your ribcage. Try a smaller cup size, or a bra with more narrow wires.
If you feel like the wires are a good width for your body but are digging into your armpits because they're too tall, look for bras that have shorter wires to ease pain.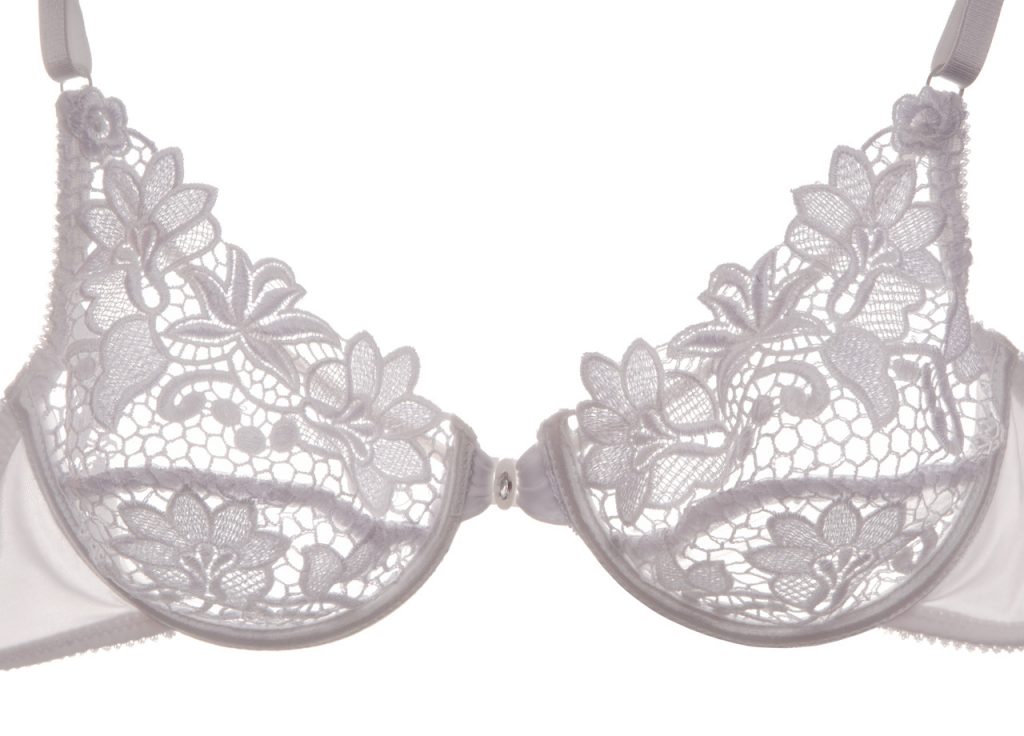 Center Gore Hurts
The center gore of your bra will provide the most support when it's flush against your sternum, but a gore that's too tall can cause pain between the breasts. In that case, you might want to try a plunge bra with a shorter gore, or a bra with a slightly more flexible gore.
The gore can also be painful if it's made from a single piece of stiff decorative fabric, rather than finished off at the bottom with elastic. I've found that these styles can dig into soft torso flesh during long periods of wear, even if the bra otherwise fits well. If this happens to you, avoid bra cups attached to a partial back frame and connected only by the gore in the center (like in the photo above). Instead, look for bras with frames continuing beneath the cups and into the gore.
Straps Digging In
If your straps are digging in, it's likely that they're doing too much work! Most of a bra's support comes from its band. the straps are only meant to provide about 20 percent of lift. Try sister sizing down a band size to get some of that weight off your shoulders.
Straps can also dig in on people wearing fuller cup bras that haven't been properly graded from smaller sizes. If you're wearing a bra in a DD+ cup size from a brand that doesn't specialize in DD+ cup sizes, you might solve this problem by trying a full-bust-only brand like Panache or Elomi. They'll use sturdier materials designed specifically for fuller busts, meaning no skinny straps to dig into your shoulders.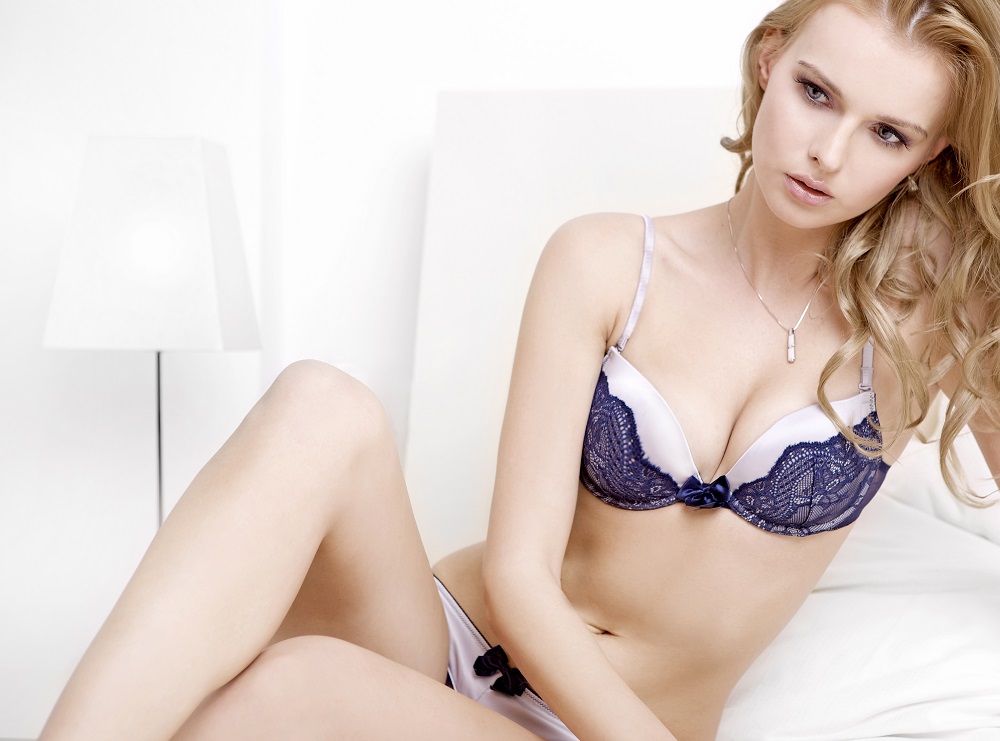 Bra is Chafing
A chafing bra doesn't necessarily mean a bra that's too tight. In fact, it might be too loose, moving around during the day and irritating your skin. If you're chafing under your breasts, make sure your wire encases all of your breast tissue, that it sits right in the corner between your ribcage and your breast tissue, and that your band is snug enough to keep it there all day. Double check your fit and see if a new size with a smaller band helps.
Also, check to see if you're only chafing on spots that have certain materials. For instance, I'm sensitive to latex, metals, and some other adhesives and materials, so I try to buy lingerie that doesn't have stay-up strips or uncoated metal hardware, which make my skin more sensitive to chafing, and can even cause blistering.
If making these adjustments proves futile and you're prone to chafing in general, I love Body Glide. Apply it in the morning on any body parts that normally chafe and you'll be protected all day.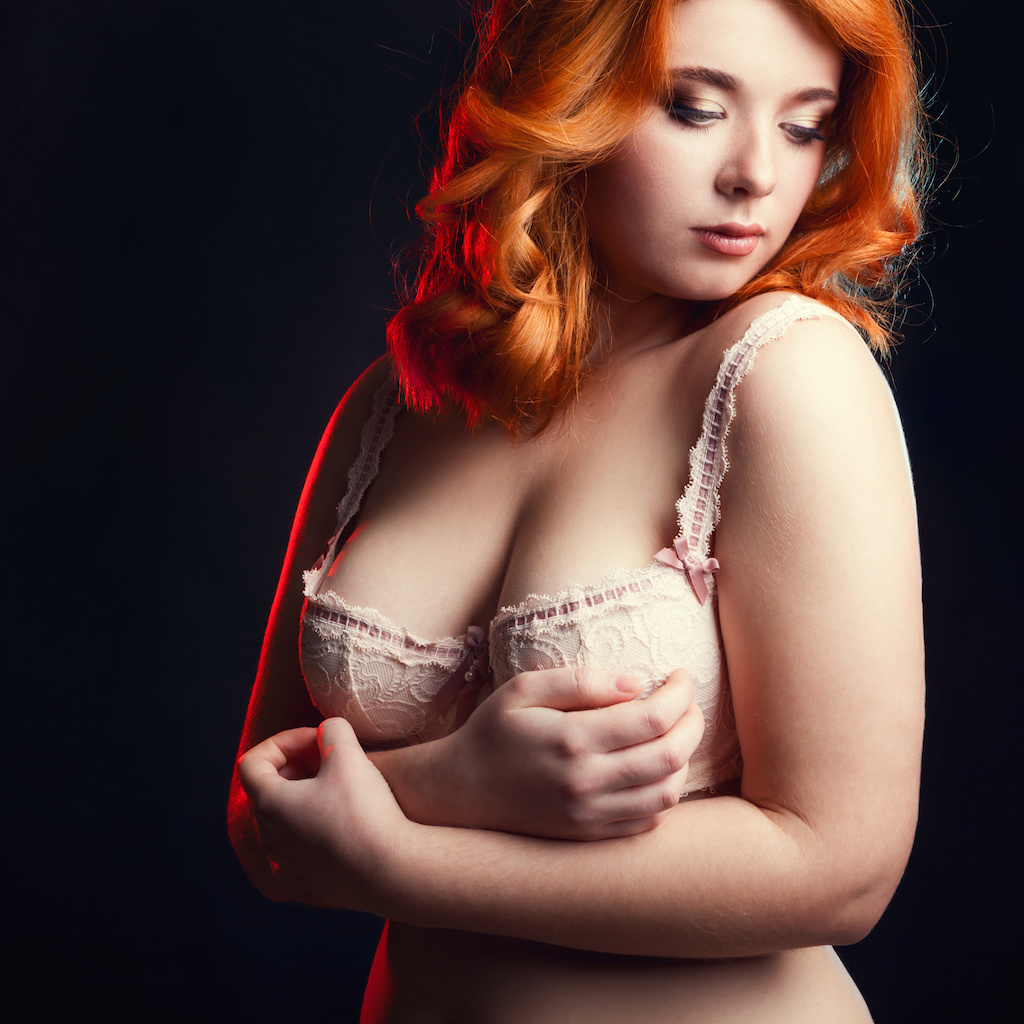 Breasts Are Sore
This is a tricky one, because of all the causes for sore breasts, so many of them are unrelated to wearing a bra!
But no matter what the root of your soreness is, it's worth ensuring that your underwires cradle all of your tissue and that the cups are big enough for your breasts, with no spillage over the top or sides at the end of the day. In general, a bra that fits well shouldn't cause sore breasts.
You can also try a bra with less stretchy fabric, which will prevent bounce throughout the day. If it's a sensitivity issue, look for soft stretch lace with fewer seams, or try a bra made with smooth spacer fabric.
How have you solved a painful bra situation? Drop your tips in the comments below.