How to Buy Vintage Lingerie from the 1920s and 1930s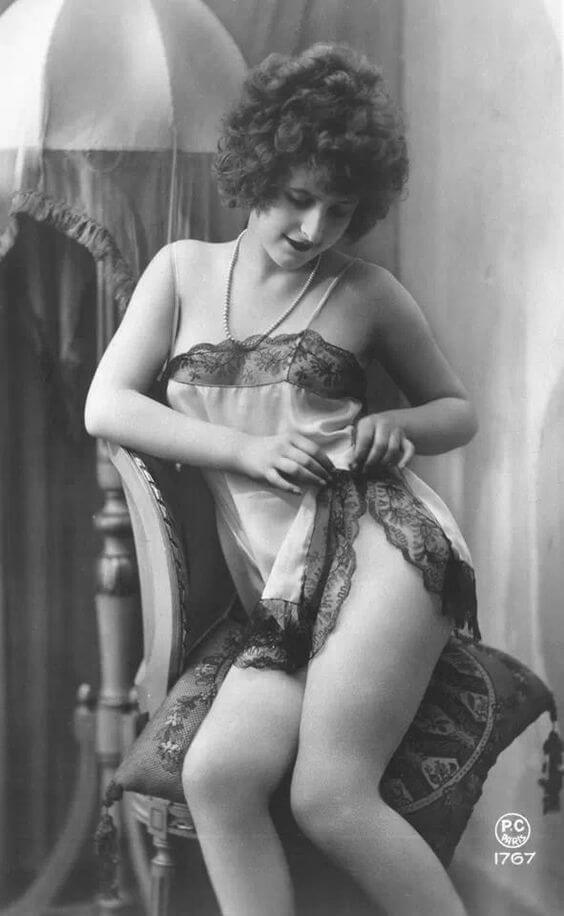 It's no secret that I am a lover and collector of vintage lingerie, particularly 1920s and 1930s lingerie. The lingerie that has survived from this time period is among the most interesting and beautiful in my collection. This era was one of handmade delicate trims, rare laces and beautiful silks that are impossible to find today.
As with anything else, people collect vintage lingerie for different reasons. Some of us like to admire a certain beauty you can no longer find in modern lingerie. Others use vintage underpinnings as inspiration for future designs or personal projects. If you are lucky to find a piece in your size, you can wear it...though if it is delicate, I suggest just trying it on for short periods of time.
It is fascinating to not only see what women wore, but how they wore these pieces. Lingerie is a reflection of what was going on in the world from a social, economic, and fashion perspective. The 1920s and 1930s were a time of dramatic change in silhouette and purpose. Women not only wore less, but the structure and shape of what they wore was vastly different from the eras before.
Fabrics and Colour Palette
In the 1920s and 1930s, all-white lingerie exited the scene and in came colour. When we think of  lingerie from these decades, we often see a soft and muted colour palette. These colours include various shades of peach, rose pink, light blue, pale yellow, ecru, pale gold, and dusty green. Black was also becoming popular thanks to Coco Chanel. These colours could be used individually or as a contrasting colour in lace, embroidery, or trim.
In the 1930s, floral prints were popular, usually on a lighter base. Fibers were often silk, cotton or rayon. Popular fabrics were crepe de chine, voile, satin crepe, pongee, rayon and crepe georgette. Rayon was known as 'artificial silk' until 1924 and was easy to dye. Nylon came on the scene in 1935.
Trims and Details
Each era of lingerie has its own specifics that we associate with it, and the 1920s and 1930s are no exception. The most popular trim for this age is the tiny flower motif. Often, these flower motifs were made out of silk or ribbon and could be as delicate as one flower or composed of an entire cluster of flowers and leaves. These tiny flowers decorated robes, slips, nightgowns, bras, and tap pants. Another form of detailing was the embroidering of one's initials or name. This is a traditional nod to a women's trousseau and a way of personalising undergarments. This detail is rarely seen beyond this time period.
The beauty of 1920s and 1930s lingerie is vividly seen in the delicate details that are unique to the time period. In more expensive lingerie, lace was used in accompaniment with silk, either appliquéd or inset in panels to provide a more graphic effect. Ribbons were used for straps and often nonadjustable. Ribbon was also used for decoration in chemises, tap pants, or as a waist tie.
In the 1920s scalloped or shaped hems were popular, and in the 1930s, bow-shaped appliqué was all the rage. Some pieces offered delicate hand embroidery, the narrowest of silk bindings, and pin tucks. Often the closure on 1920s and 1930s garments consisted of tiny buttons, usually mother-of-pearl. Hook and eyes were not often used.
Shapes and Styles
Though it may not surprise you, lingerie follows the fashions of the day. In the 1920s, waistlines dropped, hemlines rose, and shapes were loose, not fitted. In the 1930s, the waistline returned to the natural waist, hemlines dropped, and the bias-cut was introduced. Bias-cut means the fabric cut on a 45-degree angle, which allows the material to drape around the body and its curves.
The underwire was patented in 1931 by Helene Pons. However, the popularity of underwired bras did not take off until the 1950s. Most 1920s bra shapes were bandeaus with no wire and minimal elastic as the main objective was to flatten the bust. Bra shapes from the 1930s usually had separate cups for the breasts. To achieve bust shaping, darts were often used.
As you can see from the photos in this article, the 1920s neckline was straight across, becoming more v-shaped in the 1930s. The popular tap pants of the era sat at the waist and finished with a flared, longer leg...usually with some interesting detail such as lace on the hem or interesting decorative stitching. Some tap pants have the top part cut on a straight grain with the legs cut on the bias.
Corsets were still worn in the 1920s and 1930s, but their purpose and shape changed to accommodate fashion. Corsets transitioned into longline styles which eventually become the corselette. The main function was to flatten the bust (if the corset was an overbust style) and smooth the hips for the popular 'flapper' silhouette (which softened in the 1930s).
Women wore stockings, which were held up with garters attached to the corset or girdle, or by elastic garters worn around the stockings themselves. We also see the girdle, including the rubberised girdle, beginning to be used in place of the corset. Bed jackets were popular for nighttime, and you can often find these in excellent condition today.
Where to Source Vintage Lingerie and What to Look For
1920s and 1930s lingerie is increasinbly becoming harder to find. The best sources for buying are primarily Etsy, eBay, and specialty online stores. If you like 1920s and 1930s lingerie purely for research purposes or as a treasured piece to look at (not necessarily to wear), then slight imperfections or sizing differences won't matter as much. If you want to buy a piece to wear, then precise measurements are key to ensuring vintage pieces will fit you.
Most lingerie from the 1920s and 1930s lingerie will not have the same amount of elastic modern people are accustomed to (if any at all, especially in bras). So the fit will be different compared to modern lingerie. If you are just beginning your collection, you may like to start with tap pants, robes, slips or nightgowns, as these are much easier to fit and much easier to wear. Remember: these pieces are old, so they may not stand up to frequent wear and, if worn, should only be done so occasionally.
When buying online there are certain things you can't see, such as how the garment smells, minor flaws, or the quality of the fabric. When possible, try to purchase items from sellers who are reputable and have good feedback. Some sellers are accredited by the Vintage Fashion Guild, which is a great resource for information. It is also a good idea to contact the seller and ask for more photos and questions about the garment. You should be able to view photos that show the front, back, and inside of the garment, as well as close-up details and any closures. Ask the seller if the garment is in wearable condition, as sometimes it can be hard to tell directly from photos if the garment is lightly used and still wearable or very used and more of a research piece.
Most garments will have a condition listed. NOS means New Old Stock or Deadstock, meaning the garment has not been worn and may come with tags attached. Any repairs to a vintage item should be noted in the condition so there are no surprises when you receive the item.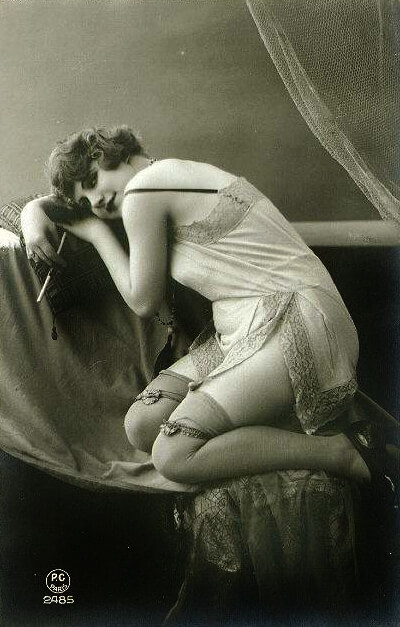 Brands
Many of the brands from the 1920s and 1930s are no longer in business. However, we can look at old magazines and resources to learn what brands were available. Below is a list of some of the brands I have heard of and come across. There is a comprehensive list on eBay here should you wish to research further.
Berlei
Boué Soeurs
Cadolle
Callot Soeurs
Charmis
Gossard
Kestos
Lucile
Petit Bateau
Madeleine Vionnet
Madame Denise Ferreiro
Maidenform
Neyret
Sears Roebuck
Spirella
Symington
Vanity Fair
Warner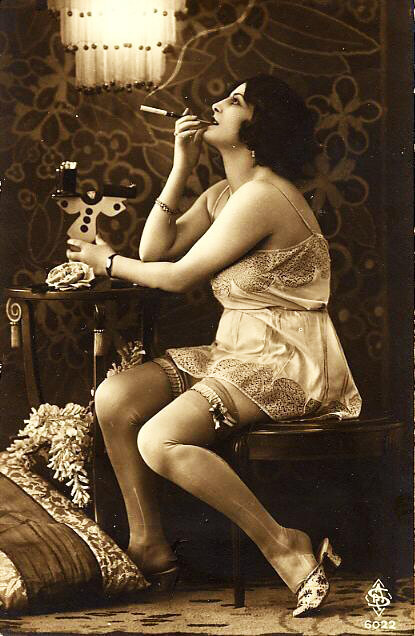 Let's Shop!
Below is a list of online sources for vintage lingerie. Although you may have success at vintage fairs and retail stores, I generally find the best pieces online.
Etsy
Etsy has become the number one place to search for vintage lingerie. Using '1920s bra' or '1930s lingerie' to start will help you find what's available. Keep in mind, a seller may mislabel a piece (listing it as 1920s or 1930s when it is actually 1940s or Edwardian). Because of that, you can increase the odds of finding something by widening your search to include different decades. Developing a keen eye and engaging in ongoing research is essential to ensure you are purchasing a genuine piece of 1920s or 1930s lingerie.
eBay
Ebay still remains a great source for vintage lingerie and is easy to search. Simply go to 'Fashion,' then 'Vintage,' then choose your era and tick the box that says 'Lingerie'.
Ruby Lane
I am relatively new to Ruby Lane, but have found some great 1920s and 1930s lingerie pieces. They are sorted under the 'Vintage Fashion' tab. You search 'Women's' then 'Lingerie,' and then you can search within those results. Ruby Lane also sorts garments by decade, so you may also want to look there.
1st Dibs
Often on 1st Dibs you can find rarer pieces from regular sellers.
Instagram
Type in #vintagelingerie or #1920lingerie to see what comes up on Instagram. The difference between Etsy and Instagram is often sellers on Instagram have a retail shop rather than an online store. Ensure the seller can send you the invoice via Paypal and check how they plan to ship the item. Asking for a full description of the item and better photos is important, as Instagram photos are small and descriptions sometimes incomplete. Shipping should always be trackable and insured whenever possible.
Online Stores
I have noticed many vintage online stores closing up shop and selling items on Etsy instead. Below is a list of those selling 1920s and 1930s lingerie. Some of these stores sell rare or unique items you may not be able to find on Etsy or Instagram. Some may not currently have pieces from the 1920s and 1930s, but have carried such in the past, so it is good to check from time to time to see what they have on offer.
www.knowlesville.com/vintage/
www.antiquedress.com
www.vintagetextile.com
www.salonofthedames.com
www.dorotheas-closet-vintage.myshopify.com
www.woodland-farms-vintage.myshopify.com
www.dollhousebettie.com
www.vivavintageclothing.com
www.vintagemartini.com
www.dressingvintage.com
www.silverscreenloungerie.com
Do you like buying 1920s and 1930s lingerie? If so, where do you buy 1920s and 1930s lingerie pieces? Do you buy more for their beauty or to wear?
Last Updated: December 21, 2016
Save
Save
Save
Save
Save
Save
Save