Edge o' Beyond Spring/Summer 2017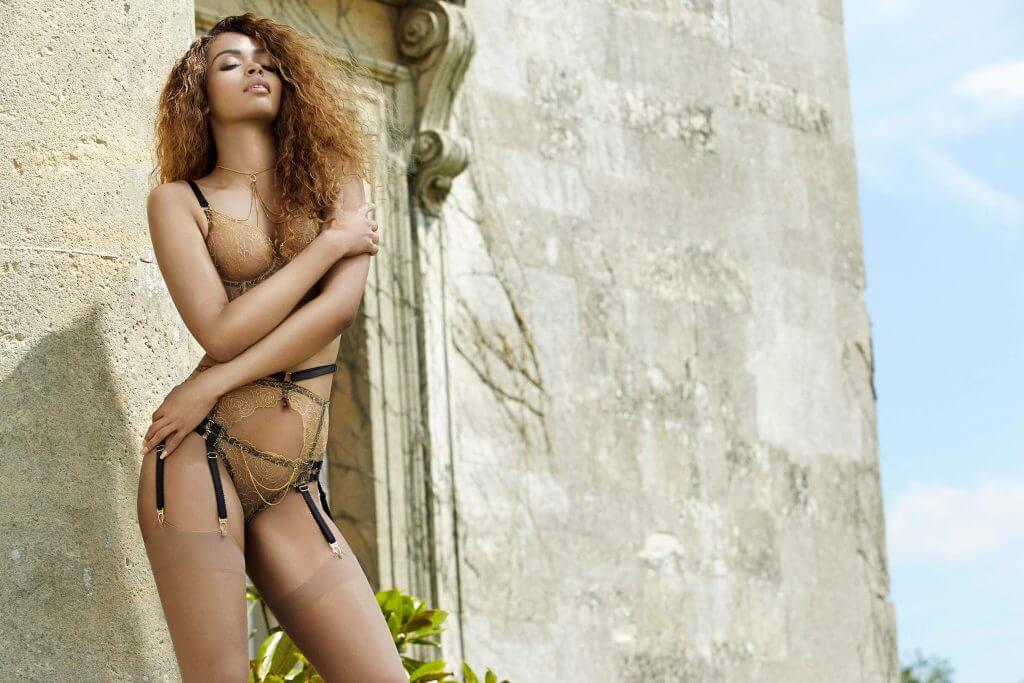 Edge o' Beyond first made the lingerie industry sit up and take notice in 2014 with a luxurious debut collection featuring lusciously opulent laces paired with delicate golden chains. In 2017, this still-new lingerie brand shows all those accolades were well-deserved with their Spring/Summer 2017 Collection, the brand's sixth.
One of the downsides of having such a strong start, as Edge o' Beyond did, is that it's hard to keep people interested over the long term. Human nature being what it is, people expect more every season - more creativity, more luxury, more spectacular design. Edge O' Beyond typically has at least one statement piece each season (can anyone forget this strappy bodysuit?), but designing something that will leave your critics breathless every six months is hard to do. Fortunately, Edge o' Beyond delivers, with a collection that both shows the maturity of the brand and also introduces a brand new signature item.
The label returns to that strappy, bondage-inspired aesthetic again, pairing sturdy Italian satin straps with impossibly delicate embroidered tulle (as in the gold "Valma" set at top of this post) and French Leavers lace (the "Corinne Noir" set further down the page). It's interesting to see the label hasn't abandoned their jewelry concept either. I admit, I thought the chains might've disappeared from their seasonal collections by now. Instead, we see several new jewelry designs, and I'm a particular fan of the thigh-skimming chains on the red 'Elise' set at the bottom of this article.
The standout range for me, however, has to be the 'Tamia.' Marrying pink and silver French Leavers lace with whimsical silver and lilac embroidery, this range is a delightful vision of lingerie perfection. Especially noteworthy is the addition of a waspie, a new silhouette for Edge o' Beyond, elevating the brand while also giving potential customers an excuse to splurge on a piece that works just as well on top of an ensemble as underneath it.
While previous collections had a laid-back country manor feel or a gritty, rocker-cool London vibe, the Spring/Summer 2017 series feels like a dark, mysterious fairytale. One that has me thoroughly bewitched. What are your thoughts?
Want more from The Lingerie Addict? Follow us on Instagram!