Did ASOS Steal From Hopeless Lingerie?: Talking Copyright and Lingerie Design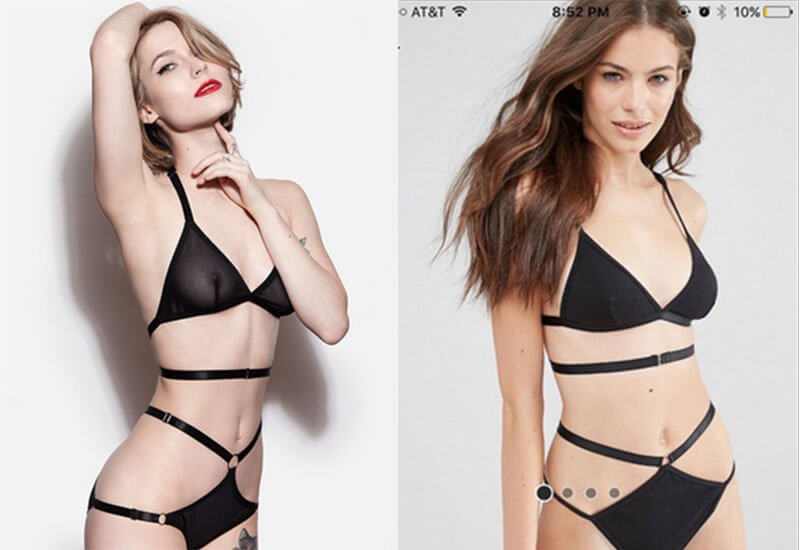 If you follow fashion news, you may have caught a recent story where Hopeless Lingerie accused ASOS of design theft. According to Hopeless, ASOS copied two of their designs, the Darla Knickers and Rosemary Bralette.
In a previous post on the modern day reappearance of vintage lingerie trends, I shared how Hopeless' Darla Knickers reminded me of similar cutaway burlesque styles from the 1950s. Yet this entire fashion copyright discussion, especially as it pertains to lingerie, makes me think of how muddy and muddled the design world can be, and how so many contemporary trends have their origins in garments from the past.
Before I move on, though, I want to be clear that this article isn't an exposé answering the question of whether or not ASOS copied Hopeless. The most recent update on the issue seems to be that ASOS removed the offending bra set, which some bystanders see as an admission of guilt. However, from a liability and PR perspective, that's likely just standard practice until they investigate Hopeless' accusations further and arrive at a permanent solution.
Considering the recent spate of larger brands copying smaller ones, I'm very interested in ASOS' reply to these accusations, and how the relatively public nature of this case may affect their product range moving forward - if it does at all.
Instead, I'd like to discuss some of the related topics this media conversation around Hopeless and ASOS has me thinking of. Namely, how much of a change to a design qualifies as an original design?
When a design is vintage-inspired (or appears to be vintage-inspired), is it reasonable for one brand to accuse another of copying? Finally, when a design trend is having a moment (such as the return of the Kestos bra), who gets credit for bringing that look back or owning it? Also, did you know the inventor of the Kestos Bra was Rosalind Klin? I never knew her name before today.
Obviously, I believe designers should be vocal advocates regarding their work, and I'm glad the Hopeless story is receiving so much press. The conversation around who make your clothes and where trends come from is one we have to have. There's so much opaqueness in the fashion industry; speaking up about topics like this is the only way that murkiness gets resolved.
I became even more interested in talking about the original design vs. historical inspiration issue when Gabrielle Adamidis, the designer behind Hopeless Lingerie, tweeted at me to reveal that some of her seemingly vintage-inspired designs, such as the bralette above, were actually arrived at independently with no reference or input from previous bra shapes in her design process.
@lingerie_addict @roseljynp The difference I suppose is, that while aware of those pictures now, they werent the inspiration for our designs

— Hopeless Lingerie (@LoveHopeless) August 31, 2016
@lingerie_addict @roseljynp Its one thing to be inspired by the past (which I am not denying) - but it isn't a part of my design process

— Hopeless Lingerie (@LoveHopeless) August 31, 2016
@lingerie_addict @roseljynp to replicate previous styles. When talking lingerie - there are certain things you can do with straps to hold

— Hopeless Lingerie (@LoveHopeless) August 31, 2016
@lingerie_addict @roseljynp a bust without underwire - from a technical perspective - and that was what I did with Rosemary

— Hopeless Lingerie (@LoveHopeless) August 31, 2016
@roseljynp @lingerie_addict I take a lot of pride in my designs, and put A LOT of thought, research, and planning into every single style

— Hopeless Lingerie (@LoveHopeless) August 31, 2016
@roseljynp @lingerie_addict I also put a lot of time and effort in trying to make sure they are not like things I have seen before

— Hopeless Lingerie (@LoveHopeless) August 31, 2016
@lingerie_addict @roseljynp Yes and there is a reason the placement of certain straps work to hold a bust in a certain way

— Hopeless Lingerie (@LoveHopeless) August 31, 2016
I'm grateful to Ms. Adamidis for sharing insight into how she designs, and also fascinated by the revelation that she created these pieces within a sartorial vacuum. As you likely know, vintage inspiration is common in lingerie. Most of what we see today has its origins in the 20s, 30s, 40s, and 50s, even if the fabrics and materials have been updated with modern blends and technology.
But in a way this makes the fashion design conversation even more complex. If one designer independently arrives at a look that's strongly reminiscent of another designer, has copyright infringement occurred? Related to this is the question of how much change constitutes "enough" change. Is it enough to choose another fabric? A different color? The number of straps or the shape of a pendant? What is the magic distance between an outright knock-off and an "inspired-by "design?
In practice, most of the conversations around copyright infringement seem to come down to "you just know." Vintage-styled brands, such as Secrets in Lace, What Katie Did and Kiss Me Deadly, make no secret of where their design inspiration comes from. Yet when the conversation shifts to modern-day lingerie, it's much harder to get a clear answer on what a significant change looks like.
How similar two brands appear to each and whether a piece is validated as an original design also depends heavily upon who's doing the looking. If someone isn't familiar with the brands available or with the history of lingerie, they may attribute a trend or style to a designer who wasn't first simply because they're more acquainted with that name.  In my own day-to-day running of this site, I've run across countless new designers who genuinely believe they've invented a certain bra shape or knickers pattern, only to later learn it's been in existence for decades.
As a very brief aside, this is also why I believe fashion copyright would be terrible for indies. There are few things in lingerie that were not done first, in some iteration, by an older, more established company. While there are certainly downsides to an absence of fashion copyright, it also means indie designers can start their brands without first hiring a team of intellectual property attorneys and fashion researchers.
Once again, all I have is questions. Legally speaking, the truth is Hopeless Lingerie likely doesn't have a case. Even countries that extend copyright protection to fashion designers are reluctant to do so for garments that first appeared in a previous century. And while I can't make any specific remarks on where ASOS may have found inspiration for their bra set (apart from commenting that yes, I do agree it looks very similar to a flagship Hopeless design), it's also true there are a number of trend forecasting companies with very lucrative corporate contracts whose only job is to source what's new and next for large brands like ASOS.
I don't know what the solution is for incidents like this. In an ideal world, companies would hire designers for private label or collaborate with them on exclusive collections, but fast fashion cycles (and profit margins) actively discourage that kind of cooperation when it comes to smaller brands. I don't believe fashion copyright is the answer, for reasons mentioned above, so perhaps the only alternative is to name and shame. The good news is that at least more people know about Hopeless Lingerie now and where to find them. The bad news is this may be little consolation when its your designs being stolen.
What are your thoughts on the Hopeless Lingerie/ASOS story? And what do you think the remedy is - if there is one at all - to larger brands copying smaller ones?
Save
Save
Save
Save
Save
Save
Save
Save
Save
Save
Save
Save
Save
Save
Save
Save