Lingerie Wishlist: Catherine D'Lish Silver Silk Charmeuse Dressing Gown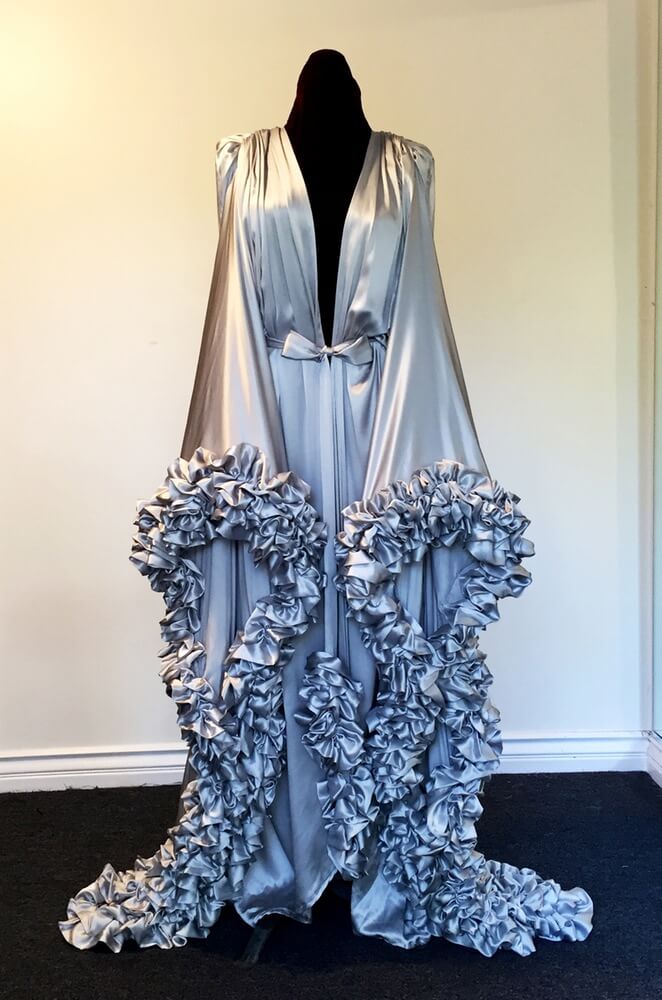 I know, I know we just featured a dressing gown last week, but bear with me while I explain...
One of the things I've realized lately is that TLA's archives aren't just my blog archives, they're also a sort of archive of the lingerie world. While everything is, obviously, heavily slanted towards what I like, there are still years of industry records here --- brands that have come and gone; lookbooks we've found beautiful and noteworthy; trends we've seen rise and fall. I've spent quite a lot of time going through TLA's old posts lately, and it's like rediscovering buried treasure or perhaps opening a time capsule. The lingerie world of 2008 is not the lingerie world of today.
There's a downside to all this research, however, and it's that it's left me feeling a bit rueful. There are so many brands I wish I'd had the awareness or clarity or foresight to discuss in my first few years of blogging. I've never been the only lingerie blog; there were several that started before me, and I suppose I always assumed they'd be around. I took their archives, their history, their knowledge for granted... and so having that same content on TLA wasn't important to me. But when most of these blogs vanished a specific history of the lingerie industry vanished along with them. It's an absence I feel more and more with each passing year.
All that's to say that sharing the pieces I love here is also a way of preserving them. Of bookmarking little moments in lingerie history. I know everyone won't like what we talk about, but I don't want TLA to be an archive of t-shirt bras and big name brands. I want us to be an archive of what's happening in the moment. Of what's new and great and truly extraordinary... even when it seems lavish and out of reach. Perhaps most especially when it seems lavish and out of reach.
This week's pick for the Lingerie Wishlist is by Catherine D'Lish, who, in addition to being a world-famous burlesque performer, is also a world-famous designer of vintage-inspired dressing gowns. Each of her creations is painstakingly handmade with a truly incredible level of detail. When I talk to someone who wants the kind of dressing gown movie stars back in the day wore, Catherine D'Lish is one of my first suggestions.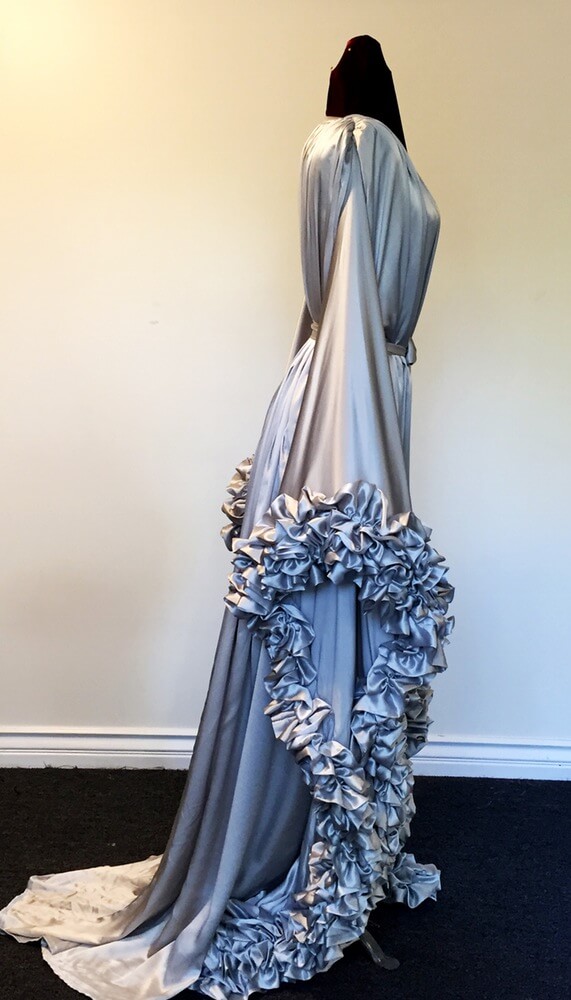 The Silver Charmeuse Extravagant Dressing Gown is 20 yards of heart-stopping lavishness. I'm looking at pictures of it now while writing this, and I swear my pulse just went up. The opulence... the drama... the grandeur. I want to style my hair in marcel waves and recline on my fainting couch in the backyard while peacocks strut around me. I want to see Lady Gaga in this. I want... well, you get the idea.
At $999.99, this silk dressing gown is available by custom order only. If you tend to be sized out of most luxury robes, I would definitely recommend looking into a custom commission from Ms. D'Lish. The gown is also available in other colors if silver isn't quite your shade. Because it's a handmade piece (all that ruching doesn't just happen), you will want to allow up to eight weeks to receive your garment, which means getting in touch now if you're hoping for a Christmas delivery.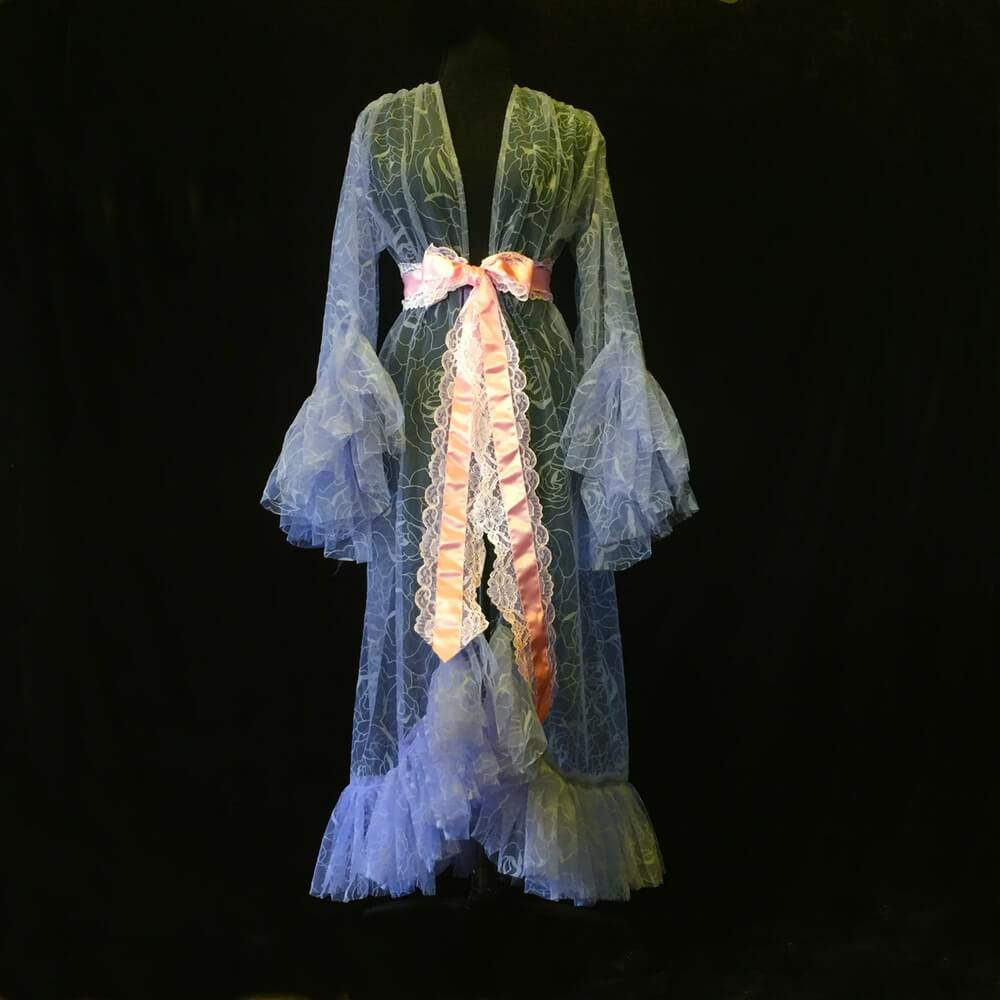 While we're on the subject of high-end dressing gowns, if $999.99 is out of budget, but you have a spare $250, might I recommend this Sheer Velvet Flocked and Rose Gown? The ruffles, the ribbon sash... this looks like something straight from a 19th century toilette. My heart leaps a little to know there are such beautiful things in the world.
How do you feel about the dressing gowns shown here? Do you prefer the silk or the velvet?