Review: Chaffree Anti-Chafing Underwear
Disclosure: These items were sent to me free of charge for review purposes. All opinions are my own.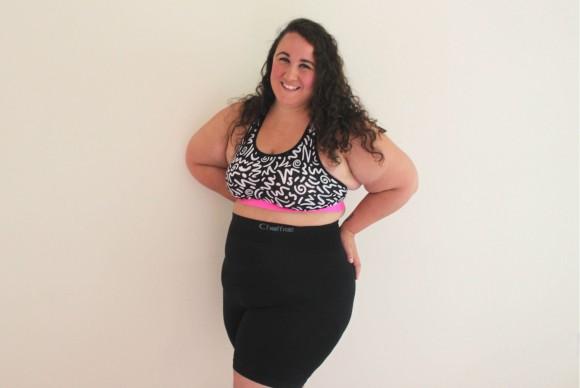 As someone who has never had a thigh gap, I can't remember a time in my life where I wasn't actively looking for solutions to alleviate chafing or as I affectionately call it, 'chub rub.' My thighs touch year-round so while my skirts may get shorter in the summer, I am at risk for chafing pretty much any time there is not fabric between my thighs. I have tried everything from powders and sprays to medicated soap, but what I have found typically works best for me is a thin, breathable pair of shorts that I can wear over underwear but underneath clothing. When I learned that there was a brand that made underwear designed to prevent chafing, I knew I needed to try them out!
Chaffree is a UK-based underwear brand designed specifically to reduce sweat and chaffing. The brand's founder, Amanda Whaley, came up with the idea based on her own experience and frustration with hosiery and nylon-based underwear that left her skin irritated and even bleeding at times (a feeling that I am all too familiar with). Whaley wanted to create a product that could be worn by a range of people regardless of size or gender and as a result, Chaffree offers women's knickbockers, briefs and boxer briefs as well as men's boxer shorts. Both options are available in sizes S-3XL.
At first glance, I was disappointed that the size range did not extend past a 3XL (typically a size 22/24); however, I was pleasantly surprised that according to their size chart, a women's 3XL fits a US size 30/32/34 with up to a 56" waist. Based on this information, their 3XL fits closer to a women's size 4X or 5X. A closer look at their size chart reveals a much more inclusive spectrum than the S-3XL sizing suggests but I can't help but wonder how many 4X or 5X folks may see that size range listed and assume they are excluded from this product.
Although I would normally order a size 3X/4X in underwear depending on the brand, I ordered a size XL/2XL based on the size chart and the fit was perfect. They are also extremely stretchy which I think contributes to the brand's inclusive sizing.  Besides size, there's a lot to customize when it comes to Chaffree products. You get to pick the color, waist height, leg height or leg opening depending on the style.  As someone who is plus size but only 5'1", these customizations are major for me. I tried out both the women's knickerbockers with the full waist height and short leg height and the women's briefs with the full waist height and wide leg opening. They are available in four colors including white, black, pink and mocha. Since the majority of my skirts are black, I picked black.
The fabric content on both pairs is the same: 77 percent polyester/CoolMax, 15 percent polyamide, and eight percent elastane. To the touch, the fabric feels lighter and certainly less scratchy than other seamless polyester underwear that I have tried. But there's definitely more to this fabric than meets the eye (or in my case, the touch). The CoolMax fabric was developed specifically for wear during high exertion sports to wick away sweat. While there's quite a science to CoolMax, my understanding is that the design of the fibers allows moisture to evaporate quickly. If you look closely at the fabric, there's a patterning to the design that does give the underwear a more athletic feel than I would normally gravitate to but this is an aesthetic sacrifice that I am certainly willing to make.
Even with my favorite cotton bike shorts that I usually wear to prevent chafing, I am still not completely irritation or moisture-free between the thighs so I was definitely curious to test out how CoolMax stood up to my high exertion chub rub. I wore the knickerbockers two different full days both times under skirts -- one was a pretty leisurely day in Mexico and the other was a high activity day spent moving boxes up and down a few flights of steps. On my leisurely day in Mexico, the knickerbockers seemed like the perfect substitution for my cotton bike shorts. It was 90+ degrees and I didn't sweat at all. In fact, I forgot I was wearing the shorts. But on the more active day moving boxes, I became conscious of how much the shorts rode up my thighs when I sat down and stood up. I found myself pulling them down and adjusting them. While I still didn't experience moisture, I wished the shorts would have stayed in place.
Functionally, I was more excited for the knickerbockers but aesthetically, I ended up really falling in love with the fit and cut of the briefs. Although I know some other plus size folks may experience chafing at their underwear line, mine is really centralized to my inner thighs so the briefs did not necessarily help with my chafing. I am always looking for high cut underwear that hit at or slightly above my natural waist and don't roll down. The briefs delivered on both accounts. I found myself taking a million mirror selfies in the briefs just because I loved the way they looked that much.
Both styles are tagless and feature the fabric content and care instructions printed in the back inside part of the underwear. In terms of comfort, this is huge. But the brand name, Chaffree, is printed on the front right of the underwear. It's great for branding -- not as great for my selfies. This is minor but something I noticed as a difference between other seamless options I've worn in the past.
Overall, I am impressed with both of the Chaffree products I tried. I felt that the underwear delivered on its sweat-free promise and offered a desirable look alongside that functionality. The customization and inclusive sizing make this a great option for people spanning a wide range of body types.
Save