Lingerie Wishlist: Charlotte Olympia + Agent Provocateur "Charlotte's Web" Bra Set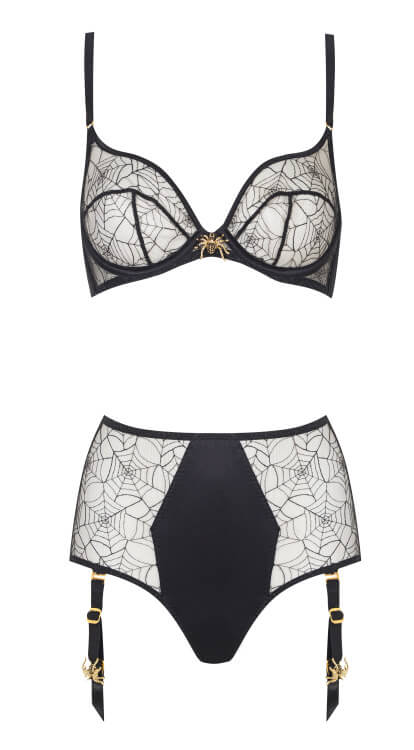 It seems indie designers aren't the only ones giving up on traditional fashion seasons. As even the very largest fashion houses begin to adopt a more 'seasonless' approach, Agent Provocateur is leading the way in some respects by releasing a new collection, complete with brand new lookbook, every few months. Their latest range is a collaboration with famed shoes, handbags, and accessories designer Charlotte Olympia, who is perhaps most well-known for her kitty-face ballet flats.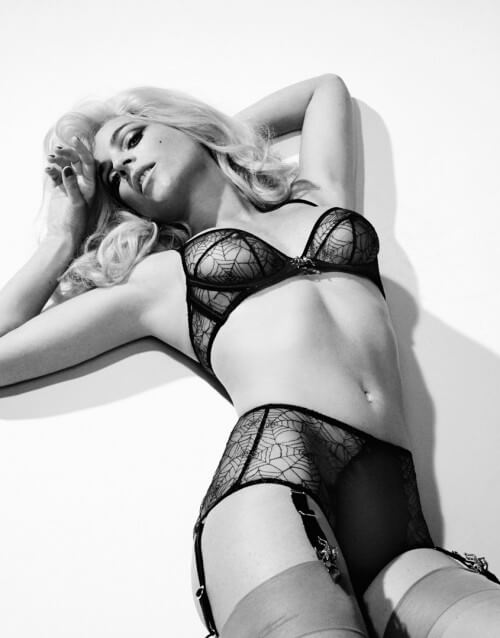 I confess, after watching so many celebrity lingerie collections flame out spectacularly (Britney Spears, anyone?), it's hard to get excited about a new one. And truthfully, despite the reputation of Ms. Olympia, most of the Charlotte Olympia for Agent Provocateur collection is just passable. The leopard print teddy, for example, despite being 100% silk, looks incredibly similar to this leopard print romper from Betsey Johnson. That's not to say it's derivative or a copy or a poor value; simply that I'd have expected more original and unique design from a fashion industry darling. But, then again, I seem to be struggling a lot with overhigh expectations lately.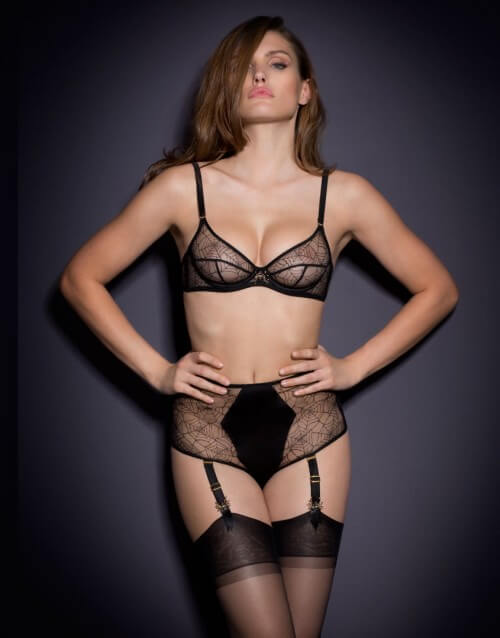 That said the Charlotte's Web bra and big brief set are beautiful. Expensive, yes, at $535 for the bra and $625 for the panty, but still recognizable as distinctively Agent Provocateur while bearing some of their guest designer's trademark kitsch. The spider jewels in particular are a stellar detail, and are exactly what I'd expect to see from lingerie in this price point that's meant to merge the worlds of fashion and intimates.
Sizing for the bra is 32B-36B and 32-34 C-DD. Sizing for the big brief is 2-4, roughly a S-L in standard sizing. There's also a g-string too, though, honestly, if you're going to splurge, I think the big briefs are a better buy. It would have been nice to have a set of kitty face embroidered knickers in this collection, or perhaps a pair of pink silk briefs with red lips (the lipstick motif is also a Charlotte Olympia staple), but that's neither here nor there. At the moment, I'm curious to see if this collection will be continued beyond one season. As a brand, AP seems to have mastered the art of the quick pivot. Perhaps an entirely different celeb collaboration is on the horizon?
Do you have any thoughts about this Charlotte Olympia for Agent Provocateur design? And what do you think more generally about celebrity-inspired collections? I'd love to get your opinion.