Plus Size Customers Are Not All Alike: Sizing and Grading Issues in Plus Size Lingerie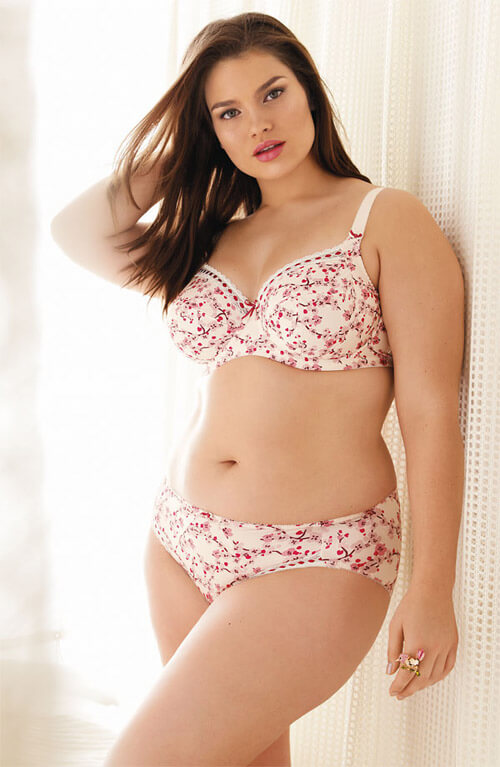 We've seen another plus size breakthrough this week: the gorgeous Tess Holliday is on the cover of People magazine! Tess is an inspiration to many, including myself. She's gorgeous, a size 22 and incredibly confident.  I've also talked before about how I don't see myself in Tess the way some people do --- in terms of weight and build, we represent totally different spectrums of the plus size market.
Today I thought I'd run with that and actually talk about some of the ins and outs of lingerie design and development when it comes the entire range of the plus size market. I'm not using real numbers here today because most designers and brands keep those extremely confidential. I see lots of protected data as part of my job, but today I'm going to use some pretty vague (made up) numbers to make my points. I would love to see designers and brands talking more about this subject honestly, but that's a discussion for another day.
Another quick note: I use full bust and plus size both in this article, simply because these industry issues effect both sizing segments. That doesn't mean that all full bust women are plus sized or vice versa. Research and development in these areas frequently overlap, as do various retailer concerns and issues.
The Variation Within the Plus Size Community Is Incredible:
The accepted plus size market runs anywhere from size 10 and up: in reality, for most retailers plus sizes start somewhere around a US size 14 or 16. If you make dresses, this actually makes your life reasonably easy. If you make bras, it's way more complicated. Plus size women, like all women, have a wide variety of shapes and body types. They range from an A cup to an L cup, are different heights, have extra long or extra short torsos and carry their weight in a variety of ways.
Plus Size and Full Bust Lingerie is Expensive to Develop and Test:
When most bra companies develop bras, they start with a fit model for the A to D range and develop the bra from there. D through G usually uses another fit model, although fits can still be fairly standard in this range. Once you get beyond this though, most standard size assumptions go out the window. There are lots of companies who have put tons of money into researching and developing larger band and cup sizes, and just as many who have abandoned it when it got too expensive or when retailers didn't show any interest.
Development costs can include new types of underwires, expensive fabrics like high quality powermesh, and beautiful laces that still provide support and strength. All of this becomes multiplied when you're a tiny brand or start talking about luxury lingerie.
For example. a bralette style bra in an A cup could use a less supportive lace, while a plus size version might require both a stronger lace and a lining to achieve a similar level of lift. Consumers don't hear about this side of things: the personal frustration that designers go through, the money that gets wasted on products that never make it to the market, or the fact that retailers just don't want to take the risk on plus size pieces.
Getting the same lift and support in a plus size piece can require new materials to be added to an existing design. It can require redeveloping underwires or starting the entire design process over from scratch. I'll be honest though: most of the time when I hear that development has been halted internally on a plus or a full bust bra line, it's due to lack of retailer interest. Companies can't put money into products that won't sell, and they generally can't sell them without retailers getting on board.
Plus Size Pieces Require More Tailoring and Built In Structure:
I work with a lot of boutique owners, so I'll share another piece of honesty that I've learned from them: The majority of plus size women don't walk into a lingerie boutique wanting to enhance their natural pear or apple body shape.
I love how The Lingerie Addict and its readers champion women of all shapes and sizes, but often customers in a lingerie boutique haven't embraced themselves to that extent. Mostly, women are looking for lingerie that will make them look slimmer or give them an hourglass figure. In many ways, they see those same values reflected back to them in the form of advertising, so this isn't a huge surprise.
Creating an hourglass silhouette and a slimming line involve more expensive fabrics, more detailed tailoring (like bias cuts) and more shaping overall. All of this makes garments tricker to fit and more expensive to produce, especially for lower end lingerie lines.
Part of the issue here is that consumers generally want lingerie for a certain price, which tends to be set by retailers like Walmart and Target. While some retailers have been really successful with this model, such as Hips and Curves, it's incredibly hard to develop plus size lingerie that supports and feels great without it costing more. This extends to retailers, who frequently don't want to buy expensive plus size pieces because they don't feel like their local market can support it.
Plus Size Customers Are Not All Alike:
Bodies tend to get squishier as they go up in size, so bra bands may fit different depending on whether you're a size 14 or a size 26. Fabric may pull or fall differently depending on how someone carries their weight, which varies much more as you go up in size. For lingerie, you have to add bra sizes to this whole mess.
A 44B customer and a 38D customer may have a similar weight and height, but could have absolutely nothing else in common when it comes to lingerie fit. If you're a consumer, you've still got a reasonable amount of choice until you get to a size 18 or so --- after that it's mostly a wasteland of awful lingerie that doesn't hold together for long.
In fashion, designers tend to deal with a wider variety of body types and weight distributions by just adding a lot of extra ease to each piece. The lingerie version is where brands just grade something up by X number of inches and hope that it fits most people. Again, most of this can be traced back to a basic issue: the overwhelming and scary costs of intensive research and development.
I've personally had private exchanges with designers who are desperate to do better for the plus size market, but can't find the funding or the interest to do anything about it. I've heard from designers who want to use bigger models but fear that retailers won't accept their images or that they won't sell anything without a model who doesn't have an hourglass figure. To the consumer these are issues of representation, which are obviously important. To a small brand, these issues can be life or death for their entire company.
I think all of this will change when companies and retailers start seeing plus size customers as equally valuable. As customers, it's up to us to be vocal about what we want and pay full price for it when we're able to. Save up for one special order bra and get it through your local boutique instead of buying three at Walmart. Buy from a plus size specialist Etsy seller every six months if you can. Share and comment on advertising that resonates with you and compliment boutiques when they use models that you love. Retailers will change their buying behaviors based on customer feedback and revenue changes, so we need to show them that supporting quality plus size lingerie isn't a risk for them.
Save
Save
Save