Salon de la Lingerie Highlights - AW14/15
Back in January I visited the Salon de la Lingerie (one of the biggest lingerie trade shows) in Paris. It's held twice a year and hundreds of brands exhibit there from all over the world. My absolute favourite part of the show is seeing the collections of the huge variety of Indie designers --- this is where lingerie design gets most creative and takes the most risks. Without further ado, here are my highlights of next season's lingerie from the Salon:
Almeida's style seems to be very bold and overtly sexy --- this season uses glossy patent leathers and feathered accessories, along with provocative cuts such as quarter cup bras and the unusual longline underbust corset. However, amidst the more S&M styled pieces it was the soft silk chiffon designs that caught my eye --- I love the sleeve detail on the soft bra above and the soft diaphanous colouration.
Beautiful Bottoms have some truly stunning silk pieces for next season. 'Graphic Galaxy' is probably my favourite collection of theirs today, and I love how bold and psychedelic the prints have become, whilst the relaxed and simple silhouettes allow the prints to speak for themselves. I'm particularly in love with the 'Ethereal Echo' set, shown in the vest top above --- it's such a dreamy colourway and I adore the organic painterly feel to the print itself.
Betty Blue's Loungerie/Betty Bridal
Betty Blue's Loungerie has been on my radar for a while, but I'd only ever seen the designs online. I'm so glad I've had the chance to see the products in person --- the fleece robes are genuinely the most gratifyingly snuggly pieces of loungewear I have encountered in my entire life (and I seriously need one once I save up my pennies!). I'm also in love with the new silk 'Nell' pieces in a striking 'Heather' colourway (particularly that nightgown!). Betty is also launching 'Betty Bridal,' releasing several of the existing 'Nell' designs in ivory. My particular favourite is the bodysuit --- that plunge neckline and the strap detailing are just divine.
What I love most about Britta Uschkamp's lingerie is just how uncompromisingly fun it is --- very few designers manage to achieve that level of of carefree frivolity in their designs! They may not be too everyone's taste, but the gratuitous ribbons and unusual laces are deliciously girly. I'm a bit of a lace obsessive, so I was very drawn to Britta's use of it --- in particular the Marilyn Monroe motifs, dip-dyeing and metallic printing --- not exactly standard lingerie fare, and it's great to see a designer doing something so different.
Dirty Pretty Things/Flirty Pretty Things
AW14/15 is possibly my favourite Dirty Pretty Things collection so far. The retro styling and unusual fabrics make a stunning pairing --- gold leathers and holographic prints being the most striking! The standout piece for me is the gold leather and black basque. I love the style lines, and the colourway is a failsafe way into my heart. I was also rather intrigued by the new diffusion line 'Flirty Pretty Things' debut collection --- bold neons, leopard print, and metallics all capture the DPT classic aesthetic but at a much more accessible price point. Whilst it's not lingerie for the faint-hearted, there are some very bold and fashion-forward pieces to be found.
The Salon was my first real encounter with Australian brand Kiss Kill and I absolutely love what they're doing. Their collaboration with model Cheyenne Tozzi is absolutely stunning, and encompasses some of my favourite lingerie trends --- strappy details, gold studs, and metallic Chantilly laces, whilst retaining a luxe edge. It's fashion-forward lingerie at its best, with many of the pieces made to be seen --- I can definitely imagine rocking one of those bras under a sheer top!
I'm a little ashamed to admit that I don't pay nearly enough attention to the lingerie world outside of the fashion-focused indie and luxury brands --- but I'm glad that I saw Lorna Drew's designs in person at the show. A specialist maternity brand, there's been real thought put into the product both from an aesthetic and a functional point of view. The designs are feminine without being overly fussy, and the patented design means there's up to three cup sizes adjustment to each bra.
Mirage Magique are a new French luxury full bust-focused brand. Designer Sandra's use of lace is truly stunning, particularly her bespoke burlesque pieces. The 'Night Owl' collection for AW14/15 gives a more wearable twist of showgirl glamour, with gorgeous lace details throughout. Alongside lingerie there's also a range of boudoir accessories such as chokers and gloves, all of which could look equally lovely when worn outside of the bedroom. I hope to see more of this young designer in the future, as she certainly carries a lot of promise!
Next season Nichole will be focusing more on ready-to-wear, blurring the boundaries between lingerie and womenswear. I'm particularly intrigued by the corsetted jackets and body-con dresses. There are also new colourways and prints in the more classic designs, including tartans. What caught my eye most, though, was the new diffusion line --- these 'basics' will still carry lots of Nichole's signature strap detailing at a much more affordable price point.
Dutch brand Pretty Wild's use of leather and lace is absolutely breath-taking --- during my time on their stand I couldn't help but fall in love with almost every piece I was shown. There's a lot of lingerie on the market currently that's following the formula of leather, lace, and straps, but this brand manages to stand out from the crowd. I love their unusual use of lace placement and paneling, particularly with regards to the lace scallops and the rather textural use of Guipure embroideries. Definitely a brand to watch --- their designs are now very firmly on my lust list.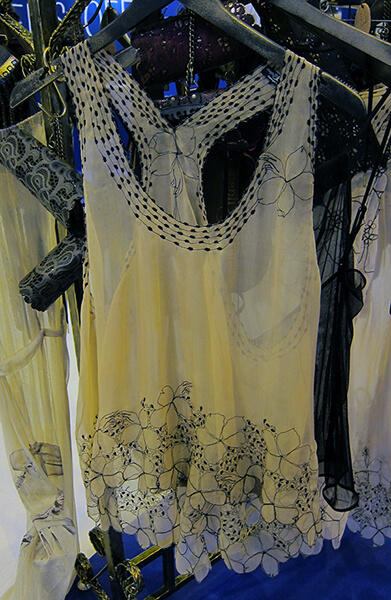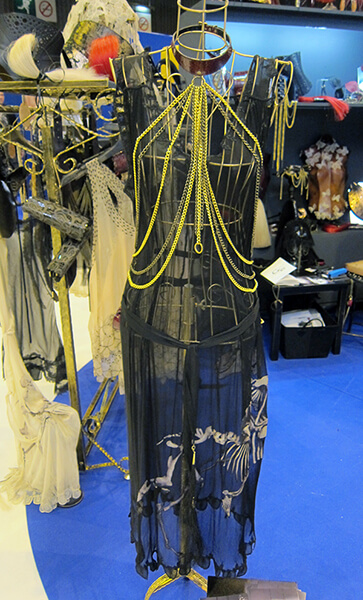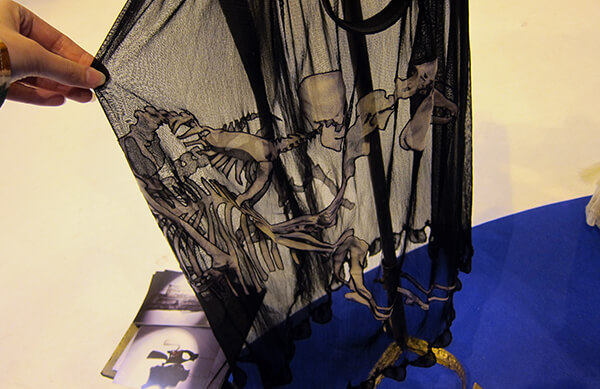 London-based lingerie and loungewear designer Steph Aman creates pieces that are more akin to art in my opinion --- there really are no other words for the intricate embroideries and level of detail given to her designs. The delicate embroideries and paintings on silk chiffons and tulles need to be seen in person to be truly appreciated. I particularly love the darker aesthetic her collection carries this season, with motifs of skeletons and chains amongst the softly feminine florals.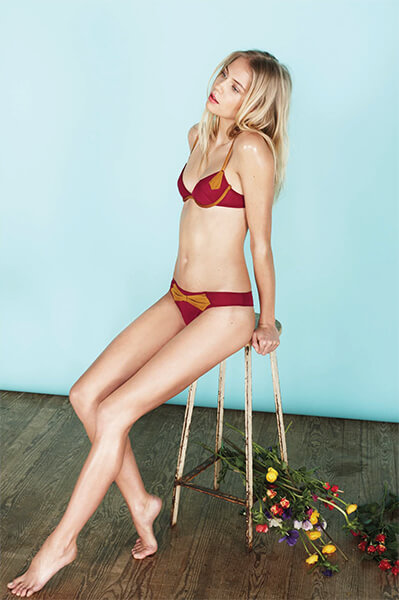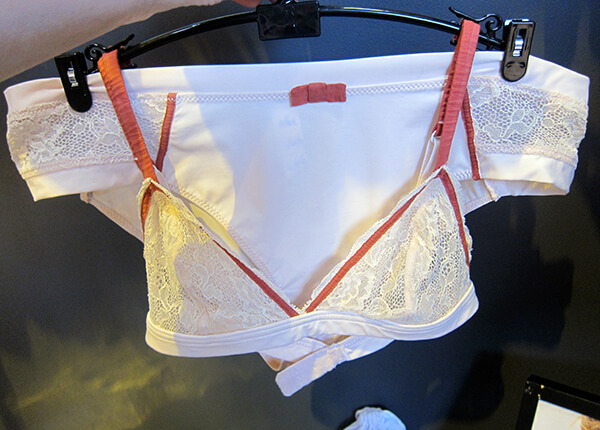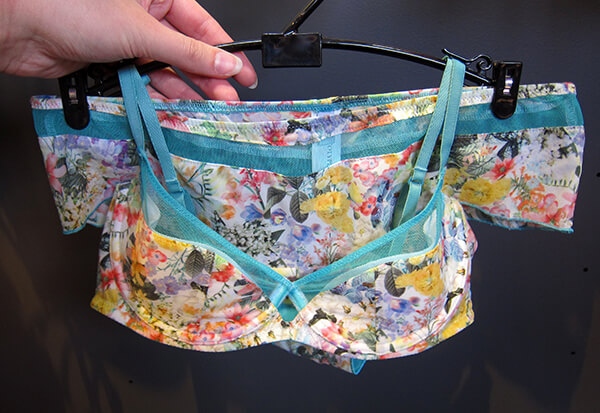 French brand Ysé are a small bust-focused brand with a refreshing outlook on lingerie --- their focus isn't on push-up effects or enhancement, but simply to create beautiful lingerie that fits smaller frames as they already are, with a range of wired and soft cup bras on offer. The designs are fresh and directional, with gorgeous colour combinations and paneling details.
Readers: what do you think of these brands' new offerings? Is there any lingerie you're particularly looking forward to seeing next season?